BRICS+: Gaining a Plan B residency in this growing trade bloc
Wednesday, September 6, 2023 8:25
% of readers think this story is Fact. Add your two cents.

The decline of the US dollar is a gradual process… Yet the expansion of the BRICS trade bloc is another clear sign that the dollar will continue losing ground. Today, we look at some exciting opportunities for residency and/or citizenship in this growing bloc.
Let's get into the details below…
BRICS+ vs the USA: What the growth of this trade bloc means…
Recently there's been a LOT of shrill commentary about the imminent "collapse" of the dollar, along with a lot of very bleak prognostications about China – and now BRICS – vs. the Land of the Free.
We find this kind of talk alarmist, frankly.
Yes, the US dollar is losing market share as the world's reserve currency.
And if you're looking for data points that the US is in decline – dysfunctional leadership, out-of-control sovereign debt, a decline in the rule of law, disastrous external conflicts, and growing social unrest at home – they're all there.
Plus, it's highly probable that this decline is only going to accelerate over time…
But, as Simon Black has frequently argued, we should see this development for what it is: simply another one of MANY steps towards replacing the dollar as the global reserve currency.
A quick backgrounder on BRICS, and why its growth is on people's minds…
Founded in 2009, the BRIC trade bloc – comprising Brazil, Russia, India, China, and subsequently, South Africa (thus the current BRICS naming convention), recently announced that they're growing.
Iran, Saudi Arabia, the United Arab Emirates, Argentina, Egypt and Ethiopia are all joining the bloc, now casually being referred to as "BRICS+", starting on January 1 of 2024.
(Talk about a stellar new member line-up.)
To many people, the bloc's growth represents the ascent of a new, emerging "multipolar" world order. And its existing member states (and China, in particular) are already working on ways to get out of using the US dollar for trade payments among themselves.
But as Simon has previously written, this motley crew (and especially China) each faces their own cocktail of serious economic and reputational problems. Consequently, this bloc is not exactly poised for world domination… Nor will they be, any time soon.
Nonetheless, the BRICS+ bloc will likely continue to grow in membership and influence. So for most rational folks, then, the real question is:
What is to be done to set oneself up for success at a time where an old world order is in decline, and a new one is gradually emerging..?
And our answer, as always, is: It pays to have multiple options for where you, your assets and your savings can live.
And here's what those options could look like…
The BRICS+ nations offers ample options for easy residency and citizenship
If you're looking for decent residency options across the BRICS+ countries, you'll be spoiled for choice.
And the good news – none of the BRICS+ countries are EU members. That means that there's no supranational government in Brussels to give them grief about whom they award residency and/or citizenship to or not.
(The EU actively tries to restrict investment-based residency and citizenship programs in the EU, as well as in countries that enjoy visa-free access to the Schengen Area.)
Plus, several BRICS+ countries also offer Residency and Citizenship By Investment programs.
Just have a look at the below selection of options: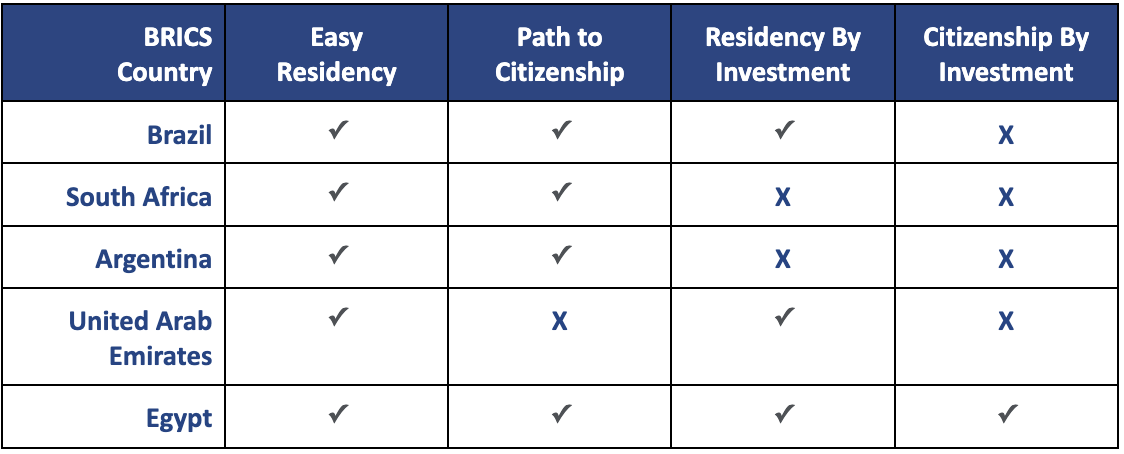 Longtime Sovereign Man readers will no doubt already have Brazil on their radar (both for easy residency and birth tourism purposes, but more on that in a moment).
And Argentina, despite its multitude of challenges, is home to one of the fastest, easiest naturalization options in the world: you can apply for Argentine citizenship after just two years of residency.
In addition, the United Arab Emirates offers a wealth of easy residency options, however these won't lead to any long-term or permanent residency status.
So if you're willing to go live abroad for around three to four years to get a decent second passport – definitely consider Argentina.
But if you're looking for a relatively affordable back-pocket / pure Plan B residency with major lifestyle appeal, few members of the expanded BRICS block – if any – can compete with Brazil.
Locking down your Brazilian Plan B – by property OR business investment
If you're looking for a flexible, relatively affordable "Golden Visa" type option, then both Brazil's company and property investment tracks could be really appealing.
Let's have a look at the respective program requirements below: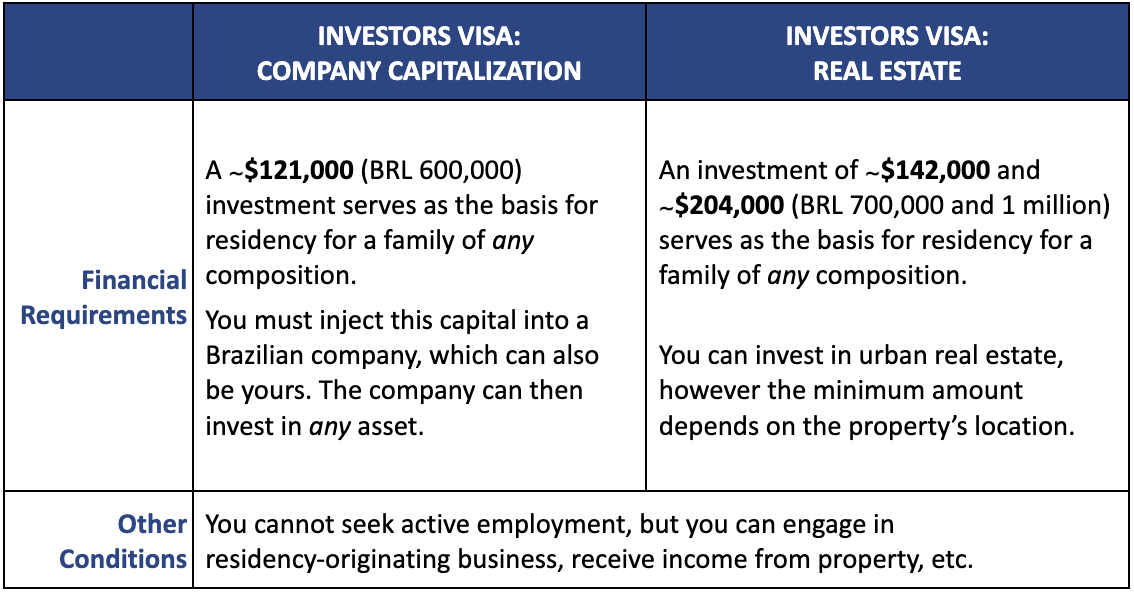 Applying for Brazilian Permanent Residency and Citizenship
Here's what you can expect from the residency, renewals and naturalization process at the:
Temporary Residency stage: Real estate investors start with temporary residency, issued for four years. But you still need to keep this residency active – you do it by spending at least 14 days within every two years in Brazil — or on average, one week annually.And good news for company investors – you can skip the temporary residency stage and move straight to permanent residency.
Permanent Residency (PR) stage: Again, company capitalization investors start with PR right away. And real estate investors earn this right after just four years.Brazilian PR is a great asset as it is valid indefinitely; you will just need to renew the ID card every ten years.

And while there is no official minimum stay requirement to keep your PR active, visiting Brazil annually for a couple of weeks is recommended. This will help convince Brazilian authorities you are still "interested" in the country.

Plus officially, investors need to continue holding their qualifying investment (although authorities seldom check unless you apply for naturalization).

Naturalization stage: All residents can apply for Brazilian citizenship after four years of permanent residency – after a total of four years (company capitalization option), and eight years (RE investors).To apply, investors must again show they still hold their investment.

There are no official presence requirements to naturalize (outside of the requirement to keep your permanent residency active), but to increase your chances, strive to spend in Brazil at least six months annually during the permanent residency stage.
As investment thresholds, stay requirements and timelines to PR and citizenship go, we consider both of these options to be a slam dunk.
But ultimately we prefer the company formation option, as it:
Leads straight to PR, AND;
Still allows you to invest BRL 600,000 in real estate anywhere in the country, if you wish to do so (which is even cheaper than the lowest RE option, which is priced at BRL 700,000).
Alternatively, you invest in other assets, or simply opt to keep the funds in your company's bank account. And the Brazilian passport, scoring a respectable B-grade in the Sovereign Man Passport Index, is a prize well worth waiting a couple of years for…
The bottomline…
For Americans thinking longer term and diversifying where they can live (and where they own property), putting down some roots in one of the BRICS member countries could be worth considering as a geopolitical hedge.
And if you'd like to gain a flexible second residency with a clear path to PR and citizenship in a friendly, exciting and beautiful BRICS country… then Brazil's Business Investor Visa program, in particular, might be just the thing you need (especially if you want to obtain permanent residency right from the start).
We'll be exploring some more of your BRICS+ residency options in future installments, so stay tuned…
Simon Black is an international investor, entrepreneur and permanent traveler. His daily letter is both educational and entertaining, and we suggest that those who want unbiased, actionable information about global opportunities sign up for Sovereign Man's free, actionable newsletter at http://www.SovereignMan.com.
From Simon Black of SovereignMan.com
Source:
https://www.sovereignman.com/second-residency/brics-gaining-a-plan-b-residency-in-this-growing-trade-bloc-148121/
Before It's News®
is a community of individuals who report on what's going on around them, from all around the world.
Anyone can
join
.
Anyone can contribute.
Anyone can become informed about their world.
"United We Stand" Click Here To Create Your Personal Citizen Journalist Account Today, Be Sure To Invite Your Friends.