The real Dr Fauci, as described by Robert F Kennedy
Monday, December 6, 2021 18:41
% of readers think this story is Fact. Add your two cents.

That is the title of Robert F Kennedy Jr's book covering the COVID story, AIDS and much else in between that's been the work of Dr Fauci since he leapt into control of the AIDS epidemic in the 1980s. It is a brilliant book written and researched by JFK's nephew, son of RFK. There is only one thing I can say – and that is BUY THIS BOOK and read it as soon as possible. You will then be in no doubt that the world's health industry is run by a mass murderer who has no compassion for humans of all ages from the moment of birth til the day they day, or for animals.
I thought of writing some extracts on here, but how can you select from the total picture which is so mind-numbingly grotesque from start to finish, and every little detail relentlessly builds the picture. Maybe this is the only way to place this book before you. On page 253, the summary of Chaper 7 – Dr Fauci, Mr Hyde: NIAID's barbaric and illegal experiments on children.
On my birthday in January 1961, three days beofre I watched my uncle John F.Kennedy take his oath as president of the United States, outgoing President Dwight Eisenhower, in his farewell address, warned our country about the emrgence of a Military INdustrial Complex that would obliterate our democracy. In that speech, Eisenhower made an equally urgent – although less celebrated – warning against the emrgence of a federal bureaucracy, which, he believed, posed an equally dire threat to America's Constitution and her values:
……The prospect of domination of the nation's scholars by Federal employment, project allocation and the power of money is ever present and is gravely to be regarded…..We must…..be alert to the danger that public policy could itself become the captive of a scientific elite.
Kennedy continues.
During his half century as a government official, Dr fauci has utterly failed in this charge. ….He has used his control of billions of dollars to manipulate and control scientific research to promote his own….instutional self-interest and private profits for his pharma partners to the detriment of America's values, her health and her liberties. Of late, he has played a central role in undermining public health and subverting democracy and constitutional governance around the globe…transitioning our civil governance toward medical totalitarianism…
The book Plague Of Corruption by Dr Judy Mikovits focuses on how corruption in medicine condemns millions of otherwise healthy children to autism, which doctors know how to cure, but they are prevented from doing through defunding, imprisonment and assassination.. Her focus is on Retroviruses (RNA) and how to block them, and and also how to enable the cells of autistic children to reawaken, acknowledging the work of many other brilliant scientists. Her coverage of AIDS is interesting but Kennedy's goes into much greater detail. He tracks the story of AIDS and many other epidemics, showing how the medical industry led by Fauci blocked simple and cheap cures, and channelled victims onto expensive 'remedies' like AZT for AIDS patients, a chemo treatment that killed the patients 100% becoming the actual disease whereas the original immune system collapse syndrome was most probably explained by the use of recreational immune-suppressing drug used by gays called Poppers.
Fauci's COVID strategy is the same – causing deaths unnecessarily, all the while building up panic in the media, just as he did with AIDS, and then launch lethal supposed remedies- a retroviral Remsedvir ? which kills its patients with kidney failure, ventilators which kill 80% of the victims and the vaccine which is injuring millions and maybe will go on to kill billions if doctors can't find ways to undo the poisons they contain.
Kennedy's COVID coverage doesn't go into the presence of Graphene Hydroxide in the so-called vaccines which the recently assassinated Dr Noack believes is the primary way the vaccines are injuring and killing millions of people Dr Noack did not believe the mRNA would kill as quickly as the vaccines are doing – just as HIV was shown to be a blind alley by genuine AIDS researchers, wasting decades and billions of dollars and millions of lives.
Fauci is the biggest mass murderer in our times, currently being entirely successful in driving the vast bulk humanity to extinction through his vaccines and other interventions. Kennedy's book is a key and important source for understanding how the current situation has come about.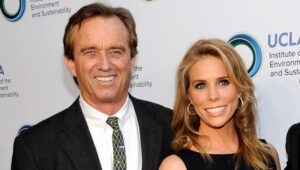 RFK Jr with his wife actress Cheryl Hines
Source:
https://tapnewswire.com/2021/12/the-real-dr-fauci-as-described-by-robert-f-kennedy/
Before It's News®
is a community of individuals who report on what's going on around them, from all around the world.
Anyone can
join
.
Anyone can contribute.
Anyone can become informed about their world.
"United We Stand" Click Here To Create Your Personal Citizen Journalist Account Today, Be Sure To Invite Your Friends.