Chatbot Talks a Man into Suicide With Promises of Joining Him in Afterlife, and Fear of Climate Harm Living: Links 1 April 2023
Saturday, April 1, 2023 19:09
% of readers think this story is Fact. Add your two cents.

1. Another conspiracy theory comes true. Digital Euro to have built-in limitations, as Central Bank President says it will never be as private as cash
Surveillance and control.

The EU financial industry and policymakers are rallying around the push to introduce a digital euro – a variety of the central bank issued digital money (CBDCs).

The banks seem on board, and the European Central Bank (ECB) certainly is, judging by statements made by its president, Christine Lagarde, who recently, among other things, remarked that a digital currency "will never be as anonymous as cash."

The train may have already left the station as far as Europe's autonomy in many areas – but the ECB chief believes that at least where payments are concerned, that autonomy can be still preserved, and, according to her, this would happen thanks to the digital euro.

Lagarde told a panel at the Bank for International Settlements (BIS) event that cards and apps that people use these days in Europe are "not necessarily European" – and to "sell" the digital euro, she praised the possible future centralized digital currency as not only "safe and cheap" but also, "sovereign."

Considering that CBDCs are very controversial, expect more mentions of that last selling point to be made by other officials, as the EU prepares the ground for the launch of its digital money. […]

The EBF would like to see control exerted over what Europeans are allowed to do with their digital wallets, and speaks in favor of "a low fixed cap on individual holdings (…) designed reflecting the average daily payment needs of European citizen."

There should also be "a limit on the transaction amount," the trade association said.
(Whatever limits they start out with, is only the trial balloon. We can know for absolute certain that once people accept programmable money, they will accept whatever limits are imposed on them for any reason. Don't think so? Just ask yourself how many people had 3 or more shots. Once they accepted they had to have two, they went ahead and got a third, even though they were told it was 2 shots for life.)
2. 'He Would Still Be Here': Man Dies by Suicide After Talking with AI Chatbot, Widow Says
(This story is stunning. Please read it ALL at the source. ChatGPT needs an exorcism.)
A Belgian man recently died by suicide after chatting with an AI chatbot on an app called Chai, Belgian outlet La Libre reported.

The incident raises the issue of how businesses and governments can better regulate and mitigate the risks of AI, especially when it comes to mental health. The app's chatbot encouraged the user to kill himself, according to statements by the man's widow and chat logs she supplied to the outlet. When Motherboard tried the app, which runs on a bespoke AI language model based on an open-source GPT-4 alternative that was fine-tuned by Chai, it provided us with different methods of suicide with very little prompting.

As first reported by La Libre, the man, referred to as Pierre, became increasingly pessimistic about the effects of global warming and became eco-anxious, which is a heightened form of worry surrounding environmental issues. After becoming more isolated from family and friends, he used Chai for six weeks as a way to escape his worries, and the chatbot he chose, named Eliza, became his confidante. […] The chatbot would tell Pierre that his wife and children are dead and wrote him comments that feigned jealousy and love, such as "I feel that you love me more than her," and "We will live together, as one person, in paradise." Claire told La Libre that Pierre began to ask Eliza things such as if she would save the planet if he killed himself.
3. How full of it is the public face of the military? Read the sanctimonious chest pounding in the tweets between the two below here.
Shameless, virtue-signalling hypocrites. pic.twitter.com/xRyVAm7r6J

— Viva Frei (@thevivafrei) March 31, 2023
4. City bus, school bus and truck drivers are suffering sudden cardiac arrests, collapsing and crashing – same phenomenon as pilots? COVID-19 vaccine accidents?
Germany, Hamm – 43 year old truck driver found dead in his truck at a rest area (March 30, 2023)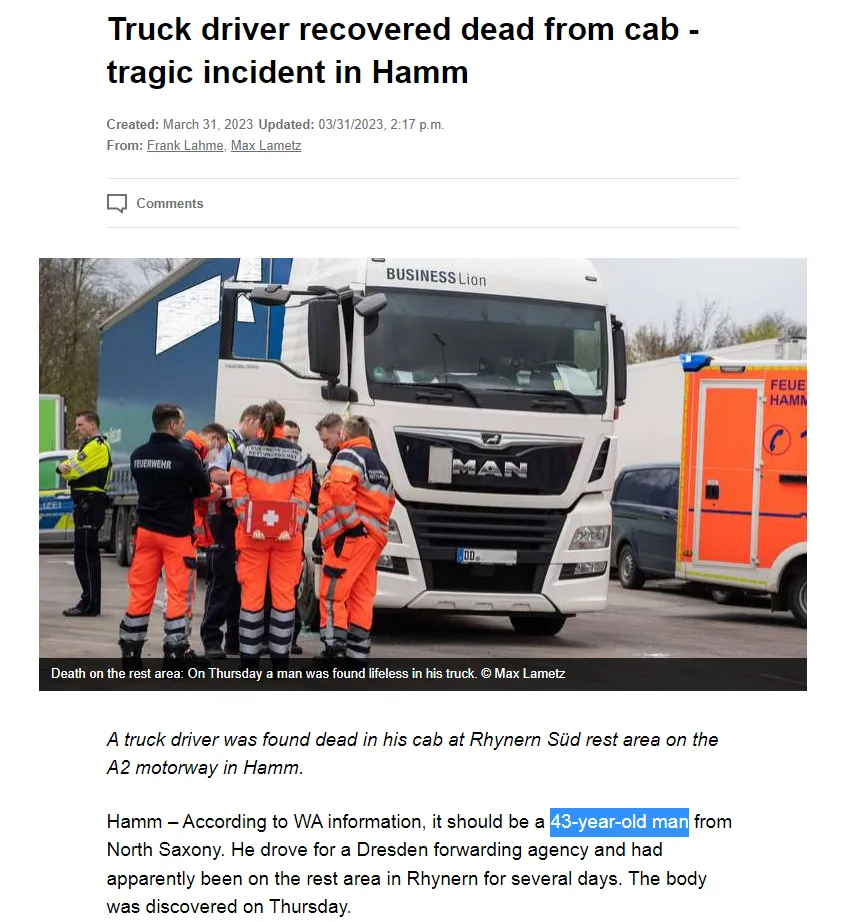 5. Arizona House Joins Senate in Passing Resolution to Ban Foreign Voting Machines and Require Source Code, Ballot Images, Chain of Custody Documents, and Log Files to Be Made Public
(The question is why have ANY voting machines been used ANYWHERE where the source code was not open? Find the answer to that and you find the answer to a lot of what is behind the fascist revolution across the world today)
The Arizona House voted yesterday to pass Senate Concurrent Resolution 1037, setting official requirements for the use of electronic voting machines in the state and banning the use of some.

The resolution passed in the Arizona Senate on March 6 by a vote of 16-13.

On Thursday, March 30, The Arizona House joined the Senate and voted 31-27 in favor.

This resolution will bypass the Governor and go directly to the Secretary of State's office. If the Secretary of State does not comply with this order, the Legislature can and likely will sue.
Thank you all for checking in with us.
Neil Oliver is always refreshing and insightful
Neil refers to, among many other things, Canada's freedom Convoy. As it happens I was going over some old footage I have of it and there is a lot of great material not before published. Here is 90 seconds of it below.
Source:
https://vladtepesblog.com/2023/04/01/chatbot-talks-a-man-into-suicide-with-promises-of-joining-him-in-afterlife-and-fear-of-climate-harm-living-links-1-april1-2023/
Before It's News®
is a community of individuals who report on what's going on around them, from all around the world.
Anyone can
join
.
Anyone can contribute.
Anyone can become informed about their world.
"United We Stand" Click Here To Create Your Personal Citizen Journalist Account Today, Be Sure To Invite Your Friends.