SIF Folio: Why Iamp;rsquo;m trusting historic data + is Rank a bargain?
Tuesday, April 14, 2020 10:18
% of readers think this story is Fact. Add your two cents.

In my piece last week on BAE Systems, a subscriber asked whether basing my assessment of stocks on backward-looking measures was still a valid approach. With much of the world economy at a halt, it seems a fair question. For many companies – perhaps even most – 2020's financial results will not look like 2019's.
This week I want to try and explain why I am still placing a lot of trust in historical data.
I also want to take a look at a company which almost qualifies for my Stock in Focus screen. Bingo and gaming group Rank (LON: RNK) was enjoying a resurgence until the COVID-19 pandemic shut down the consumer economy. The shares have retreated to a level that looks fairly cheap to me on an historic basis. Could this be a buying opportunity?
Why I'm still using historical data
I'm continuing to rely quite heavily on companies' historical financial performance. Broadly speaking, I'm trying to find companies that were profitable, well-run, and on a positive trajectory before the pandemic. My hope is that by buying these firms at a discount to their previous valuations, they will offer better-than-average recovery prospects.
For example, last week's pick, BAE Systems, has traded successfully through many previous recessions and political storms. In my view it is very unlikely that this business will suffer any lasting damage from COVID-19. I'd also argue that the group's history of stable profitability, modest leverage and good cash generation will make a prompt recovery more likely than for some other businesses.
Drilling down a little more, there are three main elements to my focus on historical performance.
Value investing: Traditional value investing has always used historical financial data. One reason for this is these are the only facts we have to go on. We can speculate about the impact of COVID-19 on spending, the economy and the nation's political mood. And we can forecast individual companies' likely performance. But we are only guessing.
By looking for companies with attractive historic metrics, I'm trying to limit my downside risk by owning companies that have previously performed well. My logic is that these companies are more likely to perform well in the future, too.
As Mark Twain is reputed to have said, "history doesn't repeat itself, but it often rhymes".
There's nothing else: 2020 has become a year of unprecedented uncertainty. Many companies have withdrawn their financial guidance and suspended their dividends, as a precaution against an unknowable short-term outlook.
In this situation, I think broker forecasts are of limited use (with one exception – as I'll explain). This means that companies' historical performance is the only way we have to rank and sort potential investments.
Mean reversion: A subscriber commented on my piece last week that BAE Systems was likely to offer a mean reversion opportunity, if nothing else.
This is a reference to the view that mature businesses tend to go through cycles of valuation. Sometimes they will be overvalued, sometimes they'll be cheap. But over time, their valuations will revert to a mean level.
I think this gives us another good reason to focus on historical data. We can be fairly sure that 2020 will be a terrible year for many businesses. But 2021 could see a return to something like normality. The stock market tends to look forward, so we could see a return to more normal valuations over the next 6-12 months.
Identifying companies that will bounce back quickly from COVID-19 is obviously not an exact science. Some businesses may see a lasting reduction in earnings that justifies a much lower valuation.
My hope is that by pursuing my backward-looking approach, I'll be able to achieve a satisfactory result at a portfolio level. This is the most important measure of investment performance, in my view.
Rank: a mean reversion opportunity?
Gaming group Rank is an example of the kind of business where I hope mean reversion could take place.
The Rank share price has fallen by nearly 40% so far this year, lagging the FTSE 250's 25% decline. The group has understandably been hit hard by the enforced closure of its Mecca bingo halls and Grosvenor Casino chain.
This has left the firm trading on a single digit historic P/E ratio – at the very bottom of its historic valuation range: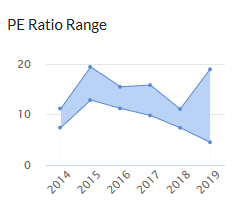 However, unlike some consumer businesses, Rank's online operations mean that it's still able to trade in a limited way. During H1, digital gaming generated around 20% of the group's revenue and underlying operating profit. I can imagine that activity levels might have increased with so many people stuck at home on lockdown. So this activity should help to cover some of the group's ongoing operating costs.
Rank's cash position also seems to provide some breathing room. In a RNS on 17 March, the firm said it had £163m of available cash and facilities at the end of February. Based on figures supplied by the company, I estimate that this should be enough to support cash outflows for up to seven months of lockdown.
The experience of other countries which are ahead of us on the COVID-19 curve seems to suggest that a figure of nearer three months could be more realistic. So I don't see any immediate risk that Rank will run out of cash.
Earlier on, I said I was looking for companies that were "profitable, well-run, and on a positive trajectory before the pandemic". Let's see if Rank satisfies these tests.
Profitable?
Since 2014, the StockReport shows us that Rank has been continuously profitable. Although profitability worsened for several years, performance over the last 18 months suggests to me that the group's performance was improving once more.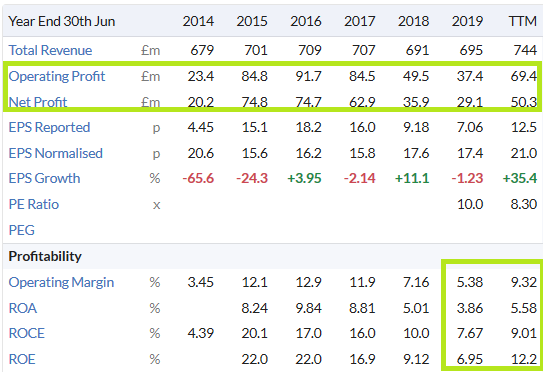 Well run?
Judging whether a company is well run is a little more subjective. However, the early improvement in profitability highlighted above is a positive sign. I also think there are other clues that CEO John O'Reilly has done a good job since taking charge in May 2018.
For example, debt has continued to fall, while cash flow has improved: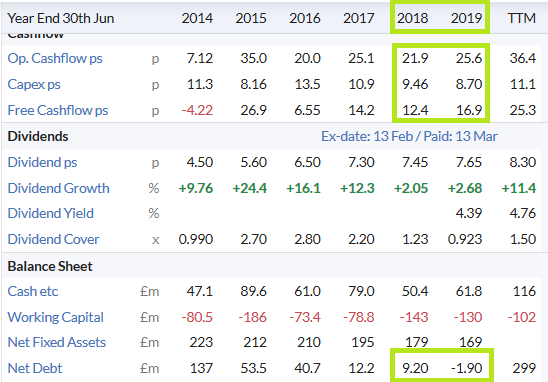 Good trajectory?
Although I'm focusing quite heavily on historical data at the moment, I still believe momentum remains important.
The first measure I'm using to gauge this is companies' trading performance immediately prior to the pandemic. Rank scores well here. Performance during the six months to 31 December was very strong: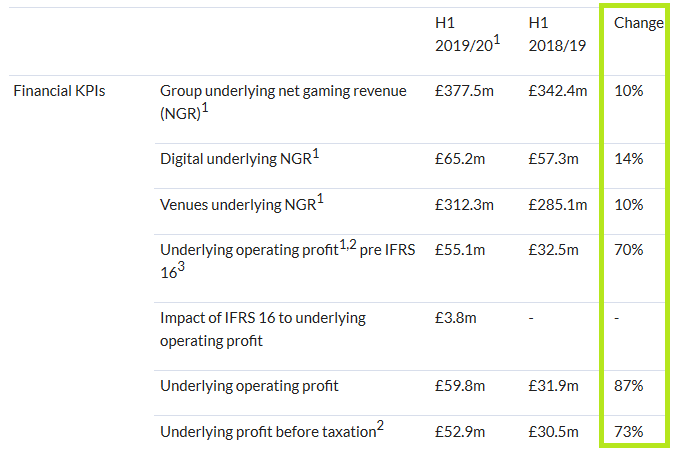 The changes put in place by Mr O'Reilly have led to a mix of revenue growth and cost savings. Combined, these generated impressive operating leverage in the run-up to Christmas.
We can see from the analyst consensus trend that the strong momentum seen in H1 was expected to continue over the next 18 months. Note that there were several broker upgrades prior to the coronavirus pandemic: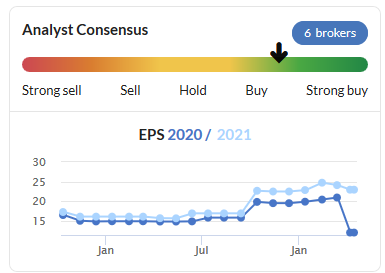 I'd suggest that the outlook for the next year is still unclear at this time. But I think the progression suggested by this chart is encouraging.
At current levels, Rank shares trade on less than eight times 2021 forecast earnings. On a longer-term view, I think that could be a good entry point.
My view
I'm not going to add Rank to the SIF folio this week, as it doesn't quite satisfy all of my valuation criteria. But if the shares slip lower so that Rank passes all of my tests, then I would be happy to consider this stock.
Disclosure: Roland owns shares of BAE Systems.
Source:
https://www.stockopedia.com/content/sif-folio-why-irsquom-trusting-historic-data-is-rank-a-bargain-591073/
Before It's News®
is a community of individuals who report on what's going on around them, from all around the world.
Anyone can
join
.
Anyone can contribute.
Anyone can become informed about their world.
"United We Stand" Click Here To Create Your Personal Citizen Journalist Account Today, Be Sure To Invite Your Friends.