Small Cap Value Report (Mon 29 June 2020) - macro, PRV
Monday, June 29, 2020 5:25
% of readers think this story is Fact. Add your two cents.

Good morning, it's Paul here with Monday's SCVR.
Estimated timing – there's very little news today in my area, so I should be finished before 1pm.
Here are my Sunday afternoon thoughts, to get the week off to an early start;
.
Pubs re-opening
Hot weather seems to make some Brits go round the bend, and decide to get drunk and sometimes do a bit of rioting. The pressure of lockdown this year seems to have exacerbated this long-standing tendency. There have been various incidents recently, with open air parties turning nasty. Of course in my own locality, Bournemouth beach has achieved international notoriety when half a million people turned up on the beach, made a lot of noise amp; got too close to each other, left behind c.40 tons of litter (much of it on the beach itself, rather than in the overflowing bins). Throw in a few fights amp; stabbings for good measure. There was even a picture of Bournemouth beach on my daily email from CNBC (within the article itself, not just an advert), showing a very busy beach.
Although I would say that the media exaggerates the lack of social distancing, by using camera angles which make everybody look as if they're packed in like sardines. When on the ground, or from the air, you can actually see that most small groups of people are sitting well apart from other small groups. Outdoors. So not likely to be spreading the virus. Bournemouth Council's outrage at people descending on the beach when the weather was glorious, strikes me as a fig leaf for their own lack of preparation, in failing to provide adequate facilities (which I've lamented here before, but let's not go there, as it upset a few people apparently, and we can't have that).
Against this backdrop, what on earth were the Govt/civil service thinking, to re-open the pubs on 4 July, a Saturday night? What could possibly go wrong?! They weren't thinking, obviously, as seems to be so often the case at the moment. It's going to be absolute carnage, isn't it? Wetherspoons is apparently going to open all its sites – there was an update last week from it here. No ranting about Brexit this time from Tim Martin. Its staff survey results published here were interesting. I'll be popping into my local 'spoons on re-opening night, for a pint of remarkably cheap Thatcher's cider – sharing a name with my favourite female Prime Minister, as a happy coincidence.
I feel so sorry for the police, as they seem to be regarded as society's punchbags, for the whole spectrum of hooligans, from the hard left statue puller-downers (although I sympathise with their motives – statues of slave traders have no place in prominent public areas, and should have been retired to museums a long time ago), to the far right permanently angry about everything mob. In fact lots of people seem to be permanently angry. I was too, when I was allowed on social media – it brings out the worst in people.
I see Revolution Bars (LON:RBG) (I'm long) has sensibly delayed its re-opening of just 6 sites (out of about 75) until the following Monday. Then it plans to open batches of 9 more at a time, learning as they go along. Sounds sensible.
At the moment, the High Street looks forlorn, with many smaller shops having chosen not to re-open. This makes complete sense, when staff costs are covered by the furlough scheme, which combined with low footfall, means it's cheaper to remain closed. These retailers almost hold a call option on whether to re-open or not. If High Street spending bounces back once bars, cafes amp; restaurants re-open (some of them anyway), then maybe smaller retailers might re-open when the furlough scheme ends at end October? This scheme is clearly providing a perverse disincentive for the economy to re-start. I wonder if it might be better for the Govt to give targeted support to particular sectors, rather than across the board support?
Rents - some of the figures being published, about very low rent collections by landlords, from retailers/hospitality sector, for the 24th June quarter day, make me wary of going back into property REITs. I managed to catch a lovely short squeeze, more than doubling my money on Hammerson (LON:HMSO) , but thankfully sold out when it started going back down again.
INTU going bust was no great surprise (although a close shave for me amp; others here), but I think other property owners might struggle too, once properties are written down heavily in value, to more realistic valuations. When looking at any such shares, remember to take a hatchet to the balance sheet values – these could be written down hugely, once vacancies increase, and rents are reduced very greatly on lease expiry, or break clauses being triggered.
Plus landlords are likely to have to give away reverse premiums (a cash outflow) and/or long rent-free periods, in order to re-let empty sites. The pain for landlords is only just beginning, I reckon.
Whilst Newriver Reit (LON:NRR) gave a very good account of things in their recent webinar, and it doesn't face any immediate liquidity concerns, I think it could sail a bit too close to the wind for my liking, with its 2021 covenants. Therefore I'm happy to remain sitting on the sidelines with that one, for now. It's easy enough to buy back in again, in future, if risk:reward improves. We don't have to marry any shares. In fact, it's better not to develop some passionate commitment to any share. Be careful about that, because I've got plenty of scars from making that simple mistake. Sometimes reader comments here worry me, that the writers have become irrational, and perhaps see liking a share they own as akin to supporting a favourite football team.
I've sold or trimmed back on quite a few of my recovery type shares. So I've ditched Marks And Spencer (LON:MKS) and Vertu Motors (LON:VTU) recently. Generally I'm in cautious mode again, as the economic recovery looks like it's likely to be slower than I previously imagined.
.
---
US market
At long last, a dose of reality seems to be entering the mindset of investors across the pond. To help focus my thoughts, I've summarised the bull amp; bear points as follows;
Bull points
The Fed – has forced money into equities, by killing bond yields, flooding the system with liquidity. Big companies are not going bust, as they can borrow seemingly unlimited amounts to ensure survival.
Absolutely massive Govt stimulus, on a much larger scale than 2008-9 cannot fail to make the economy recover. Markets look forwards,
Permanently low interest rates mean that equity PERs should be higher than in the past. In this environment a PER of 20 for a growing company is arguably great value – that's an earnings yield of 5%, when decent yields elsewhere are hard to come by.
Economic recovery is underway, as the lockdown is eased.
Vaccine/treatments – absolutely key. If the virus is under control some time in 2021, as seems possible, then the economy recovers, and stocks could start posting new all time highs, given the scale of the stimulus.
If the economy doesn't recover, then the Fed/Govt are likely to continue with more stimulus packages. What if the Fed starts buying shares directly, or via ETFs? It has been mooted.
Election year in the US – so the incumbents are motivated to throw the kitchen sink at the economy and markets, until the desired result is achieved.
Apparently large numbers of investors in the US (35% of the over-65's – source: CNBC last week), sold out at or near the March lows, and many haven't since gone back into equities – thus crystallising losses at the worst point, and missing out on one of the fastest amp; largest market rebounds in history. Could that provide continued buying of shares, due to FOMO?
Bear points
Worrying resurgence in covid-19 in some states in the US, plus fresh outbreaks in other countries. Can these be contained? We don't know yet. Texas has ordered bars to shut again, apparently. Is this the future for all of us maybe – i.e. local or regional shutdowns, to contain outbreaks (if possible?). This thing could be around for a while.
Few corporate earnings forecasts. I remain of the view that Q2 figures could be a lot worse than the market expects. This was borne out by Nike's results (05/2020) which were a lot worse than expected.
Massive unemployment has been masked by furlough schemes. The full scale of this problem is likely to become apparent in the coming months, as the scheme winds down. That would then inevitably feed through to lower consumer spending, and more bank debt going bad.
In the US, Joe Biden is well ahead in the polls for the Nov 2020 presidential election. Getting rid of the nutcase Trump would be a good thing for the world I feel, but the stock market doesn't care about that. Biden's stated intention is to increase taxes on corporates, and investors. That's bad for share prices in the short term.
Slower economic recovery. The hoped-for V-shaped recovery seems to be receding somewhat. If 2019 peak earnings are not likely to be recovered until 2022 or even later, then arguably share prices might need to reflect that by coming down a bit more?
It's really up to each individual investor to weigh up all of the above, and come to our own decisions on what stance to take. It seems to me that, with so much uncertainty, and impending bad news on the cards (plunging profitability, and battered balance sheets), paying top whack for any share is asking for trouble. Hence why I've put my cautious hat on again. I make no apologies for frequently changing my mind – that's essential at times like this, and it's a willingness to adapt to changing circumstances that has made this a successful year so far for the paulyfolio. Pride often comes before a fall, so I had better stop at that point!
Commentators always seem to say, "This is a stock pickers market", in pretty much any market conditions. Personally, I think we're in a market for traders , not stock pickers, this year. Everything seems so uncertain, and so volatile, that I think there's a lot to be said for grabbing profits, if something does unexpectedly well.
.
---
Porvair
(LON:PRV)
Share price: 589p (up lt;1% today, at 09:46)
No. shares: 46.06m
Market cap: £271.3m
Porvair plc ("Porvair" or "the Group"), the specialist filtration and environmental technology group, today announces its half yearly results for the six months ended 31 May 2020.
This share has been a good long term performer, although in the last 3 years it has overall just gone sideways. I've always liked this company, but found its valuation too expensive;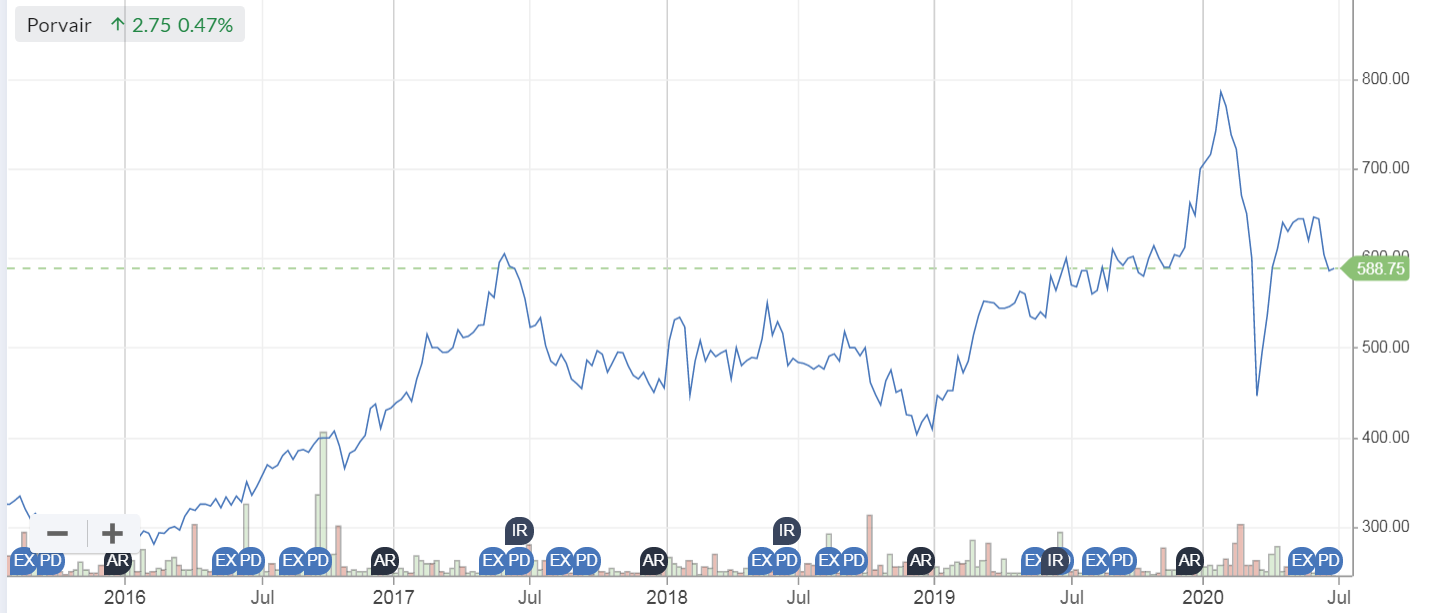 .
Interim results look very good, considering about half the 6 months ending 31 May 2020 would have probably been affected by covid.
H1 revenues up 2% to £73.2m
Adjusted operating profit is up 13% to £9.0m. We have to be careful when looking at operating profit, because IFRS 16 has messed up the prior year comparisons. Some property rent cost ends up in finance charges, which appears after operating profit on the Pamp;L. Hence we always need to check that for anomalies. This looks fine, as adjusted profit before tax is up a similar percentage, at £8.5m (up 12%). Note the strong profit margin of 11.6%.
Adjusted basic EPS should be fine as a comparison y-on-y, and that's up 11% to 14.3p - very good in the circumstances.
A small interim divi of 1.7p is maintained – demonstrating some confidence we might infer, although it's really too small to matter either way.
Balance sheet – NAV is £101.5m, dominated by intangibles. Deleting those, NTAV is £27.8m. Overall the balance sheet looks fairly strong. Note there is a pension deficit of £15.2m. With ultra-low interest rates of late, pension deficits are generally on the rise, so this issue would need to be checked out properly before buying this share.
Outlook - surely the company could have given more information than this?
The outlook for the next six months is unpredictable and, as previously announced, until patterns of demand stabilise the Group has withdrawn earnings guidance… Management's second priority has been to prepare for recessionary conditions should they arise… The near term may be challenging, but the Board remains confident that the Group is well positioned and remains resilient….
Not exactly brimming with confidence, but I wouldn't expect them to be.
My opinion – neutral. It's a nice company, but given current uncertainty, I wouldn't be interested in paying anywhere near the current share price. It looks to be valued at just under 24 times forecast earnings. Unlike most shares, the forecast earnings look achievable. This group seems to operate in nicely profitable niche markets, and it's a good business. My only reservation is on valuation.
Source:
https://www.stockopedia.com/content/small-cap-value-report-mon-29-june-2020-macro-prv-627843/
Before It's News®
is a community of individuals who report on what's going on around them, from all around the world.
Anyone can
join
.
Anyone can contribute.
Anyone can become informed about their world.
"United We Stand" Click Here To Create Your Personal Citizen Journalist Account Today, Be Sure To Invite Your Friends.