Small Cap Value Report (Fri 3 July 2020) - MANO, CMCX, NUM
Friday, July 3, 2020 7:41
% of readers think this story is Fact. Add your two cents.

Good morning, it's Paul here with Friday's SCVR.
No preamble today, as I was too tired last night to put anything together. Let's see what the 7am RNS brings.
Police forces are apparently on a New Year's Eve footing for "Super Saturday" tomorrow's pubs opening day. It's obviously going to be carnage, and no doubt we'll have Priti Patel amp; other Govt ministers chastising us on Monday for the bad behaviour of a hooligan anti-social minority (about 20% of the UK population I would guess! And growing every year, it seems).
Estimated timings – should be mostly done by 1pm, but I want to cover a few stragglers left over from earlier this week, after lunch. So final finish time c.4pm.
Running through the list, there's hardly anything of interest today. Looking at the reader requests today;
.
Manolete Partners (LON:MANO)
546p (up 7% ) – mkt cap £237.8m
Final Results – I've not come across this company before. It floated in Dec 2018, and seems to be involved in litigation financing. Graham outsourced coverage of it to subscriber abtan who wrote an interesting piece on it here on 21 Nov 2019. Reading that piece, it's clear that this share is not of interest to me, and I'm not interested in ploughing through loads of details on individual cases in order to work out what the shares might be worth.
Having a quick skim of the results today FY 03/2020, the headline numbers look good – adjusted (for IPO costs) PBT up 40% to £9.5m.
Final divi doubled to 3p (a very low yield though). Outlook statements reads positively.
My main worry with this sector (as some readers have commented on below) is that short sellers attacked another, larger, litigation funding company, Burford Capital (LON:BUR) and the share price has never recovered – currently sitting at about 500p, still about 75% down from its peak. I remember listening to the conference call from Burford when it was fighting the shorting attack, and it struck me how many potential problems there are with estimating the outcomes of cases, realised/unrealised profits, selling fractions of cases just before the year end to establish a higher book value, etc. It sounded an absolute minefield. The more information Burford provided, the more questions it seemed to stimulate.
According to the StockReport, Burford seems to currently sit at a Price to Tang.Book of about 1, which seems a sensible valuation to me. The equivalent metric for Manolete is 7.2. The latest balance sheet as at 31 Mar 2020 only has net assets of £34.9m, a P/NTAV of a very high 6.8 times. Looking at the list of its RNSs, I don't see anything that suggests it has done a placing since the year end, so the balance sheet would still be similar now.
Clearly the business is being valued on a multiple of earnings, and net assets are largely being ignored. Whereas the short sellers smashed up that valuation basis for Burford, and hauled it down to a P/NTAV of only 1. What's to stop them doing the same thing with Manolete?
My opinion – good luck with it, but this is not a sector I would want to invest in, given what happened to Burford.
.
---
Another reader request was;
£CMC
CMC is doing very well at the moment, up another 17% today. That takes the market cap close to £1bn, well over my usual cut-off of around £400m-ish. Larger rival Ig Group (LON:IGG) has also been doing well this year – these companies thrive on market volatility., Although bear in mind when markets calm down, then client trading activity reduces back down again.
That said, today's update is very strong indeed – Q1 TY is better than H1 LY! Also it says;
The Board is confident that, even in the event that more normalised client trading activity returns, with the strong underlying performance of the business, 2021 net operating income will exceed the upper end of current market consensus1.
There's a very helpful footnote (all companies should do this) saying;
1 As at 2 July 2020, the Group compiled Full Year 2021 consensus is as follows:
· Net operating income of £245.9 million, ranging from £239.1 million to £255.5 million
· Profit Before Tax of £85.2 million, ranging from £75.8 million to £93.5 million
My opinion – neutral. The price looks about right to me, on the basis that this could be an unusually profitable year, due to the exceptional circumstances. It's a good point to remember for next time there's a major market panic – when everything plunges, we should buy the spread betting companies, as they benefit from market turmoil.
The 5-year chart below shows that it's only got back to where it started, with long periods of disappointment in between. Hence it's maybe worth bearing that in mind, before getting too excited about current strong trading? Every now and then regulatory issues surface with this sector, another point to bear in mind.
.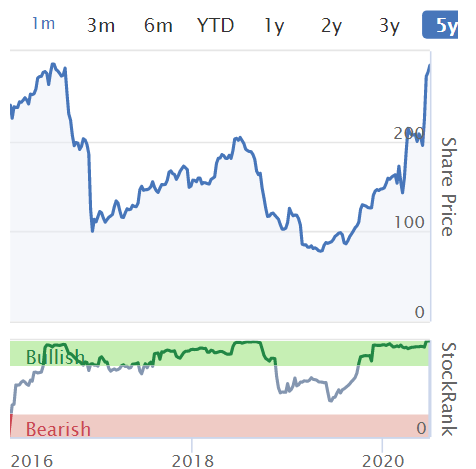 .
---
Numis
(LON:NUM)
317p (up 2% today) – mkt cap £336m
Reports strong trading in Q3 (Apr, May, June 2020) – Q3 revenue "materially ahead" of Q1 amp; Q2.
Investment Banking benefited from an increase in capital markets transaction volumes which more than offset the decline in Mamp;A deals and absence of IPOs. In addition average deal fees were significantly higher during the quarter as we completed capital raisings for some of our larger corporate clients such as ASOS, Beazley, Ocado, and Unite.
That's great, and I think we'll continue to see many more fundraisings this year, as companies repair their balance sheets, often under pressure from banks, who want to reduce their own risk. Although as the economy improves, then fundraising deals are likely to go back down again, in 2021 maybe? Hence IPOs and Mamp;A will need to recover to replace the bonanza of fees from fundraisings.
Outlook comments are positive;
However, we currently have a good pipeline of transactions, and we expect revenue and profits for the second half will be ahead of the first half.
A general moan about old school brokers
Something really needs to be done about the profligate fees that brokers amp; various other advisers charge for fundraisings. It's money for old rope. Let's hope future financial reform sweeps away this cosy closed shop. What we need is a quicker, less complicated, and cheaper way for listed companies to raise fresh funding. The technology for quick, cheap, electronic fundraisings, has been around for 2 decades, but vested interests have successfully managed to stop any progress being made. I can feel a letter to Dominic Cummings coming on.
Numis produces excellent research on companies, but does its best to make sure that private investors don't get to see it. Whereas many other brokers make their research available on Research Tree, so there's no regulatory problem here at all.
Numis also seems to see it as their job to actively block private investors from having contact with companies, excluding them from company meetings, etc.. This is scandalous in my view, and needs to be challenged. In my view, if analysts are in any way guided by the company itself (e.g. chatting through amp; agreeing assumptions with the CFO), then it should be a requirement that such research is made widely available to everyone, not restricted to a select few important people.
Peel Hunt amp; Shore Capital are a couple of other old school brokers that do the same thing.
The strength of these brokers is in their relationships with institutions, so they're good at raising money from the select few, whilst private investors often don't get a look in. When I meet companies, I always emphasise that they need a broker which sees the value of engaging with private investors. After all, we create the liquidity, and set the share price, with smaller caps.
---
Source:
https://www.stockopedia.com/content/small-cap-value-report-fri-3-july-2020-mano-cmcx-num-629973/
Before It's News®
is a community of individuals who report on what's going on around them, from all around the world.
Anyone can
join
.
Anyone can contribute.
Anyone can become informed about their world.
"United We Stand" Click Here To Create Your Personal Citizen Journalist Account Today, Be Sure To Invite Your Friends.