Small Cap Value Report (Mon 28 Sept 2020) - FUL, GETB, RCH, CTG, VANL, BAR
Monday, September 28, 2020 8:44
% of readers think this story is Fact. Add your two cents.

Good morning, it's Paul here with the SCVR for Monday.
Here are the company updates which have caught my eye this morning;
Fulham Shore (LON:FUL) – casual dining chains – trading update
Getbusy (LON:GETB) – Trading update amp; completion of loan facility
Christie (LON:CTG) – AGM statement
Van Elle Holdings (LON:VANL) – AGM statement
Reach (LON:RCH) – Half yearly financial report
Brand Architekts (LON:BAR) – Final results
.
Timings – I need to be finished by early afternoon today, in order to prepare for the Mello Virtual online shares event this evening. They want me to discuss a few small cap shares with other investors.
.
---
Fulham Shore
(LON:FUL)
Share price: 8.25p (up 4%, at 08:07)
No. shares: 609.6m
Market cap: £50.3m
Publication of audited accounts for y/e 29 March 2020 is extended from end Sept, to c. 15 October. It says that both AIM and Companies House have extended the deadline for filing accounts to end Dec 2020, so there's nothing to get worried about here. Other than that it's a bit slow to produce accounts, even allowing for covid disruption.
Here's a summary of today's update, with my comments;
FY 03/2020: revenues up 7.2% to £68.6m – this only clips the start of the covid lockdown, so not a terribly impressive growth rate. There should be many more opportunities to open new sites on low rents in the current situation.
Current net debt (at 25 Sept 2020) is low, at £3.52m. It says £7.46m undrawn on £25.75m, which suggests the gross positions must be as follows (my workings);
Cash: £14.77m
Debt: £(18.29)m
Net debt: £(3.52)m
Couldn't they have just provided a table with those numbers in, instead of the confusing text? Note to everyone who writes or edits RNSs: tables are always the simplest, clearest way to present figures.
It looks as if FUL has drawn down heavily on its bank facilities, and is sitting on a big cash pile, as a comfort blanket. I understand why some companies are doing this, but it usually does waste money on interest costs. Unless there's an offset agreement between credit amp; overdrawn balances, which there might be, I don't know.
10pm curfew – interestingly, FUL says this is not likely to have a material impact, because most customers eat before 10pm anyway. That's a useful point, as this measure is probably confined to hurting bars, rather than restaurants, maybe?
Eat Out to Help Out scheme – confirmed what we already knew, that it boosted business strongly in August.
Sites – 68 out of 70 are currently trading. If forced to close again, will once again pivot to delivery amp; takeaways.
FUL sees itself as a "successful survivor", which I think is fair comment, I agree.
My opinion - interesting points, but this trading update doesn't actually tell us anything about current trading! No LFL sales figures, not even an indication if they're still trading ahead of last year now that EOtHO has ended. I'm not at all keen on this selective type of disclosure. Trading updates should be in a standard format, and released on a reliable schedule (quarterly is fine, I think). Not ad hoc announcements of whatever snippets management amp; the PR company decide we can be told about.
Since it says nothing about trading vs market expectations, I can't go any further with this, which is rather disappointing, as this share is in my "looks interesting, but probably too expensive" tray. I've no doubt FUL is likely to be a successful survivor, but the mkt cap of £50m, for 70 restaurants, works out at £714k per site – that's far too high, in my opinion, given that a lot of the sites are smallish, and probably now on rents that are too high. However, both Franco Manca, and The Real Greek, are good formats, and well-managed, in my view.
Who wants to buy shares in a restaurant chain right now though? I would if it was dirt cheap, but it isn't.
Paradoxically, it's a successful chain like FUL that will soon be suffering, up against weaker competitors that are now doing CVAs in their droves, and hence securing lower rents than FUL. Hence I would rather look at chains that have restructured, and ditched all their onerous leases. Revolution Bars (LON:RBG) (I hold) is the latest to be looking into that option. Set against that, is the reality that covid looks to be weighing on the hospitality sector well into next year (Govt talking about 6 months restrictions), which is bound to hurt. Those operators which can survive, and restructure their leases through a CVA or pre-pack, could emerge very strong amp; highly profitable businesses with much reduced competition (temporarily anyway), once covid is over.
I note that FUL says it has a strong balance sheet. I often think this is management trying to convince themselves, as much as the market. Altman disagrees, saying there is some solvency risk;
.

.
If Altman is flashing a warning signal, I always check the last balance sheet. FUL did a small placing in August, so that would slightly improve things once it comes into the interim results in late 2020 or early 2021. FUL does have positive NTAV, but it's dominated by the fit-out costs of its restaurants. In reality, those fit-outs have little to no resale value, so are not saleable assets. If you write off those substantial costs, you're left with a threadbare balance sheet with too much debt for the size of business, in my view.
If we have a further, extended lockdown, then FUL wouldn't be the safest share to hold. If it can continue trading, then it should be fine. Don't bite my head off, I'm only flagging the risk.
The other thing to consider, is that this share is thinly traded, and tends to go sideways for long periods. Would you have the patience to sit tight for years, with nothing happening? There is an opportunity cost to doing that, especially as FUL doesn't pay divis.
.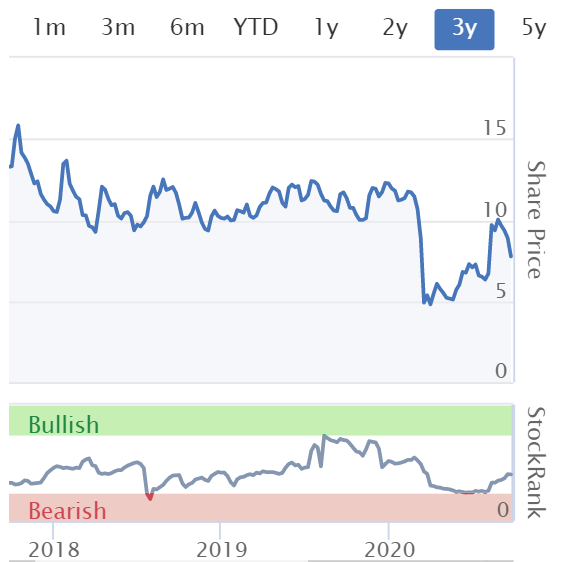 .
---
Getbusy
(LON:GETB)
Share price: 77.5p (up 7%, at 09:58)
No. shares: 49.4m
Market cap: £38.3m
… and completion of loan facility – a £2m loan from Silicon Bank. A lot of small tech businesses tell me that they cannot borrow money, because banks aren't interested. Well here we go, clearly you need to call Silicon Bank, as they've funded this small tech business. I've heard that Barclays are also active in lending to small tech businesses with recurring revenues, on the basis that the facility could be repaid, in extremis, by slashing costs and letting the recurring revenues roll in to repay debt. Hence not as high risk lending as it might at first appear.
This is a 3-year facility, secured, with covenants, at a reasonable cost of 3.25-3.75% above LIBOR, plus arrangement fee. The key terms section doesn't seem to tell us what the repayment terms are, which is probably more key than anything else! Is it repayable by instalments, or all at the end?
I like GETB, it looks an interesting growth company, with 3 products, which all sound relevant to the circumstances we're in;
Virtual Cabinet – the biggest division, and a cash cow, with very high profit margins. This funds the other parts of the business.
SmartVault – making a small loss at the last interims
GetBusy – looks to be a largely pre-revenue, blue sky project, which is currently loss-making.
I reviewed its interim results (6m to 30 June 2020) here on 23 July – impressively rapid reporting of the numbers, let's hope they're right!
Today's update -
The Group's performance has remained robust since the half-year.
It's all a bit vague.
SmartVault's annual contract value from new customers remains around 40% ahead of last year. We have started the investments announced in July in SmartVault product capabilities and growth to drive sustained increase in shareholder value over the coming years.
Is that the same as revenues being 40% up? It sounds ambiguous. At the interims, we were given a figure of 35% growth for total SmartVault revenues. I wish the company had given the same measure today, instead of apparently switching to a slightly different metric, or using ambiguous wording anyway.
Moving on to the biggest, most profitable division, we're told;
New business for Virtual Cabinet has also recovered and we are delighted to have secured an order from another Top 10 UK accounting firm.
Sounds positive, but I'd prefer some numbers.
GetBusy division – growing, but still small, so I think we can disregard this division for now.
Outlook - completely vague;
We continue to look to the future with confidence.
My opinion - today is turning into a frustrating day. Both companies I've looked at so far, seem to think it's OK to give shareholders vague, waffly updates, instead of what we should get – which is an indication of how the company is performing versus market expectations.
How are we supposed to value shares, and hence decide whether to buy/hold/sell?
Anyway, the update today seems to have reassured, as the share price is up 7%.
Overall, I still like this share, but currently don't know how to value it. The main value is clearly in the VirtualCabinet division, with nice recurring revenues amp; profits. Arguably we're getting the other 2 divisions in for free, so some speculative upside there. Quite interesting. I could be tempted to have a dabble here at some stage, because it has a decently profitable core division. That lowers the investment risk compared with a completely jam tomorrow, cash burning proposition, which is more normal with micro caps.
.
---
Reach
(LON:RCH)
Share price: 76p (up 17% today, at 11:30)
No. shares: 299.3m
Market cap: £227.5m
This group used to be called Trinity Mirror.
Reach plc ('Reach', 'the Company', 'the Group'), the largest commercial national and regional news publisher in the UK, today announces its half-yearly results for the 26-week period ended 28 June 2020.
It's got a heading to tell us that profits are ahead of expectations. I like this. It's not waffle, it's telling us the most important performance measure – notably absent from the trading updates covered above.
Performing materially ahead of 2020 market expectations
There's lots to digest here, I'll just mention the key points;
Revenue down heavily, down 17.5% to £290.8m – to be expected, given the covid/lockdown situation
Note that Reach is making acquisitions, and growing digital, so there's an even steeper underlying decline
Amazingly, despite this, adjusted PBT has been robust, at £54.9m (H1 LY: £71.3m), down 23%
Are the adjustments reasonable? They seem to be genuine one-offs, e.g. a disastrous contract error on a property conversion, which has cost £15.5m
More restructuring, streamlining, cost-cutting. They look to be cutting to the bone now, as staff have had to take a 10% pay cut, which you can't keep doing, or there'll be nobody decent left after a while
Dividends – bit of a try-on here, with no cash divis, but a bonus issue – they must think shareholders are daft! If everyone gets bonus shares, then the share price just falls to reflect the increased share count, so nobody is any better off.
Balance sheet – still dominated by goodwill at the top, and pension deficit at the bottom
Pension scheme – is sucking out a lot of cash, and with interest rates now permanently low, the liabilities could be revised up again at the next actuarial valuation in March 2021. Asset values are also likely to rise too.
Digital revenues – are significant now. The dream scenario for shareholders, is if Reach shares become fashionable amongst tech investors, as a growth digital marketing business attached to a newspaper business, and a huge pension scheme. How likely is that? It's possible, but I'm not sure I'd attach much more than a 0-20% probability to it happening, but who knows?
My opinion – the low PER isn't very relevant, because it ignores pension scheme cashflows, and reflects the rapid decline of the print business. This year's covid impact could be next year's soft comparatives, so that might be a catalyst for some moderate excitement in spring 2021?
For me, this has to be filed in the "too uncertain" tray, and hence almost impossible to value.
It is surprising though, how strongly profitable it has remained, despite massive headwinds.
.
.
work-in-progress
Source:
https://www.stockopedia.com/content/small-cap-value-report-mon-28-sept-2020-ful-getb-rch-ctg-vanl-bar-671498/
Before It's News®
is a community of individuals who report on what's going on around them, from all around the world.
Anyone can
join
.
Anyone can contribute.
Anyone can become informed about their world.
"United We Stand" Click Here To Create Your Personal Citizen Journalist Account Today, Be Sure To Invite Your Friends.