Small Cap Value Report (Thu 17 Sept 2020) - EYE, PCIP, WAND, WATR, BEG
Thursday, September 17, 2020 8:09
% of readers think this story is Fact. Add your two cents.

Good morning, it's Paul here with the SCVR for Thursday.
Timing - there should be a reasonable amount up by the official finish time of 13:00, but I'll probably carry on writing until mid-afternoon, as there's nothing else on my agenda for today, other than a bit of food shopping later.
Agenda – it's a rather uninspiring list of companies reporting today, so I've plucked out a few which might be of moderate interest, as follows;
Wandisco (LON:WAND) – interim results look terrible, more to follow
Water Intelligence (LON:WATR) – Interim result
Begbies Traynor (LON:BEG) – trading update
Eagle Eye Solutions (LON:EYE) – left over from yesterday
Note that Pci- Pal (LON:PCIP) is doing a results webinar at 10am on Investor Meet Company, so that's going to take up a section of my morning, because I think this share looks potentially interesting – strong growth, but also rather heavily loss-making at the moment. So I'm on the fence, but leaning a little towards a positive view, and keen to learn more about it. It's fine to be neutral on lots of shares, we don't have to have a view on everything.
EDIT at 11:04 – the Pci- Pal (LON:PCIP) webinar has just finished, and I found it very interesting. Worth a look, when the recording is published on IMC. I liked the rapid growth, and recurring revenues, means that it should reduce losses considerably this year, and move into profit the following year. Also, the lack of competition is interesting – larger tech companies apparently prefer to outsource this niche, seeing it as a distraction. CEO amp; CFO came across well – the sort of management I look for – hands-on people, who know the business inside out, not gravel-voiced pompous city financial engineer types!
.
---
Mello Monday Virtual - 6pm Mon 28 Sept
Many of us have attended renowned investor David Stredder's "Mello" investor evenings over the years – it used to be a monthly evening in a restaurant in Beckenham, and ran for something like 10-15 years. It's not practical for us to meet at the moment, so David has moved online, with a new "virtual Mello" which is being organised through Zoom.
It mirrors the format of the previous physical meetings, but the benefit of online is that we can do other things at the same time at home! Plus the travel to Beckenham used to be a bit of a pain, so this is a lot more convenient from home.
David has kindly offered Stockopedia readers a 50% discount, so it only costs about a fiver for us. Use the discount code: MMSTOCK50. I've been roped into talking about a couple of my favourite shares in the BASH (buy, avoid, sell, hold) session. This will obviously just be personal opinions, not advice.
Details of the speakers are here.
Tickets here.
.
---
Eagle Eye Solutions
(LON:EYE)
Share price: 259p
No. shares: 25.7m
Market cap: £66.6m
Eagle Eye, a leading SaaS technology company that creates digital connections enabling personalised, real-time marketing through coupons, loyalty, apps, subscriptions and gift services, is pleased to announce its results for the financial year ended 30 June 2020
This share is filed in my "nice company, but too expensive" tray.
The financial highlights look encouraging – it seems to be almost at breakeven, and the rather tight cash position seems to be improving – those were previously my main reservations about this share. I'm also keen on companies with high recurring revenues, so another tick in that box for EYE. It has a very impressive client list too, with well-known big supermarkets using its service – so clearly it works, and they find it useful. Clients are international too, not just UK.
.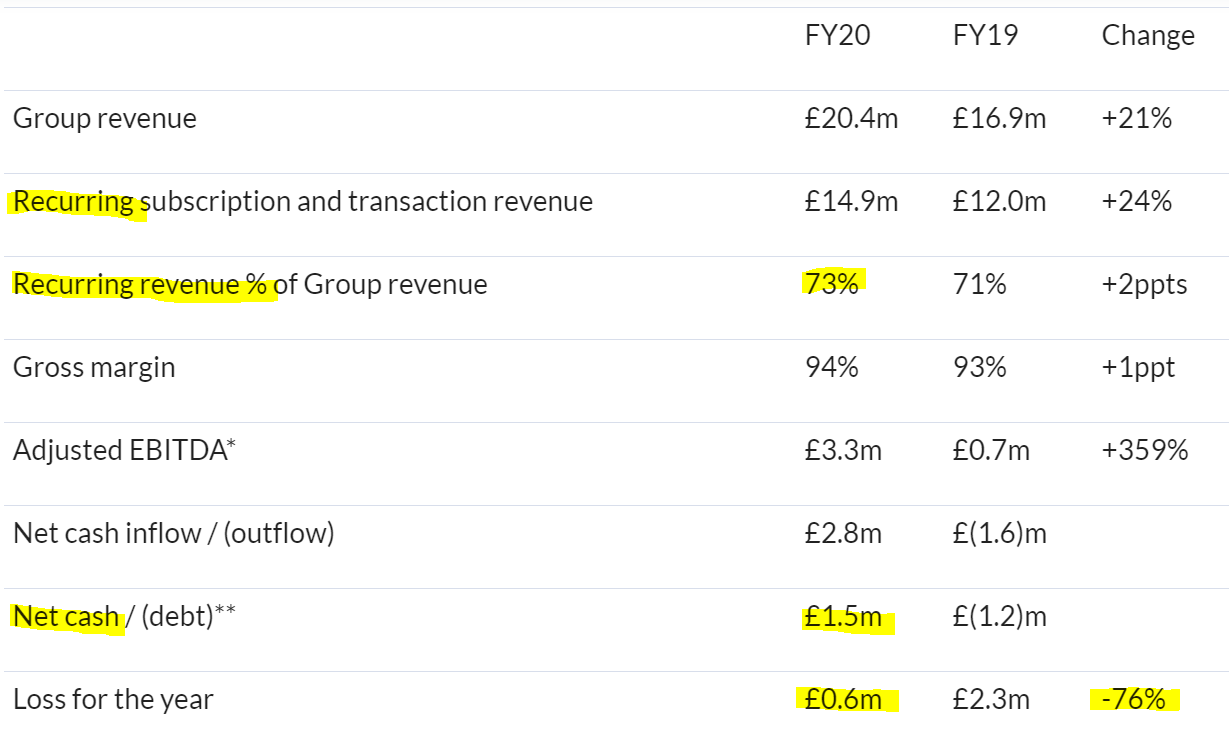 .
It's good to have achieved this growth despite covid. Although supermarkets traded fairly normally, or even buoyantly, when most other things were locked down.
Outlook – current trading in line with expectations. Expects bank facilities to provide enough headroom.
Balance sheet – a bit thin, with negative NTAV, but not a major concern. With the share price so high, management should do a small placing to bolster the balance sheet strength, which would only cause small dilution.
Cashflow – creditors rose considerably – stretching tax payables possibly? Also note that it capitalised £2.8m development costs, thus rendering EBITDA a meaningless, inflated number, best ignored.
My opinion - I'm warming to this. It looks very expensive for a small company that is only just bearing down on breakeven. But the market is clearly factoring in further growth, and operationally geared profits which might flow through in future.
The client list amp; organic growth speak for themselves, and are very impressive. If you can stomach the high valuation, then this share could do well long-term, maybe?
It's taken a long time to get there, but the company does finally seem to be reaching profitability;
.

.
---
Wandisco
(LON:WAND)
Share price: 526p (down 10%, at 11:08)
No. shares: 54.5m
Market cap: £286.7m
WANdisco (LSE: WAND), the LiveData company, announces interim unaudited results for the six months ended 30 June 2020.
These are shockingly bad numbers. WAND has spent years producing diabolical numbers, but promising jam tomorrow. Apparently its software is unique and utterly brilliant. Unfortunately hardly anyone seems interested in buying it!
.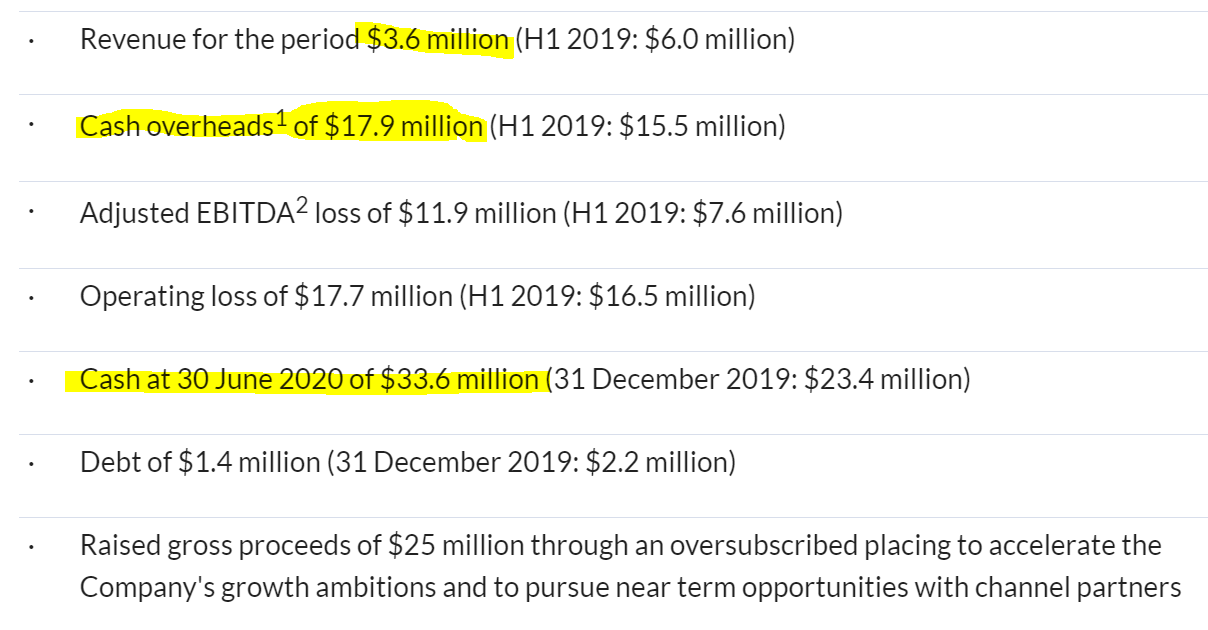 .
Next time it runs out of cash, I wonder if they can once again convince people that it's the best thing since sliced bread came along?
Outlook - jam tomorrow, as usual;
"With the backdrop of the COVID-19 pandemic, we have seen an accelerated business shift towards cloud as companies look to take advantage of the agility and scalability that cloud provides. The Board remains confident that while revenue in FY2020 will be below expectations, the combination of our market opportunity, product readiness, and deepening commitments from cloud partners provides a strong platform to deliver significant revenue growth in FY2021 with the Board expecting a minimum revenue of $35 million."
My opinion – it's not achieved previous forecasts, so why would anyone believe the latest one?
Investors have been incredibly patient with WANdisco, and the clock must be ticking now, for it to produce some commercial success. I don't have a crystal ball, and can only go on the published numbers, which are absolutely dire. I think only technical experts in the field would really know whether the software is any good or not. And if so, how come it's not selling?
.
---
Water Intelligence
(LON:WATR)
Share price: 401p (up 1.5% at 11:24)
No. shares: 16.89m
Market cap: £67.7m
Water Intelligence plc (AIM: WATR.L) ("Water Intelligence", "Group", or the "Company"), a leading multinational provider of precision, minimally-invasive leak detection and remediation solutions for both potable and non-potable water is pleased to provide its Interim Results for the six months ended 30 June 2020.
H1 figures look respectable.
Adj EPS is up 14% to 12 US cents
Profit after tax is a whisker above $2.0m for H1, at the top end of expectations
Demand is strong, and it has proven resilient in a covid environment, and I like the growth plan.
Balance sheet – is OK, at $5.4m NTAV. Note that the cash pile is mostly offset by borrowings.
The valuation looks stretched (on a forward PER basis), but that might be because broker forecasts could be too low? As it's done 12 cents in H1, then c.18 cents for the full year looks low.
My opinion - neutral. It looks quite a decent business, but doesn't pay any divis, and is probably a bit too small (and not growing fast enough) to get me excited enough to want to buy any shares in it. That said, so far, holders have done really well, if you bought the dips, or bought years ago. Judging from the chart, the market doesn't seem sure how to value it, with pockets of exuberance, then corrections;
.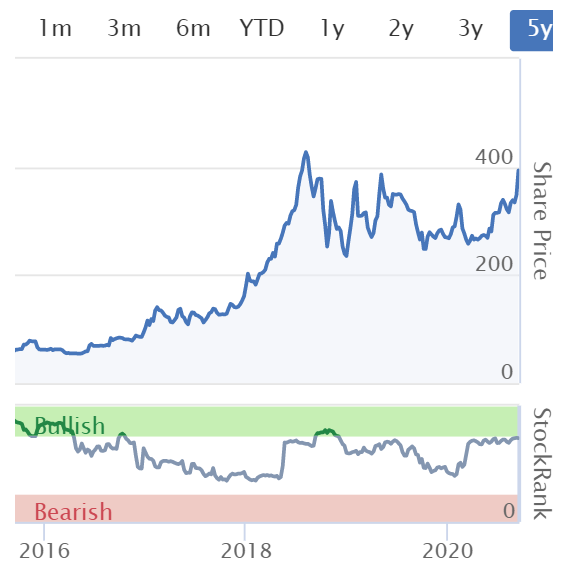 .
---
Source:
https://www.stockopedia.com/content/small-cap-value-report-thu-17-sept-2020-eye-pcip-wand-watr-beg-665963/
Before It's News®
is a community of individuals who report on what's going on around them, from all around the world.
Anyone can
join
.
Anyone can contribute.
Anyone can become informed about their world.
"United We Stand" Click Here To Create Your Personal Citizen Journalist Account Today, Be Sure To Invite Your Friends.