Small Cap Value Report (Thu 22 Oct 2020) - QTX, SDI, G4M,
Thursday, October 22, 2020 8:09
% of readers think this story is Fact. Add your two cents.

Good morning, it's Paul here with the SCVR for Thursday.
Here's what has caught my eye this morning. There are quite a lot of trading updates, from interesting companies;
Quartix Holdings (LON:QTX) – Trading statement
Sdi (LON:SDI) – Trading update
Gear4music Holdings (LON:G4M) – Trading update
Cloudcall (LON:CALL) – (I hold) – CMD Trading update (and investor presentation on IMC today at 3pm – open to all)
Countrywide (LON:CWD) – Interims amp; recapitalisation
Trifast (LON:TRI) – Trading update
Frp Advisory (LON:FRP) – AGM Statement
Possibles if there's time: Alumasc trading update, and 1PM AGM Statement
.
I'll probably take a look at the reader comments later today, once I've finished the main report, so please don't get offended if I don't reply.
---
Quartix Holdings
(LON:QTX)
Share price: 335p (up 5%)
No. shares: 47.96m
Market cap: £160.7m
Quartix Holdings plc, one of Europe's leading suppliers of subscription-based vehicle tracking systems, software and services, is pleased to provide an update on trading for the 9 months ended 30 September 2020.
This is the key part of today's update –
The Board is pleased to report that it expects revenue and free cash flow for the year to 31 December 2020 to be in line with current consensus market forecasts, which are shown at the foot of this announcement1.

Adjusted EBITDA is expected to be approximately 15% ahead of current consensus market forecasts.
[1] The Board believes that consensus market expectations for 2020, prior to this announcement, were as follows: revenue: £25.8m; adjusted EBITDA £6.9m; free cash flow: £5.2m.
I'm a bit confused as to why EBITDA is up 15% on forecasts, when revenue is just in line. This is not explained in the announcement, but possibly broker notes might add more colour (see Finncap's update note today, on Research Tree).
My thanks to the company amp; its advisers for including a footnote, stating what market expectations actually are. This is incredibly helpful, and saves us all a lot of time amp; avoids confusion. I wish all companies would follow this approach, and thereby be helpful to investors.
Recurring revenues make up the bulk of revenues, and are now running at an annualised rate of £21.9m (up £1.1m this year)
Taxation – will be paid up to date by end of 2020 (re covid Govt support schemes)
Revenue growth of 7% achieved, despite covid disruption – so this company goes on the list of shares which have proven themselves to be safe havens – important if you're worried about the impact of a second wave.
Growth – this table shows growth per country. Note strong growth in France amp; USA. If it can gain traction in USA, a massive market, then I could see that driving a re-rating of the shares.
.
Non-core insurance telematics business (low margin) installations fell 49%, with this trend expected to continue. The company's strategy has been to gradually exit from this market because it's not very profitable. Generally it's only young drivers who will tolerate a spy in the cab, because insurance companies force them to. They're gleefully ditched at the first opportunity, understandably.
Recovery from covid has been better than expected, in terms of new business. The company is reinvesting the benefit of this in extra sales/marketing, and product development. That makes sense to me.
Presentation slides are on the company's website here.
Valuation - this is the tricky bit. There's no doubt Quartix is a high quality business, which reliably throws off strong cashflows, which are used mostly to pay divis. So far so good. The only trouble is that it's looking almost ex-growth from the figures below;
Growth in subscriber numbers is good, but remember that this is a competitive sector, so there's always downwards pressure on pricing too, which blunts the profit growth.
My opinion - a very nice company, with clean accounts, genuine cashflows, and it even pays a decent divi yield of nearly 4% - very unusual for a small technology company.
The price looks full, but I'm more comfortable with this, given a better than expected update today, and importantly the international growth (esp. USA) which could provide better upside than if the company had remained a UK-centric business.
Finncap has increased FY 12/2020 EPS forecast from 11.6p to 13.1p today (see update note on Research Tree). Its forecast for FY 12/2021 of a fall to 10.1p doesn't make sense now, so I imagine that's likely to be raised to maybe 13-15p in due course.
I'm happy to value the share on 20 times my estimate of 15p earnings for 2021, so I get to 300p. The current share price is 335p, so I'd say it's up with events. However, we're in a big bull market for growth companies, so it wouldn't surprise me to see the share price chased higher. 400p looks possible in an exuberant market.
.
It's surprising that the share price has traded sideways, in a wide range, for the last 5 years. This reflects the point I made above that there hasn't been any profit growth over that period.
.
.
---
Sdi
(LON:SDI)
Share price: 68.7p (up 6% today, at 10:32)
No. shares: 97.8m
Market cap: £67.2m
SDI Group plc, the AIM quoted Group focused on the design and manufacture of scientific and technology products for use in digital imaging and sensing control applications, is pleased to announce an update on trading for the current financial year ending 30 April 2021.
One-off orders related to covid have given a boost to two of the group's subsidiaries;
Given the very positive level of sales at Atik and MPB and the cost savings effected in the other businesses, the Board now believes that the Group is likely to achieve sales and profit before tax broadly at the levels budgeted for this financial year before the onset of the pandemic, and therefore above current market expectations.

The Board stresses that the incremental sales at Atik and MPB are the result of one-time contracts related to the COVID-19 pandemic and expects them to be completed well within the current financial year.
Consequently, the Board's view on the Group's 2022 financial year is unchanged….

Our other businesses, which have all remained operational throughout the COVID-19 pandemic, have seen customer order patterns showing a return towards normality.
That's well explained, and I applaud the company's openness for explaining the one-off nature of those contracts, thus keeping investor expectations grounded.
Outlook – add this share to the list of things that have proven resilient to covid/lockdown;
"Our business model has proved resilient, and we expect to exit the pandemic even stronger than when we entered it."
My opinion - clearly this is a good update. Finncap has today raised FY 04/2021 EPS forecast by 15%, to 4.2p. However, this is due to one-off contracts, so shouldn't really alter the valuation of the shares much, if at all.
Current forecast is for a slight fall in EPS the following year, to 4.1p.
Given this group's good track record, and high profit margins, I would be inclined to value it on a PER of 20. That implies a share price of just above 80p. The current price is 68.7p, therefore I think it still looks reasonably priced, despite a strong share price performance.
Shareholders have tripled their money in the last 3 years – very nice indeed! There are no divis, but who cares when you've seen that level of share price growth? Note that the Stockopedia computers really like it too, with a StockRank almost constantly in, or near, the green zone.
.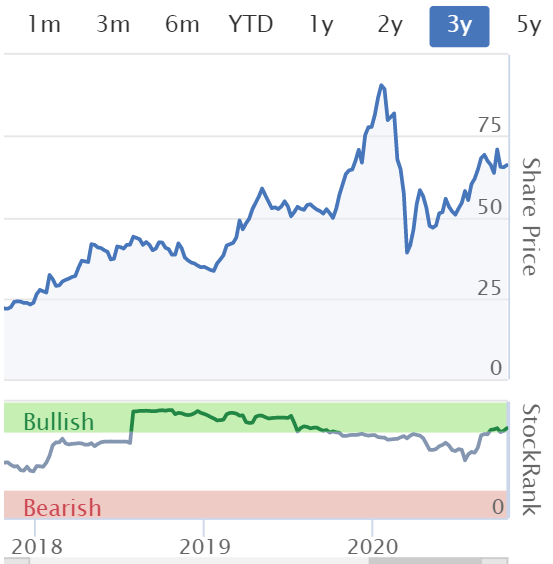 .
---
Gear4music Holdings
(LON:G4M)
Share price: 705p (up 2%, at 12:42)
No. shares: 20.95m
Market cap: £147.7m
Gear4music (Holdings) plc ("Gear4music" or "the Group"), the largest UK based online retailer of musical instruments and music equipment, today announces a trading update for the six months to 30 September 2020.
We have yet another strong trading update today, this company is really on a roll. Expectations are upgraded again;
… the Board is confident that results for the full financial year will be ahead of previous consensus market expectations
We're not given a footnote to tell us what market expectations are, which wastes time for everyone who reads the announcement, as we then have to look up expectations, and not everyone has access to that information, or the data is often different on different financial websites.
Stockopedia is showing just above 21p EPS, which looks too low to me, it could be that an out-of-date forecast might be pulling down the average possibly? When I last looked at G4M here on 1 Sept 2020, I estimated that EPS for this year looked to be heading for 25-30p. Today's update reinforces that my range of estimates looks realistic.
Outlook – still trading strongly at the start of H2;
Strong growth in sales and gross profits has continued during October, and preparations for what we expect to be a busy peak trading period are well advanced.
My opinion - this is a lovely situation, where sales are growing very strongly, up 42% in H1, and gross margin is usefully up 330bps to 28.5%. That is a potent mixture, for a geared benefit to the bottom line. Especially as costs have been tightly controlled, and marketing spend is substantial but falling as a percentage of revenues.
Clearly the business must be benefiting from people spending more time at home due to covid but even so, the rise in profitability from the revised strategy to focus on margin ahead of revenue growth, is delivering superb results.
The share is quite pricey now, but performance fully justifies that, in my opinion. I remain positive on this share, and think it's likely to be a very much larger business (nearly half sales are already international, remember, so not just a UK business) in 5 years' time, and the share price would probably be a lot higher by then too. An excellent company. I don't currently hold, having sold too early. However, I've had 2 large profits from this share over the years, so am very grateful to management and their team, for having delivered superb results for investors.
.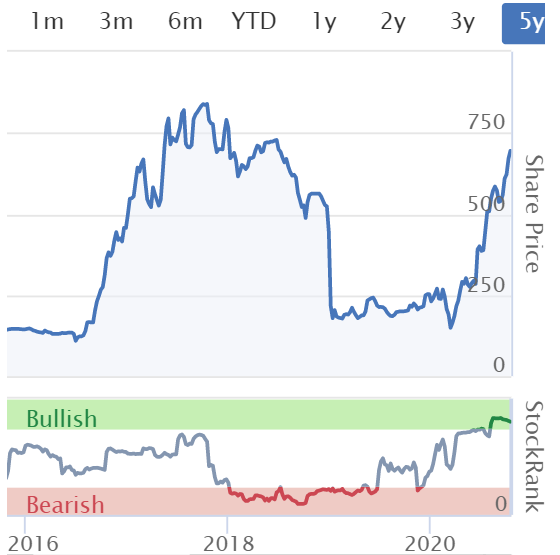 .
---
Source:
https://www.stockopedia.com/content/small-cap-value-report-thu-22-oct-2020-qtx-sdi-g4m-686963/
Before It's News®
is a community of individuals who report on what's going on around them, from all around the world.
Anyone can
join
.
Anyone can contribute.
Anyone can become informed about their world.
"United We Stand" Click Here To Create Your Personal Citizen Journalist Account Today, Be Sure To Invite Your Friends.