Small Cap Value Report (Thu 19 Nov 2020) - SAGA, VLX, SOM, HEAD, ACSO
Thursday, November 19, 2020 17:25
% of readers think this story is Fact. Add your two cents.

Good morning, it's Paul here with the SCVR for Thursday.
Timing - update at 13:11 – mostly done for today, I'm taking a break for lunch now, so hope to be back later this afternoon to finish off. Today's report is now finished.
Agenda - I can't cover everything, but these news items have caught my eye;
Somero Enterprises Inc (LON:SOM) – Trading statement (done)
Headlam (LON:HEAD) – Trading update (done)
Accesso Technology (LON:ACSO) – Full year trading update (done)
.
Apologies for abandoning my post yesterday afternoon, I've still got 2 companies to finish off. Friday is a good catch-up day, so I'm planning on getting up-to-date fully tomorrow.
What knocked me off track yesterday, was my portfolio started going haywire (in a good way!) with two of my top three holdings going up significantly. I'm primarily an investor, and a writer second, so when something big is going on, my apologies, but my personal portfolio has to take priority in the short term.
Saga (LON:SAGA) (I hold) – this was yesterday's biggest market riser, up 34%. What fuelled this? The only company news was that the second largest shareholder had slightly reduced their position, if anything slightly bearish. Yet it rose substantially, on another high volume day. I was searching for reasons for this (apart from it being very cheap, in my view), and the most likely reasons seem to be;
Positive vaccine news, in particular Pfizer saying its covid vaccine seems to be 94% effective in the over-65s. Saga of course provides insurance and holidays for the over-50s. Therefore the market seems to have twigged the rather obvious point that, with the elderly being vaccinated first, and having a penchant for cruising, then this should be good news for Saga's 2 brand new cruise ships possibly being able to generate lots of cash (they're heavily pre-booked already), perhaps from (at a guess), April or May 2021? That would transform Saga's profits and cashflow for the better.
I see broker forecasts seem to have been updated, and Stockopedia is now showing a forward PER of 9.3 – based on forecast EPS of 37p in FY 01/2022. I'm working on the basis that the potential for the year after is a good bit more than that – just getting back to historic profitability, it achieved c.180p EPS in the three years from 2016-18, could drive a far larger re-rating. We need to adjust for the share count doubling this year, on the refinancing which brought back former CEO amp; the founder's son, Roger De Haan, who put in £100m of his own money, most of it at 405p per share in new money. Therefore I think a sensible longer term target, is c.100p EPS. Put that on a PER of 12, which I think is reasonable (cheap, even) , and my share price target, long term, is 1200p per share. Hence I'm still a buyer, not a seller. This is now my 2nd largest position, as I bought a lot more yesterday morning, and am not planning on selling any for the foreseeable future.
Looking at the chat on bulletin boards, it seems that many punters are working on similar figures to me. If you think a share is worth 1200p, longer term, then you're not going to quibble about paying 250p or 270p, as the potential upside, if things go well, is so large. As always, there's a risk that things may not go well. Buying shares is after all, really trying to predict the future.
i've noticed that there seem to be a lot of people pursuing momentum strategies – ie. once a share starts rising, that seems to pull in more buyers, in a virtuous circle. The only problem with that, is that traders also tend to stampede for the exit at the same time, so today's big rise could be tomorrow's big fall.
I wonder if we might see a pullback today, as the futures are indicating a down day. Who cares! I try not to let short term considerations alter my view of the fundamentals.
EDIT: Unbelievably volatile price movements this morning. I hope my comments haven't added to that, but what can I do? I just speak as I find, and it's only one person's opinion after all. End of edit.
Volex (LON:VLX) (I hold) – another big riser yesterday. News came out that deep-pocketed Exec Chairman, Nat Rothschild, bought 100k shares in the market, at 253p – a major vote of confidence. Although, arguably going from 37.9m shares to 38.0m shares is not going to make a lot of difference to his retirement lifestyle in due course! He's certainly worked wonders at the company, and it's great to have a leader with massive skin in the game – his personal shareholding is now worth more than £100m, fantastic stuff!
The share price rose over 7% yesterday. I think another factor might have been the news that the UK Govt is planning to abolish sales of internal combustion engined cars by 2030, not that far away. If that can be done, then it's a big boost for electric vehicles. Volex seems to be the market leader in making the complex, high quality wiring looms needed for electric vehicles. It described growth in this area as "exponential" in the recent results webinar, and we're only scratching the surface of electric vehicle production at the moment. Therefore, this is another share I am holding onto tightly, for the long term.
Also, I note the broker forecasts seem too low for Volex. H1 was superbly, good, and even allowing for one-off factors like cheap copper in H1, which won't repeat in H2, it still looks too low. Further, a recent acquisition in Turkey will bolt on a decent amount of extra revenue amp; profit, plus there are 3 more acquisitions in the pipeline (expected to complete in calendar Q1 2021), and funding in place with expanded bank facilities (currently unutilised) in place. Therefore, we should expect a big rise in EPS forecasts over the next 6 months, which I think could propel the share price a lot higher. I agree with SCSW tipsheet, that 400p could be possible in the next year (a good rise from current 275p).
.
On to today's news…
---
Somero Enterprises Inc
(LON:SOM)
Share price: 260p (up 13%, at 09:07)
No. shares: 56.2m
Market cap: £146.1m
Positive momentum heading towards year end, exceeding revised guidance
Somero® provides the following update on trading for the current financial year, ending 31 December 2020.
A quick summary at the top of a trading update, as in this case, is very helpful (providing it's accurate of course, which this is). 7-8am is so busy, that being able to quickly spot the out-perform announcements, from the heading, helps investors home in on the best opportunities,
Positive trading;
The Board is pleased to report that as a result of positive trading momentum from the end of H1 2020 continuing through H2 2020, it now expects to exceed its previous reinstated expectations for FY 2020.
Revised guidance for FY 12/2020;
| | | | |
| --- | --- | --- | --- |
| Old guidance (9 Sept) | $75.0m revenues | $19.0m adj EBITDA | y/e net cash $20.0m |
| New guidance (today, 19 Nov) | $80.0m revenues | $21.0m adj EBITDA | y/e net cash $26.0m |
It strikes me as impressive that the full year 12/2020 forecast results are being increased by a useful amount, this late in the year, which suggests that seen in isolation, recent performance must have been very good.
I've worked out the H1/H2 split below, using the interim actuals, and today's latest full year guidance;
| | | |
| --- | --- | --- |
| Full year forecast | $80.0m revenues | Adj EBITDA $21.0m |
| H1 actual | $35.3m revenues | Adj EBITDA $8.7m |
| H2 forecast (difference between the above) | $44.7m revenues (up 27% on H1) | Adj EBITDA $12.3m (up 41% on H1) |
As you can see, that's a strong sequential improvement from H1 to H2.
Reasons given for this strong H2 performance;
Active US market
New products selling well
Easing of job restrictions for end users
Effective working capital management amp; healthy cash collection from customers
Other markets "generally in line".
Valuation – FY 12/2020 broker forecast has gone up to 26.5 US cents, divided by 1.32 to convert into sterling, gives 20.1p EPS, giving a PER of 12.9 (based on 260p per share). That's terrific value, for such a high quality cash generative company. Although SOM doesn't tend to attract a high PER, it's seen as too cyclical by some investors I think.
Broker forecast is for 9.1p ordinary divi, and 7.4p special divi for this year, a total of 16.5p divis, or a yield of 6.3%. Bear in mind that this could flex up or down in future years, as the divi policy is to pay out surplus cash in special divis, which won't happen if there isn't surplus cash.
My opinion – I think this is a fantastic company, and really cheap. Management are excellent in my opinion – competent, very open amp; shareholder friendly. I don't understand why the market has such a low valuation on Somero, given that it's a pretty reliable cash cow, as evidenced by a good performance in an awful year. Overdue a re-rating, in my view.
As you can see from the 5-year chart below, the market seemed to fall out of love with Somero in 2018. Although total shareholder return has been better, since (adding the figures up in my head), it looks as if it's paid about 60p in divis over the last 5 years. So a very nice income stock, that could also re-rate and deliver a capital gain from this under-priced level.
You have to fill in a special USA tax form to receive divis in this one, so that's worth checking with your stockbroker.
.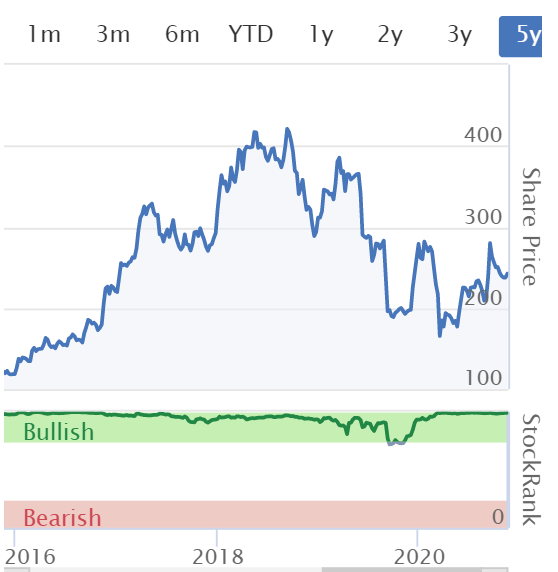 .
---
Headlam
(LON:HEAD)
Share price: 373p (up 14%, at 10:16)
No. shares: 84.9m
Market cap: £316.7m
(I hold)
Strong and sustained recovery in the second half to date
Underlying profit before tax materially ahead of market expectations
Headlam Group plc (LSE: HEAD), Europe's leading floorcoverings distributor, is pleased to provide a trading update following its interim results announcement on 3 September 2020.
Headlam's current year is FY 12/2020.
Strong bounceback in H2;
Following the Q2 2020 performance which was significantly impacted by COVID-19, trading to-date in the second half has seen a strong and sustained recovery to 2019 levels. Revenue for the four months to 31 October 2020 was down only 1.2% on the same period in the prior year, with November 2020 currently ahead of last year despite the lockdown in England and other restrictions in the rest of the UK.
I'm pleased with that, although not surprised, given that we've heard from other companies that supply home improvement products, that lockdown earlier this year caused a pent-up demand to revamp our homes.
Residential has been good, commercial not good, which makes complete sense;
An exceptional UK residential sector performance has compensated for a significantly weaker commercial sector across both the UK and Continental Europe, albeit there has been an improving trend across the commercial sector. On a like-for-like¹ basis, UK residential sector revenue was up 10.5% in the four months to 31 October 2020.
Guidance for FY 12/2020 is updated, and is commendable for being so detailed, providing actual numbers (not waffle!), and a lovely footnote to confirm what market expectations are. Top marks to Headlam, and its advisers, this is how it should be done!
Given this sustained recovery in performance and management's continued focus on costs, the Company now expects to report underlying² profit before tax for the year materially ahead of current market expectations of a breakeven performance³.
Unaudited underlying² profit before tax for the four months to 31 October 2020 was £13.3 million, a strong reversal from the £1.2 million underlying² loss before tax reported in the first half. Subject to trading for the remainder of the year, where there is a possibility that fitting capacity may constrain sales during December 2020, it is the Company's current expectation that underlying² profit before tax for the year will be in the range of £14 million to £16 million. The Company confirmed earlier this month that its operations are remaining fully open for the duration of the current lockdown period in England,
³Company-compiled consensus market expectations for 2020 revenue and underlying profit before tax (prior to any updates following this announcement) are £561.2 million and £0.0 million respectively (on a mean and post IFRS 16 adoption basis).
Liquidity – looks ample, although we're not told either way if creditors have been stretched.
With cash collections continuing to exceed expectations and reflecting the strong cash flow from operations, average net debt for the year-to-date, excluding IFRS 16 'Leases', is approximately £13.6 million, a material reduction on the first half (H1 2020: average net debt £35.3 million). As at 31 October 2020, banking facilities available to the Company were 110.6 million with headroom of £102.1 million.
Inventories - the company is stocking-up, to reflect good demand, and to provide buffer stocks on popular lines, in case of Brexit disruption – very sensible. I expect we'll hear more of the same from other companies in the coming weeks.
Operational improvements continue, to improve revenues amp; margins – as detailed in the interim results webinar, which I recall watching amp; finding very good indeed. I cannot find the recording of it (if there is one), so if anyone reading this has the link, then please do post it in the comments below.
Cost savings of £4m from 2022 have been implemented, by making deliveries more efficient.
Dividends - it sounds like divis could be resumed;
The Company's next Trading Update will be on the 21 January 2021, at which point the Company expects to provide an update on the reinstatement of an ordinary dividend as well as its wider capital allocation priorities.
My opinion – this is a terrific company I think. I'm kicking myself for not buying more in recent months, when it got ridiculously cheap. As I've mentioned here before, this business should get back to pre-covid performance in due course, and it hasn't had to dilute shareholders during the crisis. Therefore I see no reason why EPS can't return to say 40p+ over the next couple of years. Maybe more, since efficiency gains have been implemented?
If so, then buying now, could be a future PER of about 9, and it's generous with divis, so a yield of maybe 5-6% in future? That's attractive, taking a c.2 year view.
Also bear in mind the balance sheet is stuffed full of freehold property, which lowers risk, and gives some nice asset backing in for free.
Overall then, it gets a thumbs up from me.
.
---
Accesso Technology
(LON:ACSO)
Share price: 386p (up 5%, at 11:19)
No. shares: 41.2m
Market cap: £159.0m
accesso Technology Group plc (AIM: ACSO), the premier technology solutions provider to leisure, entertainment and cultural markets, today provides the following update on trading:
This share is like practically everything else leisure/travel/hospitality related, in that it's shot up recently on positive vaccine news. It makes me chuckle, at times like this we all think we're brilliant stock pickers, but we could have bought practically anything in some sectors, and done well in recent weeks!
I think that's an important point, because when whole sectors rise indiscriminately, the next stage is that individual shares gradually fan out – with some continuing to rise on good fundamentals, whilst others wither back down again as people realise they're not much cop after all. That's particular the case with some cyclical companies with have ruinous levels of debt (NB. a general point, not relevant to ACSO).
A good example of that is Cineworld (LON:CINE) which is insolvent in my eyes. Sky reporting in late October that restructuring experts are being brought in due to an insane £6.1bn debt mountain. The equity could easily be worth little to nothing, if the lenders play hardball. Yet the shares have almost doubled in the last few weeks. I suppose the chance of survival is better than it was, but why take such a huge risk on the equity, when debt holders are now effectively in control?
.
.
Sorry, back to Accesso. This is what it is saying today;
Revenue guidance – improving, but bear in mind this is a level of revenue that is less than half 2019 levels, and where the company is forecast to be heavily loss-making. So it's not good news, it's less bad news;
…This sustained level of demand in key markets and continued customer engagement with the range of accesso solutions now gives the Group reason to expect FY 2020 revenue will be comfortably ahead of its previous guidance of not less than $48m.
Liquidity - no numbers are given, so we really cannot judge. It just says;
The Group enters 2021 with a resilient financial position and strong, durable customer relationships.
Where are the numbers on cash, debt, headroom on facilities, covenants, cash burn, creditor stretch, etc? We're given nothing today. That's not good enough.
Note that it raised £32.9m in fresh equity priced at 290p earlier this year. I don't know if that's going to be enough to see it through, or not.
Outlook comments – are fairly general, talking about continued restrictions on its customers' operations for now, but hopes that vaccines could open things up in 2021.
My opinion - it's clearly got better prospects, now mass vaccinations seem to at least be starting quite soon, but obviously that process is likely to take a fair amount of time, nobody really knows for sure how long.
I've never been particularly convinced by this company, and can see merit in both the bull and bear cases. For that reason, and the lack of information today about liquidity, I'll just declare myself neutral. Good luck to holders!
.
---
That's it for today. See you tomorrow!
Regards, Paul.
Source:
https://www.stockopedia.com/content/small-cap-value-report-thu-19-nov-2020-saga-vlx-som-head-acso-704903/
Before It's News®
is a community of individuals who report on what's going on around them, from all around the world.
Anyone can
join
.
Anyone can contribute.
Anyone can become informed about their world.
"United We Stand" Click Here To Create Your Personal Citizen Journalist Account Today, Be Sure To Invite Your Friends.