Small Cap Value Report (Thu 5 Nov 2020) - QE, Furlough. ZTU, SDRY, D4T4, JOUL, WRKS, PCIP, BWNG, DFS, ZTF, HEAD, WIN
Thursday, November 5, 2020 17:41
% of readers think this story is Fact. Add your two cents.

Good morning, it's Paul amp; Jack here with the SCVR for Thursday.
** Breaking News ** The Chancellor, Riski Sunak, has just announced in Parliament that the furlough scheme (recently extended from end Oct to end Nov, will now be extended to 31 March 2021. I haven't seen the small print yet, but will look out for that. Support for the self-employed has also been extended. The most important aspect of this, is that it should prevent some of the mass redundancies expected in sectors such as retailing, hospitality, travel, etc., and the knock-on impact that would have on the economy as a whole.
Although it does raise the question as to whether this means the Govt might be considering extending the lockdown of some sectors well into 2021 perhaps? At least this gives employers a chance to plan ahead with a bit of clarity. Begbies Traynor (LON:BEG) will be disappoint! Their tsunami or was it an avalanche or a hailstorm, I forget, of job losses amp; business failures has been pushed back by a few more months. I cannot see why the Govt would pull back on its support packages for businesses amp; staff. They're in too deep, hence continuing support seems logical. Especially when you can shake the magic money tree (QE) to finance it all – see below.
US Election – Markets generally have been quite settled, considering it's been election time in the USA. We're not sure yet, but it looks as if Joe Biden is highly likely to be the new President. Then of course how Congress looks will determine what he can actually do. I studied US politics as part of my degree, but have forgotten most of it! For our purposes here, all that matters is what impact it has on the markets, and so far anyway, markets seem happy – US and UK indices having now recovered the late-Oct pre-election dip. That stands to reason, as some traders might have moved into cash, and are now returning to the market once the election result looks (almost) settled.
QE - I saw on the news this morning that the Bank of England's magic money tree has created another £150bn in order to buy up more Gilts. As before, one arm of Government buying up the debt being issued by another. What a clever wheeze! It's working because all the major currencies are doing the same thing, so there's nothing for sterling to devalue against.
This takes the total purchases of Gilts (UK Govt bonds) by the BoE to £875bn. Ian King said on Sky that this is about a quarter of all UK Govt debt. But it looks more like c.45% of all debt, since the figure I've seen is that total issuance of Gilts is around £2 trillion. So I'm not sure what denominator he was using instead of £2 trn?
Where is all this money ending up? From what I'm seeing in the small caps world, the answer seems to at least partly be that it's being hoarded by companies on their balance sheets.
Here's the latest chart from the Bank of England for QE below. All of this is perplexing – conventional economics says that money printing triggers inflation, and ultimately hyper-inflation. That's not happened this time. How it all ends up, nobody knows. But at least in the short term, we don't seem to have anything to worry about regarding inflation or the size of the national debt. Plus of course the debt is being issued at negligible interest rate cost, with interest rates pegged artificially low at just 0.1%. Crazy times, but it's actually working fine, for now.
So far, all the enormous costs of covid are being met by QE. So there's actually not any need to raise taxes at all, because the deficit is likely to shrink rapidly next year of its own accord, as deferred taxes start to roll in, and the employment support scheme costs wind down. If there's any remaining shortfall, then just do another £100-150bn of QE to plug the gap!
I don't think QE will ever be unwound. The relevant debt just vanishes on expiry. This leads me to the conclusion that total UK Govt debt, is actually about £1.2trn, around 60% of GDP, which is historically fine. Plus it's getting cheaper as old Gilts expire, and are rolled over into new, ultra-low interest rate Gilts. So why are so many commentators panicking about the national debt, when it's quite modest after taking into account QE, and super-cheap to service?
Meanwhile permanently low interest rates (which might even turn negative maybe at some stage?) is good news for equities. In particular, I think we are overdue a re-rating of companies with high cashflows, able to pay out generous amp; rising divis. I'm increasingly directing my money towards companies with good dividend paying capacity in future (not necessarily reflected in the current yield). I think if you can find a reliable 4% yield (or more), from a business that is growing, and in a decent sector, then that could be a great place to be, as we not only collect in the divis along the way, but the shares could re-rate, as other investors chase the yield too, giving profit and income.
.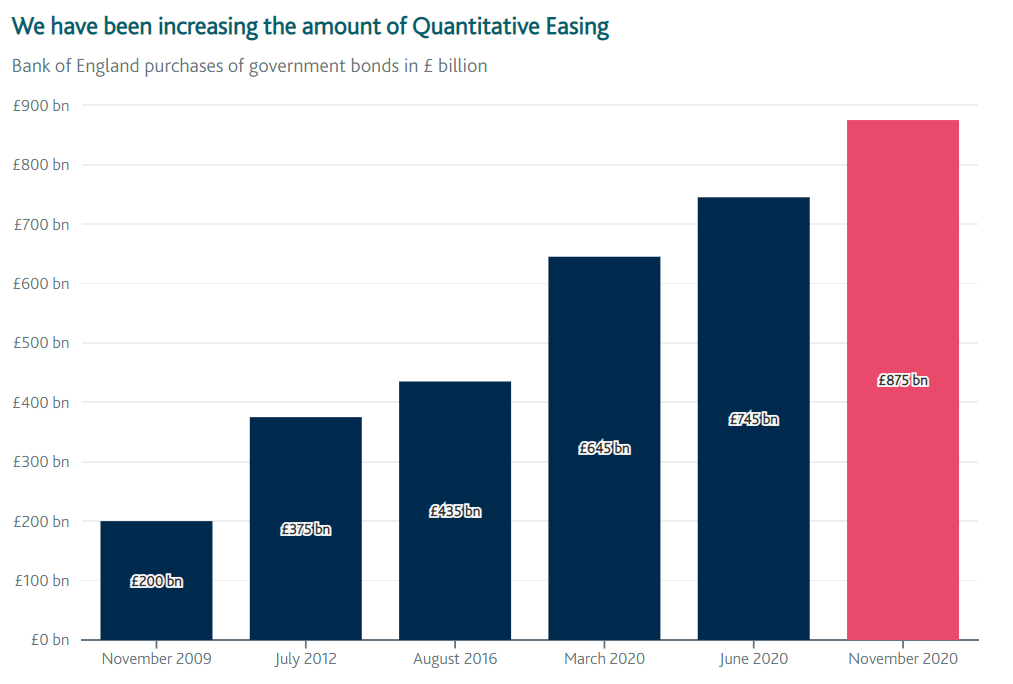 .
Agenda – these are today's results/trading updates we're taking a look at. As you can see, it's a day dominated by updates from retailers, my sector specialism, so obviously I'll be looking at those first;
Zoetic International (LON:ZOE) – update, and Director buys (Jack – done)
Superdry (LON:SDRY) – Trading statement (Paul – done)
D4t4 Solutions (LON:D4T4) – Contract wins (Paul – done)
Joules (LON:JOUL) – Trading update (Paul – done)
Dfs Furniture (LON:DFS) – Covid-19 update (Paul – done)
Works Co Uk (LON:WRKS) – Half year trading update (Paul – done)
N Brown (LON:BWNG) – Interim results (Paul – done)
Zotefoams (LON:ZTF) – Trading update (Paul – done)
Pci- Pal (LON:PCIP) – AGM update (Paul – done)
Headlam (LON:HEAD) – COVID-19 operational update (Paul – done)
Wincanton (LON:WIN) – Half year results (Paul – done)
Other possibles, depending on time available are:
Kin And Carta (LON:KCT) – FY results
.
Timing – lots to look at, so it'll be an all day job I think – let's say 5pm finish time. Update at 14:22 – this is taking longer than expected, so I'll just keep going until I flake out! Hence finish time unknown.
.
---
** The following section is written by Jack Brumby **
Zoetic International (LON:ZTU)
Share price: 38.5p
Shares in issue: 195,570,034
Market cap: £75m
Something a bit different today: Zoetic International (LON:ZOE) -
Zoetic International Plc. is a United Kingdom-based vertically integrated cannabidiol (CBD) and natural resource company. The Company is seeking to acquire and develop feminised hemp seeds as well as manufacturing and retailing CBD brands. The company sells a range of products in the United States (US) and the United Kingdom (UK) through its Chill and Zoetic brands. The Chill brand is a tobacco alternative selling smokables and chew pouches, and the Zoetic brand is a supplier of CBD oils and is also focused on developing and offering range of cosmetics and beauty products. In addition to its CBD operations, the Company also has a portfolio of natural resources projects and holds an interest in the Colorado Shale.
Over in Canada and other markets there has been an absolute boom in cannabis-related stocks, powered by relaxing regulation. Such an environment can cause too much hype and attract story stocks, which could be the case here – note the strong share price in relation to years of operating losses:
It's an interesting chart, with increasing buying volume – so something must be happening here – but the operating track record makes me wary. We can see at least some of the recent buying volume is coming from the community on Stockopedia though, so I'm keen to explore this one a little further.
Update on Sale of DTU and Kansas Nitrogen Assets
Zoetic International plc (LSE: ZOE), the London-listed vertically integrated CBD company, has reached a revised agreement to sell its 75 per cent interest in DT Ultravert ("DTU") to Path Investments plc ("Path"), as previously announced on 27 May, 8 July and 3 August 2020 (the "Transaction").
Terms are as follows:
The issue by Path to Zoetic of 30,000,000 new ordinary shares of 0.1 pence each in Path ("Path Shares") on the re-admission of Path Shares to the standard segment of the Official List maintained by the Financial Conduct Authority and to trading on the Main Market of the London Stock Exchange;
Path will no longer issue 15,000,000 warrants to subscribe for Path Shares at any time from the first to the third anniversaries following completion at an exercise price of 0.75 pence per Path Share;
Zoetic will no longer be selling its Kansas Nitrogen Assets to Path;
Path will no longer pay a royalty to Zoetic on future revenues from DTU;
Path will pay £42,000+VAT in cash to Zoetic on completion towards its professional and technical costs;
Zoetic will no longer enter into an orderly market agreement in relation to any of its Path Shares; and
The long-stop date for the Transaction will now be 31 December 2020.
In addition to the consideration elements set out above, Path will issue to Zoetic 15,000,000 warrants to subscribe for Path Shares at any time from the first to the third anniversaries following completion at an exercise price of 1.5 pence per Path Share.

The Company remains committed to its policy of exiting its legacy natural resources activities and the Directors will actively pursue alternative solutions in relation to the Kansas Nitrogen Assets.

Trevor Taylor, Co-CEO of Zoetic, commented, "We are committed to achieve the best deal possible for our shareholders, and we believe that the revised Transaction with Path is an example of this."
Conclusion
Clearly much is changing at Zoetic. Such a dramatic pivot in strategy can be alarming, but I note two directors bought a combined £390,000 of stock just a couple of days ago.
This was on the same day (28 October 2020) as Zoetic's most recent trading update, in which the company announced
'a significant order under one of its existing distribution contracts to roll out stock of its Chill range of tobacco-substitute CBD products in a number of convenience store outlets throughout the USA.'
My university days were a couple of years ago now so I'm a bit rusty here but I'm sure this is a big market. That's potentially quite exciting if Zoetic is crossing the point from product testing to successful commercialization.
At the end of the day, this is a hotly-traded CBD stock, with Spreadex listed as one of its major shareholders and a dearth of institutional holders. Volatility is to be expected and it's no surprise the stock comes with a Highly Speculative RiskRating.
This is not an area I know well, and I'm wary of the hype. Zoetic is interesting though and I might take a closer look in future to assess the quality of its products and quantify the scale of the commercial opportunity.
A market cap of £75m is already pricing in quite a lot of successful execution, and all I see right now are the historic operating losses. There is also a history of significant equity dilution here.
On balance, the financial health scores are positive and the director buys are intriguing enough to warrant a closer look but I'm yet to be convinced. If others are more familiar with this stock and would like to offer the bull case, I'm certainly willing to listen.
.
---
Superdry
(LON:SDRY)
Share price: 155p (down 7% at 12:08)
No. shares: 82.0m
Market cap: £127.1m
Here are my quite detailed notes from 21 Sept 2021, where I reviewed the results for FY 04/2020. I explained then why I was bearish on this share;
It was loss-making before covid started
Losses likely to be huge this year FY 04/2021
Locked into ruinously expensive shop leases – it needs to do a CVA to jettison these millstone shop leases
Adequate liquidity for now, but looks likely to need a substantial fundraising in future
No sign of "brand reset" strategy working yet
Tired brand, past its prime?
As always though, nothing is set in stone. So if the figures improve, and the turnaround under the original founder, Julian Dunkerton, begins to gain traction, then I reserve the right to turn positive on the share. After all, as investors we have to follow (and anticipate) the facts amp; figures, emotions mustn't come into it. Changing our minds when the facts change is vital.
Today's update is for H1 in FY 04/2021
Superdry today announces a trading update covering the 26-week period to 24 October 2020 ("H1 21″, "H1″ or "the period").
As you can see from the table below, Q2 figures (Aug, Sept, Oct) are barely any different to H1 total (May, June, July, Aug, Sept, Oct). That's bad, because of course the May amp; part-June figures would have been in lockdown, with stores closed. In other words, they've been re-opened in Q2, but total sales have barely changed from Q1. Note that online growth has slowed in Q2, as some sales moved back to the stores. All in all, these are bad numbers in my view;
.
.
Recent trading – not good -
Like-for-like store trading in the last six weeks of H1 was (32.4)%, with UK trade impacted by continued social distancing measures, partially offset by stronger performance in Europe where footfall declines have been less severe.
About half its stores have now closed again due to the England lockdown. Although remember that the staff costs can be recouped under the new temporary furlough scheme, and of course no business rates are payable this year.
E-commerce sales have been decent in the last 6 weeks -
Ecommerce is performing well and strengthened through Q2 21, with like-for-like sales up 51.9% in the last six weeks of H1. The improvement was driven by owned site sales, which increased 68.9% year-on-year coinciding with the launch of our new AW20 product and the targeted clearance of aged stock.
Gross margin – this is a key element of the turnaround plan – i.e. to raise gross margin by selling more at full price. I'm very sceptical about this, and it seems that scepticism was well-placed;
In response to Covid-19 we have increased promotional activity to clear excess inventory, reducing full price mix2 and Retail gross margin in the first half. This has been partially offset by the continued focus on both cost management and the cash preservation actions beginning in late FY20. Given the continuing disruption, we expect these margin dynamics to continue for the remainder of FY21.
Poor sales, combined with a poor gross margin, and largely fixed costs, is a really toxic combination, usually resulting in heavy losses.
The brand reset remains on track, despite the current unprecedented levels of disruption and volatility.
Really?! The poor sales amp; gross margin suggest the opposite.
we are focused on maximising revenues over the Black Friday trading period from Ecommerce. We have in place commercial and operational plans to capture the expected elevated demand online across this important period.
They haven't really got any other options, since many of the stores have had to re-close today. I'm not sure what proportion of sales are online, but it's not as high as say Next (LON:NXT) or Joules (LON:JOUL) which do half or more of all sales online. That is such a key element, and personally I'm only interested in backing retailers that have cracked online selling, at about half (or more) their total sales.
Liquidity – looks OK for now -
At 3 November we have a net cash balance of £22.2m (2019: £(16.4)m) as well as access to our recently refinanced and currently undrawn borrowing facilities.
This is down from net cash of £36.7m at 21 Sept 2020.
The undrawn facility is a £70m asset-backed lending facility, available until Jan 2023, so just over 2 years for that, hence no immediate crisis.
Outlook comments are largely waffle.
My opinion – there's no sign of recovery here at all. Revenues are weak, and not improving, despite the ending of lockdown in Q2. Gross margins are under pressure. There's nothing said about how the new A/W ranges are doing – remember this was meant to be the start of the turnaround, therefore I can only conclude that they're not selling as well as hoped, which means discounting will be needed to clear the stocks in due course, especially after the latest lockdown has wiped out a month's sales. It needs a monster Dec amp; Jan sales trading period, but how can that be done with social distancing?
Liquidity looks OK for now, but the business is undoubtedly trading at heavy losses, which burns through cash. Therefore I reckon a big fundraising is likely to be needed in 2021. If that's combined with strong sales growth, and signs of progress in resetting the brand, then it should be able to raise the money. If sales are still poor, and no sign of a turnaround, then investors may require a deep discount to keep the company afloat in 2021.
The obvious solution is a CVA, to ditch the problem store leases, some of which are expensive flagship type stores in city centres. I'm told that SDRY has managed to secure some rent reductions, but that's usually only possible for leases that are coming up for expiry or break clause. As you can see from the last balance sheet, the existing lease liabilities are very high. Why would investors want to pour in fresh equity, just to keep the landlords happy?
I've no doubt that management amp; team are deeply passionate about turning things around. That takes time, and money. There's no sign at all of it working so far, and the money is running out. For these reasons, this share is little more than a hopeful punt at this stage. It's very similar in that respect to Ted Baker (LON:TED) . I wouldn't touch either, unless tangible evidence of a strong turnaround becomes evident from the figures. Until then, it's just wishful thinking.
Note how the broker forecasts are continually being reduced, and the forecast loss for this year FY 04/2021 still looks way too optimistic to me. My rough workings suggest a considerably larger loss for this year. Next year – who knows, the situation is too uncertain to be able to forecast sensibly that far out.
.

.
---
D4t4 Solutions
(LON:D4T4)
Share price: 214p (up 10% at 13:12)
No. shares: 40.22m
Market cap: £86.1m
This is interesting, because it's relevant to a recent trading update, indicating contract wins deferred from H1 to H2. I covered that here on 21 Oct 2020. To summarise that, D4T4 only did £5.1m revenues in H1, and needs to achieve more than 3 times that figure in H2, just to hit forecast for FY 03/2021 of £22.9m revenues. Clearly a tall order. Also, the shares are expensive (PER of 29), even if that ambitious forecast is met.
Today it says;
"D4t4″), the AIM-listed data solutions provider, announces four new contract wins in key vertical sectors for the Group's Celebrus family of products, which will add a total of c£5.5 million to revenue in the current financial year. These wins evidence the strength of the pipeline of business opportunities with new and existing clients alike that is underpinning the Board's confidence in delivering a strong second half of the year….
Some more information is given, but not client names, but they sound like big companies.
Outlook –
"We are in a good position and remain confident about our prospects for the full year with clear visibility on both existing and new business, plus the high level of recurring revenue to be recognised during the second half."
Finncap is very helpful, in making its research notes available to us (directly, or via Research Tree). There's an update today, which reiterates what it said in Oct, that there's another £8m in recurring revenues already secured in H2, on top of the £5.5m contract wins announced today. Therefore, most of the sales needed in H2 are already in the bag. This raises the prospect that D4T4 might actually meet, or exceed the forecast for this year (Finncap has £21.7m revenues, and 6.6p forecast for this year.
My opinion – it's not cheap on a PER basis, but I'm a lot happier that forecast figures look achievable, after today's announcement. Another boost to the credibility of management outlook comments, as we discussed last time.
This share looks increasingly interesting. I don't understand what it does, but do realise that data is very important, and seems to be a thing of the future. Big companies are buying D4T4's software/services, so it must work well for them.
Overall, I like the look of this. Although shareholders have to live with lumpy contracts, hence limited visibility at times, especially during H1 periods, it seems. That makes the share rather tricky to value.
.
---
Joules
(LON:JOUL)
Share price: 105.6p (up 5% at 14:03)
No. shares: 108.4m
Market cap: £114.5m
Joules, the premium British lifestyle brand, provides a business update in light of the latest UK Government restrictions, as well as an update on trading in the financial year to date (the first 22 weeks of its financial year to 31 May 2021 or the "Period").
All England stores now closed, with staff going onto furlough. No surprise there, that's obvious.
Wales stores re-opening on 9 Nov, whilst Scotland amp; N.Ireland currently remain open.
Online sales – this is important, because Joules has historically sold around half online, and that's likely to be much higher now;
The Board believes that Joules remains well positioned to satisfy higher anticipated online demand over the forthcoming peak trading periods, having completed several capacity and efficiency enhancements within the Group's UK warehouse during 2020.
Current trading (before lockdown 2.0 anyway) has been good;
The encouraging trends reported in the Group's trading update on 23 September 2020 have continued, with sales for the Period remaining ahead of the Board's expectations. This has been driven by strong year-on-year e-commerce growth of 35%, with e-commerce revenue accounting for 70% of the Group's retail sales in the Period.

The Group's stores performed ahead of the Board's expectations during the Period, with sales since the re-opening of Joules stores in July down by 18% year-on-year.

The Group's wholesale and international sales have performed in line with expectations over this Period.
70% of sales online, wow. Should we start to see this as an online brand, that happens to have some shops too? Should they wind-down the physical stores, and move online only, I wonder, or just keep a few physical stores to maintain a brand presence?
They clearly "get" online, which is so crucial for success these days;
The Group's active customer base has now grown to 1.5 million, reflecting the strength of the Joules brand. 'New to brand' customer growth has been particularly strong in recent months, benefitting from: focused digital marketing investment; the positive impact of the Friends of Joules digital marketplace; and the desirable lifestyle locations of many of the Group's stores.
Liquidity – sounds fine;
The Group's balance sheet remains strong with net cash of £9.4 million and liquidity headroom of £57 million at 1 November 2020.
Outlook – impressive. How many retailers are confirming full year expectations?! Albeit considerably lowered expectations;
As a result of Joules' continued momentum, and notwithstanding the significant levels of uncertainty as the Group enters the critical peak trading season, the Board believes that Joules remains on track to deliver its expectations for the FY21 financial year.
My opinion - what a pity this announcement didn't tell us what management expectations are for current year trading? Those footnotes are so useful, when companies/advisers do remember to include them. Hence without knowing what their expectations are, I cannot value the share.
That said, I think it's becoming increasingly clear that Joules might be one of those shares to just buy and tuck away for the long term, on the basis that it's demonstrated strong flexibility this year, and it's a brand, not just a retailer. Hence the customers seek it out online, whether the shops are open or shut. That's very valuable.
Overall then, I like it, and will add it to my watchlist. This strikes me as a vastly better investment proposition than hoping for a turnaround at Superdry (LON:SDRY) .
.
---
Works Co Uk
(LON:WRKS)
Share price: 22.0p (up 31% at 15:40)
No. shares: 62.5m
Market cap: £13.8m
TheWorks.co.uk plc, the multi-channel value retailer of gifts, arts, crafts, toys, books and stationery, today announces a trading update for the 26 weeks ended 25 October 2020 (the "Period" or "H1 FY21″).
This is an interesting update.
Since re-opening, the stores are trading level with last year (very good in the circumstances), and online has doubled. That gives total LFL (including online) of +10.6% – good going.
If my numbers are right, that means we can deduce that last year online was about 10% of total sales, and has risen to about 20% of total sales this year – going in the right direction, fast, but still not a madly exciting level of online activity. As mentioned earlier in the report, ideally I'm looking for retailers that can get to 50%+ of total sales online, like Next (LON:NXT) and Joules (LON:JOUL) (now up to a remarkable 70% online).
Liquidity is good for now, with £8.4m net cash, although that includes £4.0m of favourable working capital temporary benefits. It's not clear if this includes tax payments deferred or whether those are additional benefits?
Outlook comments sound cautious but optimistic! There's no profit guidance;
Due to the Group's strong financial position on entering this period, the Board is confident that the Group has adequate resources to support the business, whilst retaining headroom within its banking facilities. In light of the high level of uncertainty, the Board will not be issuing profit guidance for the full year FY21 at this time.
My opinion – this is better than I expected, but it doesn't actually tell us anything about profitability. That and the lack of guidance, and no broker notes, means I can't take this idea any further.
I've previously held a few shares in this, but ditched them at some point earlier this year, when I had to cull lower conviction positions in my Spreadex account, due to margin calls caused mainly by Revolution Bars. Such is life.
So the question now is whether I want to buy back into WRKS? It's tempting, as the market cap is very low, so could it be a potential multibagger in future? It sounds like the risk of insolvency is low at the moment. Also, when I did visit a store over the summer, I liked the products, which are cheap amp; cheerful, and I always seem to pick up something – cheap books or cards, a jigsaw which I gave to my niece, a map of the world to go on the wall for only £4, etc. So it's quite a nice format, and high margins are made on those products.
On the downside, it has 530 stores, which needs a big central overhead to manage and I wonder how many of those are now over-rented? So it could be a good candidate to do a CVA, to exit all the problem leases. If it did a CVA, then I would be happy to invest, but for now, I'll watch from the sidelines. It looks like WRKS should survive, for now anyway, but will it prosper in future? That's difficult to see at the moment.
Not the best of floats, in July 2018 at 160p, providing an exit for its PE backer, Endless.
.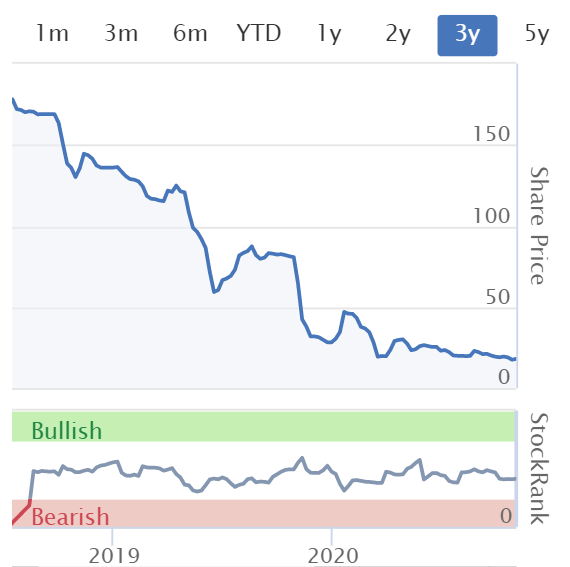 .
---
Quick comments from now, as I'm almost out of time.
Pci- Pal (LON:PCIP)
46.5p (up 16%) – mkt cap £27.5m
See our archive here for several sections, where I covered the results in Sept, and decent outlook for reaching breakeven next year. There's also a very informative management presentation available on InvestorMeetsCompany – in it management explain how the costs are mainly fixed (people), but recurring revenues are rising rapidly. Therefore it's heading towards breakeven after previous losses.
Today it tells us;
As a result of the strong start to the year in sales and customer deployments, first quarter revenues are 44% ahead of the comparative period last year, with revenue visibility against current market forecasts for the year ending 30 June 2021 now at 88%.
It was previously reported as +41% in July amp; August, therefore to rise to 44% for Q1 (July, Aug, Sept) means that Sept must have been nearer to +50% growth Y-on-Y. Very pleasing.
I wonder if already having 88% visibility on revenues to June 2021, means that they're heading for a possible beat against forecast?
My opinion - there's more info in the RNS today, but suffice it to say that my positive impression in Sept 2020 is getting stronger. This looks a potentially interesting share, I'll add it to my watch list.
Stockopedia rings the alarm bells – the StockRank system hates loss-making, jam tomorrow type shares!
.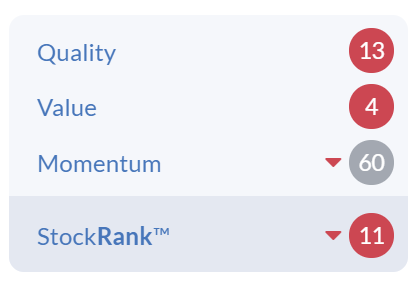 .
---
N Brown (LON:BWNG)
55.7p (down 6%) – mkt cap £158m
Placing amp; open offer to raise c. £100m – this is a very significant fundraising, for a company with a market cap of only £158m. The prospectus is here. I do find the requirement for such a detailed prospectus is overkill, and wish the authorities would streamline the regulations to make it easier amp; cheaper to raise equity. The cost of a prospectus, per person who actually reads it, must be gigantic!
Moving to AIM.
New amp; extended bank facilities, once fundraising done.
Purpose is to accelerate growth, and strengthen/de-risk the balance sheet – it's mostly being used to repay unsecured funding, and the CLBILS borrowings, which then removes restriction on paying divis.
Open offer is 11 new, for 18 existing shares
Price looks fair, at 57p
As usual, outrageous costs of £6m
The deal is supported by its major shareholder, Lord Allliance
This fundraising looks fine to me. It reduces risk, but makes the upside per share less.
Half Year Results – there's a webcast here.
H1 revenues down -17.6% on LY, at £356.7m
Improving trend from Q1 (lockdown) to Q2
Profitable – adj PBT £22.6m in H1, down 28.9% on LY
Cost savings, especially marketing efficiency. Being c.90% of sales online, the cost base is flexible, which I like
No guidance given for full year, but it does say in outlook comments;
the Group continues to trade in line with the Board's expectations and w e continue to be excited about the opportunity for N Brown to return to growth
Regulatory pressures on the financial services is reducing margin, and covid has increased customer bad debts
My opinion – this is a strange business, which I tend to view as being like the old catalogue shopping businesses, where they make profits from extended payment terms at high interest. BWNG is just doing that online.
The problem is that every now and then, regulatory problems emerge with consumer credit, which can be expensive to remedy. So it's riskier than a pure play eCommerce business.
I think there's a lot of potential here, for decent management to actually make the product side of things grow, and become more decently profitable. Can you imagine what BooHoo could do with this business, if they took charge of it?
It's very cheap, if you see it as an eCommerce business. Track record is poor, and it's unimpressive to see revenue shrink so much, when it should have been soaring due to physical competitors being shut earlier this year.
I'm not convinced management are any good yet, but time will tell.
Looks interesting, in my opinion.
.
---
Dfs Furniture
(LON:DFS)
198p (down 2%) – mkt cap £508m
181 out of 208 showrooms are now temporarily closed, due to lockdown measures
Manufacturing amp; deliveries are continuing as normal – remember there is a lead time on furniture, which helps when lockdowns happen
Current lockdown measures not expected to materially impact profitability for the first half
H1 is July-Dec 2020. However, what it doesn't say, is that there could possibly be some impact on H2, due to reduced orders taken in November's lockdown, maybe?
Some business is likely to shift online;
Our websites across all brands and territories remain open for business and are performing well. Based on our previous experience of lockdown we expect our online business to improve further. This will be supported by the temporary transfer of showroom colleagues to other areas of the business, including remotely assisting customers with web purchases.
… Furthermore, our experience of the prior lockdown periods was that substantially all order intake disrupted during the lockdown period was either deferred until showrooms reopened or was captured online.
That was also confirmed by Scs (LON:SCS) (I hold) which recouped all of the lost lockdown sales, in the following few months.
Liquidity - it's true that DFS has liquidity;
Strong Financial Position

Our balance sheet position remains robust. With the strength of recent trading, helped by associated working capital inflows, we currently hold a net cash position, with access to over £300m of available cash and undrawn bank facilities.
However, it is categorically untrue that it has a strong, or robust balance sheet. The balance sheet is actually extremely weak. To demonstrate that, its last reported balance sheet benefited from an equity fundraise of £63m in April 2020 (42.3m new shares, at 150p each, a 16% premium to the prevailing share price back then). Despite this, NTAV was terrible, at negative £(330.6)m, at end June 2020, which I've calculated as NAV of £201.9m, less worthless intangibles of £532.5m.
The working capital position is awful too, with current assets of £155.7m, less current liabilities of £316.6m.
There are over £500m in lease liabilities too, which could be problematic in a prolonged economic downturn.
The business is effectively funded with bank debt, and making use of customer deposits paid in advance of paying the manufacturers to make their furniture. That's not prudent, and in my view, customer deposits should be ring-fenced. Therefore, DFS takes advantage of favourable working capital characteristics. That is very different from having a strong balance sheet.
Therefore, due to its extremely weak balance sheet this share should be seen as high risk.
My opinion – DFS is uninvestable to me, because of its terrible balance sheet.
Scs (LON:SCS) (I hold) is a far safer, better alternative, in my view. It has a bullet-proof balance sheet, stuffed with cash, no debt, and has traded superbly since lockdown 1.0. It's on a single digit PER too, with broker forecasts that look much too conservative. Hence ScS is my sector pick.
DFS has not been a good investment, as you can see below. Although it has paid c.50p in divis in the last 5 years, so the total shareholder returns is not as bas as the chart implies.
This share very much remains an investment for people who don't look at balance sheets!
.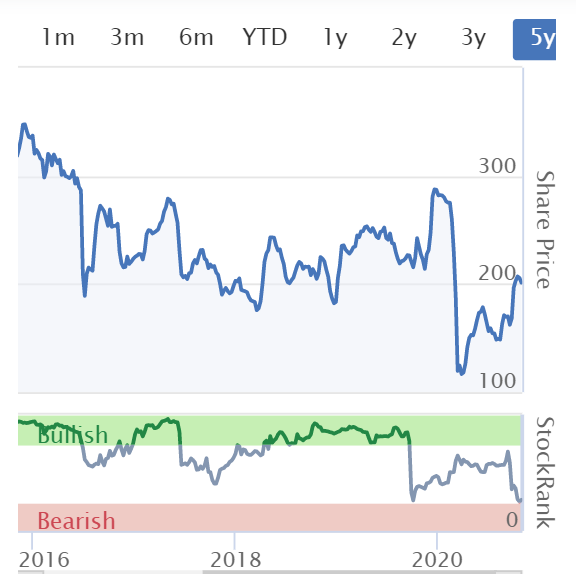 .
---
Zotefoams
(LON:ZTF)
419p (down 2%) – mkt cap £202m
5 November 2020 – Zotefoams, a world leader in cellular materials technology, today provides a trading update for the third quarter, ended 30 September 2020.
This seems a good update, concluding;
… the Board expects full-year revenues and underlying profit before tax to be in line with market expectations…
That's encouraging, but bear in mind that forecast earnings for this year have roughly halved from pre-covid estimates;
.
.
My opinion - neutral. It looks expensive on a PER basis, but it's good to see a company that confirms full year guidance.
Note that it has had some benefit (not quantified) for making PPE equipment in the covid pandemic.
At this sort of valuation (forward PER over 30), it's going to have to beat forecasts next year, not just meet them.
.
---
Headlam
(LON:HEAD)
264p (up 3.5%) – mkt cap £224m
This carpet/floorcoverings distributor, gives us a brief update today, saying;
All sites to remain open
Fulfilling customer orders as normal
My view – clearly that's encouraging, but it perhaps glosses over the risk that customer demand is likely to reduce, because the customers' retail premises will be closed for about a month. So the question is, how much of a downturn is HEAD likely to see in demand, and how quickly would it pick up, when pent-up demand returns?
I'm not overly worried about this, because HEAD is the type of company that is benefitting from the trend to make home improvements. So any slippage of business due to lockdowns, is likely to be recouped.
Apparently there's a shortage of skilled carpet fitters – an opportunity for out of work people to re-train, possibly?
I don't currently hold HEAD, as unfortunately a recent attack of margin-itis, forced me to cut a few geared positions, to fund the losses on other things. But HEAD is very high on my list of things I want to buy back into, when funds permit. It's a good recovery share, and looks cheap if you look forwards say 2 years. Also the balance sheet is wonderful, with a ton of freehold property – in for free, I would say.
.
---
Wincanton
(LON:WIN)
230p (up 1%) – mkt cap £287m
The story for this logistics company has been getting better of late. Here are my notes from 2 Oct 2020 trading update, including an important improvement in the pension deficit situation.
Wincanton has traded surprisingly well this year, with increased eCommerce business and business from the supermarkets, seemingly offsetting some of the downturn in business from some other retailers. Whatever happens with lockdowns, people still need to be supplied with things.
Considering the chaotic year we've had, these numbers for H1 (April to Sept 2020) look pretty respectable to me. Obviously down on last year, but looking resilient I think;
.
Note in particular that it's paying a divi still, when many companies have cut them. Also, the free cashflow figure looks huge, and it's moved into net cash. No doubt some creditor stretch has helped in that regard. Yes, here it is;
Strong improvement in cash to deliver net cash of £63.3m (2019: net debt of £(14.8m), driven by good working capital management and deferral of VAT, corporation tax and pension payments… mainly due to the deferral of £43.9m of VAT payments in the first quarter, but also due to continued strong disciplines around billing and cash collection throughout the period.
Strong current trading amp; positive outlook;
Good momentum into H2 – results for FY20/21 expected to be materially ahead of current market expectations assuming no further severe impacts from COVID-19
The pension scheme is massive, so careful research still needs to be done on this. What would happen if interest rates turned negative, or if asset values collapsed?
.
A reminder that the deficit recovery payments are still very material to the valuation of the company. Hence this share should be on a low PER;
The annual deficit funding net contributions have been agreed at £18.9m per annum from 1 April 2021 increasing by RPI over the three years to March 2024, followed by £22.0m per annum from April 2024, increasing by RPI to March 2027. The Group will continue to pay certain administration costs directly and, in line with the Schedule of contributions, these will be deducted from the deficit funding contributions….
As at 30 September 2020 the Scheme's investment was split between 17% in return-seeking assets and 83% in defensive assets.
Potential tax liability - I don't like the sound of this, as it creates uncertainty amp; potentially a large loss;
The Group has been notified by HMRC of potential claims for Excise duty and related VAT in connection with the historic transfers of a group of former customers' excise goods. These movements occurred from one of Wincanton's bonded warehouses to a common third party UK export agent. HMRC suspects irregularities to have occurred during the export process and the export agent has subsequently entered administration. Due to the nature of the excise regime Wincanton operates in, HMRC considers Wincanton to be jointly and severally liable for Excise duty and VAT arising as a result of these irregularities.
Wincanton is vigorously disputing the potential claims and is confident in its legal position having received clear, expert advice. As a result of the strength of the legal advice, no liability has been recognised in respect of these claims, noting that the total value of the potential claims could be up to approximately £50m before interest and legal costs. We expect that any claims made by HMRC will be received in the second half of the year.
Unless earlier resolution is achieved, the Group expects to proceed to have the claims heard before a Tax Tribunal and the full legal process could take in excess of two years. Under current regulations, some or all of the claims could be required to be paid shortly after issuance and in advance of the outcome of a Tribunal. The Group is in discussion with HMRC regarding the process and potential options to minimise the risk of cash outflows in advance of a Tribunal. In parallel with the legal process, the Group is reviewing options regarding its insurance cover.
Balance sheet - overall, it's still weak. NAV is negative, at £(28.4)m. If we deduct £86.2m worthless intangibles (goodwill, etc), then NTAV is unpleasantly negative, at £(114.6)m.
A bit like DFS above, WIN can operate fine with a weak balance sheet, because it gets money up-front from customers. But that doesn't alter the reality that its balance sheet is weak. It may not particularly matter, when things are going well, but a weak balance sheet means there's nothing in reserve, if something goes wrong. Look how DFS had to raise fresh equity, at the height of the crisis earlier this year.
That £326m trade payables on WIN's balance sheet really jumps out at me as looking very high indeed. Also, the strange rules on pension scheme accounting, seem to allow WIN to show its pension deficit as an asset on the balance sheet, of £24.3m, which is crazy when the company is actually having to make large payments into the pension scheme to recoup the actuarial deficit. Therefore the real world NTAV is a lot worse than shown above, the way I look at things.
My opinion – this seems a really good business, that has traded relatively well in 2020, given the problems. However, when you dig into the numbers, it's financially very weak. Liquidity is fine, but the business is financed on shaky foundations, in my view.
The need to pour money into the pension scheme means divis are likely to be limited, and I think it's very unwise for the company to resume divis when its NTAV is heavily negative.
On the upside, a lot of investors may just ignore the weak balance sheet (as with DFS). So the share price could continue recovering, if its trading updates continue to be good.
.
Source:
https://www.stockopedia.com/content/small-cap-value-report-thu-5-nov-2020-qe-furlough-ztu-sdry-d4t4-joul-wrks-pcip-bwng-dfs-ztf-head-win-694643/
Before It's News®
is a community of individuals who report on what's going on around them, from all around the world.
Anyone can
join
.
Anyone can contribute.
Anyone can become informed about their world.
"United We Stand" Click Here To Create Your Personal Citizen Journalist Account Today, Be Sure To Invite Your Friends.