CLARITY GOLD–The Junior Gold Stock With A 500,000 oz Headstart
Tuesday, December 1, 2020 9:33
% of readers think this story is Fact. Add your two cents.

CLARITY GOLD IS THE JUNIOR
WITH A BIG HEAD START
IN THE ABITIBI GREENSTONE BELT
Clarity Gold Corp(CLAR:CSE, CLGCF:PINK) is the junior gold stock that is acquiring 100% of a 6 kilometer known gold strike in the Abitibi Gold Belt—and has the potential to quickly drill out a large resource.
They're starting with:
a 2011 NI 43-101 indicated resource of 360,000 oz and an inferred resources of 247,000 ounces
that's open along strike and at depth,
a deep understanding of how the gold bearing structures are trending
geologist Rory Kutluoglu who drilled out the 3.5 million ounce Coffee deposit for Kaminak Gold (sold to Goldcorp for over $500 million!)
Clarity Gold is acquiring 100% of a brownfield exploration property in the Abitibi property—the Destiny Project—which has 50,000 meters of drilling done at surface AND…FIVE known stacked mineral horizons that exist within the structural trend.
The few drill holes at depth came back with some strong results—but weren't followed up on. That's what made Clarity management want the opportunity to earn 100% of the property.
To be fair, gold in Canadian dollars is now nearly 2x what it was in 2011 when this property was last a focus for someone.
Few people understand just how much gold is up in the Abitibi. It's where most (75%) of Canada's gold is from—about 180 million ounces have been produced from more than 100 mines since the region was discovered in 1901.
It's one of the most prolific gold belts in the world—from both open pit and very deep underground deposits with very high grade.
My favorite map in the entire gold sector is the one below from the Abitibi Gold Belt. If you pop in your car and take a drive through the Abitibi you can literally stop almost every hour and visit a multi-million ounce gold mine.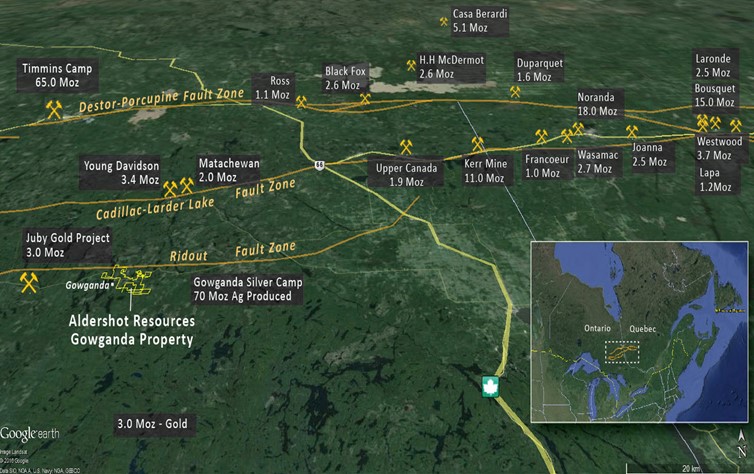 That is the Abitibi……it is FILTHY RICH with gold. A 5 million ounce gold mine here, an 11 million ounce gold mine there. Oh, and look……a 15 million ounce gold mine over there.
How did Clarity Gold CEO James Rogers get the chance to buy this advanced stage asset? As a newly listed public company, he was smart and kept his share count very low—that not only gives shareholders a lot of money, it gives the vendors who take some of their pay in stock some leverage too.
Rogers and his good friend Rory Kutluoglu—more on him in a minute—looked at a large number of assets for months and months.
They found the Destiny Project as an asset that had the right address—in the Abitibi, but on the least explored fault—and a lot of work done on it. The amount of data was VERY valuable in evaluating the project.
But in the last cycle that ended in 2011, everyone looking for giant open pits. That's what the Market wanted then — low-cost opex, at-surface mines. It just didn't make sense for previous owners to chase the really big, deep discoveries that the Abitibi has to offer.
I'm talking about assets that can turn into the LaRonde mine, run by Agnico Eagle. It has produced over 6 million ounces of gold since it opened in 1988, and its 2.2 km deep Penna Shaft is the deepest single lift shaft in the Western Hemisphere.
Or assets that turn into the Kidd Mine—a VMS (Volcanic Massive Sulphide; base metals like copper and zinc) deposit that is now down over 3000 meters—almost 10,000 feet!
Clarity's new Destiny asset does have a VMS component to it, but I'm more excited about the pure gold potential—both at depth and along strike.
Destiny is on Clarity Gold's Side
The best way to way to make a really, really big gold discovery is to
start with half a million ounces and …
expand along existing structures
While there are no guarantees, this is the best place to start.
The first exploration work at Destiny was in the 1930s, but the first serious modern drilling was in 1998 by Cameco. The vendor got Destiny to a NI 43-101 compliant resource in 2011—but that was when the industry was obsessed with open pit mines.
There's 50,000 meters of past drilling here–A LOT! It showed there is higher grade gold at depth — which is where the Abitibi is prolific. The drilling used to get the 43-101 had deep intercepts of as much as 167 g/t over 1 meter (5 oz of gold!) and 90 g/t over 1 m and 6 g/t over 23 meters.
You get to include a lot of the lower grade halo around those high grade intercepts if it makes a mine!
I've watched so many smart juniors this year use a brownfield business plan. Pay up for a great play where so much of the early stages has been de-risked.
With its 100% option Clarity can now drill this open pit resource along strike–but they see The Big Potential to be underground. There is no place on planet earth better suited for this model than the Abitibi where The Big Prize is deeper.
The Destiny Project already has over 500,000 ounces of resource identified using an open pit model.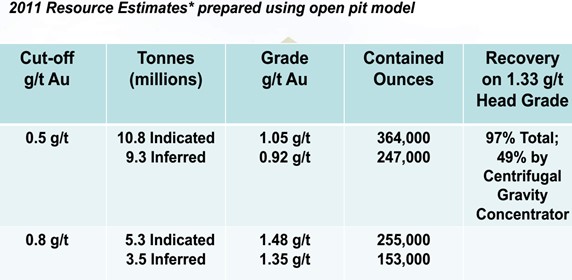 Clarity's drilling plan includes targeting a Timmins-camp style deposit (65 million ounces produced) and Val d'Or (over 15 million ounces produced) style, shear-hosted gold deposits.
That 50,000 meters of historic drilling has outlined a simple fairway for Clarity to test for more gold. It's in a beautiful straight line about 6 km long and 200 meters wide. There have been a couple of deep holes that also already show FIVE stacked mineralized zones at depth.
The two deep holes were not followed up on. Unfortunate for prior operators but great news for Clarity Gold. In fact there are actually several similar deep zones of geology that could host the same higher grade….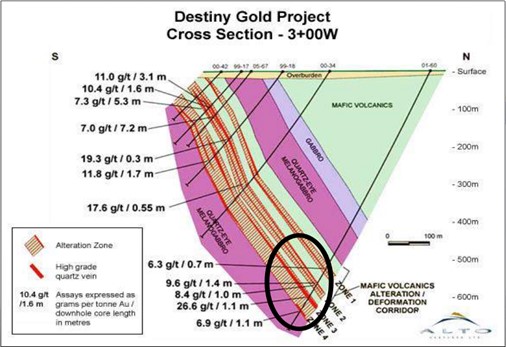 Right now there is one deposit and two more mineralized zones in that simple 6 km long row. The same structure goes through them all—it's continuous. The bet for investors is: is the structure continuously mineralized?
I like what I see, but I'm no geologist. Fortunately, the Company has one of those already—someone who has experience drilling out discoveries to multi-million ounce gold deposits. It's time to get back to Rory Kutluoglu.
The Right Opportunity And The Right Team To Exploit It
Abitibi has a history of open pits turning into underground mines. The Abitibi is a GREAT place to explore, as both Quebec and Ontario are mining friendly governments. Companies here get good valuations—which means leverage for investors.
Throw in the 30% kicker that the weak Canadian dollar is for cash flow and there is a lot to like.
I can't get over the fact that there are 100 mines in the Abitibi Gold Belt straddling the Ontario-Quebec border. One of the towns on the Quebec side is called Val D'Or–the valley of gold. As you drive north from Val D'Or to the small town of Amos, you can barely keep track of all the headframes you see marking another mine—it is a cool place.
The Destiny Project is another discovery for the region. It has the gold, we already know that. Now we get to see how this particular Abitibi story plays out at depth.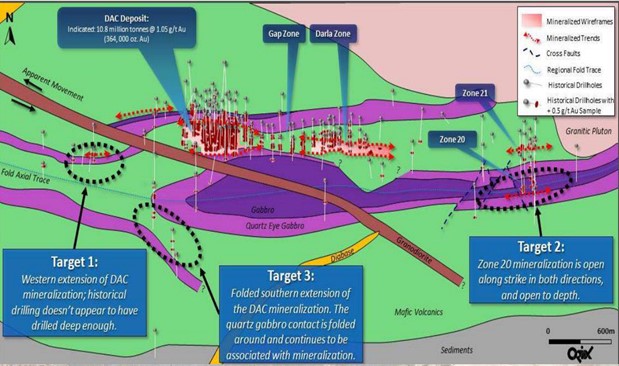 Rory Kutluoglu is the geologist in charge of finding out whether or not The Destiny Project is yet another multi-million ounce Abitibi mine.
Kutluoglu is a proven commodity…..ultra-qualified in proving out a discovery. He was the Exploration Manager for Kaminak Gold Corp where he was instrumental in taking Dr. Rob Carpenter's discovery—the Coffee Project–from discovery stage to the multi-million ounce deposit that was acquired by Goldcorp for $520 million.
Kutluoglu and Kaminak made their shareholders very happy after the company was acquired by Goldcorp for $520 million.
I don't know what the end game will be for Clarity Gold. All investors can do is position themselves into junior gold plays with the right setup that could make for a very happy ending.
We have that here across the board…
1 – The ultra-tight share structure that tells me that management believes in the project and wants to get rewarded. Just 20 million shares are outstanding
2 – Huge insider ownership–over 13% of the stock in this case, plus another 15% with tight friends
3 – Earning into a brownfield asset that already has an Indicated resource of 360,000 oz and Inferred resource of 247,000 oz—in a gold camp that has multi-million ounce discoveries every few miles.
4 – The path to a much larger resource is simple and immediate, with mineralization along much of the 6 km strike length, and that drilling has already said is open at depth. But remember, that doesn't mean the gold is there–this is still exploration.
5– An experienced team who have proven that they can take a discovery, grow it and then monetize it
I like the risk-reward here. And folks, you have to consider ALL drilling as high risk. But the play, the team, the share structure all tick my boxes.
I think it's going to be a very exciting 2021 for shareholders here.
Clarity Gold Corp Management has reviewed and sponsored this article. The information in this newsletter does not constitute an offer to sell or a solicitation of an offer to buy any securities of a corporation or entity, including U.S. Traded Securities or U.S. Quoted Securities, in the United States or to U.S. Persons. Securities may not be offered or sold in the United States except in compliance with the registration requirements of the Securities Act and applicable U.S. state securities laws or pursuant to an exemption therefrom. Any public offering of securities in the United States may only be made by means of a prospectus containing detailed information about the corporation or entity and its management as well as financial statements. No securities regulatory authority in the United States has either approved or disapproved of the contents of any newsletter.Keith Schaefer is not registered with the United States Securities and Exchange Commission (the "SEC"): as a "broker-dealer" under the Exchange Act, as an "investment adviser" under the Investment Advisers Act of 1940, or in any other capacity. He is also not registered with any state securities commission or authority as a broker-dealer or investment advisor or in any other capacity.
Source:
https://oilandgas-investments.com/2020/latest-reports/clarity-gold-the-junior-gold-stock-with-a-500000-oz-headstart/
Before It's News®
is a community of individuals who report on what's going on around them, from all around the world.
Anyone can
join
.
Anyone can contribute.
Anyone can become informed about their world.
"United We Stand" Click Here To Create Your Personal Citizen Journalist Account Today, Be Sure To Invite Your Friends.