Small Cap Value Report (Fri 4 Dec 2020) - DBOX, NANO, WSG, MCB, SBTX, HUNT, SMRT, TPX
Friday, December 4, 2020 10:09
% of readers think this story is Fact. Add your two cents.

Good morning, it's Paul here with the SCVR for Friday.
Timing – TBC
Agenda - firstly a few tiddlers left over from yesterday;
Digitalbox (LON:DBOX) – Trading update (profit warning
Nanoco (LON:NANO) – Trading update
Westminster (LON:WSG) – deeply discounted fundraising amp; more jam tomorrow promises from this serial disappointer
Mcbride (LON:MCB) – Positive trading update
Skinbiotherapeutics (LON:SBTX) – Zero revenues final results
Hunters Property (LON:HUNT) – potential takeover approach
Smartspace Software (LON:SMRT) – Trading update with no figures in it, and tells us almost nothing about trading!
Panoply Holdings (LON:TPX) – Interim results from Monday this week
.
Retail carnage continues with Bon Marche going into administration, for the second time in just over a year (Oct 2019 previously). 225 stores under threat. It's so tough out there, but this is (sadly for the people involved) a necessary thinning out of weaker, not very relevant brands. Capitalism's process of creative destruction has to force the weak out of the market, to leave greater market share (of a smaller market) for the survivors
People are buying so much online, that we just don't need as many physical retailers. Harsh but irrefutably true. Let's not be hypocrites about this – you can't be on first name terms with your local Amazon delivery drivers, and lament the demise of the High Street at the same time. We're causing it, because it's easier to buy lots of stuff online.
---
Here are quick comments on some micro caps from yesterday, so I can reduce the number of open tabs on my computer screen;
Digitalbox (LON:DBOX)
5.6p – mkt cap £6.4m
Quite an interesting, tiny company. It makes the satirical website amp; TV show, The Daily Mash, and Mash Report, which can sometimes be quite funny. It's profitable, so superficially attractive. However, I quickly sold my shares in it some time ago, when I realised that the profits come from perhaps unreliable digital advertising. As we've seen with other digital advertising companies, those profits can quickly vanish, or greatly reduce, if giants like Google change their algorithms.
Trading update – for FY 12/2020. This triggered an 18% drop in share price yesterday.
Difficult Q2
Improvement in Q3
Market-wide algorithm change negative impact in lead up to US Election
Will miss market expectations for revenues amp; profits, but H2 stronger than H1, still profitable for year as a whole (but no figures given)
Student/youth brand, The Tab, acquired Oct 2020, doing well
Net cash of £1.1m
"Strong position to benefit as ad market recovers in 2021…"
My opinion - too small to be listed (hence de-listing risk), and too much uncertainty over sustainability of profits, which this trading update confirms. Reinforces my view that investors must carefully consider, with all investments, how sustainable profits are. Anything operating in digital advertising is at high risk of only delivering fleeting, unsustainable profits, hence great care is needed with this sector.
.
---
Nanoco
(LON:NANO)
9.8p – mkt cap £30m
I briefly held shares in this micro cap too, but sold out a while back, because it seemed to me that the company's future was so heavily geared towards a legal action against Samsung, that it was impossible for me to value the shares. I don't like holding shares in anything which is subject to make-or-break litigation, because I have no edge, so it's little more than gambling.
It updated us yesterday for Aug-Nov 2020;
Delivering Ramp;D services for customers, most significant being ST Micro – negotiating for next phase
Innovate grant, announced 25 Nov, to fund £0.8m of £1.0m project cost of testing kit for Covid-19
Trading in line with the Board's expectations
Has contingency plans if not able to generate new commercial revenues
Samsung litigation – Board confident of a positive outcome, but trial date set for Oct 2021, and could slip further.
My opinion – it's low on cash (no update given today), and the crucial Samsung litigation could be a year or more to be resolved, unless a negotiated settlement is agreed beforehand. Therefore I can't possibly predict what the future holds, so it's impossible for me to value, it could go either way.
.
---
Westminster
(LON:WSG)
Deeply discounted £5m fundraising, at 4p (with warrants bringing potentially more dilution).
It's promising more jam tomorrow. I cannot understand why shareholders keep giving this company the benefit of the doubt, given its awful track record.
.
---
On to Friday's news, of which there isn't much;
Mcbride (LON:MCB)
Share price: 72p (up 10%, at 09:23)
No. shares: 181.4m
Market cap: £130.6m
McBride (the "Group"), the leading European manufacturer and supplier of Contract Manufactured and Private Label products for the domestic household and professional cleaning/hygiene markets, provides the following trading update.
This relates to FY 06/2021, so we're almost halfway through this financial year.
I last looked at McBride here on 24 Nov 2020, when it put out a reasonably OK trading update, mentioning various factors which would mean H1 should be more profitable than H2.
Today's update shows a further improvement, saying;
In 2019, the Group experienced a weak November and December trading period, however in 2020, these months are now expected to trade very favourably ahead of last year with the result that the Board now expects first half sales growth of approximately 2%.
This improved revenue performance combined with continued factory efficiencies, limited operational impact from COVID-19, lower than expected operating costs and input costs for certain raw material and packaging items, will see a material year-on-year improvement in first half earnings.
Consequently, the Board's current outlook for the year ending 30 June 2021 is that profit before tax is expected to be at least 10% ahead of the current market consensus of £25.2m albeit the Board remains mindful of the continued economic uncertainty created by Brexit and COVID-19, together with expected increases in certain input costs in the second half.
This is a well-written announcement, giving us precise guidance, very helpful indeed, thank you to the company amp; its advisers. My job would be so much easier if all companies followed this straightforward, transparent approach to trading updates. It makes sense, because if a company gives investors clear guidance, rather than leaving us scratching our heads trying to decipher the nuances of some waffly text, then we're more likely to buy the shares, as there's no uncertainty about how the company is actually performing.
Valuation - current consensus EPS seems to be just under 10p. So it sounds like we can probably work on 11-12p EPS, giving a PER of 72p/11-12p = 6 to 6.5 – dirt cheap in other words.
Part of the reason this share is cheap, as I covered in detail last time here, is that it's got a lot of debt, and a pension deficit. Even so, neither look ruinous, so the very low PER looks to have some possible upside.
My opinion – it's probably too cheap, given that we've now got an out-perform trading update, and 10% rise in FY 06/2021 earnings forecasts. I'm tempted to pick up a few, as this looks like it might re-rate somewhat. Possible upside to 100p if things continue doing well? The chart looks nice too, and the StockRank system likes it a lot, nice confirmation. I'll put it on my watchlist and might buy a few on a down day.
.
.
---
Skinbiotherapeutics
(LON:SBTX)
16.5p (down 3%) – mkt cap £26m
Full year results y/e 30 June 2020
The income statement is missing something important – income! It's a zero revenues research company. So how on earth are we meant to value it?
It seems to be burning about £1m cash p.a. Therefore the £2.2m cash pile at end June, plus £4.45m raised in a placing post year end, so it looks fully funded.
It's from the same stable as Optibiotix Health (LON:OPTI) – so lots of scientific updates, and deals announced, but nothing of commercial substance so far.
My opinion – there's nothing concrete to base a valuation on. I do wonder if we should lobby to have stock market rules changed, to stop zero revenues companies from floating at all. These companies tend to suck in inexperienced investors, who nearly always get diluted with repeated fundraisings. It's very rare for such blue sky companies to deliver the shareholder value they promote as being on offer at the start when they float.
.
---
Hunters Property
(LON:HUNT)
75p (up 28%) - mkt cap £24.6m
Statement re possible offer
The company says it has received a "preliminary approach" from The Property Franchise Group, which isn't a lot bigger than Hunters, being listed, and having a £46.6m market cap last night. So I doubt this would be a cash bid, probably more likely to be a merger?
TPFG has also issued a statement, emphasising that this is an early stage approach.
I've had a look at TPFG's last balance sheet, and I don't think it could buy Hunters without doing a substantial placing. That could be why TPFG's shares are down 4% today.
My opinion – this approach doesn't look terribly credible to me, so I'd be inclined to sell in the market for a 28% gain today, if there's anyone buying (Hunters is a very illiquid share).
.
---
Smartspace Software
(LON:SMRT)
Product launch amp; trading update
This update is almost entirely waffle. It talks about products, and makes general comments, but with nothing to indicate how the business is actually performing, and no figures. What's the point then? It reads like a PR release that might be sent to journalists in a trade magazine, in the hope that they'll mention something.
It concludes;
So overall, SmartSpace continues to push forward with strong opportunities across the Group in delivering future significant growth
My opinion – I have to award this an E grade. And that's being generous. It tells me nothing in how the business is performing, or how to value its shares. SMRT shares have done very well this year, so clearly it has caught investors imagination.
.
---
Panoply Holdings
(LON:TPX)
Share price: 202p – mkt cap £136m
This share has almost doubled in the last months, mostly just before it put out interim results on Monday this week. I ran out of time to look at it then, so am circling back today, as it's quiet for news. Surely they could come up with a clearer company description than the following?
The Panoply, the technology-enabled services group focused on digital transformation, is pleased to announce its results for the six-month period ended 30 September 2020.
The title says;
Like-for-like revenue growth of 18% and significant contract wins provide confident outlook
Revenue in H1 up 58% to £21.2m, of which 18% is organic, the rest from acquisitions
Adjusted diluted EPS of 2.6p (doubled from H1 LY)
Statutory loss of £1.7m, caused by £2.5m additional deferred consideration on an acquisition
Mainly public sector customers – 70% of revenues
Maiden dividend, but only 0.2p, so insignificant
Results webinar recording is here, courtesy of our friends Tamzin amp; Tim, at PIWorld;
.
Outlook comments sound upbeat;
The outlook for the Group remains positive with our brand consolidation programme well underway and a number of significant new contracts being signed post-period end. We remain on track to achieve our commercial vision of both £100m revenue and £12-14m adjusted EBITDA, on a run rate basis, by 31 March 2023."
The strong momentum built in H1 has continued into current trading, as we continue to see higher-value deals signed across the Group. These include the previously announced £4m HM Planning Inspectorate contract, various NHS-related projects as well as a new project for the Welsh Government. Our focus in the second half will be on driving organic growth through continued consolidation of the brands, ensuring strong cash conversion and, as always, pursuing accretive acquisitions.
We are now seeing mass demand for our distinct style of digital transformation project delivery: fast, good value and genuinely effective. COVID-19, alongside numerous other factors, has created an ideal environment for us to prove ourselves and to continue taking market share.
Adjustments to profit - see the table below. These look like genuinely non-underlying costs, so I'm happy to use adjusted profit as the figure which measures the underlying performance of the business.
We're not ignoring the highlighted items, it's just that I wouldn't include them when valuing the company on a multiple of profits, because they don't relate to the underlying performance of the business. They're either one-offs, or non cash items, which it's generally OK to adjust out, in my opinion;
.
Dilution – an unusual, but very important point to take into account when you value this share, is that it acquires lots of companies, and uses contingent, deferred consideration for some of the price paid.
This means that an unusually large number of shares could be issued, as set out in the EPS calculation below.
This could explain why management seems keen to talk up the share price, as that could then minimise dilution, if the same £ payment can be satisfied with fewer, higher priced shares, maybe?
.
.
Balance sheet – is weakish. Once we strip out £53m intangibles, then NAV of £37.5m drops to NTAV of negative £(15.5)m.
Note that deferred amp; contingent consideration liabilities are £8.6m inside 12 months, and £4.8m over 12 months. If those are going to be paid in shares, then that's fine, because the liabilities would then disappear, boosting NTAV by £13.4m in total, which would bring it back almost to neutral.
Once we adjust for that factor, then the rest of the balance sheet looks reasonably OK. There's cash of £5.9m, less interest-bearing debt of £7.1m, so a very modest net debt of £1.2m.
Overall then, I can live with this balance sheet, it's not the best, but should be fine once the deferred consideration has been sorted.
My opinion – I'm going to watch the PIWorld results webinar recording over the weekend. This group does seem ambitious, and is operating in an interesting area.
Although it looks a bit richly valued for my tastes, and the pace of acquisitions looks a bit too fast. So I'm a little wary of this one.
That said, look at the stellar growth in valuation achieved by Kainos (LON:KNOS) which also focuses on public sector IT projects. So clearly there are rich pickings in the area.
TPX listed on AIM 2 years ago, and is starting to get noticed;
.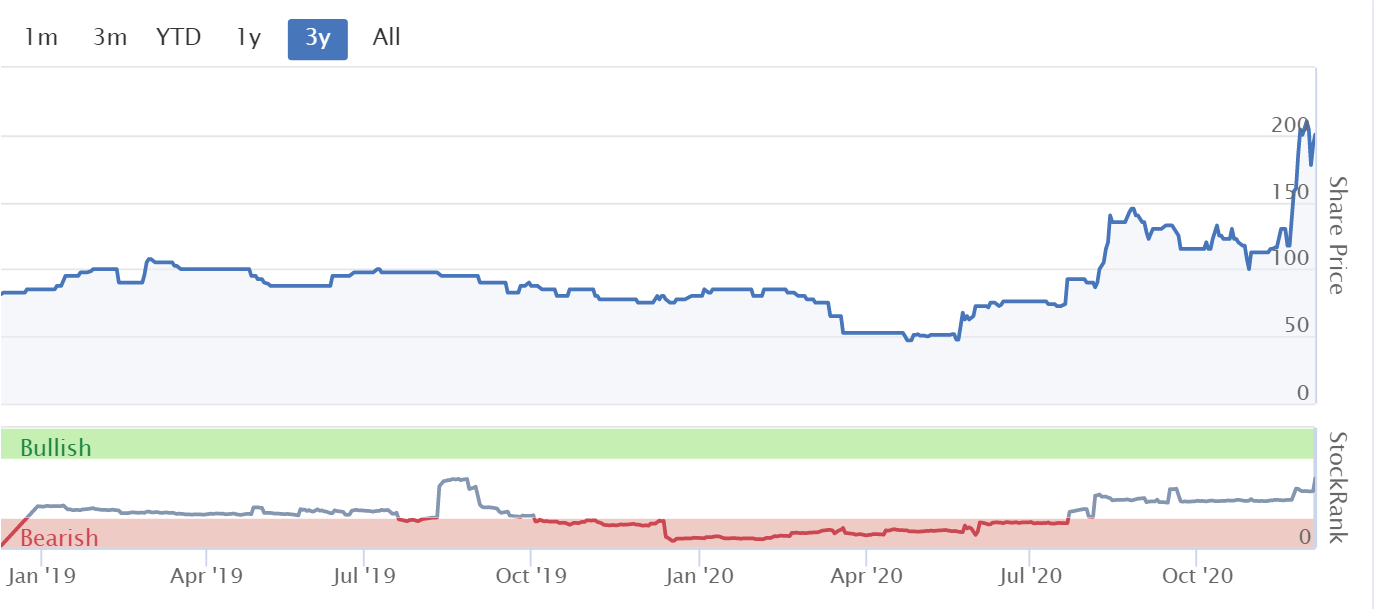 .

---
Source:
https://www.stockopedia.com/content/small-cap-value-report-fri-4-dec-2020-dbox-nano-wsg-mcb-sbtx-hunt-smrt-tpx-716184/
Before It's News®
is a community of individuals who report on what's going on around them, from all around the world.
Anyone can
join
.
Anyone can contribute.
Anyone can become informed about their world.
"United We Stand" Click Here To Create Your Personal Citizen Journalist Account Today, Be Sure To Invite Your Friends.