Small Cap Value Report (Fri 22 Jan 2021) - TEG, LUCE, CALL, TET, CCT
Friday, January 22, 2021 6:57
% of readers think this story is Fact. Add your two cents.

Good morning, it's Paul here with the SCVR for Friday.
Timing - TBC
Agenda -
Backlog items to start with (written up last night)
Ten Entertainment (LON:TEG) – full year trading update
Luceco (LON:LUCE) – FY 12/2020 trading update – strong Q4
Cloudcall (LON:CALL) – FY 12/2020 trading update
Today's trading updates/results:
Treatt (LON:TET) – Materially ahead of expectations update, but looks very expensive now
Character (LON:CCT) – 4 month trading update to 31 Dec 2020. Looks good value to me
.
---
Ten Entertainment
(LON:TEG)
205p – mkt cap £140m
Ten Entertainment Group plc ("TEG" or "the Group"), a leading UK based operator of 46 family entertainment centres, today announces a trading update for the 52 weeks to 27 December 2020.
"Strong growth potential, well positioned to take advantage of tailwinds on reopening"
Monthly revenues – the table below is very interesting, as it shows performance at the various covid stages in 2020. Key points;
It was doing well before covid struck, with strong +LFL performance
Full shutdown in April to July, so zero revenues (but support from furlough amp; business rates relief will have helped)
LFL sales negative, and a worsening trend from August to year end, due to social distancing restrictions (only able to operate at 50% capacity) and regional lockdowns, I suppose.
.
Clearly that's not encouraging information. I'm comparing this with some retailers, who saw a bounce-back of pent-up demand, and positive LFLs in the autumn. Not so here. Plus of course, a leisure business like this cannot move transactions online. The booking is done online, but it still is a physical experience to visit a bowling alley.
TEG's sites were closed for 49% of the available time in 2020, and total revenues were down 56.9% on 2019 – pretty grim.
Loss-making – we're told that (unsurprisingly) TEG will be reporting a loss for 2020, but it doesn't tell us today how much the loss will be – a key omission.
Liquidity – is it going to run out of money? It raised £5m equity in March 2020 (doesn't seem very much), and got cash burn down to £1.4m per month. It's not clear if that means just for lockdown 1, or for the full period since then?
It closed the year with £12.4m liquidity headroom, enough to last for "at least another 8 months" if sites are still closed.
CLBILS term loan of £14m has been agreed with RBS – new information today.
Covenant on existing £25m RCF has been reset. Sounds like RBS are being very supportive, helped by a taxpayer guarantee on the new loan.
This assures liquidity well into 2022 should the Lockdown continue.
This sounds OK for now, but I imagine another placing might be a possibility at some stage, maybe once it's re-opened fully?
Interim CEO Graham Blackwell has been appointed permanently now, with his performance praised by the Chairman.
Outlook -
Pent-up demand
Lane dividers mean that it can operate at 100% capacity in future (as opposed to 50% in 2020 mid-year re-opening)
High 75% EBITDA margin, once allowed to trade again
Reduced market capacity from competitors amp; casual dining closures
No guidance, as little clarity on when they can re-open
Expect rapid return of profitability, once allowed to re-open
My opinion – I previously held shares in Hollywood Bowl (LON:BOWL) and this one TEG, over the summer, and managed to catch a bit of profit on the vaccine re-rating you can see on the chart below.
However, given that the balance sheet will have taken on a fair bit of new debt over 2020, and only £5m equity was raised, then it stands to reason that this share should probably be worth a bit less than pre-covid levels, once it is able to trade normally again.
Plus we still have some uncertainty over how the future plays out.
For that reason, I think the share price looks about right.
I could see another, say 30-40% upside on this share price, if the sites are able to re-open smoothly and generate good sales amp; profits again. That's not enough upside to tempt me back in, and take on the risk that something might go wrong, e.g. if the vaccine doesn't suppress covid as quickly as we hope.
Also, I feel that the company should concentrate on reducing or eliminating debt, rather than paying divis, which means that it could be a while before it starts paying meaningful divis. Whereas I'm seeing other companies which are already resuming divis, and have more robust, less geared balance sheets. Those appeal to me more than this.
TEG was a good trade at around 130p a few months ago, but not so much now at 200p, where risk:reward is less favourable.
.
.
---
Luceco
(LON:LUCE)
273p – mkt cap £440m
Luceco plc ('the Group' or 'Luceco'), the manufacturer and distributor of wiring accessories, LED lighting and portable power products, is pleased to provide the following trading update for the fourth quarter ('Q4 2020′) and the year ended 31 December 2020 ('FY 2020′).
This company has had an excellent 2020, with lots of positive updates. I covered it 6 times in SCVRs for 2020, and have been tremendously impressed with the company's performance.
Strong trading continued in Q4 (revenue growth of +23%) -
The Group traded strongly in Q4 2020 and we expect to report record full year profits at the top end of the most recently guided range…. Adjusted Operating Profit of approximately £30m (FY 2019: £18.0m), primarily driven by significant margin improvement:
There's lots more detail in the announcement, which I won't repeat here.
Net debt - £18.3m, which looks modest, at 0.5x EBITDA
Dividends - reinstated, as previously announced
Diary date - 23 March 2021
Outlook - interesting that it mentions inflationary pressures, which is something we've been discussing here lately -
We have started the new year with good momentum despite tighter social distancing measures. Increased home improvement spending is likely to continue and new business wins, superior channel access and product availability should sustain further market share gains. Whilst we are now entering a more challenging inflationary environment, we aim to defend the significant margin gains we have made. Unless future lockdown measures severely disrupt our sales channels or distribution operations, we are confident of further revenue and profit progression in 2021."
My opinion – this company has done brilliantly in 2020.
Thanks to Liberum for providing an update note on Research Tree.
It has pencilled in 15.0p EPS for 2020, and 16.6p for 2021, PERs of 18.2 and 16.4 respectively. That looks a reasonable valuation to me.
The divi yield is 2.3% to 2.5% for 2020 and 2021 – worth having, but not the main reason to buy the shares.
Looking at LUCE's history, I'm still not entirely sure what went wrong in 2018, when it had a very bad year, and the share price dropped about 80%. That does worry me. Could similar problems happen again?
After such a stellar share price rise in the last 2 years (justified by strong performance), I'm wondering if the best of the gains might have been had for now, possibly? I'd need to see a strong reason to expect profits to continue rising strongly, to persuade me to buy at this level. Although Liberum does say the Q1 order book is up strongly, so there could be another good update in a few months, from LUCE.
.
.
---
Cloudcall
(LON:CALL)
(I hold)
103.5p (down 2.4% yesterday) – mkt cap £40m
CloudCall (AIM: CALL; OTCQX: CLLLF), the integrated communications company that provides communications and contact centre software that integrates with Customer Relationship Management ("CRM") platforms, announces the following trading update for the year ended 31 December 2020.
A YEAR OF TWO HALVES, GROWTH RESTORED IN H2, TOTAL REVENUE AT UPPER END OF REVISED GUIDANCE, RECURRING REVENUES UP 13%
The company says it's traded broadly in line with market expectations -
The Group is pleased to confirm it has achieved total revenues at the upper end of the revised guidance issued during the second half of 2020, whilst cash, operating expenses (which include one-time COVID-19 related savings) and losses before tax are all expected to be broadly in-line with market expectations, subject to year-end financial close and audit procedures.
Net cash is down to £3.6m, which is lower than I was expecting, given that it did a much bigger fundraise than previously a while back.
My opinion - we knew from previous updates that covid knocked the company back by about a year (repeated in today's commentary), because it mainly serves recruitment companies, and they suffered badly in H1, but have since been recovering.
The KPIs look quite good, but it's not feeding through into the Pamp;L yet – e.g. H1 revenues were £5.8m, and H2 was only a slight increase to £6.0m.
I think the company needs to move up a gear, as I'm not impressed with this update. We need to see much stronger growth in 2021. Less talk, more action, in other words. Sorry to be blunt, but I tell it how I see it, regardless of whether I own the share personally or not. I'm prepared to run with it, for reasons previously mentioned, but patience is beginning to wear thin.
.
.
---
Treatt
(LON:TET)
866p (up 13%, at 09:03) – mkt cap £519m
Treatt, the manufacturer and supplier of a diverse and sustainable portfolio of natural extracts and ingredients for the beverage, flavour and fragrance industries, today updates on trading since the start of its financial year ending 30 September 2021 ("FY21″).
Things are going well -
Overall, the Board is cautiously optimistic that the current strong momentum will result in profit before tax and exceptional items for FY21 materially exceeding the current market consensus* of £15.1m.

* Treatt compiled consensus of analyst forecasts for FY21 of profit before tax and exceptional items.
Very helpful to provide a note of what market expectations are – many thanks.
See the RNS for more information, I don't need to go into all the operational details here.
Valuation – this is the crux of things. Yes the business is trading well, and we might be heading for say £17-20m profit this year, at a guess? I can't find any broker research notes. Is that enough to justify a mkt cap of £519m? That's nearly 5-times FY 09/2020 revenues.
By my calculations, taking into account today's positive update, we might see c.25p EPS this year. That's a PER of 35 times. In other words, the market is pricing in a doubling of EPS to about 50p, to get to a more reasonable PER of 17 times in future. So we're being asked to pay up-front for about maybe 3-4 years strong earnings growth, to eventually get to 50p EPS (it was 20.5p EPS last year).
My opinion – a high quality company, and it has expanded capacity, so the hope is clearly that revenues amp; profits can really take off from here. They need to, otherwise the current very aggressive valuation doesn't make sense.
Personally, I cannot get anywhere near this valuation, so I wish shareholders well, but won't be joining you. We're in a very frothy market for growth companies at the moment, and I don't really want to be holding things on very ambitious ratings, because they could be vulnerable when a market correction occurs, as it inevitably does when valuations get this extended. Nobody went bust banking some profits.
.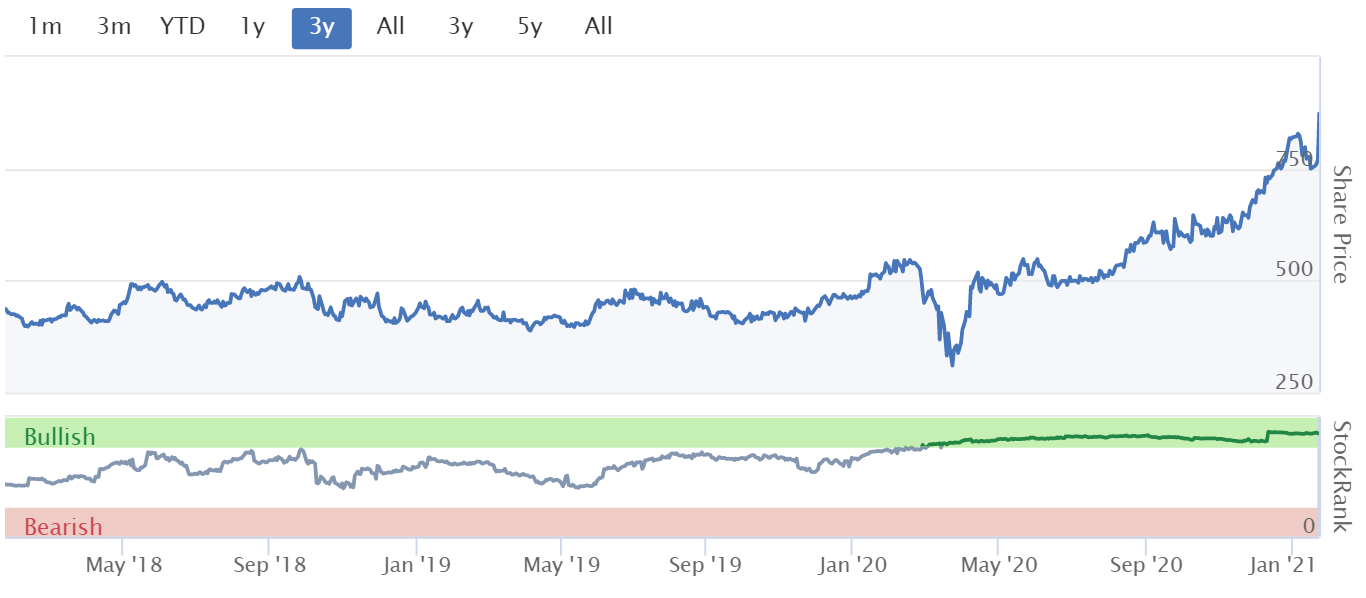 .
---
Character
(LON:CCT)
410p (down 3.5% at 11:02) – mkt cap £88m
Designers, developers and international distributor of toys, games and giftware
Its financial year ends 08/2021, so today we're being briefed on Sept 2020 to date.
Background – Character had a bad year FY 08/2020, with underlying EPS down from about 43p prior year, to 18.1p. Fair enough, as that period included covid/lockdown 1.
Previous trading update – outlook comments with the results, published on 10 Dec 2020 sounded very positive, including that Q1 sales (Sept, Oct, Nov 2020) were up gt;30% on LY, and prospects for FY 08/2021 "looking extremely positive", and benefitting from deferred demand from LY. Ahead of expectations for H1, and FY 08/2021.
Today's update -
Buoyant market conditions over Christmas, sector up 5% Y-on-Y
Group sales up gt;30% vs LY, for the 4 months to end Dec 2020, so that's consistent with the same growth rate previously reported for the first 3 months previously.
All our major brands and hero lines have sold exceptionally well.
Lowest inventories in a decade, due to strong sales, and "judicious" purchasing (this is good for cashflow, but could lead to lost sales, if in demand items are not in stock, so not necessarily a good thing, especially given current problems with Far Eastern shipping).
Outlook -
Despite the extended lockdowns and logistical difficulties that have arisen from container shortages, delays with shipping from the Far East, congestion at UK ports and the fall-out from Brexit, underlying profitability for the six months ending 28 February 2021 will be significantly higher than for the same period last year.
Looking beyond this, we expect that the second half year of this financial year to be challenging due to the continuance of the lockdowns, restrictions and the continuing effect that the logistical difficulties are having on freight rates from the Far East (at times quadrupling since September 2020).
Assuming no further worsening of these conditions, the Board believes the Group will achieve current market expectations for the year ending 31 August 2021.
That's a bit mixed. Also a pity they didn't include a footnote to specify what market expectations are. Allenby to the rescue! They've helpfully published an update note on Research Tree today, many thanks for this.
Allenby's estimate for FY 08/2021 earnings was raised 51% in Dec 2020, to 37.6p EPS. That looks reasonable, and would represent a recovery back to a bit below pre-covid level of profits.
I make the forward PER 10.9 – good value, if forecasts are achieved, and it sounds like the company is on track.
Character has a lovely balance sheet too, so it's very securely financed, no worries there at all – I've just checked back to the last published accounts.
Overall, a thumbs up from me. For value investors, this looks, well, good value! Stockopedia loves it too, with a very high StockRank. Not infallible, but a very good pointer I find. Also, note that the latest broker forecast hasn't found its way into the data yet, so the Value score is likely to go up.
.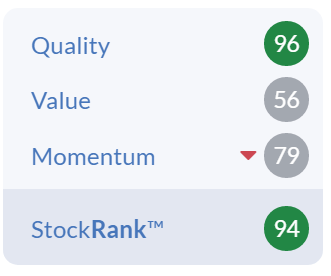 .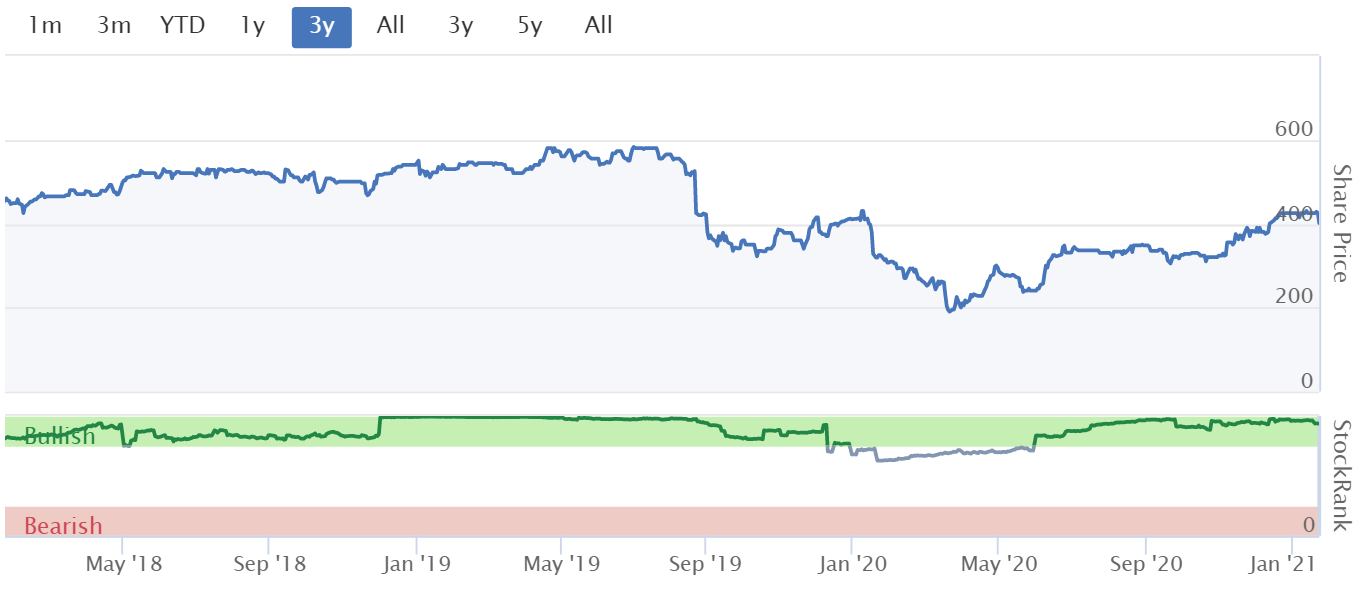 .
Source:
https://www.stockopedia.com/content/small-cap-value-report-fri-22-jan-2021-teg-luce-call-tet-cct-747649/
Before It's News®
is a community of individuals who report on what's going on around them, from all around the world.
Anyone can
join
.
Anyone can contribute.
Anyone can become informed about their world.
"United We Stand" Click Here To Create Your Personal Citizen Journalist Account Today, Be Sure To Invite Your Friends.