Small Cap Value Report (Thu 7 Jan 2021) - GRG, WAND, GHT, AUTO, MARS
Thursday, January 7, 2021 4:33
% of readers think this story is Fact. Add your two cents.

Good morning, it's Paul here with the SCVR for Thursday.
Timing – TBC
Agenda –
Firstly, here are some brief comments on a few company news items from yesterday.
Greggs (LON:GRG) – trading update
Wandisco (LON:WAND) – more jam tomorrow!
Gresham Technologies (LON:GHT) – 2020 trading update
Auto Trader (LON:AUTO) – trading update – possible read across for small cap car dealer shares?
Marston's (LON:MARS) – exploring a fundraising amp; trading update
.
---
Greggs
(LON:GRG)
1920p (up 8% yesterday) – mkt cap £1.95bn
This is an update for FY 12/2020.
Greggs is a leading UK food-on-the-go retailer, with more than 2,000 retail outlets throughout the country
FY 12/2020 revenues down 31% to £811m
Year-end net cash of £37m
£100m 3-year bank facility available, so liquidity sounds OK
Repaid Govt CCFF loan – reinforcing that liquidity is OK
Modest full year loss of £15m – not bad considering the covid/lockdown chaos in 2020
Successfully developed takeaway amp; delivery alternatives (5.5% of store sales)
New sites accessed by cars "performing particularly well"
Q4 shop LFL sales were down 19% – to be expected given changing restrictions, and reduced number of people in city/town centres
820 staff redundancies
Plan to open 100 new stores in 2021, net of closures
Diary date – preliminary results due on 16 March 2021
Outlook – not great -
Looking ahead, the significant uncertainty over the duration of social restrictions, along with the impact of higher unemployment levels, makes it difficult to predict performance.
However, we do not expect that profits will return to pre-COVID levels until 2022 at the earliest.
Valuation – these figures look a lot better than the consensus broker forecasts shown on the StockReport, which is good.
Greggs made c.100p EPS in 2019, by the sounds of it we're looking at possibly getting back to that level in 2022, so 2 years' time. The share price is 19.2 times that target. That doesn't strike me as very good value – recovery looks fully priced-in, so why would I want to buy now?
It's a terrific business, no doubts about that, but I'm worried footfall may not return to pre-covid levels, ever, because many people have probably got used to shopping online, and working from home. What happens when business rates kick back in too?
It would have made a super purchase over the summer/autumn lows, but it's since rallied too much in my view, hence doesn't interest me on valuation grounds now – good business, but too expensive for me.
.
.
---
Wandisco
(LON:WAND)
520p (up 8% yesterday) – mkt cap £283m
This company is always promising jam tomorrow, and claiming to have unique, ground-breaking software.
Paltry revenues for FY 12/2020 at least $10.5m – some (not given figure) sales deferred into 2021
This time last year, FY 12/2020 revenues were forecast at $32.3m – so the outturn is just under a third of the original forecast – pathetic I would say. Yet the share price now of 520p, is actually up on the 438p a year earlier. How does that make sense?
Year end cash of $21m
Outlook – reckons it has a "building pipeline of opportunities" for 2021, and guides for revenue of $35m in 2021 – more than tripling 2020 revenues – a very punchy forecast, and not credible based on past performance, in my view. I'm happy to be proven wrong though.
It says higher forecast sales are due to moving to the cloud, AWS and Azure, allowing fast implementations of new clients. 11 customers signed, but no indication of deal sizes given in this update.
My opinion - I've got no way of judging whether it is likely to achieve the huge forecast increase in sales or not. Historic performance has been very poor, so not something I want to gamble on. Good luck to holders.
The company has been listed since 2012, with revenues going nowhere ($10-20m and back down again to $10.5m a.) and racking up huge cumulative losses. Therefore it takes a big leap of faith to think it will suddenly achieve commercial viability. Maybe it will, I don't know, but would need a lot of convincing evidence before wanting to take the plunge here myself.
That said, the technology has always sounded very impressive, so who knows, maybe it might eventually take off, or one of the big tech companies might buy the company?
I do recall that a few years ago, we managed to catch a big move up in this shares, and made a few bob, but that was just a lucky trade really, not an investment.
One for tech experts only, I reckon.
.
---
Gresham Technologies
(LON:GHT)
148p - mkt cap £104m
Trading Update
This software company reports on performance in FY 12/2020.
Not very impressive is my conclusion. It says EBITDA of "at least" £4.4m achieved, but that reduces to zero once development spend is taken into account.
Cash of £8.8m
Overall trading for the year in line with recently upgraded market expectations
The Group's sales pipeline strengthened steadily during H2 2020 and the Company continues to see positive demand for its intelligent automation and connectivity solutions in financial markets despite challenging macro-economic factors.
In the second half of the year, we increased investment in sales and marketing, as well as completing our strategic investment into the regulatory and STP markets with our acquisition of Inforalgo. These excellent foundations have set us up well for another exciting year ahead."
My opinion – the market cap is just over £100m, and I'm finding it difficult to see why that makes any sense, given that it's not making any cash profits.
This is another company that has been listed for a very long time, and doesn't seem to live up to ambitious expectations.
.
---
Auto Trader
(LON:AUTO)
610p – mkt cap £5.9bn
Current trading
Interesting for read-across to the general health of the market for secondhand cars.
Oct-Dec 2020 visits to its website were up 20% vs LY (NB not the same as revenues)
Expecting sales volumes to be impacted in Jan amp; Feb 2021.
Offering free advertising packages in Dec 2020 amp; Feb 2021, causing anticipated losses of £5-7m in each month
Drawings of £45m on £400m facility
Substantially within bank covenants
Latest lockdown has forced car dealers to close their showrooms again
My opinion – I don't think there is enough clarity to know how car dealers might trade in these turbulent times.
AUTO is staggeringly profitable, with amazingly high profit margins. Whilst that's good, I'd be worried about one of the internet giants destroying its lucrative near-monopoly. A bit like Rightmove.
.
---
Mitchells amp; Butlers
(LON:MAB)
212p (down 10.5% at 08:11) – mkt cap £913m
I'm trying to cover as many trading updates as possible, even from mid to larger caps, at the moment. This is because reaction to lockdown 3 is very important, and has read-across to small caps. Plus, being locked down in Bournemouth in foul weather, I don't have a lot else to do right now!
As Phuntt helpfully points out in the comments section, this update is indeed stark.
MAB is a sprawling pubs group, with no less than 15 brands;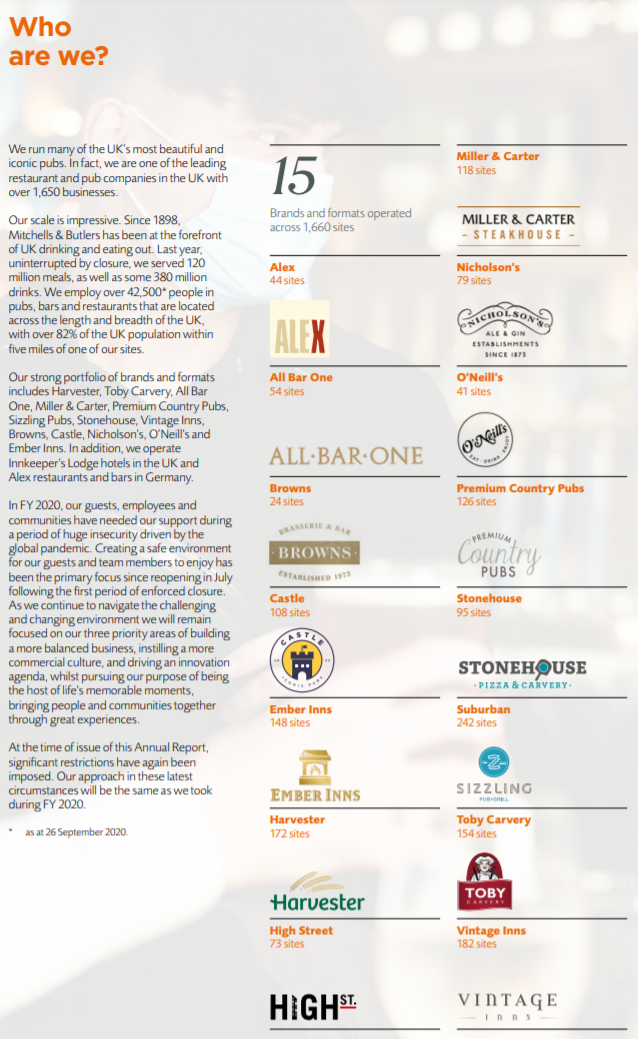 .
Trading statement covering the 14 weeks ended 2 January 2021.
My summary amp; comments –
Enforced site closures meant reduced sales activity over the important festive season.
All sites now closed (since 30 Dec 2020)
Q1 (Oct, Nov, Dec 2020) sales down 67.1% on LY – ouch
LFL sales (i.e. only when sites open) down 30.1% on LY
Minimising costs amp; capex
Cash currently £125m, all borrowing facilities maxed out
Cash burn in lockdown is now £35-40m per month (before debt servicing costs)
Debt repayments are £50m per quarter, as the group has a lot of borrowings, but backed up by large freehold property assets
Put those last 3 items together, and we can see that the group is likely to run out of cash by end March
Exploring an equity capital raise – no decisions yet made on timing, size, or terms
My opinion - it looks as if MAB management have misjudged the cash requirement. A new lockdown with little to no sales until Easter is nothing new – other hospitality companies have been planning on that basis as the most likely, or at least possible, scenario.
Checking back to MAB's results for FY 09/2020, the balance sheet looks out of balance, in that there's clearly inadequate working capital: current assets of £239m, and current liabilities of £(701)m.
Overall the balance sheet looks OK, because there are £4.3bn of fixed assets, which includes £3.79bn of freehold property (source: 2020 Annual Report)
Material uncertainty re going concern was flagged by the auditors in the last Annual Report. The business seems to potentially rely on the leniency of holders of bonds which provides most of the funding. Long term borrowings were £1.54bn at at 26 Sept 2020. See note 4.2 of Annual Report, including this breakdown of net debt -

.
Even if we halve the value of the freehold property, it's still enough to cover the debt. Therefore I don't see this as a distressed situation.
Therefore it should be possible to refinance the group again, with fresh equity, perhaps as part of a package to include resetting terms of debt, and covenants.
It could get messy if bondholders decide to play hardball.
Personally I'm not tempted to get involved, at least until the equity fundraising has been done. I'm sure institutional shareholders will support an equity raise, but we don't know the price – it could be at a significant discount, who knows. Therefore why take the risk of getting involved in this share now, with that uncertainty hanging over it?
The sector read-across is that investors need to do the sums to ensure other hospitality companies have adequate funding. I've crunched the numbers for Revolution Bars (LON:RBG) (I hold) and am happy that it can survive until Easter with zero revenues. Although RBG did confirm in its last update that the covenants are tight at end March 2021. That said, with re-openings likely to have happened, or be imminent by then, it shouldn't be a problem if a small amount of bridging finance is needed.
With vulnerable people hopefully vaccinated by Easter, then restrictions on trading are only likely to last c.3 months, based on current facts. Therefore shareholders are likely to support any fundamentally sound hospitality companies. That's not necessarily true of privately owned companies, so I think we're likely to see carnage in this sector, with potentially thousands of privately owned bars going bust between now and Easter. More market share for the bigger operators of course, once they're allowed to re-open.
Looking at this chart, I'm surprised MAB shares have held up so well. I came to a similar conclusion when looking at J D Wetherspoon (LON:JDW) shares recently – too much recovery is already priced-in for my liking. Hence risk:reward doesn't look attractive at this point in time.
.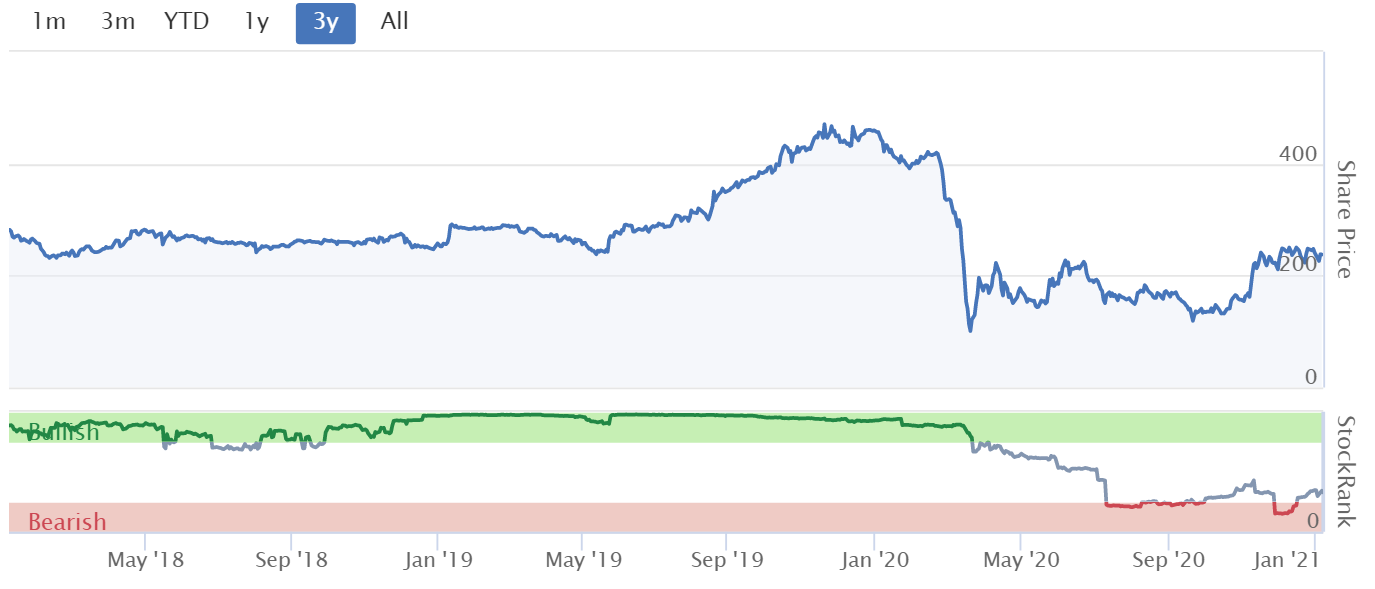 .
---
Joules
(LON:JOUL)
Source:
https://www.stockopedia.com/content/small-cap-value-report-thu-7-jan-2021-grg-wand-ght-auto-mars-736819/
Before It's News®
is a community of individuals who report on what's going on around them, from all around the world.
Anyone can
join
.
Anyone can contribute.
Anyone can become informed about their world.
"United We Stand" Click Here To Create Your Personal Citizen Journalist Account Today, Be Sure To Invite Your Friends.