Small Cap Value Report (Wed 20 Jan 2021) - ALU, PEBB, BOOM, ELCO, WIN, WJG, TMG
Wednesday, January 20, 2021 8:17
% of readers think this story is Fact. Add your two cents.

Good morning, it's Paul here with the SCVR for Wednesday.
Timing – today's report is now finished.
Agenda - here are some updates from yesterday, which I prepared last night:
Alumasc (LON:ALU) – Trading update – big share price rise yesterday
Pebble (LON:PEBB) – My first ever look at this company. Trading update FY 12/2020
Audioboom (LON:BOOM) – Trading update FY 12/2020 – not a basket case any more?
Eleco (LON:ELCO) – Trading update FY 12/2020 – resilient performance
Watkin Jones (LON:WJG) – investor presentation is worth a look
On to today's news:
Wincanton (LON:WIN) – probably the best trading update today, materially ahead
Mission (LON:TMG) – Trading update – good recovery in H2, more than recouped H1 losses
.
---
Alumasc
(LON:ALU)
Share price: 137p (up 21% yesterday) – mkt cap £49.6m
One of yesterday's biggest risers, so we should have a look at it.
I reviewed its FY 06/2020 results here, but the cash-hungry pension fund deficit put me off. Pity, as it's risen 63% since then.
Alumasc, the premium building products, systems, and solutions Group, today provides a trading update for the six months ended 31 December 2020, ahead of publication of its half-year results on Thursday 4 February 2021.
This looks impressive, especially the large increase in profitability -
Further to our AGM Trading Update on 22 October 2020, which reported a strong performance in the first quarter, we are very pleased to report that conditions in our markets have remained positive and that the Group's trading performance has continued through to the end of the first half of the financial year, with a record profit for the period being achieved. On an unaudited basis, for the first six months of the year:

· Revenue increased 11% versus the prior year to £45.6m

· Underlying PBT increased significantly, from £2.3m to £6.0m

· Cash generation has also been strong in the first half, with net bank debt reducing from £4.3m at 30 June 2020 to £0.2m at 31 December 2020.
Other points -
Helped by catch-up demand following lockdown 1, and Govt support measures
Won market share amp; "encouraging" export sales
Margins helped by prior year cost savings of £2.4m
Levolux turnaround going well
Entered H2 with good momentum
Healthy forward sales
Mindful of economic uncertainties, pandemic amp; Brexit
Market conditions positive, expecting demand to remain good
Help to Buy amp; Stamp Duty could impact Q4
Upbeat Directorspeak
Considering resumption of dividends
Broker update - thanks to Finncap for its update note. EPS is revised up to 19.9p, for FY 06/2021, a PER of 6.9 - cheap, but remember the cash outflows for the pension scheme are substantial, so the PER is always likely to be low. That said, if profits grow this strongly amp; are sustained, then the pension scheme is far less of an issue, and could be seen as providing geared upside to the equity.
Forecast of 19.9p EPS is way above the existing broker consensus of 14.25p for FY 06/2021, so this looks a considerable upgrade, easily justifying a +21% share price rise (maybe more?)
My opinion – a really good update, with a positive outlook too.
I think this share could be worth readers taking a closer look at, based on my usual fairly brief review.
Please do always remember that I cover lots of stocks here, just to give a flavour, then it's important readers do more in-depth research on the companies yourselves, as I might have missed something important due to time pressures.
It would be interesting to look into what products Alumasc makes, what competition they're up against, etc. It looks fairly niche. Niche is good – less competition, and higher margins.
The StockRank is already very high, and could rise further once updated market consensus forecasts feed through.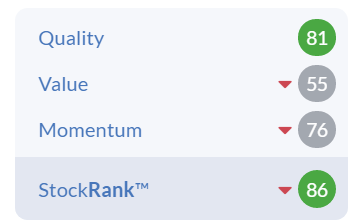 .
---
Pebble
(LON:PEBB)
129p (up 8% yesterday) – mkt cap £216m
This is a new company to me. It floated on AIM in Dec 2019, at 105p, with most (£56m) of the £79m proceeds from the placing going to selling shareholders.
It seems to have 2 businesses;
Brand Addition – design, sourcing amp; delivery of branded products. Not sure I fully understand this part of the business. Some case studies on the website would help.
Facilisgroup – a SaaS business serving the promotional products sector.
Director buy - the Chairman bought 108,803 shares at 130p recently – noteworthy. I like £six-figure Director buys at small caps. It can mean things are going well, sometimes.
26 Nov 2020 – in line with market expectations trading update. Confident outlook comments.
19 Jan 2021 (yesterday) – Trading update
The Pebble Group, a leading provider of technology, services, and products to the global promotional products industry, is pleased to announce that the positive momentum achieved across the Group in Q3 20, continued throughout the final quarter.

As a result, the Board now expects that the results for the full year ended 31 December 2020 ("FY 20″) will be ahead of market expectations with Adjusted EBITDA not less than £9.5m.
It made £2.6m adj EBITDA in H1, therefore the above implies £6.9m in H2 – a big improvement. Note that adj EBITDA of £2.6m in H1 only turned into adj PBT of £0.9m. Sounds like it might be capitalising some costs onto the balance sheet? Yes, the interim results show £1.05m on the cashflow as capitalised "purchase of intangible assets" in H1 which is probably development spend in the software division. That's up from £1.48m in FY 12/2019.
For this reason, EBITDA is not a reliable figure for my purposes.
Cashflow – this is a question mark. In 2019 it didn't generate cash after exceptional items, nor in H1 2020 (OK that was during lockdown 1, so I can forgive that). Therefore, I would like to see the full 2020 accounts and scrutinise cashflow properly before being able to form a clear view on this share.
Other points in trading update –
Net cash of £7.1m
All major clients amp; partners "intact"
Small acquisition made in Dec 2020
"Well placed for growth in 2021"
Balance sheet as at 30 June 2020 is OK, nothing special. NTAV of £12.8m, so there's not really any asset backing to speak of, you're buying a stream of future earnings, not assets.
My opinion – it's only my first look at PEBB, and I'm not madly impressed. Not for a £216m market cap anyway, which looks distinctly toppy to me.
I'll have a look at the 2020 figures when published (due out in late March) in more detail, but for the time being it doesn't get onto my list of possible purchases.
.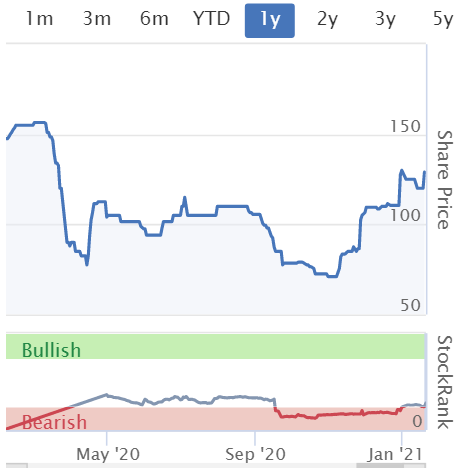 .
---
Audioboom
(LON:BOOM)
305p (up 11% yesterday) – mkt cap £48m
I'm quite surprised this is still going, as it looked in a poor state in recent years, with a lamentable jam tomorrow track record – rising revenues, but continuing losses. Still, let's keep an open mind, and see what it says today.
Audioboom (AIM: BOOM), the leading global podcast company, is pleased to provide a trading update for the 12 months ended 31 December 2020.

Record quarterly performance, 20% annual revenue growth and significant year-on-year adjusted EBITDA improvement – ahead of market expectations
Revenue $26.8m, up 20%
Still loss-making, even at the adj EBITDA (best possible measure) at $(1.8)m – improved from $(2.9)m loss in 2019
Q4 sounds better – almost reached adj EBITDA breakeven, at $(0.2)m – a record quarterly performance it says
Cash looks a bit low, at $3.3m, with another $3.3m loan facility
Forward ad booking sound quite good -
The Company has made a strong start to 2021, having already signed advertising bookings representing over 50% of the current market forecast for 2021 Group revenue… it is the Board's expectation that Audioboom will be EBITDA positive for the year ending 31 December 2021.
Capitalised development spend - I was expecting to see a ton of payroll costs parked on the balance sheet, but no, this is a pleasant surprise. Looking at the last interims amp; full year figures, nothing seems to be capitalised, and intangible assets on the balance sheet are nil.
Therefore, the company is doing itself a disservice by quoting EBITDA as a performance measure, it should quote proper profit, which would be about the same. I am happy to help, there is no charge!
My opinion – I was expecting this to be the usual car crash of previous years. But actually it's not bad. There's a glimmer of a viable business possibly appearing here. Although whether it's worth £48m is another matter.
We're in a mad bull market for tech stocks (mainly in the USA, but some of it rubbing off here), and we see hot money causing big price moves in speculative UK small caps every day.
I could imagine BOOM catching a speculative frenzy in this environment, where punters don't seem to care about valuation.
It's not for me, but I wouldn't completely pour cold water over anyone describing some speculative upside here, in a roaring bull market.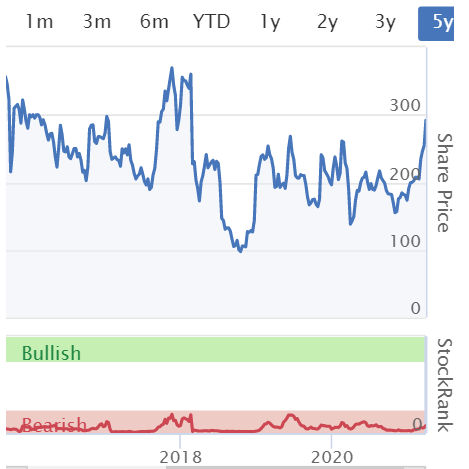 .

---
Eleco
(LON:ELCO)
89p (up 5% yesterday) – mkt cap £73m
This is a decent company, I've looked at it several times in the past, and been impressed. It provides software for the construction sector.
Trading update – for FY 12/2020.
Revenues similar to 2019, at c.£25m
PBT at least 10% ahead – presumably achieved by cutting costs?
Covid restrictions impacted face-to-face services, e.g. training
Net cash up by £5.0m to £6.1m – looks healthy
Pleased with new customer wins amp; greater uptake from existing customers
Nearly completed strategic growth review
My opinion - a decent company, and resilient in 2020, which deserves a premium rating. Need to see an acceleration in growth I think, to drive the share price consistently higher.
.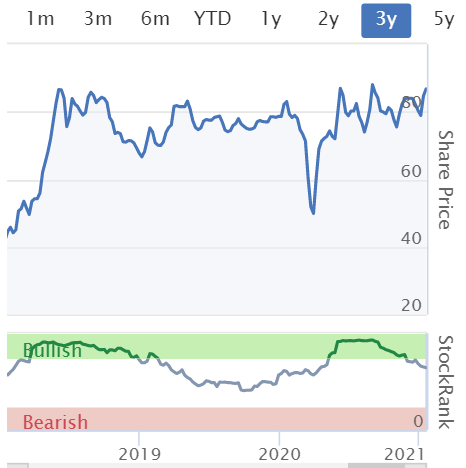 .
---
Watkin Jones
(LON:WJG)
(I hold)
205p – mkt cap £524m
See yesterday's report for my main write up on this developer of student accommodation, and a growing build to rent division.
This is a post script, as I listened to the results presentation webinar recording last night. Two important points came out of it, which I hadn't previously realised;
1) Limited competition, because the institutions that WJG forward sells its projects to, don't want counter-party risk. This shuts out SMEs from competing in this lucrative niche.
2) The pipeline of new projects has greatly increased – see slide 21 of the slide deck. Slide 25 shows that the purpose built student accommodation division has a pipeline fairly static (but up on 2020) of c.£300m p.a.. However, slide 24 (see below) shows that a big increase in the Build to Rent division is in the pipeline, mostly in the planning stage for 2022 amp; 2023, but secured for 2021. Therefore I think the future outlook seems promising, and should lead to increases in EPS, if projects are completed on time.
.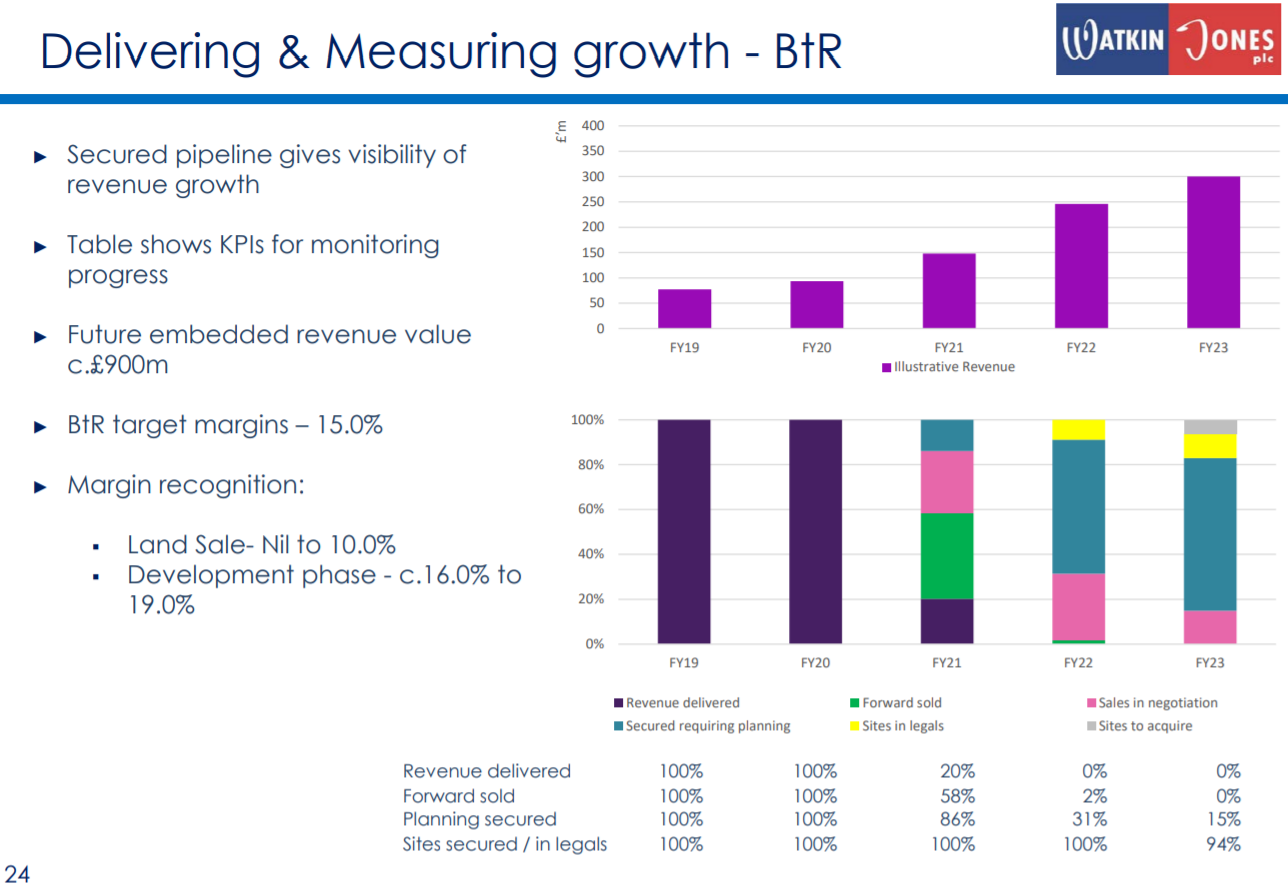 .
Overall, WJG shares have had a good run of late, and could be up with events for now. However, taking a medium term view over the next 2-3 years, then I think there's a decent catalyst for a share price appreciation, if earnings do rise as planned.
It's a good structural sector to be in – because there is strong demand from institutions for buying property assets that give them a yield which is linked to earnings (via residential rents). Ideal for pension funds, for example.
It's going on my list of things to buy more of, when the market has sell-off days.
.
---
Wincanton
(LON:WIN)
304p (up 12% at 09:12) – mkt cap £379m
I wrote about this logistics company 8 times last year, being impressed with its performance, but pointing out some significant negatives – huge pension scheme with a deficit, some regulatory/tax dispute with HMRC, and a weak balance sheet. See my notes here from the last interim results. Still, we're in a bull market, and that can lead to negatives being ignored by investors who like to run with the momentum. Although remember that problems can come back to bite at a later date, once the momentum traders have banked their profits!
Nevertheless, today's Q3 (Oct-Dec 2020) update is impressive. Key points;
Strong trading, especially eFulfilment (revenue up 40%)
Total Q3 revenue up 10% on LY
Recent contract wins, including Brexit related Border Clearance Centres, covid testing kits, Waitrose, and Dobbies garden centres
Overall -
The Group's strong performance means the Board expects profitability for the current year to be materially ahead of market expectations, assuming no unforeseen severe COVID-19 impact in the closing months of the year.
Forecasts – unfortunately, the brokers that report on Wincanton don't let us see their work – there's nothing on Research Tree. That's very unhelpful. How does it benefit the company by keeping PIs in the dark? We're less likely to buy the shares if we can't see any research, so it's a mistake.
Looking at the consensus numbers on Stockopedia, note that whilst EPS forecasts have been rising since bottoming out in May-June 2020, they're still below pre-covid levels, so let's not get too carried away with the out-performing updates more recently. Allowing for today's update, it looks like the latest forecasts might be back up to pre-covid levels of around 30-35p at a guess. So that implies a PER of roughly 8.6 to 10 – good value, but bear in mind the weak balance sheet amp; pension scheme issues.
.

.
If you compare Wincanton (LON:WIN) with Clipper Logistics (LON:CLG) then it looks a bargain, although CLG has a better growth track record, and doesn't have the legacy issues (pension, etc) and weak balance sheet that Wincanton has. In my view both are fundamentally very good companies, so worth considering. They're probably the best 2 logistics companies in my universe of small caps.
.
---
Mission
(LON:TMG)
74.5p (up 12%, at 11:27) – mkt cap £66m
The MISSION Group plc (AIM: TMG), the alternative group for ambitious brands, today issues a trading update for the year ended 31 December 2020.
"Strong recovery" in trading in H2, reversing H1 losses.
For context, TMG made a £(2.2)m headline loss before tax in H1. The statutory LBT was very similar, at £(2.3)m, so not much in the way of adjustments.
As a result, the Group now expects full year headline PBT performance to be over £1m, comfortably ahead of market expectations.
This implies H2 profit of over £3.2m – that's an impressive turnaround, although clearly the economy improved a lot in H2, so I would have expected some improvement on H1.
Guidance for FY 12/2021 -
Mindful of the ongoing restrictions resulting from the pandemic and our traditional second half trading bias, we again predict H2 2021 to out-perform H1 with a return to a pre-pandemic run rate by Q3 2021, leading to a strong start to 2022.
Is that a cleverly worded profit warning for H1 2021? Maybe. I think it's guiding us towards not expecting too much from H1 (Jan-June 2021). Although they will be up against soft comparatives, as will be the case for many companies, so H1 2021 figures could look sparkling against last year for many companies. Incidentally, Next (LON:NXT) said that it will be showing comparatives against 2019, not 2020, when reporting its 2021 trading, to show the true underlying picture. I encourage other companies to consider also giving us that information once we get into interims results season later in 2021.
Net debt – has reduced sharply to £1.3m at year end, significantly better than market expectations, we're told. Although we're not told either way, if the company has benefited from stretching creditors. That's a disappointing omission.
Dividends – reinstating the 1.53p deferred 2019 final divi – good news.
Diary date – 14 April 2021 for publication of final results FY 12/2020
My opinion - this looks a decent update, it's good to see the group bounce back in H2.
I'm not keen on its last balance sheet, overweight with intangibles from acquisitions, and NTAV is negative.
Post covid, I think companies need to strengthen balance sheets, and have permanently higher cash reserves, rather than just go back to normal, and paying out divis from a weak balance sheet. So personally, I think TMG has got its priorities wrong there, and don't seem to have learned the lessons from the pandemic, of the need to expect the unexpected, and have financial reserves on hand to deal with that.
I'm wondering if the FY 12/2021 forecasts might be a little challenging, given the caution about H1 performance? This type of people business wouldn't normally command a high PER either.
Overall then, it looks priced about right to me.
.
---
I'll leave it there for today, see you tomorrow.
Regards, Paul.
Source:
https://www.stockopedia.com/content/small-cap-value-report-wed-20-jan-2021-alu-pebb-boom-elco-win-wjg-tmg-746069/
Before It's News®
is a community of individuals who report on what's going on around them, from all around the world.
Anyone can
join
.
Anyone can contribute.
Anyone can become informed about their world.
"United We Stand" Click Here To Create Your Personal Citizen Journalist Account Today, Be Sure To Invite Your Friends.