SIF February review: New sales tighten growth focus (MOTR, MGNS, SRE, CSP)
Tuesday, February 23, 2021 14:49
% of readers think this story is Fact. Add your two cents.

The decision by IG Group to suspend leveraged trading in around 900 shares (FT/paywall) this week has been echoing round social media. I suspect that many Stockopedia subscribers will be affected by this change.
Indeed, when I first saw the announcement, it struck me that many SIF folio holdings might be on the list, but it seems not to be the case. To the best of my knowledge, only two stocks in the SIF folio are affected at the time of writing. These are gold miner Polymetal International and iron/steel group Evraz – both FTSE 100 shares.
Clearly small caps aren't the only stocks being targeted. The list I've seen of all the stocks affected includes companies of all sizes and many leveraged ETFs. My impression is that the common theme is that investor sentiment is very strongly bullish, making hedging these positions too expensive to be worthwhile.
Naturally, I am a little uncomfortable holding stocks where sentiment appears to have become so lopsided. I fear a sharp correction, but I believe both Polymetal and Evraz are fundamentally sound. I don't intend to take any action in this unusual situation.
However, my standard rules of selling after a profit warning or on a 25% drop will remain. Given that both stocks are FTSE 100 shares, I hope this will be enough to allow me a controlled exit from these positions if needed.
Moving on. It's the last week of February, so it's time for my monthly review of all SIF stocks that have been held for nine months or more. Four companies make the cut this week:
Used car supermarket chain Motorpoint Group (LON:MOTR)

Construction and infrastructure firm Morgan Sindall Group (LON:MGNS)

Housebuilder Countryside Properties (LON:CSP)

German commercial property firm Sirius Real Estate (LON:SRE)
I'll review each of these against my selling criteria to see whether they can stay in the portfolio or if they must be sold.
But first, let's take a quick look at the performance of the portfolio over the last month.
SIF Folio: February performance
As I mentioned a couple of weeks ago, SIF has been hitting record highs recently. The portfolio has pulled back in line with the wider market since mid-February but is still hovering around its all-time high: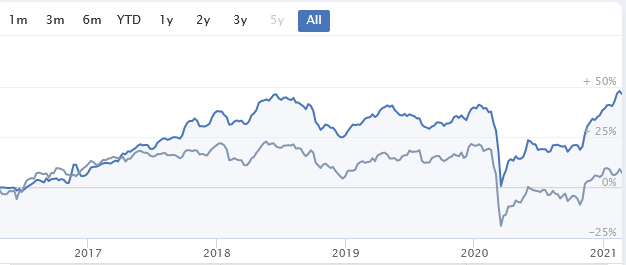 (SIF = blue line, FTSE All-Share index = grey line)
The portfolio has outperformed the market by around 5% since last month's review: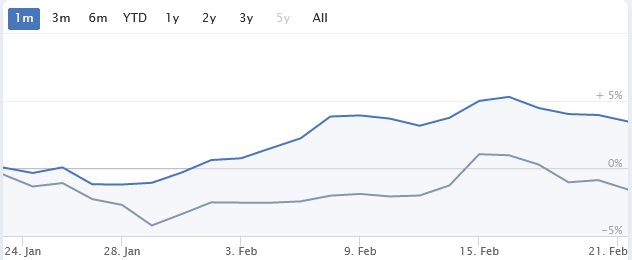 The cash position is lower than it has been for a while, following recent buys: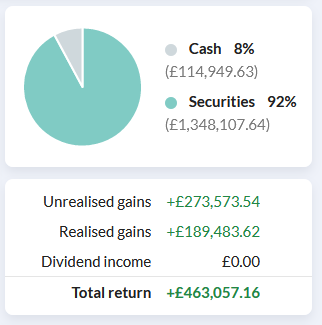 Finally, here's a complete list of the SIF folio holdings on 22 Feb 2020, ranked by percentage gains/losses: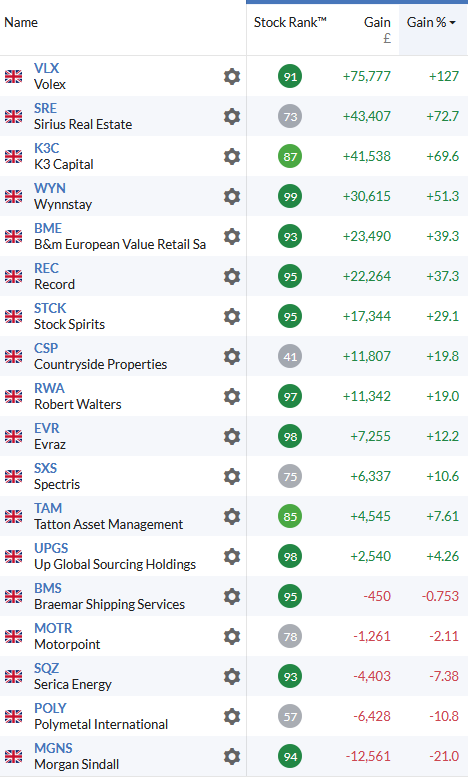 Countryside Properties (LON:CSP)
I'm going to start today's stock review with the only one of the four stocks that hasn't featured in previous monthly reviews. Countryside Properties has delivered a rocky ride since joining the portfolio in May last year, but SIF's position is currently showing a healthy 20% profit.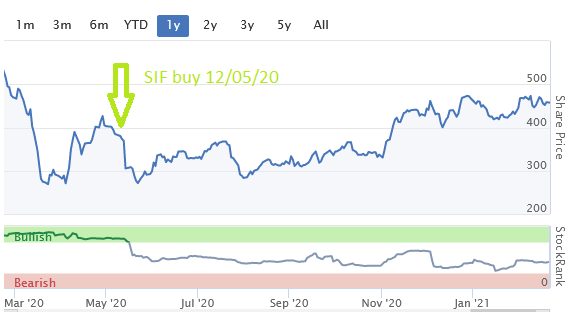 My thesis when I added the stock to SIF was that Countryside's focus on affordable and rented property would support demand in the event of a recession.
However, I think the buoyant share price may be due more to the company's plans to separate its housebuilding business from the group and focus on its Partnerships division.This isn't something I would have predicted.
Recent trading: In fairness, trading appears to be healthy throughout Countryside's operations. After recovering from the disruption caused by the original lockdown last year, the company completed 1,280 homes during the final quarter of calendar 2020. That's an increase of 17% on the same period in 2019. Average selling prices rose by £10k to £404k.
However, I wonder if some of this strong performance was merely clearing the backlog from earlier in the year. The net reservation rate fell to 0.53 during the final quarter of 2020, compared to 0.81 a year earlier.
By the end of the calendar year, Countryside's order book had fallen to £1,259m, 12% below the 2019 figure of £1,432m. The company says this drop is due to "private completions in Q1 and new development timing". But a weaker flow of new orders is also a concern – albeit demand could bounce back as lockdown unwinds.
For what it's worth at this stage, broker forecasts for 2021 have not been upgraded, but 2022 forecasts are edging higher: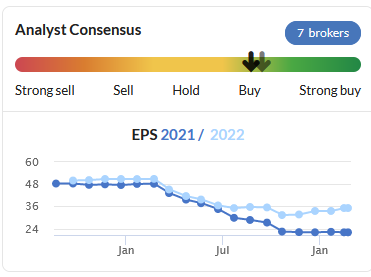 My view: I feel as uncertain as ever about the outlook for housebuilders. However, testing Countryside against my Sell Screen rules reveals failures relating to growth, valuation, momentum and fundamental health.
I have no choice but to sell Countryside from SIF this month. In my view, this isn't the kind of quality growth business I want to continue holding, so I'm happy to end this story with a 20% profit.
Incidentally, I'm interested to see that Countryside also has the lowest StockRank of the shares in SIF, at 41. It seems that Stockopedia's algorithms share my uncertain view on this stock.
Verdict: Sell
Total return: +20%
Motorpoint Group (LON:MOTR)
I've commented in more depth on this used car supermarket chain in recent months. There's been no newsflow since last month, so I won't repeat my earlier remarks.
Suffice it to say that Motorpoint still passes all of my selling tests and so can remain in the portfolio for another month..
Verdict: Hold
Total return to date: -2%
Morgan Sindall Group (LON:MGNS)
I've been a long-time admirer of this construction and infrastructure group, but it doesn't pay to fall in love with a stock.
Despite solid trading and the promise of a dividend, Morgan Sindall has lagged the market over the last year. The shares are down by 21% over 12 months, compared to a fall of about 4% for the FTSE All-Share index.
This weak momentum is evident from the snapshot on the StockReport: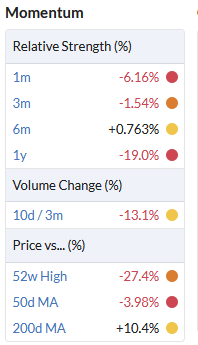 The company issued a modest upgrade to profit guidance in November, but the market seems reluctant to credit the group's expected strong performance. The momentum scores above suggest to me that confidence is not improving, despite the ongoing vaccine rollout.
My view: I continue to see Morgan Sindall as a good company in an accident-prone sector. With 2020 results due on the 25 February, I would have preferred to wait another week to review this stock. However, that's not the way my schedule has fallen and I don't intend to make an exception.
As things stand, Morgan Sindall fails my screening tests due to its negative relative strength. This reflects the stock's significant underperformance over the last year.
As a result, I will sell Morgan Sindall from SIF this week, crystallising a 20% loss.
Verdict: Sell
Total return: -20%
Sirius Real Estate (LON:SRE)
My final share this week is one where market timing has definitely worked in my favour. Buying this German commercial property group during the dark days of late March gifted me a very attractive entry price. The shares have since risen by more than 70% and provided some attractive dividend payouts.
Sirius Real Estate's most recent update on rent collection suggests to me that trading remains strong. In calendar 2020, the company collected 98% of rent due, with just €205k written off out of total rent and service charge invoicing of €141.2m.
I've commented before about the attractions of the company's large and diverse tenant base. The numbers appear to support this view. Out of more than 5,000 tenants, only 43 have required deferred payment plans.
New sales (lettings) are said to be in line with previous months, with January 2021 20% ahead of January 2020.
I continue to believe that Sirius Real Estate passes all of my screening tests, albeit with some manual adjustments to the data. I've explained these in previous updates, so you can check back for more detail.
Verdict: Hold
Total return to date: +79%
Final thoughts
I'm interested to see that my rules have selected for sale the portfolio's lowest-ranked stock (CSP) and its biggest running loss (MGNS).
I've no idea whether this is the right time to sell. I feel that Morgan Sindall, in particular, could surprise to the upside. However, I'm content to follow my rules and avoid the risk of a worse loss if this week's outlook statement disappoints the market.
I'll sell Countryside Properties and Morgan Sindall from SIF and my personal holdings after this article has been published. As always, I'd value your thoughts on any of the stocks discussed in this piece.
Disclosure: At the time of publication, Roland owned shares in IG Group and in all of the companies listed in the SIF folio.
Source:
https://www.stockopedia.com/content/sif-february-review-new-sales-tighten-growth-focus-motr-mgns-sre-csp-768539/
Before It's News®
is a community of individuals who report on what's going on around them, from all around the world.
Anyone can
join
.
Anyone can contribute.
Anyone can become informed about their world.
"United We Stand" Click Here To Create Your Personal Citizen Journalist Account Today, Be Sure To Invite Your Friends.