Small Cap Value Report (Fri 12 Feb 2021) - FRP, JET2, FUL
Friday, February 12, 2021 7:57
% of readers think this story is Fact. Add your two cents.

Good morning, it's Paul here with the SCVR for Friday.
Timing – I'll be focused on this all morning, so should be done by lunchtime. There's not much fresh news, but I have plenty of backlog items to catch up on.
Agenda -
Frp Advisory (LON:FRP) (I hold) – Trading update looks good – ahead of expectations
Jet2 (LON:JET2) – another fundraising. I use this as an example to warn of the dangers of dilution.
Fulham Shore (LON:FUL) – Trading update from earlier this week. Takeaway/delivery doing well. Expansion resuming.
.
---
Frp Advisory
(LON:FRP)
(I hold)
100p (pre market open) – mkt cap £240m
FRP Advisory Group plc, a leading UK professional services firm specialising in advisory services, today announces a trading update for the nine months to 31 January 2021.
That means it has an unusual 30 April 2021 year end.
It's mainly an insolvency practitioner.
Exceeding market expectations – good news here -
The Board is pleased with the continued progress made over the first nine months of the Group's financial year, despite the significant levels of government support and reduced levels of both corporate insolvency and administration appointments across the market. As such, at current trading levels, the Board now expects to exceed current market expectations1, with revenues of at least £75 million and adjusted2 EBITDA of at least £21 million.
1. The Group believes that current consensus market expectations for revenue and adjusted EBITDA average £72m and £19.2m respectively for FY21
2. Adjusted for share based payments including deemed remuneration and exceptional costs.
That's a good beat, about 10%, although why are they quoting adj EBITDA? I wish companies would report adj EPS, because that's a much simpler number, which reflects reality, and means we can quickly work out the PER.
EBITDA is not a useful measure to me, because it ignores so many important, real world cash outflows (e.g. interest, tax, capex).
As Andy Brough pointed out in a recent PIWorld interview (a must-watch if you haven't already seen it), he's convinced that EBITDA was invented by Americans after Big Bang, to justify higher valuations! I don't think he was joking, maybe slightly, but it's difficult to tell. Here it is again -
Broker update – many thanks to James Fletcher at Cenkos, his latest figures are available on Research Tree. The numbers at FRP are quite complicated, due to the layers of different remuneration for the partners, including a 25% profit share. James very kindly helped me get my head around the numbers last time FRP reported, when I raised a query, much appreciated.
Updated Cenkos numbers this morning show the £21m adj EBITDA from the RNS (which already accounts for the 25% partner profit share). That whittles down to 6.4p adj EPS, giving a PER of 16.3 (at 104p per share currently).
Forecast divi of 3.9p gives a yield of 3.75% – well worth having.
My opinion – I think both Begbies Traynor (LON:BEG) (I hold) and Frp Advisory (LON:FRP) (I hold) are a decent proposition at the moment. Both are trading well, despite Govt support measures meaning that insolvencies are artificially low.
The argument is that, sooner or later, all these zombies companies in sectors such as hospitality, retailing, etc, will need to restructure, providing rich pickings for insolvency practitioners. CVAs are already happening widely, with more likely to come once the moratorium on evictions inevitably ends.
It took me a while to get to grips with the accounts at FRP. On balance, I feel that it strikes a sensible balance between the conflicting demands of outside shareholders (for divis) and management (fee earners wanting to enjoy the fruits of their labour).
I think the valuation looks reasonable, and a 10% improvement today in forecast earnings for FY 04/2021 is encouraging.
.
---
Jet2
(LON:JET2)
1198p (down 8% today, at 09:58) – mkt cap £2.1bn
Formerly Dart Group, this operates the Jet2.com airline, and package holidays business. It's been highly successful, and has a wonderful track record of growth amp; share price appreciate, so a really good business.
The reason I mention it, is to highlight the theme of equity fundraisings, and the impact of dilution.
Many companies raised fresh equity funding in the spring of 2020, there was a deluge of it, as so many companies realised that they had inadequate financial reserves to cope with the unexpected covid crisis.
Entire sectors (e.g. travel, retailing, hospitality) realised with a jolt that their business models were completely wrong, in assuming that revenues would always continue uninterrupted. I still don't think this message has sunk in with many companies or investors. It seems to be assumed that the Government will always step in with relief packages to take up the slack. But what if the next crisis happens when Governments don't have such extensive financial flexibility? This time, they've printed money to run an unprecedented peacetime deficit. What happens if inflation takes off, and money printing isn't an option next time there's a major crisis?
Companies have been very lucky this time, that investors have had plenty of cash, and have been prepared to support fundraisings. What happens if the next crisis occurs in a bear market, when investors run for cover, and only offer fresh funding at a deep discount, if at all?
Hence why balance sheet strength is now more important than ever, as has been demonstrated so well in the last year.
Obviously airlines are still suffering huge cash outflows, and little revenues. Although I was surprised at how modest a loss was reported by Jet2 in its interims. Revenues dropped from £2.5bn in H1 last year, to only £300m in H1 this year (6m to 30 Sept 2020). The loss before tax was only £(119.3)m, which amazed me, that it wasn't much worse.
Looking at its balance sheet, part of the problem with airlines amp; cruise ships, is that customers pay up-front, hence cash is flattered by this. The corresponding creditors are called "deferred revenue/income". Therefore to see how much cash a business really has, one should deduct the deferred revenue creditor from its net cash balance. That can often reveal quite a weak underlying position, if all customers demanded a refund (the worst case scenario).
Jet2 saw its cash position decline from £1,656m at 30 Sept 2019, to £1,008m at 30 Sept 2020, despite efforts to conserve cash. Part of the reason was that deferred revenue fell from £661.7m to £339.7m over the same period (in current liabilities. I've ignored the scrap in long-term liabilities).
This shows how an enforced shutdown causes a double pressure on cash – not only does an airline have to continue funding many outgoings, for now idle airplanes, but it also sees cash leaking away from customer refunds, where it cannot persuade them to accept a credit note instead.
Looking back over the last year, Jet2 was able to raise £98m from selling its non-core Fowler-Welch subsidiary. Probably not an optimum sale price, given the timing of June 2020, and it being a semi-distressed seller.
The taxpayer provided a £300m loan facility under the CCFF run by the Bank of England.
A placing of 29.78m new shares was completed in May 2020, at a low price of 576.5p per share.
Another larger placing has been done this week, for 35.76m new shares, at 1180p per share, a 9.1% discount.
Given that many companies have been forced to issue new shares, it's vital to keep on top of this issue, so that we don't end up over-valuing shares. Hence i always check the "Average Shares" line on every StockReport, here it is for Jet2 -
This gives you a nice overview of how free and easy (or not, in this case) a company is at issuing new shares, over the last 5-6 years. Cash burning, blue sky shares, usually issue new shares every year, hence this line can often see a huge increase in share count – one of the reasons that blue sky companies usually make such terrible investments – even if they do succeed commercially, the early stage investors have probably been diluted down to virtually nothing, at ever lower share prices.
Remember that the above data is historic, so you also need to check the current, bang-up-to-date share count, which is at the bottom of each StockReport, here it is for Jet2 -
.
Checking through the numbers, this is how the share count has/is risen/rising -
Pre-covid existing share count: 149.0m
Placing in May 2020: 29.78m new shares issued
Subtotal: 178.78m (as shown above)
Latest placing today: 35.76m new shares to be issued
Total share count: 214.54m
Therefore, two equity fundraisings have increased the share count by 44%. The reason that matters, is because it will act as a substantial drag on the share price in future.
You can see from the 3-year chart below, that the share price approached 2000p just before covid struck. That big rise was on the back of superb results published, so it was a logical price move at the time. Then of course it crashed (too far on the downside) when covid struck. From memory, I think we could buy around 300p briefly at the low point, before it doubled in a few days.
.
At 2000p in early 2020, the market cap was £2.98bn (149m shares * 2000p)
However, if the market cap were to recover to a valuation of £2.98bn now, then with 214.54m shares in issue, that would equate to a much lower share price of 1389p.
For this reason, logically there should only be quite limited upside on Jet2's current share price of 1198p – a rise of just 16% would take it to 1389p, at which point the market cap would be back to its all-time maximum of £2.98bn.
The odds are that some investors won't realise this, and hence might end up chasing Jet2's share price up to a new high, possibly, in due course. That would almost certainly mean the shares being considerably over-valued, and set for a sharp correction when accounts are published showing a much lower EPS than people expect, due to the share count being a lot higher.
So do be careful with this issue. It's vital to check the figures, to see how much the share count has gone up by. Shares with little to no new share issuance could have much better % upside on the share price, due to there being no dilution.
This is a good example of where drawing lines amp; patterns on charts, and imagining this will predict the future, could deliver completely wrong results – because the chart always needs to be seen in conjunction with the number of shares in issue.
Maybe it would be better to plot the market cap on a graph, and not the share price, which would correct for this flaw?
I thought this was a useful reminder, to point out using Jet2 as a current example of the dilution caused by 2 fundraisings.
EDIT – another point to add, is that many companies have leaned on bank borrowings to get them through the crisis. However, once trading is normalised, then banks could pressurise them to reduce bank borrowings with fresh equity. Therefore, a careful analysis of the overall funding position is necessary. i.e. Just because a company may have got this far without raising fresh equity, doesn't necessarily mean they're out of the woods. There could easily be a gentleman's agreement with the bank, that more equity will be raised to reduce gearing later on. End of edit.
.
---
Fulham Shore
(LON:FUL)
13.4p – mkt cap £82m
As of today, Fulham Shore's restaurant estate comprises 53 Franco Manca pizzeria and 19 The Real Greek restaurants. Throughout the current third lockdown and tier 4, which began on 20 December 2020, the Group has been trading through delivery and take out services at 48 Franco Manca and 10 The Real Greek.
The share price is now actually above the pre-covid level, which seems odd considering its restaurants have been (at least partly) closed.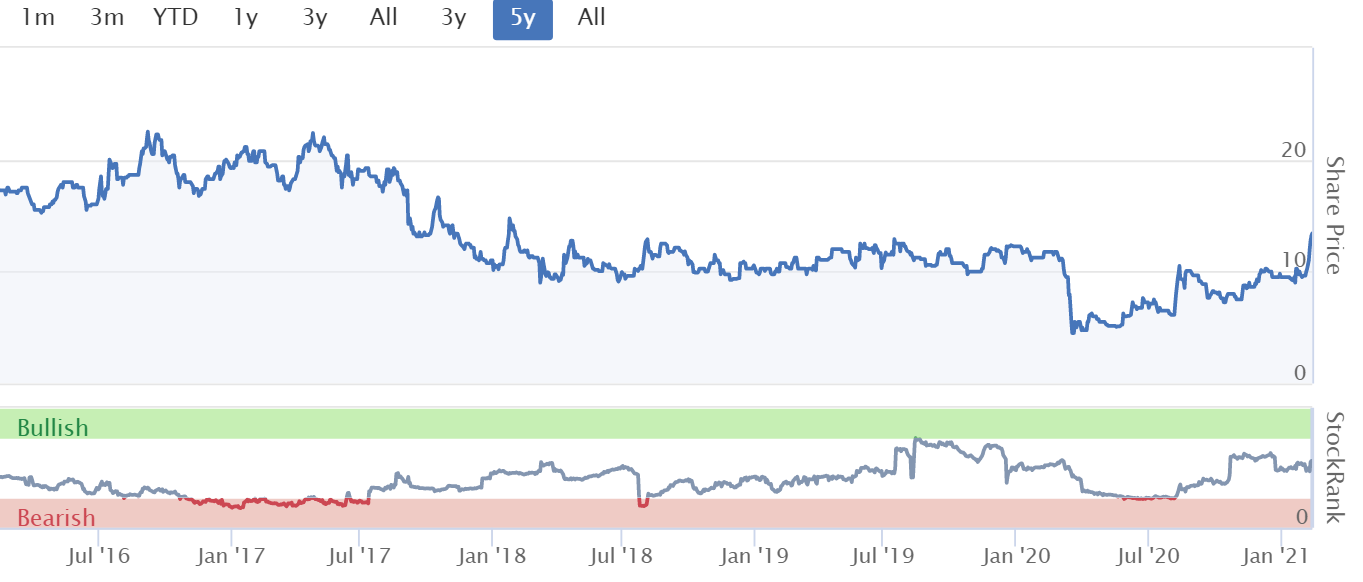 .
Operating on lower staffing for takeaways, other staff furloughed.
Revenues running at 46% of usual, offering takeaways amp; delivery only (no dine in) – this strikes me as remarkably good.
Directors confident that revenues will recover once stay at home restrictions are lifted.
Loans – drawn down in full £10.75m CLBIL Govt loan facility, and talking to HSBC to extend March 2022 £14.75m facility. This is a lot of debt, too much, in my view. Although…
Net debt is only £5.7m, so the group is hoarding cash, at the same time as borrowing. There's probably some creditor stretch too, but we're not told how much that is. Headroom of £20m looks ample.
Expansion – negotiating for "many sites" at much reduced rents amp; capital costs. This should lay the foundations for profitable growth in future, once customers return from lockdown.
My opinion – there are two clear positives here: (1) strong takeaway/delivery trading, helping it to survive lockdown, and (2) pipeline of new openings at what should be much more competitive rental terms.
FUL looks a clear long-term winner, in a very tough sector. Hospitality has not just suffered from covid/lockdown, but also from serious over-capacity. It takes many years for over-capacity to clear, because there seems an inexhaustible supply of people who imagine they can create a nice lifestyle by opening their own bar/cafe/restaurant. In most cases this ends in disaster, and they go bust. Then the landlord re-lets the site to another new operator, and the same pattern plays out again. Hence, despite pauses when they're closed, most bar or restaurant sites continue to operate, just with new owners every now and then.
Given that being the case, will a lot of competition disappear? Maybe not that much, and very slowly. Meanwhile, FUL is probably paying too much rent on most of its existing sites. Why would landlords reduce the rent, when they know FUL is solvent? Also business rates are likely to kick back in.
I can see that FUL is a decent business, but that looks priced-in already. The current valuation is over £1m per existing restaurant, which seems excessive to me. That said, lockdown may have accidentally broadened their business so that takeaway/delivery, combined with a resumption of dine-in, may result in a more profitable business post covid. Trouble is, the share price is anticipating that, so where's the upside? Risk:reward looked OK to me c.10p per share, but at 13.4p? Forget it, I just don't see any attraction at that high valuation. A roll out funded by debt would take years. So why pay up-front for it?
.
---
Source:
https://www.stockopedia.com/content/small-cap-value-report-fri-12-feb-2021-frp-jet2-ful-761494/
Before It's News®
is a community of individuals who report on what's going on around them, from all around the world.
Anyone can
join
.
Anyone can contribute.
Anyone can become informed about their world.
"United We Stand" Click Here To Create Your Personal Citizen Journalist Account Today, Be Sure To Invite Your Friends.