Small Cap Value Report (Thu 18 Feb 2021) - RNO, TRI, WIL, OPTI
Thursday, February 18, 2021 10:41
% of readers think this story is Fact. Add your two cents.

Good morning, it's Paul here with the SCVR for Thursday.
Thanks to everyone who attended the StockSlam (via PIWorld, 3 minute pitches for people's favourite shares, with 10 shares covered) last night, an amazing turnout of about 1,000 people. My stock idea was Renold (LON:RNO) (I hold) – where a big pension deficit seems to be obscuring strong fundamentals, and a turnaround plan that's working. Here are my notes from Renold's most recent trading update. There's a persistent seller in the market, so hopefully my comments don't trigger a spike up in price, it's awkward when that happens.
The next StockSlam is on 7 April.
Agenda -
Trifast (LON:TRI) – Q3 trading update sounds reassuring. Although worrying comments about raw materials inflation
Wilmington (LON:WIL) – Impressive interim results, but the weak balance sheet rules it out for me
Optibiotix Health (LON:OPTI) – trading update for 2020. Signs of progress, at last!
.
---
Trifast
(LON:TRI)
139p (flat, at 08:22) – mkt cap £188m
Leading international specialist in the design, engineering, manufacture, and distribution of high quality industrial and Category 'C' components principally to major global assembly industries … Trifast plc (Main market LSE Symbol: TRI) issues the following unaudited Trading Update covering the Q3 financial period and up to the date of this announcement.
Trifast has a 31 March 2021 year end.
Trading continuing to strengthen
H2 revenues up 5% for the four months to 31 Jan 2021
FY 03/2021 revenues expected to be slightly ahead of market expectations
1. Company compiled consensus shows market revenue expectations of c.£172m
Particularly noteworthy points are -
Border issues (logistical challenges) re Brexit
Well-known problems with transport costs amp; container freight are mentioned
Global shortage of steel is causing price rises, and delays – leading to "additional margin pressure which we are working hard to mitigate"
Dividends – will be reinstated.
Outlook - sounds reassuring -
The Group's continued recovery, in addition to a strong pipeline and high activity levels, provides a solid base for the business to move forward…
My opinion – I find that Trifast tends to focus too much on revenue, and not enough on profitability, in its trading updates.
As you can see below, earnings expectations for this year and next year, are still way below (about half) of pre-covid forecasts. Note that forecasts were reducing before covid struck, so it looks as if there were existing issues.

I suppose the opportunity here is that, over time, earnings could recover back to pre-covid forecasts, which would provide good upside on the current share price.
The comments about raw materials price rises, and a shortage of steel, plus freight issues, are similar to what we're hearing from lots of companies at the moment. This worries me, that we could be entering an era of persistently higher inflation, and possibly interest rates rising? That could hurt earnings (margins under pressure from higher costs), and hit high PERs in particular, if interest rates rise. All this new money sloshing around from massive QE, has to logically end up in higher inflation, eventually.
There do seem to be some macro warning lights beginning to illuminate.
Overall, TRI shares look priced about right to me.
.
.
---
Wilmington
(LON:WIL)
175p (up 4%, at 12:00) – mkt cap £154m
Here are my notes from 4 Nov 2020, where I saw potential in this education company's move to online delivery.
Interim results today are for the 6 months to 31 Dec 2020.
Wilmington plc, the provider of data, information, education and networking services in Risk amp; Compliance, Healthcare and Professional knowledge areas, today announces its half year results for the six months ended 31 December 2020.
The financial highlights look really good, I'm impressed.
Revenue held up very well, considering no face-to-face events or training, down 7.4% to £55.1m
Adjusted profit before tax actually up slightly, to £7.0m – that's a decent profit margin at 12.7% of revenues
This stands out as impressive too -
Cost savings from the move to virtual were greater than the fall in revenue
Dividend reinstated at 2.1p, and furlough monies (no figure given) to be repaid.
Balance sheet - this is a concern, it's very weak.
NAV of £47.4m, less intangible assets of £94.4m, gives NTAV of negative £(47.0)m. It seems to me that reinstating the divis, when the balance sheet is really weak, seems reckless.
The working capital position looks unusually weak. Current assets are £33.5m, but current liabilities are £57.2m, giving a very weak current ratio of 0.59. Normally I consider anything under 1.0 as being weak. Trade creditors seems unusually high, at £54.5m (which includes £8.0m deferred VAT).
Perhaps this business has a negative working capital setup, where it receives money up-front from customers, but even so, I feel this looks a dangerously stretched balance sheet.
Long term creditors includes £30.4m in borrowings too. So the business is totally reliant on debt funding, rather than equity. That's fine in the good times, but leaves the business dangerously exposed, if the bank decides it wants its money back.
My opinion – if you're not bothered about balance sheets, then this might be an interesting share to look at. The trading performance looks strong, and very resilient given the sector it operates in. Switching to entirely online, is very impressive.
Management doesn't seem to have received the memo that, post-covid, companies need to be building up their financial reserves, not resuming divis prematurely, funded effectively from debt.
For me, the very weak balance sheet, and too much debt, rules it out, but I can also see why other investors might put more focus on the positive performance amp; resilience re covid, which are good.
.
---
Optibiotix Health
(LON:OPTI)
55.6p (down 9%, at 14:37) – mkt cap £48.8m
Strategy amp; commercial update
OptiBiotix Health plc (OptiBiotix), a life sciences business developing compounds to tackle obesity, cardiovascular disease and diabetes, provides the following strategic and financial update ahead of the Group's final results for the year ended 31 December 2020.
Functional Fibres division -
Sales of £558k (up 150% on 2019)
EBITDA of £66k (loss of £(433)K in 2019)
18 commercial agreements signed in the year
ProBiotix Health
Sales of £818k (up 106% on 2019)
EBITDA of £76k (loss of £(474)k in 2019)
7 commercial agreements signed in the year
Consumer Health Division
Sales of £137k (up 12% on 2019)
Loss of £25k
Total sales up 103% to £1.51m
Cash overheads £1.59m, down 28% on 2019)
Gross margin of 58% in 2020 (53% in 2019)
That seems to give gross profit of £876k, and an operating loss of £(714)k
Cash - tight, at £866k at 31 Dec 2020. £262k of tax credits amp; VAT refund are due.
Investment of 24.5% in separately listed Skinbiotherapeutics (LON:SBTX) a holding which is on paper worth £14.3m at the latest share price of 37.35p. That's almost 30% of OPTI's market cap, so it's a significant consideration, especially if OPTI is able to place the shares, to turn it into cash. Bear in mind SBTX is a jam tomorrow, speculative share, even more so than OPTI, so its value on paper may not necessarily to into real money. But who knows, we're in a euphoric late stage bull market, so anything can happen to story stocks.
A £7.0m profit will be booked in 2020 for the increase in value of SBTX shares owned by OPTI.
There's loads more commentary in the announcement, which I won't rehash here, because I'm only interested in facts amp; figures, not jam tomorrow.
My opinion – I've been highly critical of this company in the past, because management are so promotional – over-promising amp; under-delivering repeatedly. I wasn't impressed with an abusive email I received a while back from the CEO, which seemed very much a shoot the messenger response. It goes with the territory though, so it doesn't bother me.
However, if the facts change, I change my mind. In this update today, I'm seeing the first signs that OPTI might be making some commercial progress. The numbers are small, but growing strongly, and a 58% gross margin creates really good operational gearing. Low overheads mean that it's now not far from breakeven, and if growth were to accelerate, then it might move into profit at long last?
If the company could turn some of the SBTX shareholding into cash, then it could avoid another placing.
Overall, this is not a basket case any more! Some progress seems to have been made. The story had become very stale, but maybe it could be reinvigorated? Markets are very receptive to story stocks at the moment, after all.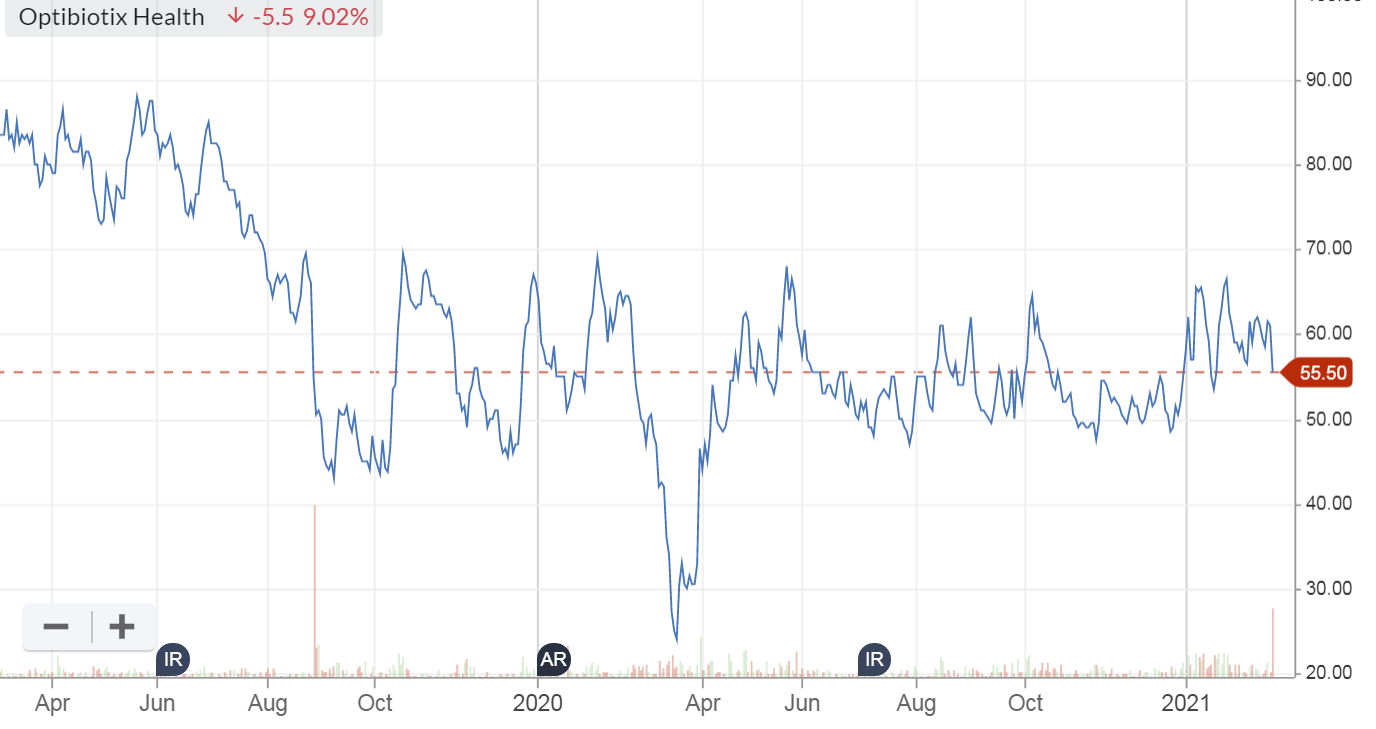 .
---
Source:
https://www.stockopedia.com/content/small-cap-value-report-thu-18-feb-2021-rno-tri-wil-opti-764764/
Before It's News®
is a community of individuals who report on what's going on around them, from all around the world.
Anyone can
join
.
Anyone can contribute.
Anyone can become informed about their world.
"United We Stand" Click Here To Create Your Personal Citizen Journalist Account Today, Be Sure To Invite Your Friends.