Tricky Tuesday – Futures Jacked Up During US Holiday to Fool Who?
Tuesday, February 16, 2021 9:44
% of readers think this story is Fact. Add your two cents.

This is total BS!
The S&P 500 is up 40 points (1%) since Friday's close and the Dow is up 300 points, etc. on NO news and NO trading – just some last minute window-dressing into the bell and after hours – when no one is actually trading. This is what fund managers like Jim Cramer do when they need to sell their holdings – they create a false sense of excitement to lure the suckers into buying shares while the fund managers are dumping their overpriced holdings.
And, by the way: Since I pointed out how blatantly Jim Cramer used to manipulate the market in his confessional video back on January 29th, team Cramer has been busy redacting that video from the Internet. Very 1984! If you can't find the video – it never happened, right? A text description survives on Seekeng Alpha (for now) but who knows how long it will last.
Who controls the past, controls the future: who controls the present, controls the past… The mutability of the past is the central tenet of Ingsoc. Past events, it is argued, have no objective existence, but survive only in written records and in human memories. The past is whatever the records and the memories agree upon. And since the Party is in full control of all records, and in equally full control of the minds of its members, it follows that the past is whatever the Party chooses to make it. – Orwell
I find this disturbing and you should find it disturbing but, unfortunately, to our kids – reality is only what Google says it is. How many generations before, like 1984, there are no written records and the only past we can refer to can be erased at the whim of a censor – or simply because a "leader" like Donald Trump doesn't like what it says? We're having that discussion now in Congress and we're losing the battle – but you wouldn't know you're losing the battle because the 6 Billionaires that control the media aren't interested in telling you that, are they?
Financial News is even more controlled and, when you hear about the power of a single site like Reddit to move the markets – it's very scary, isn't it? So, are people like Jim Cramer manipulating the markets using modern tools like Twitter and Reddit to drive people in and out of stocks? Of course they are!
Of course, we don't complain IF the game is rigged – as long as we understand HOW the game is rigged so we can play along and make some money. And this market is being manipulated in so many ways – even the Government is in on the game, forcing money into the system just to make the economy look like it's recovering – despite the pandemic.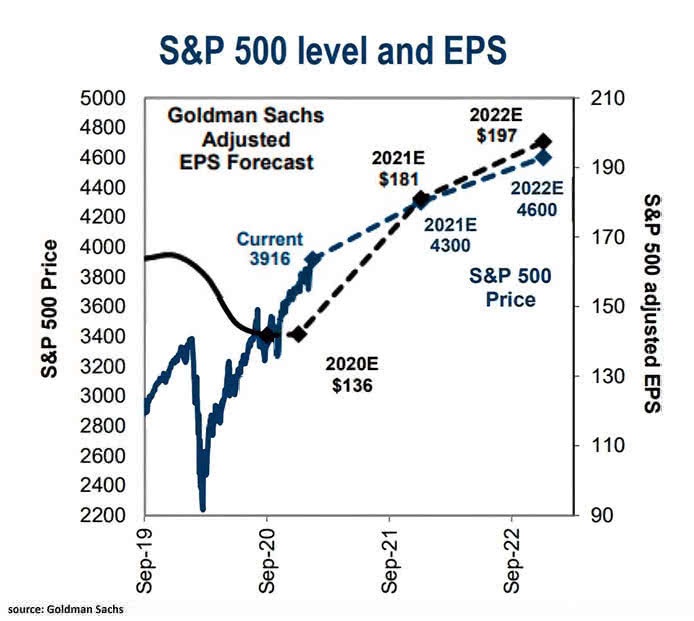 With the majority of the S&P 500 having now reported, earnings are down 12% from 2019 DESPITE the massive stimulus, bailouts and loans that the Government has showered on the Top 0.1%, causing the Forbes 400 to get $1Tn richer (on money that WE borrowed). That's the same Forbes 400 that controls 99.99% of the media, of course. As it stands now, the S&P 500, at 3,946, is trading at 44 TIMES it's earnings. Goldman Sachs (GS), however, forecasts 2022 earnings will jump 50% – so only 34.8 times forward earnings. That will be great if they're right – only 100% more than the usual PE….
And, of course, reality is whatever we want it to be, right? Well, it's whatever "THEY" want it to be so we still have 20 positions in our Long-Term Portfolio and we even added a few this month (see our Top Trade Alerts for some of them) but we've also punched up our hedges in our Short-Term Porfolio because this market is like a carnival water balloon that is just about to pop – you can see it stretching and stretching and you are always suprised at how far they can stretch before physics finally takes over and they collapse with a "pop!".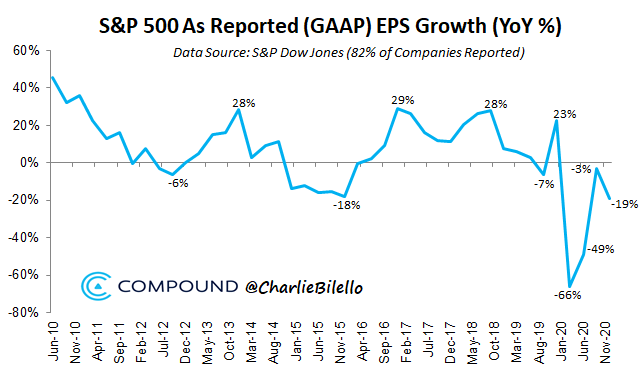 GAAP Earnings is another form of reality. Most companies don't like GAAP earnings (Generally Accepted Accounting Principles) as it makes them look less profitable than they want to tell you they are so they just don't use them – GAAP Earnings are a footnote in many company reports – not the headlines. Using GAAP Accounting, with 82% of the S&P 500 reporting, we're down 19% in Q4 after being down 7% in Q1, 66% in Q2 and 49% in Q3 though, magically, in the Non-GAAP world of Financial Reporting and Goldman Sachs cheerlearing – we're barely down at all for the year!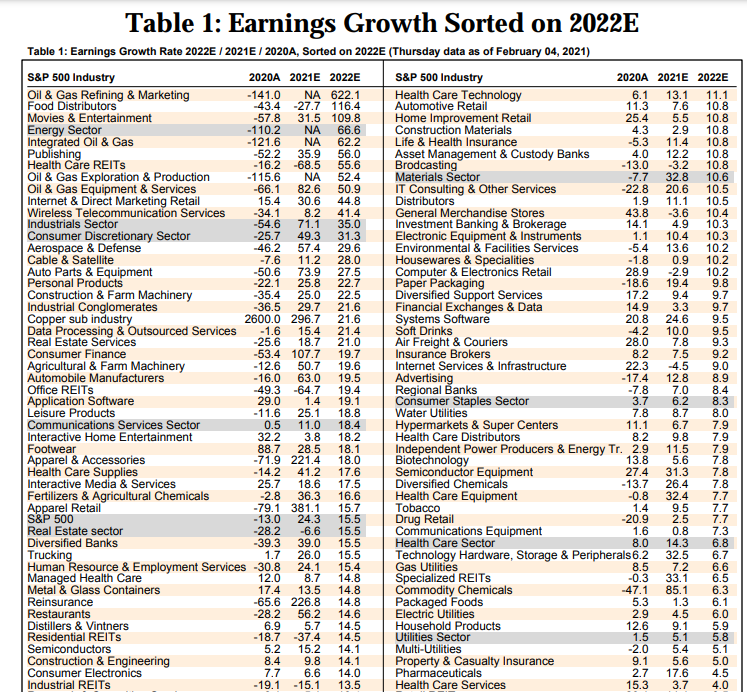 Just look at those miraculous improvements! That's what people are trading on today – what they are being told is going to happen over the next two years. We spent 15% of our GDP on direct stimulus in 2020 and we'll spend at least that much in 2021 and I guess we'll spend it again in 2023? We may end up being $30Tn in debt but hey – look at the Dow!
Needless to say, we have a LOT of bonds to sell – bond sales and note auctions dominate this week's data and it's likely to be as slow week overall.
We also have plenty of earnings still coming in. The market has been very forgiving so far but now we have the small caps and we did short the Russell (/RTY) Futures at 2,300, which is not working this morning (2,305) and we're short Oil (/CL) at $59 (average) but it's at $60, so we're down $1,000 per contract – though I love $60 for a shorting line so we Double Down here and keep very tight stops on the new shorts above $60 but, if we catch it right, we raise our average to $59.50 but keep in mind the EIA report is delayed until Thursday – so it could be a crazy week.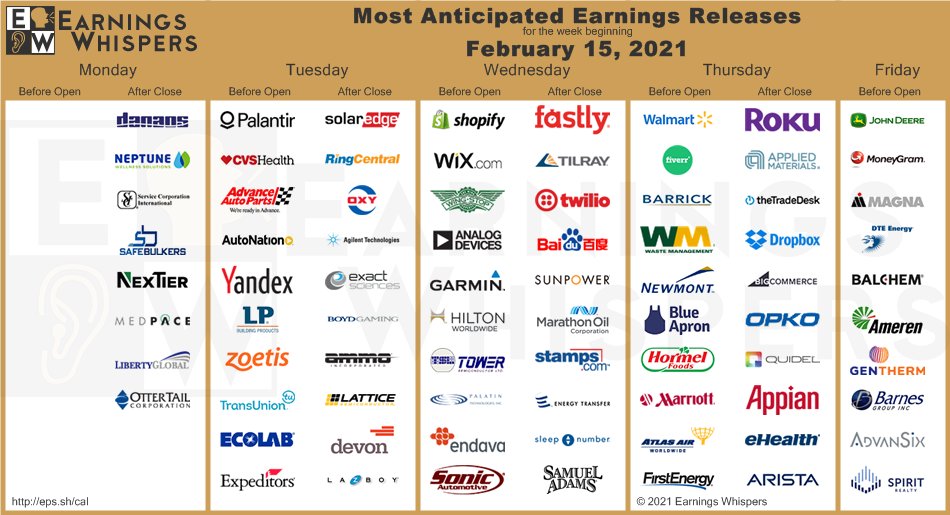 Be careful out there!
Provided courtesy of Phil's Stock World.
Would you like to read up-to-date articles on the day they are posted? Click here to become a part of our growing community and learn how to stop gambling with your investments. We will teach you to BE THE HOUSE – Not the Gambler!
Source:
https://www.philstockworld.com/2021/02/16/tricky-tuesday-futures-jacked-up-during-us-holiday-to-fool-who/?utm_source=beforeitsnews&utm_medium=feed&utm_campaign=psw-feeds&utm_content=article-link
Before It's News®
is a community of individuals who report on what's going on around them, from all around the world.
Anyone can
join
.
Anyone can contribute.
Anyone can become informed about their world.
"United We Stand" Click Here To Create Your Personal Citizen Journalist Account Today, Be Sure To Invite Your Friends.