SIF Folio: Persimmonamp;rsquo;s 8% dividend yield tempts me
Tuesday, March 16, 2021 16:09
% of readers think this story is Fact. Add your two cents.

UK housebuilders' have enjoyed a decade-long run of government subsidies and policy support aimed at propping up prices. Whenever there's been any risk of the market grinding to a halt or – heaven forbid – prices falling, the government has pumped in some cash.
With no apparent irony, measures such as Help to Buy, the stamp duty holiday and now the Chancellor's 95% mortgage guarantee are billed as helping affordability. As far as I can see, all they actually do is inflate prices and increase buyers' ability to make highly-leveraged purchases.
From what I can see the main beneficiaries are the big housebuilders. Companies such as FTSE 100 group Persimmon (LON:PSN) have been able to generate a 30% return on capital in recent years. That seems exceptional to me, given the semi-commoditised nature of their products.
I covet the cash-backed 8% dividend yield available from stocks such as Persimmon. But I'm concerned about the unpredictable nature of government incentives and the wider risk of a housing market crash.
However, in my role as the virtual manager of the rules-based SIF fund, I'm not allowed to take subjective macro views on stocks. I must follow the numbers.
The numbers tell me that Persimmon passes all of my screening tests with flying colours.

Stockopedia's algorithms rank the the stock highly too, although with some possible weakness in momentum:

Should I add the stock to SIF this week? I've been taking a closer look at this housebuilder's factor scores to understand more.
Value: profits vs assets
Persimmon's ValueRank of 77 suggests the shares may be quite affordably valued. This seems to be true when the shares are valued relative to last year's pandemic-hit earnings and dividend:
2020 P/E: 14.7

2020 dividend yield: 3.8%

Earnings yield (EBIT/EV): 9.6%
However, this is essentially a property company, so I think it's important to look at asset-backed measures of value. Here the picture is more mixed.
Net asset value per share was 1,102.7p at the end of 2020. With the shares trading at c2,900p,this gives the stock a price/book ratio of 2.7. This valuation may be justified by Persimmon's high profit margins, but I can't forget the cyclical risk here.
I would say the stock looks fully priced relative to assets, a view echoed by Stockopedia's valuation graphic: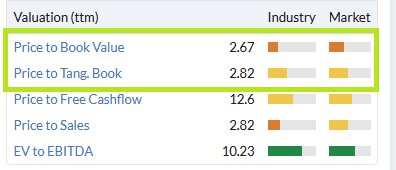 A discussion of Persimmon's net asset value must include the group's net cash, which stood at £1,234m at the end of 2020. This is enough to fund this year's planned total dividend of 235p per share, independent of any free cash flow generated in 2021.
It's also worth making a second point about Persimmon's cash pile. The reported net cash figure doesn't include land creditors (money owed on contracted land purchases). I view land creditors as equivalent to debt, so I prefer to subtract it from net cash.
Persimmon's land creditor balance fell to £329m last year. So even after these obligations are deducted from the group's cash balance, this year's promised dividend of 235p per share is covered by surplus cash.
It's worth noting that this isn't true of all housebuilders. Some of Persimmon's peers have net debt positions when their cash balances are adjusted for land creditors.
As far as I can see, this year's forecast 8% dividend yield is safe and affordable. The only question is whether it will be sustainable in future years.
Quality: what's not to like?
Persimmon's strong cash generation and high profit margins support a QualityRank of 88.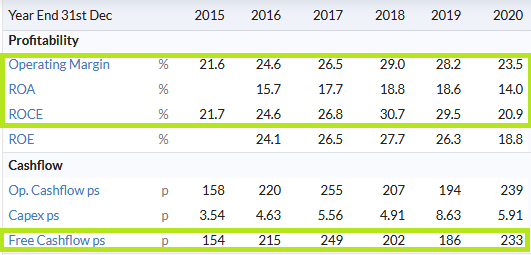 Indeed, we might wonder why the stock's QualityRank isn't higher than 88. I think the clue to this lies in the Piotroski F-Score, which is only 6/9.

This fundamental health score measures profitability, cash generation and other important factors. It's heavily weighted in the QualityRank calculation. Six is an acceptable score, but not outstanding. In Persimmon's case, the reason for this middling score is that the F-Score tests are relative – they compare the trailing 12 months with the prior period.
The impact of the original lockdown meant that Persimmon was less profitable in 2020 than in 2019. So it fails a few tests. For example:

I'm not overly concerned by this. All the indications so far are that trading will recover strongly in 2021. Unless I start to see signs of failing momentum, Persimmon's quality metrics don't worry me at all.
Momentum: the weakest link?
Persimmon's MomentumRank of 49 does not seem all that inspiring. To be honest, I'm a little surprised the figure is so low. MomentumRank is calculated by combining price momentum indicators (technical) with earnings estimates (fundamental).
Although I don't know exactly how Stockopedia's algorithms weigh these various factors, I'm struggling to see much weakness in either area.
Price momentum: Persimmon shares are trading close to 52-week and all-time highs. The stock has seen strong buying support recently and has outperformed the market over the last year. This information is conveniently displayed in the momentum graphic at the top of each StockReport: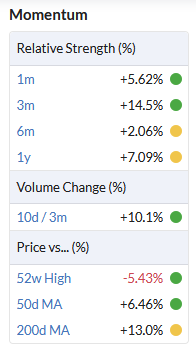 Earnings estimates: It's a similar story for earnings. Broker forecasts have been tweaked higher over the last one month and three months. Modest earnings growth is expected in 2022.
We can see all this (and more) from the consensus trend chart and the analyst forecast summary: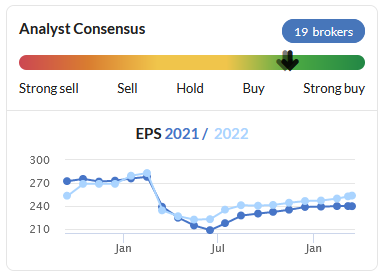 These forecasts price Persimmon shares on 12 times forecast earnings, with an 8% dividend yield. If house prices and transaction levels remain stable, then this doesn't look too demanding to me.
My only concern is what might happen if macro or political conditions change. For example, what if we see a sharp rise in unemployment when furlough and other government support measures are finally withdrawn? At current levels, I don't see Persimmon stock as offering much margin for error.
My decision
I don't really want to buy Persimmon shares for SIF. But I accept that this is partly down to my own subjective views on the housing market.
To counter these, one bullish viewpoint that makes sense to me is that the housing market is also being supported by ultra-low mortgage rates and competitive lending. While funding remains readily available, there may be no reason for the market to slow.
Trade decision: According to my rules, Persimmon is a suitable purchase for SIF at this time. So I will add this FTSE 100 housebuilder to SIF and my personal holdings this week, with my fingers crossed.
As always, both the virtual and real-money trades will be executed after this article has been published.
Please feel free to share your views on the housing market. I'm aware that my own experience and opinions give me a significant bias when judging housebuilders. In this case, I'd be happy to be proved wrong!
Source:
https://www.stockopedia.com/content/sif-folio-persimmonrsquos-8-dividend-yield-tempts-me-781339/
Before It's News®
is a community of individuals who report on what's going on around them, from all around the world.
Anyone can
join
.
Anyone can contribute.
Anyone can become informed about their world.
"United We Stand" Click Here To Create Your Personal Citizen Journalist Account Today, Be Sure To Invite Your Friends.