Small Cap Value Report (Fri 19 March 2021) - IDOX, TENG, BOOM, CML, ZANE - charity update
Friday, March 19, 2021 9:17
% of readers think this story is Fact. Add your two cents.

Good morning! It's Paul amp; Jack here with the SCVR for Friday.
Timing – I have to down tools now, to get my first covid vaccine jab. So I'll sign off for the day, today's report is now finished.
Agenda -
Paul -
Idox (LON:IDOX) – Bid talks fall through. Announces a small disposal. Prepare for a bumpy day, as the bid premium unwinds.
Ten Lifestyle (LON:TENG) – Lacklustre update, obviously impacted by covid, since it provides a concierge service. Doesn't appeal to me at all.
Audioboom (LON:BOOM) – signs of life, but still loss-making. I review the FY 12/2020 results. Good outlook for 2021.
ZANE – update on my favourite charity's annual (online) conference, which I attended this week. Thank you to all the Stockopedia readers who support this wonderful little charity that saves the lives of the most vulnerable people in Zimbabwe.
Jack -
Cml Microsystems (LON:CML) – semiconductor developer with mixed historical results, disposal of non-core division and investment in core products.
.
---
Paul's Section
Idox
(LON:IDOX)
71.8p (pre market open) – mkt cap £319m
Disposal – IDOX has agreed to sell a Dutch consultancy subsidiary for up to a maximum of 8.14m Euros. That's insignificant to the market cap, so let's move on.
Bid falls through – a statement was issued last night by Dye amp; Durham, saying that it does not intend to make an offer for IDOX. The problem with these situations, I find, is that the news is issued by the potential bidder, hence often doesn't come up on the newsfeed for the target company.
The Stockopedia newsfeed for companies does however pick up third party summaries of news, which is really useful, and at 18:45 last night, a news item cropped up on IDOX, saying;
* DYE amp; DURHAM LTD – AFTER CAREFUL CONSIDERATION, IT DOES NOT INTEND TO MAKE AN OFFER FOR IDOX PLC
* DYE amp; DURHAM LTD – CONCLUDED THAT IT CANNOT SUPPORT ACQUISITION OF IDOX AT PRICE CONSISTENT WITH THOSE ORIGINALLY CONTEMPLATED
To my mind that sounds bad for the share price today. It sounds like the bidder has gone through the books, and decided it's too expensive. There was clearly a bid premium baked into the share price, as you can see from the chart below. The vertical move in Feb 2021 was triggered by bid interest being announced.
.
IDOX Statement – this morning, re Dye amp; Durham's withdrawal.
This also makes it sound like they couldn't agree on price -
On 19 February 2021, Idox plc ("Idox" or the "Company") confirmed that it had received a non-binding indicative proposal from Dye amp; Durham Limited ("Dye amp; Durham") regarding a possible offer for Idox.
Idox notes the Rule 2.8 announcement now published by Dye amp; Durham stating that it does not intend to make an offer for Idox.
The Board has engaged constructively with Dye amp; Durham, maintaining a very clear view of the potential value of the business to its current owners. These discussions have come to an end. Idox remains confident in its future as an independent company and its potential to create further shareholder value.
Current trading - this is a mini trading update, and sounds positive -
We have now completed the intended reshaping of our Group with the recent disposals of all remaining parts of our Idox Content division, and will look to scale our Group further through carefully selected bolt-on acquisitions. These disposals, together with positive momentum from current trading, have significantly strengthened the group's balance sheet, which in turn offers greater strategic optionality for shareholder value creation."
My opinion - if a bidder doesn't think it's worth the current share price, or at least isn't prepared to pay a price that management find acceptable, then the share price is likely to fall.
The frustrating thing is that shareholders are in the dark about what price was offered, if there was an offer at all. It really should be a requirement for more details to be disclosed, especially where management have small shareholdings. How do we know they're making decisions that are in the shareholders best interests, or protecting their own jobs, and remuneration, if the bid price discussions aren't disclosed? Sure there is a confidentiality consideration, but does it really matter now, given that the deal has fallen through?
Maybe there were confidential discussions with the biggest institutional shareholders, again we don't know, but that's highly likely.
On fundamentals, I had a quick look at IDOX's FY 10/2020 results here on 2 Feb 2021. I wasn't impressed. The main problem is erratic historic performance, and a very weak balance sheet. Also the valuation looks far too high on a PER basis. No wonder a bidder walked away.
Shares look far too expensive, for a not very good business, in my opinion. So I expect the market to throw a cold bucket of water over shareholders today.
It's very difficult with bid situations. Do we hold in the expectation of a bid coming through at a premium? The best scenario is where several bidders fight to gain control of a company. Or, if the price soars, as in this case, is it better to sell in the market in case the bid falls through? Or sell half to hedge your bets? That's a great advantage private shareholders have over institutions. We can sell any time we like in the market, they can't. Every situation is unique, so I don't think there is a one size fits all rule.
.
.
---
Ten Lifestyle
(LON:TENG)
93p (down c.7% at 09:09) – mkt cap £76m
Ten Lifestyle Group plc (AIM: TENG), a leading technology-enabled, global concierge platform for the world's wealthy and mass affluent, announces a trading update for the six months ended 28 February 2021 ahead of its half year results, which will be announced on Thursday 13 May 2021.
Checking my previous notes, this company's trading updates can be waffle, without key numbers I need, on profitability.
Today it says -
· Net Revenue1 in H1 of c. £17.4m; with demand subdued for core dining, travel and live entertainment services throughout the period.
· Adjusted EBITDA2 in H1 broadly in line with the Board's expectations.
· Net cash at the end of H1 of £8.2m (FY 2020: £10.0m).
I don't know what the Board's expectations are, so am in the dark here about profitability (or rather, losses).
Revenues were £23.8m in H1 LY (prior to covid), so it strikes me that achieving £17.4m this year in H1, isn't too bad, given that lockdowns must have greatly reduced demand for a concierge service.
Outlook – not great -
The Group's future performance is closely linked with the nature of the global COVID-19 recovery, by region. Whilst demand is beginning to return in some countries, the continuing effects of COVID-19 globally, combined with the recent strengthening of Sterling, is expected to delay the recovery of Net Revenue and Adjusted EBITDA in the second half of the financial year.
· The Group continues to agree contract renewals with existing corporate clients and develop a strong pipeline of new business.
My opinion - I've looked back at previous results, and it just doesn't look like a good business. It seems to be permanently loss-making. The investment case seems to hinge on it winning more contracts, and thus generating more income once it scales up, and thereby reaching profitability. Jam tomorrow, in other words.
Personally I prefer to mainly invest in businesses that are already profitable, and can scale up further. This doesn't appeal to me at all.
.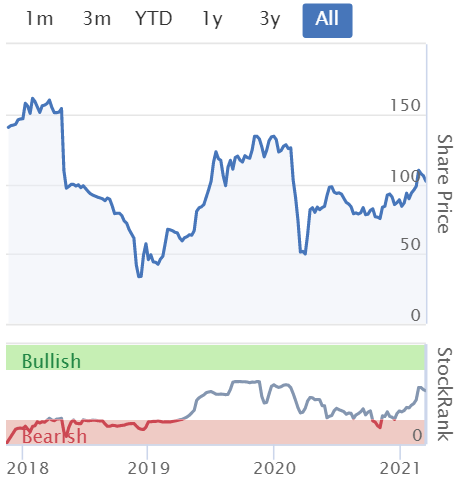 ---
ZANE Update
As it's a quiet day for news, here's a quick update on my favourite charity, ZANE, which delivers humanitarian aid to destitute pensioners (including many that fought for the UK in long-forgotten wars) in Zimbabwe. ZANE was founded by Tom Benyon, who reads these reports sometimes, hence how we met. He invited me to do my own "due diligence" on ZANE, on the ground in Zimbabwe, which I did in an unforgettable trip to Harare and Bulawayo, in early 2019.
I think about the many people I met in Zimbabwe, and the dire circumstances they are living in, with no healthcare, desperate shortages of basic food amp; medicine, and a whole economic structure that has more-or-less collapsed. There's not even reliable running water, and electricity only comes on for a few hours each day. The roads haven't been repaired in years, and even main roads are full of potholes. Smaller roads are often in such a poor state of repair that vehicles can travel barely above walking pace. That's if they can get hold of any fuel at all.
The currency has collapsed 4 times now, since majority rule began about 40 years ago. Anyone who thinks money-printing and Modern Monetary Theory are a brave new world of unlimited public spending and wonderful public services (Stephanie Kelton, for example) should visit Zimbabwe, to see for herself what hyper-inflation does, when too much money is printed. The trouble is, once a Govt is addicted to money-printing, it can't stop, even if it wants to. So the MMT suggestion that Govts should print money freely until inflation starts, then stop printing money once inflation kicks in, seems incredibly naive.
ZANE held its annual conference online this week, which I attended. The situation is truly awful, but there are a few glimmers of hope – e.g. inflation has reduced considerably, from 800% p.a. to 350% p.a.. Previously, Zimbabwe operated its economy using US dollars. These were confiscated without warning, and exchanged for new Zimbabwe dollars at 1:1. When I visited in 2019, the unofficial rate had already fallen to between 4-5 Zim dollars to $1, but people I spoke to said they don't trust the new currency. They were right. It has since (in 2 years) fallen to 80Z$ to $1US. and the unofficial rate is 120. That's, once again, wiped out everyone's savings. Pensions are now practically worthless, and people can't afford food or medicine.
The glimmers of hope are: the rainy season went well, hence the dams are full again (increasing the hydro-electric power generation), and the harvest will be good. Poor people plant maize anywhere they can, for the staple diet of mielie-meal – a tastless white goo, like semolina. They make it palatable with the most amazing tasting gravy I've ever had – with onions, bones, herbs amp; spices. Two thirds of the population are in food poverty, so a good harvest this year has staved off mass starvation thankfully. One quarter of all children have stunted growth. ZANE supports a club foot programme, which rectifies this widespread birth defect, for about $1,000 per baby, giving a full, normal life, to deformed babies that otherwise would have previously been crippled for life.
Over 1 million people are HIV positive, and many have previously died, leaving lots of orphans. Thankfully, with international help, HIV is now under control, with over 90% of people receiving treatment which renders it undetectable. The covid vaccine has been donated by China, but so far the roll-out has been so slow, it has made no difference. They tell me that covid is the least of their worries in Zimbabwe, other basic problems like avoiding starvation matter more.
It's all so vivid to me, because I met hundreds of ZANE's clients in Zimbabwe, all types of people, but every single one was polite, dignified, and so grateful to the UK donors who enable ZANE to support about 4,000 of them, with basic food amp; medicines, literally keeping many alive. I also met almost all of ZANE's workers amp; associates. They are truly remarkable people, giving hands-on help, care, and love, to destitute people who have no other support available.
This short audio recording below is really worth listening to, as it vividly gives an example of the work ZANE does, and the intense pressure that ZANE's team are under, you can hear it in Margaret's voice. Again, I can vouch for this, it's not PR spin, it's real – I recognise Margaret's voice, as I spent several days with her, visiting care homes amp; meeting the residents that ZANE assists with food amp; medicine that they would otherwise not get.
.
Anything you can do to help would make a real difference, and save someone's life. If you can afford £15 per month, that's enough to provide one of ZANE's pensioners with essential pills for diabetes, blood pressure, etc. If you can afford a bit more each month, then that would provide a food parcel for someone who would otherwise starve. All the charity's overheads are covered, so incremental donations go directly to these incredibly needy, and deserving cases.
Thank you to the significant number of Stockopedia readers who have already signed up to help ZANE with donations, and more importantly, regular payments. Here's the link if you would like to help. I know many readers are incredibly generous to charities you already support, and there are many great causes. This one is just my personal favourite, as I saw the need, and what ZANE does to help, in person, an experience I will never forget.
One final positive point. The care homes in Zimbabwe were in massive crisis, insolvent basically. Several care home managers explained to me how dire it was for them – not being able to pay, or feed their staff, let alone the residents. ZANE delivers free food to many care homes already. More recently, Tom Benyon (founder of ZANE, and a retired Tory MP!) lobbied the UK Govt to provide some assistance to the Zimbabwe care homes, and was successful. He's also successfully lobbied for the UK Govt to help support veterans who fought for the British Crown, but had been abandoned by us. So he's doing great things, on top of the work that ZANE does. Let's get back to shares now. I only mention ZANE occasionally, as I appreciate people come here to read my thoughts about shares, not charities.
.
---
Audioboom
(LON:BOOM)
440p – mkt cap £69m
Audioboom (AIM: BOOM), the leading global podcast company, is pleased to announce its final audited results for the year ended 31 December 2020.
Yet another share that has risen a lot lately. As we've established, that doesn't mean a thing about long-term performance, because we're seeing indiscriminate buying of practically everything. I do feel we need to be very careful at the moment, banking some profits seems very sensible to me, especially where valuations are getting stretched. Sentiment can turn quickly, and it seems to already be doing so for some popular shares.
Back to BOOM. Note it reports in US dollars.
Revenue up 20% to $26.8m
Gross profit is modest, at $6.2m – that's only a 23% margin, so not much operational gearing
Still loss-making, with a loss before tax of £(3.3)m, although that's improved from 2019's loss of £(7.5)m. Still not really a viable business is it? After many years trying.
Share based payments of £715k in 2020, and £1,429k in 2019, really grate with me. As mentioned yesterday, I don't believe loss-making companies should be lobbing out freebies to management. Reward them from profits in future.
Balance sheet - has it got enough cash to survive is always the key question with loss-making companies? There's $3.26m in cash, and a healthy surplus of current assets over current liabilities, the current ratio being 1.99.
However, I am concerned about the large $8.03m in receivables. That looks too high relative to revenues of $26.8m, which calls into question whether those receivables are going to turn into cash, or might include disputed amounts? That's an amber flag.
Cashflow statement - not great, this continues to be a cash burning business. It's being propped up with equity fundraisings, $5.5m in 2019, and $4.6m in 2020. Can it ever get to a point where it's self-funding?
Going concern statement - says they can reduce costs if needs be, and have access to borrowings from SPV Investments Ltd. Proven resilient in 2020 pandemic. Says it will not need additional funding for the foreseeable future – hmmm, I'm not so sure about that, time will tell.
Outlook – there is one bit that has caught my eye, and sounds impressive -
I am pleased to provide an update on our recent progress, highlighting an impressive start to the year, with the Company already signing advertising bookings representing more than 80% of the current market expectations as to revenue for the full year.
My opinion – I'm not interested in reading all the commentary, because AudioBoom has published super-bullish commentary for years now, and it never gets anywhere near breakeven, let alone profits. I'll believe the upside case when I see it in the numbers.
That said, the outlook excerpt I've copy/pasted above does sound good. Already having 80% of FY 12/2021 revenues as signed bookings, suggests there's a good chance it could beat market expectations on revenues, I don't know about profitability though.
Overall, it still looks speculative, but isn't a complete basket case. If it does break through into profitability, then there could be further upside perhaps?
.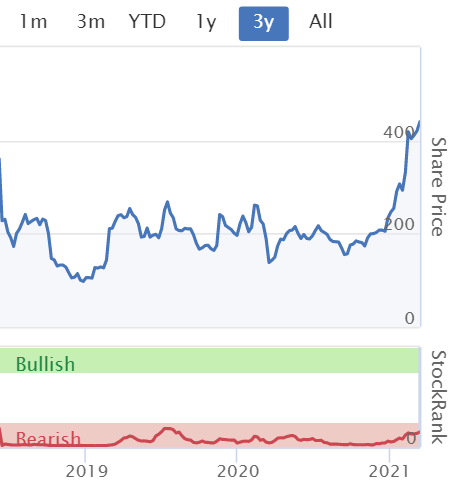 .
---
Jack's section CML Microsystems (LON:CML)
Share price: 339p (+4.3%)
Shares in issue: 16,562,652
Market cap: £56.1m
Cml Microsystems (LON:CML) develops mixed-signal, RF and Microwave semiconductors for global communications markets. It enables customers to transmit and receive data more quickly and reliably – potentially a good spot to be in, by the sounds of it.
That said, progress appears to have been frustrating over recent years, with minimal top line growth.
The group was founded in 1968 and has grown steadily with an increasing focus on industrial applications within its end markets. Today, it is divided into three divisions:
CML Microcircuits – engaged in the design, manufacture and marketing of integrated circuits for the semiconductor communications industry. Headquartered in Essex, England and with sales, marketing, and technical support in California and Singapore.
Sicomm Technologies – focusing on the development of RF Power Amplifier (PA), RF transceiver and baseband System on Chip (SoC) solutions for narrowband wireless communications. Products are used in mid-tier and professional radios alike, providing a reduction in cost and power consumption over competing solutions.
PRFI – UK-based third party design house for a number of leading compound semiconductor foundries including Wolfspeed (Cree), GCS, Qorvo and WIN Semiconductors. Designs are used in a wide range of applications from test instrumentation to infrastructure equipment and mmWave 5G systems.
Chris Gurry is the group managing director and we can see the Gurry name come up in Major Shareholders a couple of times.
Skin in the game is always good but what immediately jumps out from the StockReport is valuation – CML looks expensive with a forecast PE ratio of 49x. Earnings per share have also been coming down over the past few years.
That's a negative trend, but If the group can reverse it then the shares could grow into today's valuation.
CML generates a lot of cash but also spends a lot of cash, so free cash flow is volatile and was negative in 2019 and 2020.
It depends what the capital expenditure is. On the one hand, this could be a capital intensive business that will struggle to consistently generate high returns. On the other, it might be a company with a long-term culture that invests heavily in future growth. Obviously you would hope it's the latter in this case.
The profitability metrics are mixed and volatile, and the trend has been worsening over the past couple of years.
But there's no evidence of shareholder dilution and the company maintains a net cash position. So there's always the chance CML will settle on the right strategy and transform its results.
Trading update for the period 1 October 2020 to 18 March 2021
Not many figures here the tone is positive.
CML has been impacted by Covid (already discussed in the half-year results) but now the board is pleased to confirm that the order intake improvement seen during the final weeks of the first half period continued through the second half.
On a constant currency basis, revenues slightly improved over the first half (H1 FY21: £6.17m), with new order intake markedly better.
Market intelligence suggests that conditions for voice applications should improve through the first half of the new financial year so there's cause for cautious optimism.
CML observes a lengthening of lead times from raw material suppliers and third-party manufacturing service companies across the semiconductor industry but is benefitting from its prior decision to maintain higher levels of raw material inventory.
This bit sounds promising, but it's early days:
Our recent strategy has been to significantly enhance the product portfolio including entry into microwave and millimetre-wave market applications. This has been achieved through a combination of resource blend and new customer engagements. Progress has been swift with the first products emanating from this improved capability on track to be launched in the early part of H1 FY22. Early sampling of selected lead customers has generated positive feedback.
One other point in the update: the disposal of the group's storage business and proposed capital return.
CML announced on 5 February 2021 that it had successfully completed the sale of Hyperstone, its storage division, for $49m. Net cash inflow from the sale, after transaction expenses, was just over £33m.
This enables a proposed capital return of approximately £8.3m to shareholders.
Subsequent to the return of capital, CML will start the new financial year on 1 April 2021 with a very strong balance sheet, including net cash in excess of £30m, and a singular focus on the industrial global communications market, which represents a large and high growth market opportunity for the Company.
CML's significant cash balance now stands it in good stead and we can expect more detailed results for the period to 31 March 2021 on Tuesday 15 June.
Conclusion
Now could be a good time to look at the semiconductor industry and CML presents a couple of intriguing angles worth investigating.
It is investing in its products and has just disposed of a non-core division, allowing it to focus more completely on its core global communications market – a 'large and high growth market opportunity'. Plus, after the disposal, CML has a £30m net cash position with a market cap of around £60m.
It's not all been plain sailing here, so it's worth going over the management commentary in recent annual reports and trading updates in order to get up to speed with events. Why the volatility? What's changed, what is the catalyst, and what's the scale of the opportunity?
The PE ratio looks expensive but, the market cap and net cash positions help, and you can put today's relative valuation to one side if CML stands to become a materially larger company in time. One question is why that hasn't already happened given the relatively rangebound 10Y revenue chart.
It's worth doing some further work on, in my view. The company is clearly in transition so that's both an opportunity and a risk depending on how management executes with its expanded net cash position.
Source:
https://www.stockopedia.com/content/small-cap-value-report-fri-19-march-2021-idox-teng-boom-cml-zane-charity-update-782934/
Before It's News®
is a community of individuals who report on what's going on around them, from all around the world.
Anyone can
join
.
Anyone can contribute.
Anyone can become informed about their world.
"United We Stand" Click Here To Create Your Personal Citizen Journalist Account Today, Be Sure To Invite Your Friends.