Small Cap Value Report (Fri 26 March 2021) - VLG, RNWH, IQE, DPEU, AFS, SPSY
Friday, March 26, 2021 9:09
% of readers think this story is Fact. Add your two cents.

Good morning, it's Paul amp; Jack here with the SCVR for Friday.
Agenda -
Paul -
Venture Life (LON:VLG) – impressive 2020 results, and stuffed with cash for more acquisitions. Potentially interesting. Investor presentation next week should be interesting.
Renew Holdings (LON:RNWH) – A very good acquisition is announced, I have a rummage through the acquisition's accounts at Companies House, and like what I see. Also we get a reassuring, in line, trading update for the group as a whole.
Iqe (LON:IQE) – FY 2020 results published yesterday. I dig into the cash generation – looks like a one-off, with very low capex in 2020, but capex is guided to shoot up again in 2021. I'm not convinced the business model is any good.
Jack -
Dp Eurasia Nv (LON:DPEU) – still in business and with growth picking up, but events beyond management control are a concern
Amiad Water Systems (LON:AFS) – encouraging set of FY results and optimistic outlook, but high spread, small free float and lack of historical growth.
Spectra Systems (LON:SPSY) – solid growth from and exciting longer term prospects from this innovative small cap.
.
---
Venture Life
(LON:VLG)
85p (up 4% yesterday) – mkt cap £107.0m
Venture Life (AIM: VLG), a leader in developing, manufacturing and commercialising products for the international self-care market, announces its audited results for the year ended 31 December 2020.
Record revenues and profit, amidst unprecedented global circumstances
This is quite a striking statement -
Since entering the public markets in 2014, the Group has achieved a compound annual revenue growth rate of 27% (up to and including 2020), which has come from a combination of organic and acquired growth. In 2016, 2018 and 2020, the Group acquired interesting assets that it could leverage with its operational base, and each of these assets has shown meaningful growth in revenues and profitability since acquisition. This strategy will continue to form the basis of future growth, making selective earnings enhancing acquisitions to utilise capacity and improve margins, alongside organic growth from our consolidated business.
Whilst that sounds impressive, I note that the share count seems to have gone up from 26m to 125.8m over that period, almost a five-fold increase.
Management seem to have been large sellers of shares in Dec 2020, at 90p, withdrawing about £7m. This reduced the 3 key Directors from 15.3% combined, to 5.1% combined, not something I view favourably. If the future is so exciting, why have they sold down their stakes so much? That doesn't make sense to me.
As mentioned here before, the last fundraising in Dec 2020 was unusually large, issuing 41.8m new shares at 90p (raising £37.6m before costs, £34.1m net of costs, which looks like a bonanza for the advisers!) which increased the share count by 50%, pencilled in for future acquisitions. None have been made so far. Normally, placings are done for a specific acquisition, or to repair a stretched balance sheet. It's unusual to see such large dilution, and nothing done with the funds 3 months later. Maybe deals are in the pipeline? Ah yes, I see the broker notes say 3 deals are in the pipeline, with 1 imminent. With such a large pot of cash ready for acquisitions, that could boost future profitability considerably, if the money is spent wisely. The danger is that they spend the money on something duff, which is a risk – lots of acquisitions destroy shareholder value, after all look how often we see big write-offs of goodwill.
Hence the key point with this share, is how wisely that cash pile is spent.
Reviewing the figures, the Pamp;L is impressive -
Revenues up 49% to £30.1m
Gross margins have improved, because gross profit is up more than revenues, at +61%
Profit before tax is up 141% to £3.28m, but that's stated after costs of £405k (impairment of financial assets) and £909k intangibles amortisation, which some people might adjust out, which would boost adj PBT to £4.6m. Adjusted PBT and EPS figures are not provided, which is quite unusual these days.
Reported EPS is 2.74p, but the broker notes use their own calculations, making adjustments, e.g. Cenkos adjusts this up to 4.5p, as does N+1, so I'll work on the broker adjusted figures. It would be more helpful if the company could in future be consistent with the brokers, and also publish adjusted EPS figures.
Broker notes to the rescue, many thanks to Cenkos and N+1 Singer for putting updates on Research Tree yesterday.
Balance sheet – stuffed full of cash, ready for acquisitions to be made.
Cashflow – looks decent, although note that a lot of the cash generated was absorbed into increased working capital.
Investor presentation - excellent, this is imminent, 13:00 on 29 March 2021. I shall sign up for this, as getting a feel for what management are like, and their prior experience, seems particularly important with this share.
My opinion - open-minded at this stage. 2020 results were very good, and it sounds like we're about to get news on more acquisitions.
At this stage, management selling two thirds of their own shares at 90p recently, rules it out for me. I look for the opposite.
The big Chinese contract has apparently re-started in 2021, but no figures given for recent deliveries. Note 2.4 shows that total sales to China were £2.3m, not particularly significant.
Let's see what the investor presentation is like next week, and take it from there.
.
---
Renew Holdings
(LON:RNWH)
573p (up 7% at 08:15) – mkt cap £448m
Acquisition amp; Trading Update
Renew (AIM: RNWH), the leading Engineering Services Group supporting UK infrastructure…
Immediately earnings enhancing acquisition strengthens Renew's exposure to UK water market
With interest rates so low, anything profitable should be immediately earnings enhancing! Still, it's good to have that flagged as the headline.
RNWH is buying J Browne Group for £29.5m cash (all on completion, no deferred payments or earn-outs).
In the year ended 31 March 2020, J Browne reported profit before tax of £5.5m on turnover of £79.2m (including share of joint ventures). In its current financial year to 31 March 2021, the business has seen a reduction in activity due to the transition from AMP6 to AMP7 and is expected to report turnover of £63.3m, but this has now increased back to historic run-rate levels as activity has normalised in AMP7.
I've had a rummage through the accounts filed at Companies House for J Browne (co. no. 06599855), and it looks excellent. A decent, profitable, cash generative business, making good margins. Looks an excellent fit for RNWH, and it looks a favourable purchase price too. A thumbs up from me, this looks a good acquisition, as far as I can tell.
I particularly like the comments from RNWH's CEO, Paul Scott (!), because this shows that RNWH knows what it's buying, hence the acquisition risk sounds low, which is very important -
We have known Jeremy and his team for many years and have tracked how they have successfully grown a business with an excellent reputation for directly delivering reliable engineering services to a number of water companies…
Net debt – we're reassured that this acquisition won't stretch RNWH's bank borrowings -
Post-acquisition, Renew will continue to have net debt/EBITDA of significantly less than 1x.
Trading Update (FY 09/2021) – this all sounds reassuring too -
Trading in line with management expectations, and ahead of last year.
Lockdown – the latest one has not had any material impact on trading.
Demand – continuity across all markets.
Full year – confident of delivering consensus expectations (no footnote to say what the figure is, unfortunately)
Net debt amp; cash generation also in line with expectations.
Order book – underpinned by long-term framework deals, and new contract awards – again, in line with expectations.
Diary date - 18 May 2021, for publication of H1 Figures to 31 March 2021.
My opinion - the weak balance sheet at RNWH has always put me off, as that creates too much risk for my appetite, in a notoriously risky sector where many companies with weak balance sheets have failed.
That's a pity, because RNWH has built a good track record, of growing revenues, margins, and EPS, as you can see –
.
The latest acquisition looks a cracking deal, which should drive further growth, at good margins. Hence expect to see broker forecasts raised considerably, to include the future earnings of J Browne.
The PER is quite low, which is normal for this sector. Note below also the high quality scores.
I've highlighted below the Price to Tang. Book line, which shows "n/a" – that is the quickest way to check if a balance sheet is strong or not. If it says n/a, then the balance sheet is weak, having negative net tangible asset value.
It's also worth checking the Z-score, which is actually not too bad here -
.
.
Just because a company does well, and the share price goes up, doesn't mean that the risks weren't there. They were just navigated successfully, and could still become a problem in future.
Overall, I wouldn't invest in this sector at all, but if you are going to, then RNWH looks a decent business. If it finds more acquisitions as good as J Browne, then I could see this share price continuing its long term up-trend.
A fantastic long-term chart below, and the StockRank is high too. Lots to like here!
.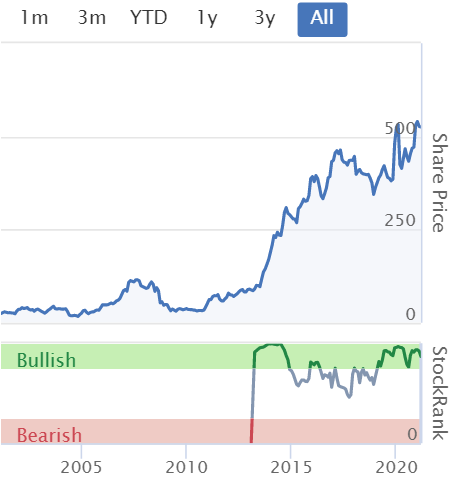 .
---
Iqe
(LON:IQE)
58.8p (down 4.6% at 09:55) – mkt cap £471m
IQE plc (AIM: IQE), the leading supplier of advanced wafer products and material solutions to the semiconductor industry, announces its full year results for the year ended 31 December 2020.
Record revenue of £178m underpinned by the start of the 5G mega-cycle
The market doesn't seem to like these numbers/outlook, which were published yesterday morning. The share price has dropped from 73p to 59p in the last 2 days, a drop of c.20%. I do think it's worth pointing out that we've been spoiled rotten, with a 6-month period of indiscriminate share price rises. Hence companies really do need to deliver strong results/outlook, to justify these big rises.
If not, then price corrections can be quick amp; brutal. As a general point, if there's no obvious reason why a share has risen a lot, then maybe it's time to bank some profits, if something isn't a core long-term holding?
Revenue of £178.0m is up 27.1%, a good start.
Below that, we're given a bewildering array of alternative profit amp; cashflow numbers.
If in doubt, I usually go to the cashflow statement, which gives a more sensible picture of reality than the Pamp;L. Here it is -
.
My notes -
Cash generated from operations is genuinely higher, at £35.5m, compared with £8.9m a year earlier. This has to be read in conjunction with note 6 in the accounts, which is a long list of non-cash adjustments to get from the loss before tax, to a large positive cashflow. It's complicated, but the simple version is that there are lots of depreciation, amortisation amp; impairment charges in the Pamp;L, which are non-cash.
Capex – i.e. purchases of property plant amp; equipment have dramatically reduced from £31.86m in 2019, to only £4.99m in 2020.
Capitalised development spend has also reduced, from £8.4m in 2019, to £4.7m in 2020.
IFRS 16 entry, for an element of lease payments (property rents, etc) which is put down in finance costs, thus inflating the subtotals above. IFRS 16 is such a nightmare, it's a terrible accounting standard that has managed to mess up all the key financial statements! It needs to be repealed asap in my view. But in the meantime, remember that cashflow figures are often now over-stated because part of the rents are low down, in finance costs.
Overall, what the above means is that IQE consumed cash amp; increased its net debt in 2019, but generated cash in 2020, and reduced net debt. So that's good.
Balance sheet –
NAV: £260.4m, less £105.8m intangibles = NTAV £154.6m – i.e. fairly healthy.
This is a capital-intensive business, with £126.2m in property, plant amp; equipment (note the heavy capex in 2019 and earlier). So the hope is now that it has modern equipment to make the products efficiently. Although how long I wonder will it be, before improved machinery is needed and has to replace the existing machines? Technology seems to move fast in this sector, giving a competitive advantage to whoever has the most modern equipment, that's what worries me about this share – it might need almost continuous heavy capex to remain competitive?
Working capital looks OK, with a current ratio of 1.94.
Lease asset/liabilities look quite hefty, suggesting it operates from sizeable premises, with a lease length of c.10 years from the looks of it (current lease liability of £4.8m should approximate to annual rent), then another £42m lease liabilities in long term creditors. A long lease is only a problem if a company wants to get out of the property, and nobody else wants it. Having secure, long-term premises, is probably an advantage for IQE, hence why it's so daft to have future years' rental obligations on the balance sheet. £4.8m p.a. rent is only 2.7% of revenues, which is quite modest, so doesn't look a problem.
Outlook - my summary of key points –
Trading has continued positively in 2021.
Opportunities for new 5G-related products are positive.
Forex headwind, as revenues earned in US$, but reported in sterling.
H1 revenues amp; adj EBITDA in H1 2021 expected to be similar to last year.
Capex – is going back up again, a lot. £20-30m in 2021.
My opinion – I'm not keen on the business model here. It's too capex hungry, and sounds like that's probably an ongoing thing, for exciting new products – which is what generates a wave of investor euphoria every few years.
So where's the shareholder return going to come from? I see from the StockReport that it doesn't pay any divis.
Overall, I can see why the share price has fallen back a lot in recent years. It's difficult to see any worthwhile investment case here. I'm not sure it has any sustainable competitive advantage, but I have no knowledge of the sector, I just look at the numbers. One year of positive cashflow isn't enough to convince me. So personally, I'm not interested in getting involved here again.
IQE shares were a lucky trade in 2017, when the market got excited about wonderful new products, and positive trading updates. Lots of private investors (including me!) got terribly excited about it, the share multibagged in 2017, but it turned out to be largely hot air, as you can see from the long-term share price below. That's why I'll need a lot of convincing that anything has changed, to want to get involved again. There again, there are lots of new people in the market now, who won't know the history of this share, and who may lap up the story of 5G mega-cycle, etc? So it could be a cynical trade on that, at some point, who knows?!
.
.
---
Jack's section
DP Eurasia (LON:DPEU)
Share price: 62.6p
Shares in issue: 145,372,414
Market cap: £91m
Dp Eurasia Nv (LON:DPEU) is the exclusive master franchisee of the Domino's Pizza brand in Turkey, Russia, Azerbaijan and Georgia. It's the largest pizza delivery company in Turkey and the third largest in Russia by store count.
It was founded in 1996 by current CEO Aslan Saranga, as the master franchisee of the Domino's Pizza system in Turkey. It expanded rapidly, in 2012 it was awarded the exclusive master franchise for Russia. Then, in 2015, it opened its first franchised stores in Azerbaijan and Georgia.
But with the unstoppable rise of delivery aggregators such as Deliveroo (which is soon to list on the London stock market), is this pizza delivery business model what it was in the noughties?
There's also country risk here, with economic events in Turkey drowning out operational progress. The share price chart since IPO tells a story:
These Domino's Pizza franchises can build high-quality, long-term revenue and cash flows when they get it right and, with 771 stores, DPEU is already quite big versus its market cap of £91.6m. So if it can push on and recover then its shares might be a good investment.
But currency dynamics are important here, too.
My concern is that the share price is being driven by factors outside of management's control. This probably puts it in the 'too difficult' and/or 'too risky' pile for some. On balance, I would include myself in that camp.
Preliminary Results (released Tuesday 23 March 2021)
Highlights:
Group system sales +14.6% to TRY1,569.9m; Turkey +26.4% to TRY 1,069.1m, Russia -6.3% to TRY 471.6m, Azerbaijan amp; Georgia +37.9% to TRY29.2m
Group revenue +4% to TRY1,019.2m,
Group adjusted EBITDA -30.7% to TRY131.5m,
Group net loss increased from TRY5.6m to TRY107.6m.
It's clearly been a tough year for DPEU with unprecedented trading conditions. Net losses have increased but the group was able to increase system sales by 14.6% on the back of strong Turkish performance.
Some 27 stores were closed in Turkey and Russia but the total estate grew by six sites, reaching 771 stores across the four countries of operation.
Online sales grew 40.3% and system sales like-for-like growth in the first two months of the new financial year have been encouraging, up 37.8% (Turkey +49% and Russia +6.4%).
DPEU is also reinstating guidance for FY21: net store openings of between 30-40 in Turkey and 15-20 in Russia; like-for-like targets of 21-25% in Turkey and 12-15% in Russia; capex of TRY45m in Turkey and RUB160m in Russia.
One interesting point is that private equity group FIDES has sold its c32% stake in the company to Jubilant FoodWorks (market cap of £3.79bn). Jubilant FoodWorks is India's largest food service company and it also has the Domino's Pizza franchise in India, which operates 1,314 restaurants in 285 cities.
So that could be a vote of confidence in DPEU's operations from another master franchise operator.
Conclusion
It is possible that there's quite a strong underlying Domino's Pizza master franchise operator here, but there are also a lot of moving parts in the accounts and a lot of risks to factor into the analysis.
It does trade at a notable discount to other Domino's Pizza operators around the world, according to some metrics:
And it looks like there are early signs of improving momentum. Target like-for-likes of 21-25% for Turkey and 12-15% for Russia are quite bullish. Meanwhile, the Jubilee shareholding is intriguing.
This stock might be worth revisiting in the future to get to grips with it a little better. I think there's potential in the business and the valuation, but for now I'm nowhere near buying due to the substantial risks involved.
The concern I have is that the main determinants of DPEU's share price performance at present might be more currency and economy-related, rather than anything operational that is within the control of what looks to be a relatively competent management team. That rules it out for me.
Amiad Water Systems (LON:AFS)
Share price: 300p (+5.26%)
Shares in issue: 30,398,357
Market cap: £91.2m
Amiad Water Systems (LON:AFS) specialises in developing and marketing environmentally friendly water filtration solutions to protect water applications in the irrigation and industrial markets.
The group is headquartered in Israel and operates through ten subsidiaries, with a network of distributors to customers in more than 80 countries. FIMI Opportunity Funds (Israeli private equity fund), is a controlling shareholder with an interest in 39.5%.
It's got four technologies:
All of these products are designed to deliver clean water.
Amiad's filtration solutions for the Irrigation segment prevent organic and inorganic materials from clogging the emitters of irrigation systems. Revenue from the Irrigation segment was $56.4m in 2020 (2019: $59.3m), accounting for 53.9% of revenue (2019: 51.3%).
In the Industry segment, Amiad operates in the metal, plastic, energy and chemical industries as well as providing solutions for municipal purposes, where its products are used for purposes such as protecting the nozzles or membranes of the filtration system and removal of invasive species. Revenue from the Industry segment was $48.2m for 2020 (2019: $56.2m), accounting for 46.1% of revenue (2019: 48.7%).
The practical applications and demand of such products are obvious but when you look at Amiad specifically, it has struggled to generate revenue growth over time.
And net income has been patchy.
So while the products and market sound interesting, I have questions around the investment merits here. It looks like the company needs some kind of definitive catalyst to bring about a step change in revenue and profitability.
On that note, Ramp;D spend has been increased over the years and the group shows signs of good cash generation. But returns on capital and operating margins are low, and trading has so far been volatile.
I don't mind volatility if you can see an underlying uptrend, but that doesn't seem to be the case here based on the ten-year period to FY19.
FY20 Highlights:
Revenue -9.5% to $104.6m,
Gross margin +1% to 39.9%,
Operating profit +74.2% to $5.4m,
Profit before tax +412.5% to $4.1m,
Fully diluted earnings per share of 9.3c compared to a FY19 loss per share of 8.2c,
Cash generated from operations +76% to $22.7m,
Net cash of $23.5m compared to $12.5m of net debt the prior year,
That puts the group on about 42x FY20 earnings per share. Amiad has struggled to generate more than this in the past, so it looks like a lot of growth is priced in here. It's trading at a little over 1x sales, though, so if the group can continue to drive margin growth then the earnings could rise quite quickly.
And the results do look much better than I was anticipating, with margin expansion and dramatically improved cash generation.
What's driving this? The group says it is introducing further manufacturing automation and other process enhancements. It has also managed costs in response to Covid.
It looks like this is one of those instances where the events of the past year have possibly spurred some longer term operational efficiency gains. That looks the case to me, judging by the materially enhanced cash generation.
Meanwhile Amiad has secured a new five-year global distribution agreement with irrigation solutions provider Netafim for Amiad's disc filtration products for the irrigation market, and a new disc filtration system has been launched post-period.
Group CEO Dori Ivzori comments:
Looking ahead, we entered 2021 with a significantly higher backlog than at the same point of the prior year and there has been a strong increase in sales activity, reflecting improved conditions in all of our markets… We expect to report revenue growth in both the Irrigation and Industry segments for the full year compared with 2020 and to continue to drive improvements in the efficiency of our operations, subject to no further unexpected disruption arising from the pandemic.

Additionally, with our strong financial position, the Board intends to explore acquisition opportunities to accelerate our growth.
Conclusion
Since the end of 2019, Amiad has focused on improving its operations, with a particular focus on efficiency. Covid may have accelerated this, as well as prompting some cost mitigation measures.
In addition, the financial position of the Company was strengthened through raising gross proceeds of $21.8m via an open offer and a subscription by existing shareholder FIMI Opportunity Funds. The outlook also sounds quite promising.
Operationally, this sounds good but I'm drawn back to the track record of limited consistent growth. The spread is brutal at 1,053bps and the free float is tiny at 23.78%. I'm undecided here, it's probably worth a closer look given today's results but there are a couple of risks to take into account as well, and the lack of longer term growth keeps me on the sidelines for now.
Spectra Systems (LON:SPSY)
Share price: 171p
Shares in issue: 45,429,766
Market cap: £77.7m
Spectra Systems (LON:SPSY) was pitched to the Investment Club a few months ago – here's the write up.
It's a fascinating company, with loads going on under the stewardship of founder, president, CEO, and 5% shareholder Nabil Lawandy. The group's a world leader in providing security technology materials for use in banknotes, product authentication, and gaming.
The group has grown to occupy a strong position in the currency and document authentication markets, where it has established a track record of Ramp;D and product innovation and attracted both government and corporate clients. These factors are now allowing Spectra to generate some attractive returns on capital.
Banknotes are the group's bread and butter, but Spectra's solutions are also used in other products such as energy drinks, shampoo, wine, spirits, coffee and tobacco. Meanwhile, its security software is used by international lotteries and the group is an associate member and active participant in the North American and Provincial Lottery Association (NASPL) and the World Lottery Association (WLA).
Finally, Spectra has recently started investing in early stage companies where it feels it can gain an edge with its technology capabilities. Its first investment, recently announced, is Solaris BioSciences.
Audited results for the year to 31 December 2020
Highlights:
Revenue +11% to $14.675m,
Adjusted EBITDA +16% to $6.357m,
Net income +18% to $5.124m,
Adjusted earnings per share +14% to 11.9c,
Cash from operations -3.7% to $5.124m,
Net cash position steady at $14.038m (with $1.099m of restricted cash and investments); no debt,
Annual dividend of 9.5c per share,
645,000 shares bought back in the period.
Compared to the disruption witnessed by other companies over the past year, the fact that Spectra can sail through and maintain its double digit growth rates is impressive. Growth has been consistent over the past few years as well.
Spectra's exposed to some big markets and has plenty of runway for growth assuming it can continue to successfully commercialise its products and technology.
As ever with this company, there's a lot going on. Notable developments in the period include:
Execution of a contract for Phase 1 development work for sensor technology development for a central bank,
Completion of three quality control systems for a central bank print works,
Execution of a new contract with a central bank to enhance existing authentication sensors,
Strong sales of optical materials for K-cups (coffee cartridges),
Launch of a new phosphor which outperforms existing leading materials and undercuts them on price,
Successful production of fully printed, machine-readable polymer banknotes with covert taggants,
Ongoing Covid-19 studies on Aeris banknote cleaning decontamination efficacy at a major University with Bio-Safety Level IV facilities,
Completed development of a Covid-19 decontamination system to disinfect 5,000,000 notes in one to two hours,
Six lottery contract renewals for the Secure Transactions Group, and
Expansion of the patent estate with the granting of 11 new patents for authentication technology.
Conclusion
This looks like an excellent performance given the global disruption witnessed in 2020 and suggests Spectra's business is quite resilient – although the group does add that revenue and profit growth was driven by larger demand from one central bank customer.
There's a possible risk here in that a material amount of business can come from relatively few clients.
But Spectra has long and collaborative relationships with central banks and banknote suppliers, and sees plenty of scope to introduce more advanced, value-added products into these markets. It's got great visibility into its customers' needs.
Banknote revenue streams are stable and help fund the group's Ramp;D and product pipeline, enabling the company 'to continuously innovate with products that could lead to more explosive growth in the coming years.'
It can be challenge visualising the scale and nature of the opportunity here due to the multiple markets and avenues of research, but putting the growth potential to one side for a moment and focusing on the present there are reassuring signs that management is looking out for shareholders with share buybacks, dividend payments, and steady, profitable growth.
The company says it has excellent prospects for maintaining strong earnings in 2021 and beyond and is extending the share buy-back authorization of up to 4,500,000 common shares through the end of March 2022. A total of 846,000 common shares have already been purchased and retired under this authority.
Nothing's ever a given in investing, but there has been a lot of talk about finding stocks with compounding potential recently and I think Spectra is a worthy candidate in that discussion. It's got proprietary tech, strong cash generation, consistently high Ramp;D levels, and it operates in large markets.
Given the above and the high returns on capital it is now racking up, there's plenty to like about Spectra Systems at the current share price in my view.
Source:
https://www.stockopedia.com/content/small-cap-value-report-fri-26-march-2021-vlg-rnwh-iqe-dpeu-afs-spsy-786954/
Before It's News®
is a community of individuals who report on what's going on around them, from all around the world.
Anyone can
join
.
Anyone can contribute.
Anyone can become informed about their world.
"United We Stand" Click Here To Create Your Personal Citizen Journalist Account Today, Be Sure To Invite Your Friends.