Small Cap Value Report (Mon 1 Mar 2021) - VTU, QTX, SDY, RCH, AUG
Monday, March 22, 2021 16:49
% of readers think this story is Fact. Add your two cents.

Good morning, it's Paul amp; Jack here with the SCVR for Monday.
Today's report is now finished.
Agenda -
Vertu Motors (LON:VTU) – 11 month trading update. In line with expectations.
Quartix Holdings (LON:QTX) – 2020 results. Nice company, but looking very expensive now.
Augean (LON:AUG) – FY 12/2020 results in line with expectations. HMRC dispute ongoing. Low PER.
Speedy Hire (LON:SDY) – ahead of expectations full year update from equipment rental and services company. (Jack)
Reach (LON:RCH) – print revenue down, digital revenue up, costs down, but lots of adjustments and moving parts to consider in this print-to-digital turnaround. (Jack)
.
---
Paul's Section
Vertu Motors
(LON:VTU)
(I hold)
39p (Friday's closing price) – mkt cap £145m
Vertu Motors, the UK automotive retailer with a network of 147 sales and aftersales outlets, announces the following update with regards to the five-month period to 31 January 2021 (the "Period") ahead of its preliminary results for the year ended 28 February 2021 to be announced on 12 May 2021.
Trading Update: Trading in line with Analysts' forecasts
"I am pleased to report that the Board expect the trading result for the year ended 28 February 2021, at an adjusted profit before tax level, will be in line with current Analysts' forecasts of around £23m.
I'm not sure why Vertu has put out such a detailed update for 11 months trading? Companies normally do a full update like this at the year end, for 12 months trading.
I won't labour on this update, as it's in line with expectations. That's encouraging to me, given the 5 month period includes 2 lockdowns.
Some noteworthy points -
Taxpayer support of £8.2m, which constitutes more than a third of the FY 02/2021 adj profit. It's important to remember that, as support is phased out, companies will have to win more business to make up the shortfall. So we cannot just assume this is the low point for profitability. That's a general point, not company specific.
Sterling has strengthened a lot recently. This is mentioned by Vertu as a positive, as it will make cars more affordable to UK buyers. This is also a helpful tailwind for other companies which import goods, e.g. eCommerce, retailers, etc.
Vertu has embraced an omni-channel sales approach, which I like. As with so many other areas, the pandemic seems to have accelerated changes to business models amp; consumer behaviour. There are even TV ads for new internet businesses (e.g. Cazoo) where you buy a new car online without even seeing it, and send it back if you don't like it. Therefore traditional car dealers like Vertu need to keep up, which it seems to be doing.
Outlook – uncertain.
Expansion - VTU has 147 sites currently, of which 29 were added since 1 Jan 2020, so a good rate of growth. The sector looks ripe for consolidation.
Diary date - FY 02/2021 results due out on 12 May.
My opinion - I picked up a starter size position in this share earlier this year, as the last update seemed unexpectedly good.
Broker consensus is currently 4.98p for FY 02/2021, which is a PER of 7.8 – an attractive valuation, considering Vertu also has a strong balance sheet groaning with freehold property. As mentioned before, I see this, and some other car dealer shares as hybrids – part automotive retail, part property companies.
Many thanks to Liberum amp; Zeus, which have both published update notes this morning, available on Research Tree.
Forecasts for the new year look rather gloomy at present, and could be revised upwards once guidance is reinstated by the company, maybe?
Despite its attractive value characteristics, this share has been a poor performer over the last 5 years. Although divis have totalled around 6p over that period. Also note the consistently high StockRank, as denoted by it being in the green zone below most of the time.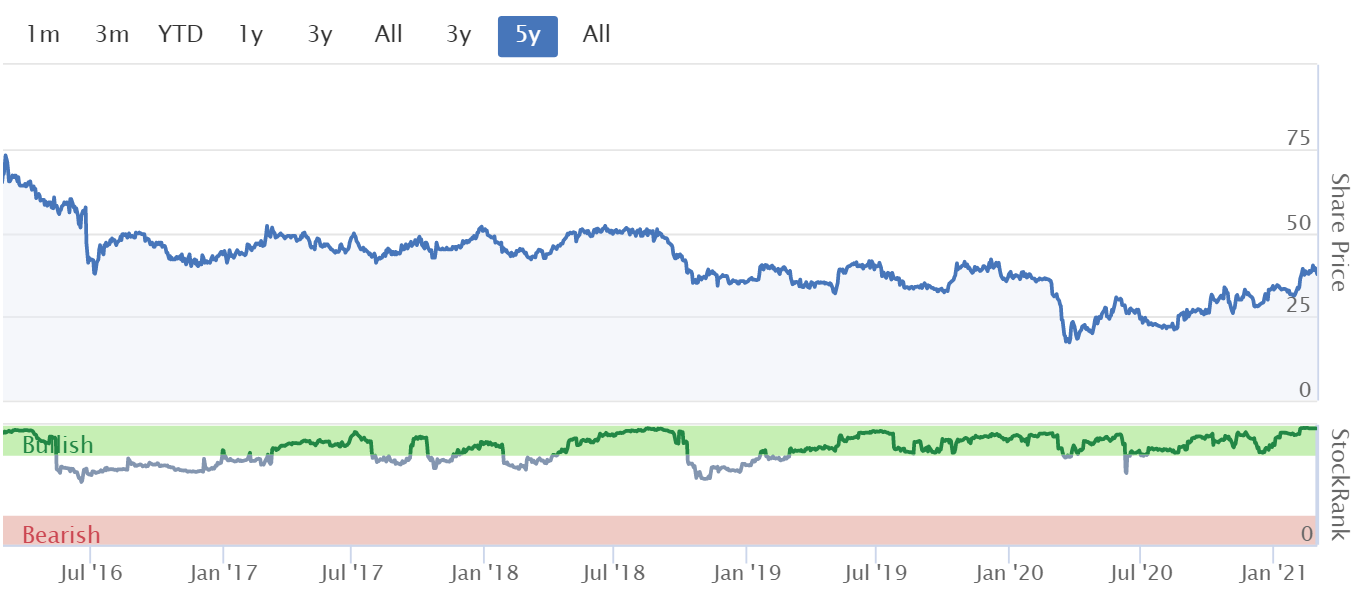 .
---
Quartix Holdings
(LON:QTX)
476p (up 1.3%, at 08:41) – mkt cap £228m
Quartix Holdings plc (AIM:QTX), a leading supplier of vehicle telematics services to the fleet and insurance sectors, is pleased to announce its audited results for the year ended 31 December 2020.
Strong growth in fleet customer and subscription base
Here is my review of the previous FY 12/2020 trading update, issued on 13 Jan 2021.
Actual results – adj diluted EPS (my preferred measure) has come in at 13.16p, slightly above Finncap's forecast mentioned in my last report, so that's fine.
Dividends – as expected, a much bigger divi is declared, including supplemental divis, the total for the year is 21.07p, a yield of 4.4% if repeated. This has always been a properly cash generative business, which is a key reason why I like it.
Subscriber numbers – fleet subscription base is up 15.4% to 174k. The attrition rate is 12.2%. Therefore that seems to mean QTX started the year with 150,640 subscribers, added 42,898 new ones, but lost 19,745 through attrition, ending the year at 173,793 fleet subscribers.
Price erosion is mentioned, at 6.6% (improved from 9.4% LY). Put that all together, and it's fairly modest revenue growth of 7.8% in fleet by my calculations. The company reports fleet revenue growth of 6.0% to £22.0m, so there must be some timing differences causing that difference, but it's in the same ballpark.
Insurance telematics business is falling intentionally, as it's low margin.
Put that all together, and it means total revenue is almost flat against last year at £25.8m. I appreciate that QTX is prioritising higher margin business over top line growth, but as mentioned before, it does concern me that the company isn't really growing. Which makes me question the growth company valuation.
There are signs of decent international growth though (see RNS text), maybe that's what investors are focusing on?
Outlook – this sounds promising -
Although the latest lockdown in the UK has had an adverse impact on customer activity in the first two months of 2021, we expect new fleet subscriptions to be close to the levels achieved in the same period last year, but with much stronger prospects for March.

The high levels of recurring revenues and opportunities to grow the fleet business in the UK, USA, France and each of our new territories underpin our confidence for the current financial period and beyond."
Sales amp; marketing spending is being cranked up in 2021 to drive growth, as the company has mentioned before, so not a surprise.
Balance sheet - this is a capital-light business model, with very little in fixed assets. Cash is £10.57m, with no interest-bearing debt (ignoring a little for IFRS 16 leases). Overall the balance sheet is strong, and combined with the cash generative nature of the business model, it just throws off cash, which can be used to pay divis and/or invest in growth.
Cashflow statement – very straightforward. A cash generative business that uses its surplus cash to pay divis. Note that there's hardly any capex, and it doesn't capitalise any development spending. Therefore, the accounting looks very prudent, which I like a lot. It's always good to find companies that don't need to dress up amp; adjust the numbers to create earnings, and accumulate surplus cash over time.
My opinion – there are lots of things I like about this business, but in terms of valuation, I can't get anywhere close to the current price.
Finncap is forecasting 8.2p in 2021 and 9.2p in 2022, so that's a PER of 58 and 52 respectively – way too high to make sense to me.
I suppose the bull case is that the company is driving future growth with higher sales amp; marketing spend, which should produce bigger profits in several years' time. I'm sure that's right, but why would I want to pay up-front for that growth? The market has effectively already priced-in a doubling of future earnings from the current level.
The 5-year chart is trending sideways. Breaking out now, but on a historically extremely high PER, so I question how much higher it can run? But we're in a bull market for growth stocks, for now.
.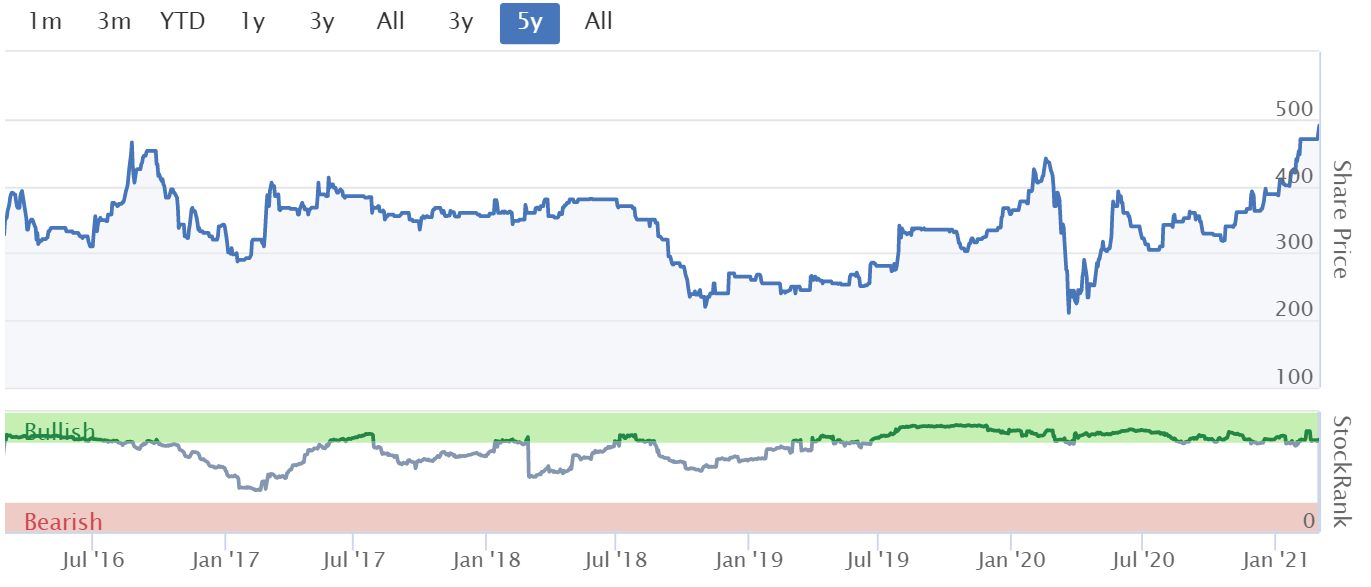 .
The StockRank system sums up Quartix perfectly -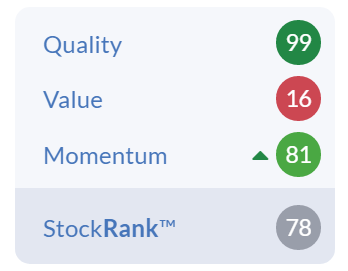 .
There are 3 short videos from Quartix this morning, which are helpful.
Here's the short summary from the CEO Andy Walters, an owner/manager with a large, albeit recently reduced, family shareholding (big tick in the box there) -
Click here for the other 2 short Quartix videos.
.
---
Augean
(LON:AUG)
215p (up c.6% at 12:55) – mkt cap £225m
Here are my notes from 18 Jan 2021, covering Augean's trading update for FY 12/2020. I thought it looked good value at 13.7 times estimated 15.0p EPS.
Augean, one of the UK's leading specialist waste management businesses, announces its final results for the year ended 31 December 2020.
Adj basic EPS is 14.9p (down 3% on LY) – that looks in line with the 15.0p guidance given (near enough to make no difference).
HMRC – a material dispute over £40.4m landfill tax. Still not resolved, despite the first hearing being held in Sept 2020. There doesn't seem much financial risk from this, as Augean has fully paid the tax which it believes to be wrongly assessed.
Outlook -
· Significant further growth targeted in the Group's core niche markets
· Strong cash generation – proposed return to dividend in 2021
· The Board is confident in the prospects for the Group
The Group has set ambitious internal targets for the 2021 year which will undoubtedly be an economically uncertain period for the UK whilst Brexit plays out and the impact of Covid-19 continues; however, with limited direct exposure to EU markets, coupled with a strong start to 2021 trading and a robust pipeline of activity, the Board remains confident in the Group's prospects for the new financial year.
Balance sheet – NAV: £61.0m, less intangible assets of £19.8m, gives NTAV of £41.2m. Overall, the balance sheet looks robust to me, and the cash pile more than covers interest-bearing debt.
Strikingly good cash generation, has allowed it to pay off a lot of debt in 2020.
My opinion - I'm always uneasy with this share, because I don't know anything about the sector, and I worry about, hence rarely invest in anything that is regulated by Govts.
The HMRC appeal could go either way, so the outcome is a material known uncertainty.
I'm impressed with how Augean sailed through the covid year, with barely a scratch, despite its North Sea business seeing much lower revenues. That seems to suggest the core, waste disposal business looks resilient.
Thanks to N+1 Singer for making an update note available today on Research Tree. This shows decent growth in forecast EPS, from many new energy from waste plants in construction or planning.
I still don't really understand how Augean manages to make such high margins, nor what regulatory risks there might be. The FY 12/2021 forward PER is only 12.4, which suggests there's either something wrong, or the share is too cheap. I'm not sure which it is unfortunately! Overall, it looks interesting, and readers might want to research this further.
---
Jack's section
Speedy Hire (LON:SDY)
Shares price: 64p
Shares in issue: 527,014,028
Market cap: £337.3m
Speedy Hire (LON:SDY) is the UK's leading provider of equipment hire and services to the construction, infrastructure and industrial markets. The hire and services business operates from over 200 locations in the UK and Ireland. It also operates internationally, providing equipment and manpower primarily for national government clients in the oil and gas markets, on long term framework contracts in the UAE and Kazakhstan.
As of FY20 about 91% of revenue came from the UK and about 9% came from International. International was more profitable relatively speaking, though, with a profit margin of 23% (helped in part by contribution from its Kazakhstan joint venture, whose share of revenue is not reflected) compared to just 3.4% in the UK. The prior year saw a 9.6% profit margin for the UK, which is perhaps more representative.
Trading update for the year ending 31 March 2021
The key points are that trading since 30 September 2020 'has been ahead of the board's expectations' and Speedy has now sold its Middle East business for $18m. In fact, 'profit before tax… is anticipated to be well ahead of current market expectations.'
Jumping back to the disposal, consideration was paid in cash in full on completion; in addition outstanding trade receivables from ADNOC of c.$12m are payable within 30 days. The net proceeds will be used to reduce borrowings, which, with net gearing previously at around 60%, was on the high side.
Looking at the balance sheet though Speedy's cash pile has been slowly increasing and it carries some £332m of net plant, property and equipment (minus the £16m or so of net assets in the Middle East operations). Compared to total long term debt of £102m (excluding £52m of capitalised leases) that looks to be in hand.
Offloading c.600 UAE-based employees' should also usefully reduce the cost base. The group's International business continues to operate the Kazakhstan JV, which is performing in line with expectations.
Meanwhile, revenue has improved as activity levels have continued to increase across its markets. In February 2021, core hire revenue in the UK and Ireland was c.2% higher than the prior year and utilisation for the period 1 October 2020 to date is 58.7% (2020: 56.2%).
There has been no use of government furlough or loan schemes in the second half of the financial year, so it does look like an increasingly positive fundamental picture.
Conclusion
This looks interesting. The share price has already recovered well from the events of 2020 but momentum is to the upside and Speedy still looks modestly valued across forecast metrics.
It's not a company I've looked at before, so if there are any holders out there it would be great to get your insight. There is a wider theme here of increasing activity levels – a cause for optimism, and certainly a useful tailwind for Speedy.
The exit from the Middle East operations looks like an important strategic step and should allow management to focus of the market opportunities in the UK and Ireland as activity levels continue to improve.
The group already supplies 87 of the UK's top 100 contractors, so that's a strong market position and it suggests Speedy does add value for its customers.
The balance sheet looks strong and it's a cash generative business model.
Meanwhile, the valuations look modest. So it's worth a closer look even considering the recovery in share price already, particularly if activity levels bounce back even further as economies unlock.
There are risks here as well. It's a cyclical company with some big customers that could hurt performance should they move to another services provider in what looks like a competitive space. But the underlying direction of travel is undeniably positive for the moment.
Reach (LON:RCH)
Share price: 236p (-1.05%)
Shares in issue: 312,067,649
Market cap: £736.5m
(I hold)
Reach (LON:RCH) has had a tremendous six months of outperformance and is beyond the normal market cap range of the SCVR but it's a story many are still curious about – including the Stockopedia Investment Club, which holds a position.
It's a collection of regional newspapers that is pivoting to an online business model. But, while digital revenues are growing, the group's (large) legacy print business continues to decline. Meanwhile there are costs from phone hacking scandals and six different pension schemes to consider.
So there's quite a lot of moving parts and results are open to interpretation at the minute, with two divisions in different directions of travel and some financial risks to bear in mind.
How news is framed is unusually important here. Is the market focusing on declining print, or the promise of digital today?
Annual results for the 52 weeks to 27 December 2020
Highlights:
Revenue -14.6% to £600.2m (digital of £118.3m up by 10.6% and print down 18.9% to £479.3m)
Adjusted operating profit -12.8% to £133.8m,
Statutory operating profit -94.2% to £7.6m,
Ongoing reduction in cost base and growth in digital revenue supports 50bp increase in adjusted operating profit margin to 22.3%,
Accounting pension deficit increased by £12.6m to £255.5m (2019: £242.9m),
Adjusted EPS -12.7% to 34.4p; statutory loss per share of 8.6p,
Dividend per share +70.4% to 4.26p.
Strong adjusted operating cash flow of £121.8m with net cash balance at the year-end of £42.0m
That's a huge gap between adjusted and statutory results. This is largely due to the delivery cost of Reach's transformation programme (£36.4m), print plant closure costs (£48.4m) and commitments related to historical issues (£34.1m).
Statutory loss per share was further impacted by a non-cash deferred tax charge which relates to the reversal of a previously indicated reduction in the headline rate of corporation tax. The dividend of 4.26p is a yield of about 1.9%.
Lower print revenue was driven by a Q2 decline of 29.5% following the first COVID-19 lockdown but there has since been a sequential quarterly improvement in both advertising and circulation. Lockdowns probably helped digital over Q4.
The completed transformation programme enables annualised cost savings of over £35m from FY21, with additional annualised savings of £11m following Q4 review of print capacity leading to closure of 2 sites.
Over 10% of Reach's digital users are now registered with the company and it has more monthly customers than any other commercial national and regional news publisher. Its online audience is behind only that of the global tech platforms in the UK.
In 2020 it delivered average monthly unique visitors of some 42 million per month – up 5% year-on-year, with better engagement metrics to boot.
The IAS 19 pension deficit increased by £12.6m to £255.5m. Contributions and asset returns were more than offset by a decrease in the discount rate and an update to the scheme demographic assumptions following actuarial analysis.
Group contributions in the year were £53.9m (2019: £48.9m).
That's a big number, but bear in mind Reach generated net cash from operations of £53.2m after pension contributions, and the £21.2m of cash used in investing activities included a one-off deferred consideration payment of £18.9m.
So the underlying cash flows are still strong, but negotiations with pension funds are ongoing and this is still a key financial risk to be aware of.
Conclusion
Reach is good at framing its results in a positive light, but then again, there are definitely dynamics to get excited about.
Trading to date has been 'broadly similar' with Q4 2020 and performance is in line with management's expectations for the year. Digital revenue for the first two months grew by 20.4%, with revenue overall for the Group down 10.7%.
The group's resilient print circulation funds strategic investment and future growth potential. It also maintains pension commitments and allows Reach to grow returns to shareholders. But the revenue at print does continue to decline.
Reach hopes to double digital revenues of £118m over the medium term. This favourable shift in revenue mix alongside annualised cost savings means adjusted operating margins should continue to grow.
Revenue in absolute terms, though, will likely fall for the next year or two and there is not as much detail into the actual economics of the group's digital business as you might like.
So it remains hard to value, in my view, with attractive potential upside but also some financial risks and a delicate turnaround to execute. There is less of a margin of safety here than there was six months ago, and the market is clearly warming to the idea that this is evolving from a turnaround to a digital growth story.
But given where Reach is in that turnaround, I would consider it far more fairly valued at these levels. Of course, if it does really nail the opportunity in front of it then this could prove to be a far more valuable enterprise than current valuations imply, given the scale of its online assets.
---
All done for today, see you tomorrow.
Regards, Paul amp; Jack.
Source:
https://www.stockopedia.com/content/small-cap-value-report-mon-1-mar-2021-vtu-qtx-sdy-rch-aug-771794/
Before It's News®
is a community of individuals who report on what's going on around them, from all around the world.
Anyone can
join
.
Anyone can contribute.
Anyone can become informed about their world.
"United We Stand" Click Here To Create Your Personal Citizen Journalist Account Today, Be Sure To Invite Your Friends.