Small Cap Value Report (Mon 15 March 2021) - HEAD, ITS
Monday, March 15, 2021 9:22
% of readers think this story is Fact. Add your two cents.

Good morning, it's Paul here with the SCVR for Monday.
Timing – update at 12:52 – I'm downing tools here for a while, as there's a webinar from Somero Enterprises Inc (LON:SOM) (I hold) about to start at 13:00 on PIWorld, that I want to watch, having recently opened a starter size position again in this share (I've held it on amp; off for years). There's hardly anything else of interest going on today, with very few results or trading updates from decent companies published today.
Agenda -
My latest market thoughts
Headlam (LON:HEAD) (I hold) – a few points from the webinar last week
InTheStyle (ITS) – an interesting new float on AIM, of another eCommerce fast fashion brand. The next BooHoo (I hold), or an opportunistic float after 1 profitable year?
.
---
Paul's Market Thoughts
So many shares in our small caps universe (and mid caps too) seem to have soared in price in the last 6 months. I can understand why – massive Govt stimulus has kept the economy mostly afloat, and we're about to see lockdown phased out due to a successful vaccination programme.
Will this lead to a coiled spring of spending, as bulls reckon (and to be fair, that includes Andy Haldane, the respected Chief Economist at the Bank of England)? Or will it just lead to people shifting their spending from lockdown type things (revamping the home, buying a Pelaton), to returning to more normal spending patterns (holidays and eating out)? Answers on a postcard please (that's my code for saying I don't know!)
All I would say is this – I find there's lots of scope to do your own forecasts, and work out that some current broker forecasts could be wrong on the downside – in some cases brokers could be too cautious, because businesses have stripped out a lot of costs. Therefore the leaner, more efficient businesses that emerge from lockdown, maybe could surprise on the upside? Especially if some competitors have fallen by the wayside giving them more market share.
We'll see, but severe economic downturns are often the times when the best management shine.
Over-paying – lots of smaller growth companies are now looking very expensive. So I think it's time to be really careful. We all feel great when something goes up in price by 50-100%, but that's happening too much at the moment I think. I took a hard look at my portfolio this weekend, and made sure I'm totally happy with the valuations on everything. I keep a spreadsheet, where I colour-code the company names, with a simple traffic light system. If I'm happy with everything, it gets a green. If it's a "coffee can" (100 Baggers book) share, then I colour code it very dark green – that means never sell.
If I'm not sure, or think it might be too expensive, then I colour it amber.
At the moment, I'm green or dark green on almost everything in my top 20 positions. That's essential. Nothing amber should ever be in the top holdings.
The trouble is, we all feel confident and happy, when markets are great. Is that the time we should be banking some profits, and building up a cash pile to pounce, when the next market panic sell-off occurs? Who knows. It's impossible to time these things, but I'm feeling uncomfortable with the seemingly indiscriminate share price rises in recent months.
---
Headlam
(LON:HEAD)
(I hold)
This is an enthusiastic holding in the value section of my personal portfolio.
I reviewed the latest results here (add link) last week.
Many thanks to Headlam, and PIWorld, for a very useful results webinar last week.
Management here strike me as what we used to call in the 1990s "steady eddies" – i.e. hands-on managers that work hard, and are prudent in how they manage the finances.
This webinar very much reinforced my view on that front, so I feel very comfortable with them looking after my money, as regards to my small shareholding.
A few points stood out for me -
CEO – "incredibly resilient amp; cash generative business" – as proven in 2020. I agree. Headlam quickly rebounded from lockdown 1, and never showed any financial stress, due to its conservative balance sheet with a ton of freehold property in particular (a major plus to me).
CEO – the business can be "much more efficient" in particular with changes being made to deliveries from its many depots, to match supply to local demand. I was a bit surprised this wasn't already being done, but never mind, it's upside on future profits, so it's good.
Operating margin – target increase to 7.5% by 2023. That's a 200bps improvement, so should be a material increase in group profits.
Supply issues – have been resolved, but N.Ireland border is only current problem.
Products have a long life cycle, little change in fashionability of floor coverings, so should be simple to match supply amp; demand
Grey amp; beige dominate the colour palette, not sure if this was for domestic carpets, or commercial, or both. Depressing, but I know personally what a b*@#h cream carpets are to keep clean, so won't be making that same mistake again! Beige all the way for me, next time!
Qamp;A – I complained about the lack of liquidity in the shares. Directors acknowledged the problem, but said about ⅔ are held by institutions, who aren't going anywhere. Did consider share buybacks, but that would only make liquidity problem worse.
My opinion - if we take pre-covid revenues of c.£700m, and put a 7.5% (aspiration) operating margin, that's OP of £52m. Finance costs should be little, and 25% corporation tax by 2023, then I make that £40m earnings. Put that on a PER of 15-20 times, and we have £600-800m market cap target.
Divide that by 85.1m shares, with little risk of dilution, and it's 705-940p per share, with a 2 year view. That's usefully above the current price of 434p. I've not been particularly aggressive with the PER either. And we should get divis along the way. Still looks cheap to me. But as always, please DYOR, my sums could turn out to be wrong, because we're trying to predict the future.
Another angle here is that it could be a takeover target. Victoria (LON:VCP) did very well targeting conservatively financed carpet businesses that had too much stock, and owned freeholds. Hence acquiring them was semi-self-financing, as excess assets were sold down. Therefore, with over £100m in freeholds sitting on its balance sheet, HEAD could be seen as a sitting duck for a takeover bid. Also, what better way to increase your sales if you're a carpet manufacturer like Victoria (LON:VCP) than to buy a distributor like HEAD, and then push your own group products? Seems an obvious fit to me.
As you can see below, HEAD shares have been recovering well from the irrational market sell-off last summer/autumn. As mentioned here at the time, it just didn't make any sense at all that HEAD shares fell back down in the summer/autumn of 2020, to re-test the March lows, when trading was recovering well. Markets are strangely irrational at times, especially in less liquid shares.
Note also the StockRank is high most of the time, which gives me additional comfort.
.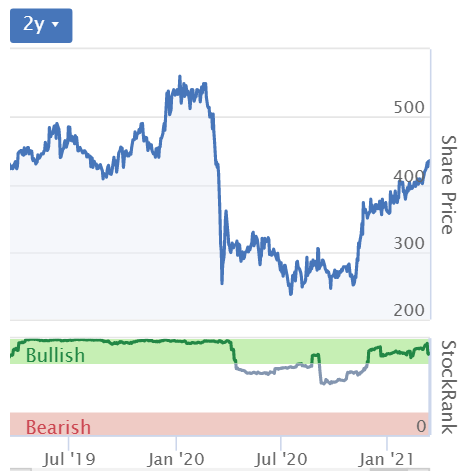 .
---
InTheStyle (ITS)
Floats on AIM today. It's another fast fashion eCommerce business, based on the North West, where so many similar businesses are based.
I gave my initial views here on 5 March 2021, on the "intention to float" (on AIM) announcement. These tend to be rather sparse on financial details. So I did a search at Companies House online, and found historic financials that are poor. However, ITS seems to have had a very good year in 2020. Therefore the key question is whether ITS has had one bumper year from lockdown, or if this is the start of something that could become the next BooHoo (I hold)?
Personally I need to see more than just one year of decent figures, so I'm watching this one from the sidelines.
Breaking Fashion – this was the name of a BBC series, a fly on the wall documentary about ITS, following the dramas amp; chaos at their Head Office, and on fashion shoots, etc. It was very entertaining actually, so well worth watching on catchup. This was first aired in Sept 2019, so I'm wondering if it helped boost strong sales/profits in 2020? A similar programme about competitor Missguided helped it bounce back from disastrous losses, into a small profit. So these TV shows do seem to stimulate interest amongst customers, and the more chaotic amp; foul-mouthed the participants, the bigger the boost to sales, it seems to me!
It struck me that the company is so similar to competitors (BooHoo, PrettyLittleThing, Missguided, ISawItFirst, and lots of others), that it's in a very crowded space. ITS has little to nothing to distinguish it from the others, in my view. Its announcements make a big deal about relationships with "influencers" (reality TV stars, youtube vloggers, etc), but that's exactly what BOO did to grow originally. Promoting ranges with influencers is nothing unique at all.
Admission to AIM – first day of dealings is today, so I'm looking forward to monitoring the progress of this interesting company.
The fundraising, which was significantly oversubscribed and priced at the top of the valuation range, included the placing of 5,500,000 new ordinary shares of 0.25 pence each ("Ordinary Shares") and the placing of 24,500,000 existing Ordinary Shares, both at a price of 200 pence per share (the "Placing Price"), raising gross proceeds of £11.0 million for the Company and £49.0 million for selling shareholders. At the Placing Price, the Company's market capitalisation is approximately £105 million.
Note that most of the money raised is for selling shareholder, selling 46.7% of the company. Would they be selling if the future was tremendously exciting?
The price seems to have gone to a premium, with a quote at 11:10 of 230p Bid, 240p Offer. Well done to everyone for a successful float on AIM. The Admission Document ("AD") can be downloaded here. I'll have a rummage through that this afternoon, and report back if there's anything of interest in it.
As you can see from section 11 in the AD, the financial track record is poor, apart from a big surge in sales amp; profits in 2020 -
.
With the market cap already up to £123m (based on 235p per share current market price, and 52.5m total shares in issue), then continued strong growth amp; profitability are already priced-in.
My opinion – sceptical, until the company can prove growth is sustainable, and not just a flash in the pan.
.
---
Deliveroo also confirms its intention to float on the London stock market.
Not a small cap though, as it's raising c.£1bn in fresh money, plus more from selling shareholders.
Interesting structure, with A amp; B shares, giving additional rights to founders for the first 3 years.
---
Source:
https://www.stockopedia.com/content/small-cap-value-report-mon-15-march-2021-head-its-780209/
Before It's News®
is a community of individuals who report on what's going on around them, from all around the world.
Anyone can
join
.
Anyone can contribute.
Anyone can become informed about their world.
"United We Stand" Click Here To Create Your Personal Citizen Journalist Account Today, Be Sure To Invite Your Friends.