Small Cap Value Report (Mon 29 March 2021) - NANO, ELCO, CER
Monday, March 29, 2021 8:43
% of readers think this story is Fact. Add your two cents.

Good morning, it's Paul here with the SCVR for Monday.
Timing – I've had lunch now (a Parsley Box ready meal – a new float on AIM, best way to research it is to try the product!). Next up at 13:00 I have a webinar from Venture Life (LON:VLG) to listen to. After that (published by say 15:00 here) will be another section on Bioventix (LON:BVXP) as I know a lot of subscribers like that one) .
It's Mello Monday time again – the excellent fortnightly investor evenings via Zoom, organised by renowned investor David Stredder. This evening's show is called a "results special", so David has asked me to do a recap of the most interesting small cap results I've spotted. There are lots of interesting companies presenting, including Judges Scientific (LON:JDG) , Bioventix (LON:BVXP) , and Getbusy (LON:GETB) . It starts at 5pm, one hour earlier than usual. It's not essential to watch the whole thing, people can dip in amp; out as they wish throughout the show. More details here.
Agenda -
Nanoco (LON:NANO) – brief comment on its legal action against Samsung
Eleco (LON:ELCO) – I review its FY 12/2020 results, which are in line with guidance given in Jan 2021. Looks a nice quality company, probably priced about right.
Cerillion (LON:CER) – Largest ever contract win (again). Impressive growth underway here. This looks an excellent company.
Bioventix (LON:BVXP) – to follow, should be up here by 15:00
.
---
Nanoco
(LON:NANO)
21.5p (pre market open) – mkt cap £66m
Nanoco Group plc (LSE: NANO), a world leader in the development and manufacture of cadmium-free quantum dots and other specific nanomaterials emanating from its technology platform, announces an update on its litigation against Samsung for the alleged wilful infringement of the Group's IP.
Timings of the legal case against Samsung -
Legal report is due before the end of May 2021.
Legal review of the patents is expected to start in May 2021, and can take a year.
Jury hearing set for Oct 2021, but could be delayed.
Nanoco's CEO says -
"Our lawsuit against Samsung for the alleged wilful infringement of Nanoco's IP is progressing well and we are pleased that a trial date has been set for October 2021. We are also pleased with the initial indications arising from last week's hearing and will review the final written report when it is received. Although there can be no certainty as to the outcome, the Samsung litigation could result in a very substantial settlement in our favour."
That last sentence caught my eye! I wonder what "very substantial settlement" means? It might be worth doing some digging on the internet, to see if you can find any legal papers relating to the case.
My opinion – a lot hinges on this case, so without knowing the outcome, it's not possible to value this share with any certainty. Hence it's just a complete punt at this stage. My worry is that companies are often over-optimistic about their chances of winning legal cases, and under-estimate the costs, so everything is up in the air for the time being.
.
---
Eleco
(LON:ELCO)
99.5p (pre market open) – mkt cap £82m
Eleco PLC is an AIM-listed (AIM: ELCO) specialist international provider of software and related services to the Architectural, Engineering, Construction and Owner/Operator (AECO) industries and interior furnishing industries from centres of excellence in the UK, Sweden, Germany, Netherlands and the USA.
The Company's market leading software solutions are developed by teams in the United Kingdom, Sweden and Germany, and its solutions include project management, estimating, timber engineering, CAD and visualisation, asset and facility management and cloud based digital marketing solutions.
Results for the Year Ended 31 December 2020
Checking back through my notes, I reported here on 20 Jan 2021, when Eleco issued a FY 12/2020 trading update. The guidance provided then were as follows:
Revenues similar to 2019, at c.£25m
PBT at least 10% ahead – presumably achieved by cutting costs?
Net cash up by £5.0m to £6.1m
Today's results –
Revenues – actual £25.2m, so in line with guidance
PBT up 12% to £3.9m, also in line
Net cash £6.2m, slightly ahead of guidance
That's all good then, key numbers as expected.
Adj EPS is my preferred measure, providing the adjustments are reasonable, which I think they are here. This is up 17% to 4.8p.
At 105p per share currently, the PER is 21.9 – probably about right in my opinion.
Higher profit amp; EPS has come from cost-cutting though, not top line growth, which means profit growth needs to be seen as a one-off.
I like the high profit margin here, and that revenues are mostly recurring. The Stockopedia quality measures are all high -
.
I'm trying to focus more on quality, as it does seem to be a key factor behind major multi-bagging shares. That's not to say every company with high quality scores will be a multi-bagger though.
Graph no.3 below, Normalised EPS, is strikingly good too – rising EPS by 5-fold since 2014 is not too shabby!
.
Dividends – the low dividend yield doesn't really matter – when a company is achieving 15.7% return on capital, it's better to reinvest the cashflows, rather than paying out divis.
A 0.4p final divi has been recommended.
Current trading –
The start to trading this year has been strong, with revenues for the two months to February 4 per cent higher than the equivalent, pre-Covid-19 period in 2020.
Does +4% revenues constitute "strong"? I'd say that's solid, rather than strong.
Outlook – fairly general, but positive-sounding -
Importantly, the market opportunity for Eleco is compelling; the markets we serve are experiencing an accelerated adoption of technology due to the pandemic, rising material costs and increased regulation. The strong start to trading that we have experienced since the beginning of 2021 attests to this. With a strong customer base and a high level of recurring revenue, we look to 2021 and beyond with confidence and to building further shareholder value.
Balance sheet – is surprisingly weak. Once we write-off £23m of intangibles, then Tangible Book Value is negative, at £(1.5)m.
Software companies do benefit from favourable working capital, as in this case. So the £10.7m cash pile is mostly offset by the deferred income creditor of £8.9m – i.e. the £8.9m figure measures how much cash has been paid up-front by customers, for services not yet provided. The balance sheet creditor is then turned into revenue on the Pamp;L, as revenue is recognised in future periods.
The danger is that cash, and deferred income could be at a seasonal high on the balance sheet date. Companies should disclose average daily cash balances, as that it more meaningful than a balance sheet snapshot, and can often be a good bit lower than the year end, window-dressed numbers. That's a general point, so it may or may not apply with Eleco.
Does any of this matter? Yes, in that companies with weak balance sheets cannot generally pay out much in divis. Also, it means that Eleco has less scope to make acquisitions than the £10.7m cash figure on its own would suggest.
Revised strategy –
"I am therefore pleased to present our relaunched growth strategy today. Following our strategic review, which commenced in Q4 2020, Eleco now has a clear focus on securing a high-value customer base in additional markets outside of those we currently count as our core, both organically and through Mamp;A….
My opinion – I've always liked Eleco. It looks a good quality business, at a fair price.
Personally, I'm not interested in chasing the share price any higher, as it's had a great run, and the price looks up with events now.
In terms of strategy, the new focus on diversifying into other markets does concern me a little. Does it suggest that the company has peaked in its main existing markets? £25m revenues, operating in several countries, seems quite small. Wouldn't it make more sense to focus, and win more market share in existing markets?
If it's planning on growth through acquisitions, then I'd want to know what experience amp; track record current management has in making acquisitions? That's vital, as it's very easy to destroy shareholder value with poor acquisitions – just look at the frequency of large goodwill write-offs that we see generally – each such write-off is squandered shareholder value from a duff acquisition. On the upside, good acquisitions can be transformative for shareholder value, as we've seen at Judges Scientific (LON:JDG) and Sdi (LON:SDI) for example.
Eleco demonstrated good resilience in 2020, despite covid, which must be reassuring to investors, knowing that the business is battle-proven in a crisis.
Overall, I do like this share, it seems a decent, high quality company. I can't find anything untoward in the numbers issued today, other than a slightly weak balance sheet – not a significant concern, due to customers paying up-front.
Looking at the long-term chart below, you can see how it peaked in 2007, then was smashed to pieces by the Great Financial Crisis of 2008-9. However, note that ELCO's share price didn't bottom out for 5-years, in 2013. I'd want to understand what went so badly wrong back then, and could it happen again? It's worth checking out, because that is not what I would have expected from a recurring revenues business.
.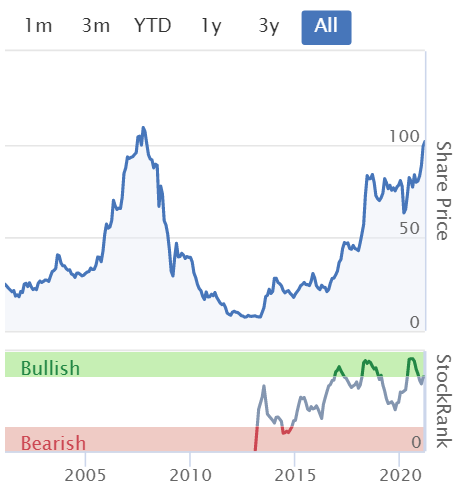 .
---
Cerillion
(LON:CER)
440p (up 9%, at 10:31) – mkt cap £129m
This is certainly an eye-catching title for an RNS!
Cerillion, the billing, charging and customer relationship management software solutions provider…
This latest contract win is $18.4m, spread over 10 years, with a Latin American customer, the main telecoms provider in its national market.
This is the latest in a series of impressive contract wins. They last used the same wording "largest ever contract win" in Sept 2020.
I'm impressed that Cerillion wins business globally, with large clients, so its software must be good. And presumably these clients would be sticky.
Another contract extension of £2.7m for a European client is mentioned.
Ahead of expectations -
… anticipated to result in the Company exceeding current management expectations for pre-tax profit in the current financial year ending 30 September 2021.
Broker forecasts - this is a bit confusing, because the consensus EPS figures shown on the StockReport are showing as 16.12p and 18.98p for FY 09/2021 and FY 09/2022.
However, an update today from Liberum puts through a 17% increase on their own numbers, but after that increase, Liberum's forecasts are lower than consensus, at 14.7p and 15.9p.
Hence I'm unsure which figures to calculate the PER on. Taking the average of the two forecasts, for FY 09/2021 that gives 15.4p EPS, hence a PER of 28.6.
Taking the average of next years' forecasts, drops the PER to 25.2
Whilst that might look a fairly high PER, I think it looks justified, since the company is generating strong organic growth.
My opinion - I'm really impressed with this company. The contract wins seems to keep rolling in.
The growth here is much stronger than at ELCO above. Therefore of the two software companies I've looked at today, my choice if I had to invest in one of them, would be Cerillion.
The only reasons I don't hold this share personally, are because it's really illiquid, so actually getting hold of a meaningful number of shares at a reasonable price, can be tricky. Also, the substantial Director selling in June 2020 put me off. That was at 255p. Yet here we are just 9 months later, and the share price is up 73% on the Director selling price, who must be kicking himself now!
Often when I see Directors cashing in a £7-figure sum, it can be the high water mark, and bad news is later revealed. As with everything in the stock market though, there are always exceptions to the general rule, and the market continually surprises us. Hence I must make a mental note that heavy Director selling is not necessarily a bearish signal.
Lots of companies are very expensive at the moment, at historically very high PERs. However, in this case, I reckon Cerillion's excellent performance fully justifies the big share price rise. Also, if it can perform this well with covid as a backdrop, could growth accelerate once conditions normalise? Maybe, time will tell.
.
.
---
Source:
https://www.stockopedia.com/content/small-cap-value-report-mon-29-march-2021-nano-elco-cer-788149/
Before It's News®
is a community of individuals who report on what's going on around them, from all around the world.
Anyone can
join
.
Anyone can contribute.
Anyone can become informed about their world.
"United We Stand" Click Here To Create Your Personal Citizen Journalist Account Today, Be Sure To Invite Your Friends.