Small Cap Value Report (Thu 11 Mar 2021) - PHTM, PCIP, RWI
Wednesday, March 31, 2021 5:33
% of readers think this story is Fact. Add your two cents.

Good morning, it's Paul here with the SCVR for Thursday.
Timing – it's slow going again today, but I'll keep plodding on until mid to late afternoon.
Agenda – firstly a couple of catch up items which I prepared last night -
Photo-me International (LON:PHTM) – Preliminary results FY 10/2020 – done
Pci- Pal (LON:PCIP) (I hold) – my notes from today's interim results webinar – done
Renewi (LON:RWI) – Trading update for FY 03/2021. Significantly ahead of expectations. Terrible balance sheet, but does it matter?
Restaurant (LON:RTN) – placing amp; results – to do, sorry this is late
.
Online results webinars
There are 2 interesting small software companies doing InvestorMeetCompany webinars today -
10:00 – Pci- Pal (LON:PCIP) (I hold) – see my review of interim results here on 8 March – see my notes on the webinar below
14:00 – Beeks Financial Cloud (LON:BKS) – see my review of interim results amp; contract extensions here, yesterday
I'd like to echo a reader comment from a few days ago, that many of us are finding these results webinars incredibly useful. Many thanks to all the companies who go the extra mile to provide such quality information and access, to their smaller shareholders, we really appreciate it!
All companies, large and small, should do an online results presentation, so that the playing field is levelled up between institutions and private investors (PIs).
Companies I talk to are really pleased to be getting more engaged with their PIs, enjoying the process, and seeing clear benefits from it – improved liquidity, and higher share prices, once they get their investment proposition out to PIs.
This is not just a reaction to lockdown, we need these online results webinars to continue permanently, as it's a far more practical way to engage with PIs who may have day jobs amp; not be able to get into London for meetings.
Management traits – It's great to get a feel for the people who are actually running the company, hence why I enjoy results webinars so much. I also like it when they involve other team members in the presentations, not just the CEO and CFO.
Personally, with small caps, I'm looking for hands-on entrepreneurs (preferably founders, and with large personal shareholdings ideally). I'm also looking for signs of honesty, passion amp; energy – but those can be easily faked, so it's tricky!
I couldn't give two hoots about any other aspects of management backgrounds, because good entrepreneurs come in all shapes amp; sizes, and from any background. That said, a track record of previous successes is a good sign. If they actually were successful – it's always good to independently verify that.
.
---
Photo-me International (LON:PHTM)
51p (down 7% yesterday) – mkt cap £193m
Photo-Me International plc (PHTM.L), the instant-service equipment group, announces its results for the 18 months and 12 months ended 31 October 2020.
This is unusual, in that two sets of figures, for 12 and 18 months are presented, because the year end has been extended from 30 April, to 31 October. Year end changes are a real nuisance, as they mess up year-on-year comparatives, but there can sometimes be sensible reasons to do so.
There can also be negative reasons – am sure I've told you before that back in 1996 I changed the year end of my employer, in order to extend it to 16 months, so that it would include two peak Christmas trading periods, and thereby produce a profit. It worked, nobody seemed to notice, and it saved the business from almost certain bankruptcy if I had published the loss-making 12-month figures. This saved over 1,000 jobs, was completely legal and fully disclosed, so I have no regrets over doing it.
In the case of PHTM, I think the most meaningful comparison is the 12 month comparison from FY 10/2020 and FY 10/2019 provided. The figures look grim, as I would expect since it includes covid lockdown 1 -
Revenues down 21% to £186.3m
Adjusted profit before tax is a £(26.0)m loss, versus a £45.9m profit – but there is a £34m hit for impairments amp; provisions in the 2020 figures, so it's a £6m profit before those costs
Net cash little changed at £21.9m, vs £25.2m a year earlier
Covid impact "severe"
There's a serious threat (my words) to PHTM's photo booths in the UK, since home-taken photos are now accepted for official documents such as passports – are they still needed, and will they recover? I have serious doubts over this. Although PHTM does operate in 17 countries, not just the UK. UK revenues are only 16% of group total. Continental Europe is the biggest market, at 63% of the total.
Restructuring has been undertaken to remove unprofitable photo booths
Laundry machines growing, but only represents 7.7% of total vending estate
PHTM doesn't split out profits of its various activities, making it impossible to gauge the future potential of the business. Until it properly discloses where the profits amp; losses are generated, then it's uninvestable to me, as I've said before.
Depreciation (and amortisation) charges are particularly large, at £29.2m for 12m to Oct 2020. So even if loss-making, this business could remain cash generative.
Dividends - was the main reason to hold this share. But these have stopped now, and can't be paid until a loan backed by the French Govt is repaid.
Guidance - well done to the company for providing guidance for the current year, FY 10/2021 -
The visibility on the market outlook for 2021 remains extremely limited. Nevertheless, subject to the factors above, the Board looks forward to achieving revenue of £175 million in FY21 (12 months to 31 October 2021), and profit before tax will be £9.0 million before any exceptional items, and also expects that the Group will be cash flow positive.
Financial resources – the company says these are sufficient.
Whilst the Board continues to believe that there are some longer-term opportunities in the photo ID market and continues to install photobooths in countries outside of the UK, it anticipates that short-term demand for photo ID will be subdued and may not recover fully to pre-COVID-19 levels.
Laundry machines only generated 19% of group revenues, and we don't seem to be told how profitable they are. There's heavy capex of £14.4m on this division. Is it generating a good return?
My opinion - unfortunately, this share is impossible to value, on the basis of the information provided. The problem is that the segmental analysis only gives performance by geographic regions. What we actually need, is a divisional breakdown of what profit/losses are made by each activity, i.e. photobooths, laundry machines, juicing machines, shown separately. Plus we need full information on the return generated from each new machine (payback period, etc), in the expanding products, and an analysis of how the declining photo booth business might be scaled down, and how long it's likely to take to disappear – is it 5-10 years, or longer? Who knows?
The photobooth business reminds me a bit of newspapers – it's structurally declining, and is likely to die out completely in the future, but nobody knows how long that decline is going to take. As we've seen with Reach (LON:RCH) it has managed to constantly strip out costs, buy up competitors, and diversify into new areas (digital), so it's lasted a lot longer already than most people seemed to think. And Reach is still highly profitable amp; cash generative.
Maybe PHTM could be similar? Downsizing the estate, and stripping out costs, whilst building up new areas of business such as laundry amp; others, could be a viable strategy for many years, I have no idea.
I've got no figures on any of those business units, so it's not possible to do any meaningful analysis, nor value the shares I'm afraid.
The 5-year chart below reflects the structurally declining main business of photobooths. It's an unusual chart, in that there's been little bounce from the lows a year ago. Maybe there could be upside once travel gets back to normal, as that might drive some upsurge in the use of photo kiosks? Or at least we could see a bounce, purely on a recovery in investor sentiment? So there might be a short term trade here, for a possible rebound? Lots of declining businesses are seeing big rebounds at the moment, so this could be worth thinking about.
I don't think there's likely to be any solvency risk, as the business has plenty of liquidity, with a large cash pile, and should still be nicely cash generative once re-opening happens in Europe.
Overall, it's impossible to value, so let's move on.
.
.
---
Pci- Pal
(LON:PCIP)
(I hold)
97p – mkt cap £56m
Here are my notes from the interim results webinar this morning. This is in addition to my own review of the results here on Monday this week.
I jotted down the points which seemed most important to me, and my comments, so this is not necessarily comprehensive of everything that was said.
You should be able to watch the recording of this webinar when published in the next few days, on InvestorMeetCompany, it's worthwhile watching, as a lot of useful info was imparted.
Long intro by the CEO, useful background – seems a straightforward, hands on manager, so I'm happy with the people (same with CFO)
Review of costs – I had a concern here that costs seem to be rising too fast, thus preventing operational gearing from reducing the losses enough. Explanations given made sense, as follows;
Amazon hosting up by £100k to £375k. This is reported under "other expenses" but seems to me that it would make more sense to put it in cost of sales.
Forex hit of £366k in other expenses, which contradicts what the CFO said about having natural hedging. Maybe some actual hedging is needed (currently not done)? Or should we just accept that it's swings amp; roundabouts, and hedging would be an additional cost?
Staff costs only up 11% to £2.95m – NB all these numbers are for H1, so 6 month figures
Balance sheet – receivables – some US clients not paying on time, have unilaterally decided to pay on 90 days, company is discussing this with them
Bank borrowings of £2.1m being repaid at £100k per month
Cash used in H1 was down, at £(937)k, from £1.5m per half year in previous 2 halves
Most recent, end Feb 2021, gross cash of £4.6m, net cash £2.6m – looks adequate, but I would prefer a stronger cash position, so a small placing might make sense. Although I don't want to be diluted, so maybe not.
There will be a cash outflow over the quieter summer months, but co has adequate headroom
Channel partners are now main selling route – going well amp; building – large scale opportunity
Me – impressive clients amp; channel partners in the US, some big names (reminds me a bit of Intercede

(LON:IGP)

– I also hold)
Key point – old contracts were done on a revenue share basis, so had 55% gross margin. New cloud contracts (bulk of the business amp; all new signings) are on AWS and are much higher gross margin, because PCIP owns the platform, it's not shared with anyone else. Just pays AWS £375k pa hosting fees.
US market is a serious scale opportunity – currently small, but growing very fast (over 100% p.a.), expected to overtake UK as main market. Only started in US in 2018
Europe – signed major pan-European airline, recently gone live.
Breakeven – June 2021 should be at a breakeven monthly run rate. Leading to profitability in FY 06/2022 – very important point
Slide 17 – key metric is time to go live – reduced by 16% to 3.7 months, easier now product is cloud-based amp; no need to visit clients, can all be done remotely
Qamp;A – Growth? Mgt is ambitious, and need to deliver shareholder value. TACV (annualised contract value) is the key metric
Customer churn? Very low. Partly helped by being quite a new business in cloud, but older clients on conventional systems prove very sticky too
Covid impact? Deferred some new contracts, but had caught up by June 2020.
Average contract value? About £20k p.a. recurring revenues. Most deals are small, which is what they want – targeting the large number of smaller contact centres (c.250 seats). Can do big contracts too, e.g. 5k seats deal last year.
Average contract length? 2 to 2.5 years initial contract term, but nearly all contracts automatically renew every 12 months, so contract length isn't an issue. Customers very sticky once PCIP is embedded in their systems
My opinion – this was a very useful session, and helped deepen my understanding of the business. Obviously the share price has gone bananas recently, which I think is justified. At some stage shorter term punters will probably want to bank their profits, so it probably needs to take a breather for a while, and let the company grow into the valuation.
Personally, I've put this share into my "coffee can" portfolio (see 100 Baggers by Christopher Mayer – who suggests treating the best growth companies in your portfolio as permanent holds, in a "coffee can" under your bed). The other reason for riding out price volatility, is that it's so difficult to buy this share, it's very tightly held, and I've heard a market rumour that there are institutions itching to get in, but who can't find any stock. I had a lot of difficulty building up my own position, and am not letting go of them. In my view PCIP has a very good market opportunity, and if demand remains strong, then the numbers could be very good in say 5+ years' time.
As I mentioned at Mello Monday this week, when we discussed PCIP, we have to be a bit careful in thinking we're all geniuses at the moment, because a lot of smaller, speculative-ish companies are shooting up in price. I gave the example of Eagle Eye Solutions (LON:EYE) as another loss-making but nearing profitability SaaS company, whose shares have also shot up. I'm sure there are plenty of others too, so many share graphs look similar at the moment. So to measure this, I've plotted below the two year chart for PCIP and EYE. It's quite remarkable – they're moving almost in lockstep, despite being unconnected companies. That nicely demonstrates that we're seeing widespread sector moves. The danger of that is if these companies disappoint in the future, then there's a greater height to fall from. So risk does rise, with the share price, exhilarating though it is during the big upward phases. Hence I do understand why some investors top slice some profits after a big move up.
.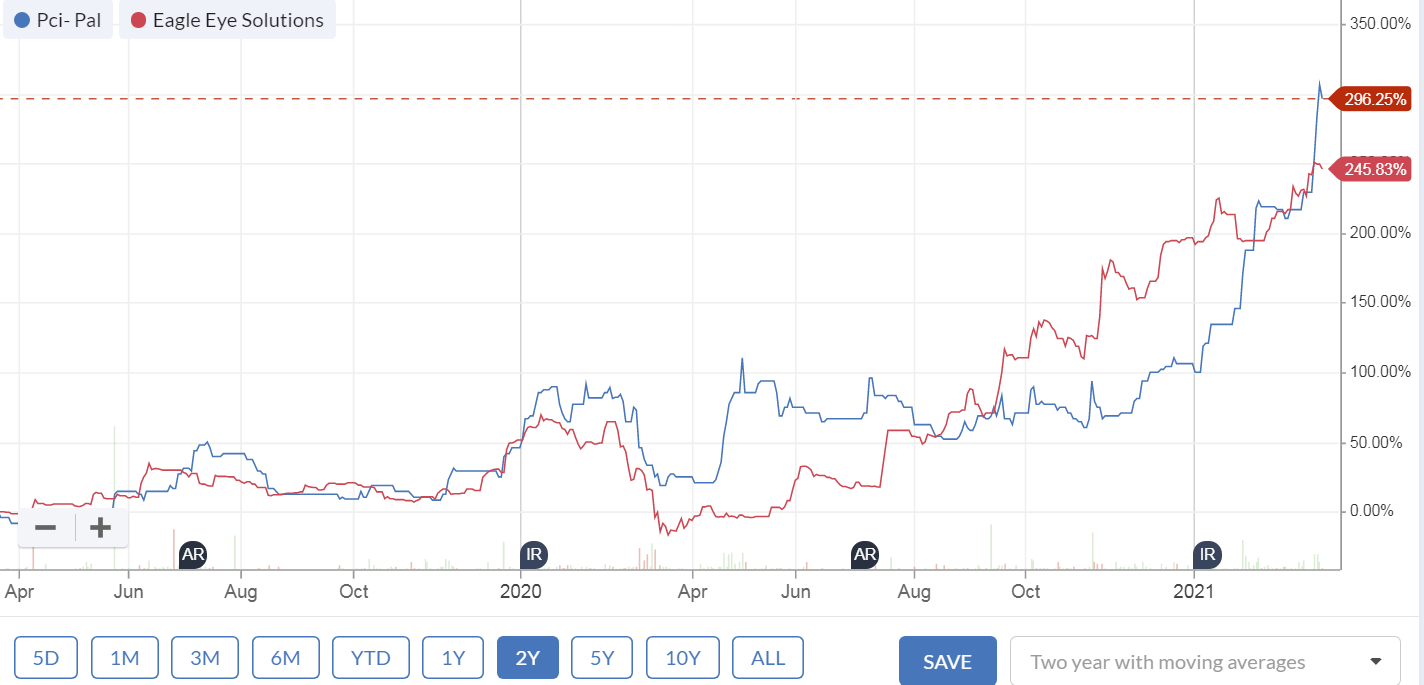 .
---
Renewi
(LON:RWI)
50.5p (up 10% at 12:42) – mkt cap £405m
Preamble – riisky shares – I've only looked at Renewi once, here on 1 Oct 2020, where there were aspects I liked about the company, but also some problems, especially a terrible balance sheet with NTAV negative at Euros(375)m. That ruled it out for me. Pity, because the shares have more than doubled since then. Risk-taking is certainly paying off well, at the moment, but it lulls investors into bad habits I think, that could prove very costly in future. Maybe we should relax our tolerance for risk in a bull market, but switch it back on again when conditions worsen?
On the other hand, with ultra low interest rates, and Govt support schemes in place to stop companies going bust, maybe we should be taking more risk, since the taxpayer is backstopping our risk in many cases? I can see some merit in that argument. It's important to be flexible on strategy, especially if you keep missing out on big risers. On balance though, I'm prepared to miss out on riskier stuff, because my safer things are doing pretty well too, and I can sleep at night holding them! Sorry, I'm rambling off the point, getting back to Renewi…
Renewi plc (LSE: RWI), the leading international waste-to-product business, announces its pre-close trading update for the year ending 31 March 2021.
Continued to trade well in Q4, driven by core business
Overall – this looks good -
Given the strong Commercial performance, Group underlying EBIT for FY21 is now expected to be significantly ahead of our previous expectations at around €68m.
EBIT is another word for operating profit. I don't trust that since IFRS 16 messed things up – because operating costs relating to property rental costs can end up in finance costs, which is lower down the Pamp;L than EBIT. Thus EBIT can be inflated, and just wrong basically, particularly at companies with lots of rented premises.
That said, significantly ahead of expectations is positive, at whatever profit measure it's reported at.
Cash/debt - also better than expected, helped by creditor stretch (not quantified unfortunately) -
The Group's cash performance is also expected to end the year materially better than previous expectations. Core net debt excluding IFRS 16 lease liabilities will likely be less than €350m (FY20: €457m) and the leverage ratio below 2.5x driven by strong trading performance and Covid-19 cash actions including taxation deferrals.
Outlook – sounds a bit hesitant, but not alarming -
Notwithstanding the Group's strong performance in FY21, the Board remains suitably cautious at this stage regarding the outlook for the financial year ending 31 March 2022 given the uncertainty as to the varied impacts of lockdown restrictions ending, recyclate prices, and a potential late cycle slowdown in the construction sector.
It's important to remember that Europe is lagging behind the UK in covid terms, so re-opening there could be delayed. That said, does it matter for Renewi, since it seems to have coped well with covid so far. Recycling has to carry on regardless, so it seems a resilient activity.
Longer term, the transition to increased recycling will continue to support our business model. The sustainability agenda and the potential for a "green recovery" supported by the EU and national governments are expected to present attractive opportunities for Renewi to convert waste into a wider range of high-quality secondary materials.

We remain confident our three strategic growth initiatives – recovery of earnings at ATM, the Renewi 2.0 programme and our innovation pipeline – will deliver significant additional earnings over the next three years and beyond.
My opinion - this is a good update I think, and I like the outlook comments. As when reporting last time, I can see the attraction of this share. It's just the debt which worries me. Should we treat this as a special case, in that it can raise cheap amp; plentiful debt from green bonds? Quite possibly.
Overall, if you can tolerate a risky balance sheet, then this share could be worth a closer look.
I'm not confident in my ability to analyse this sector, and don't generally touch anything in regulated industries. That said, I've been sniffing around Augean (LON:AUG) (I hold) for a while, and dipped my toe in there, buying a starter size opening position a little while ago. On balance, I feel AUG is much more financial stable than Renewi, and seems to have a simpler, more focused business model. There is the outstanding question mark over its tax dispute, which is material, but fully funded.
Renewi is much bigger than Augean, and it does look potentially interesting. Although as the graphs below show, Renewi had quite a chequered performance before covid. Have the problems all been fixed? That would need proper research.
.

.
---
Source:
https://www.stockopedia.com/content/small-cap-value-report-thu-11-mar-2021-phtm-pcip-rwi-777969/
Before It's News®
is a community of individuals who report on what's going on around them, from all around the world.
Anyone can
join
.
Anyone can contribute.
Anyone can become informed about their world.
"United We Stand" Click Here To Create Your Personal Citizen Journalist Account Today, Be Sure To Invite Your Friends.