Small Cap Value Report (Tue 23 Feb 2021) - AIR, TSTL, SOLI, FIF, BEG, TRCS, SPR
Tuesday, March 16, 2021 0:57
% of readers think this story is Fact. Add your two cents.

Good morning, it's Paul here with the SCVR for Tuesday.
(Today's report is now finished)
Let's start with some catch up items from yesterday:
Air Partner (LON:AIR) – (I hold) – trading update amp; dividend policy
Tristel (LON:TSTL) – interim results. Good, but share looks very expensive, and H2 outlook wobbly.
Solid State (LON:SOLI) – Trading update
Finsbury Food (LON:FIF) – interims look resilient in the circumstances. Shares look cheap, in my view.
.
From today's trading updates amp; results:
Begbies Traynor (LON:BEG) (I hold) – reassuring Q3 trading update. Looks cheap, based on forecasts for FY 04/2022.
Tracsis (LON:TRCS) – in line update. Looks quite attractively priced, in an expensive market.
Springfield Properties (LON:SPR) – a reader request, interim results from this AIM-listed Scottish housebuilder. Looks quite good.
.
---
Air Partner
(LON:AIR)
(I hold)
65p (down 8% yesterday) – mkt cap £41.3m
Shareholder Update amp; Dividend Policy
Air Partner, the global aviation services group…
Year end is 31 Jan 2021.
...re-affirms the Board's expectation, as previously stated in the Group's trading update of 20 January 2021, to announce underlying profit before tax of no less than £11.5 million for the year ended 31 January 2021 (FY 2020: £4.2m).
I reviewed it here on 21 Jan 2021, pointing out that the £11.5m annual profit is split:
£10.5m in H1 (benefits from covid related one-offs), and
Only £1.0m in H2.
We are reminded that AIR raised £7.5m in a placing, and did some cost-cutting.
Acquisition - CHS Engineering was bought out of administration, and will offer additional services within the AIR group.
Cash – looks fine, with what they call normalised cash of £8.3m. Plus debt facilities of £14.5m, currently undrawn.
Dividends – it paid 0.8p interim divi in Nov 2020, and intends to pay a 1.6p final dividend. The total is therefore 2.4p, yielding a reasonable 3.7%. It's good to remember that a lot of companies are only tentatively bringing back divis, so there's scope for yields to rise.
Dividend policy is to aim for 3.0 to 3.5 times dividend cover in future.
Current trading amp; outlook –
Profitable start to FY 01/2022 has been made, but below last year's exceptionally strong H1.
US business is buoyant.
Other divisions still impacted by airport lockdowns/quarantine.
Low visibility.
Guidance -
The Board's current base-case expectation for FY22 is to deliver profits in line with the financial year ended 31 January 2020, despite the continued global restrictions on passenger movements.
FY 01/2020 produced underlying PBT of £4.2m, and underlying EPS of 6.4p Therefore this would put the shares on a current year PER of 10.2, which looks OK to me.
My opinion – I like the specific profit guidance for the current year. AIR should see its airport-related activities improve, once travel resumes – seemingly likely by this summer, judging from the very positive vaccine rollout in the UK.
My main problem with this share, is that it has little visibility, and profitability is quite volatile.
I only hold a very small position personally, but might sit on it for a while, as the company's performance should improve as aviation comes alive again later in 2021. The dividend yield is useful too, so we're paid to wait.
Broker consensus forecasts shown on the StockReport don't seem to be consistent with this update, so I would expect them to fall. That might lower the StockRank in future, possibly?
I can't see myself wanting to hold this share long-term, because it doesn't seem to be a growth company, and the share price seems stuck in a long-term trading range.
.
.
---
Tristel
(LON:TSTL)
610p (up 2% yesterday) – mkt cap £285m
This is an interesting little company, making niche disinfection products. I can remember them doing a presentation at an investor evening years ago, when the share price was below 100p. It's now 610p. The interesting thing is, that most of the share price appreciation has come from multiple expansion - i.e. it's now rated on a very high forward PER of 41.6, whereas it used to be priced on more of a value company rating, of about 13. That's a one-off factor, and could even go into reverse, so arguably rather shaky foundations.
As the graphs below show, normalised EPS roughly doubled from 2015 to 2020, from 5.23p to 10.99p, whilst over the same period, the share price almost 10-bagged. This is also demonstrated in graph 4 below, showing a considerable increase in the PER range. So again, the big gains here have come mainly from multiple expansion, not from profit growth -
.
.
.
Tristel plc (AIM: TSTL), the manufacturer of infection prevention and contamination control products utilising proprietary chlorine dioxide chemistry, announces its interim results for the six months ended 31 December 2020.
The figures look fairly good, but not good enough to justify a PER of 41.6
H1 Revenue up 15% to £16.8m (at top end of target 10-15% range)
Strong gross margin of 80%, demonstrating good pricing power amp; operational gearing
EPS up 5% to 6.18p (before share-based payments)
Current trading affected by lockdowns still –
Sales of our medical device disinfectants during the first seven weeks of 2021 are lower than budget due to the impact of COVID-19 on patient examinations. We are very confident that by the end of calendar 2021, the ENT, gynaecology, urology, cardiology, and ophthalmology departments where our products are used will have returned to pre-pandemic levels of activity. Whether this will happen in the UK and Europe before our June year-end is unclear at present.
"However, the growth prospects for the Group are as strong as ever and we look to the future with confidence."
H2 sales – difficult to forecast, due to unwinding of NHS stockpiles, and timing of post-covid return to normal for hospitals.
Balance sheet - excellent, no concerns there.
Cashflow statement - fine, it's a genuinely cash generative business, that is paying divis from surplus cashflow.
My opinion – the cautious H2 outlook comments put me off a bit, as that makes it sound like the company might miss the 12.5p EPS forecast from Finncap for FY 06/2021. At 610p per share, we're being asked to pay a PER of nearly 49 times this year's forecast earnings, with a wobbly outlook statement for H2. That seems a very stretched valuation to me.
I think investors are excited about the long-running application for FDA authorisation in the potentially lucrative USA market. Hence upside is being priced in for that. Why would I want to pay up-front for possible future growth? Also, how much business would Tristel pick up in USA? Tristel already operates in lots of countries, only achieving tiny revenues in each. Which suggests to me it's very niche product. Therefore, how much extra business would come in from USA, and how long (and at what cost?) would it take to gain that new business?
All in all, Tristel is a nice little company, but the share price looks very expensive to me, so not of any interest.
As the long-term chart shows below, patient shareholders here have had an amazing multibagger. However, a profit's not a profit until you sell. With a PER of almost 50, and a wobbly H2 outlook, I'd suggest that this might be a good time to bank some profits with a top slice. Obviously that's a decision for each individual investor to make for yourselves.
.
.
---
.
Solid State (LON:SOLI)
780p (up 1% yesterday) – mkt cap £67m
Solid State plc (AIM: SOLI), the AIM listed manufacturer of computing, power and communications products, and value added supplier of electronic and opto-electronic components, announces a trading update for the year ending 31 March 2021.
H2 trading robust
Revenues broadly in line with expectations
Profits expected to be ahead of consensus forecasts (no explanatory footnote provided), and ahead of LY
Margins good
Stronger pound headwind at revenues level, but naturally hedged re profits
Shortage of semiconductor components could cause delays in FY 03/2022
FY 03/2022 profit expected to be similar to FY 03/2021
Directorspeak -
"We are very happy with the performance of the business this year. To be upgrading profit expectations ahead of last year, which was itself a record performance, given the challenges all businesses have faced, is testament to the hard work and commitment of the whole team and demonstrates the resilience of the business."
It does indeed look a resilient business, given all the problems with covid.
Broker update – many thanks to WH Ireland for making its research available on Research Tree, which is so helpful.
We've got 47.4p EPS for FY 03/2021 (slightly up on LY), then 47.5p for FY 03/2022. At 780p per share, that's a PER of 16.5 – not particularly good value, considering there doesn't seem to be any organic growth happening.
My opinion - the business seems to have been resilient throughout covid.
Like most shares, this one has done well in recent months, but looks fully valued to me. I can't see any appeal to buying now, at this level. Why would a company with little to no profit growth deserve a PER of more than 16? Maybe investors think it might beat forecasts in future?
Note the very high StockRank below, so maybe I'm missing something?
.
.
Also, it's worth noting that semiconductor shortages joins the growing list of macro headwinds being mentioned by lots of companies -
Semiconductor shortages
Rising raw materials prices
Expensive amp; congested freight from Far East to Europe
Brexit border problems
Big rise in sterling vs US dollar in the last year (hurts some businesses, but helps others, e.g. importers)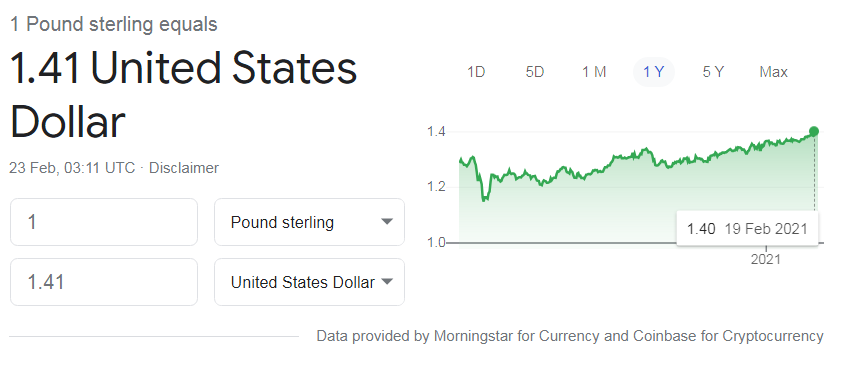 We should probably be thinking about how these issues might impact companies we invest in. Or, just treat it as normal uncertainty, temporary issues, and ignore it – one of the good things about having long-term investments.
That's the thing isn't it? So many people in the markets seem to think they have to be constantly reacting by buying or selling, to every tiny piece of news. Whereas surely it makes more sense to just ride out short term volatility? Depends whether you're trading or investing, I suppose.
.
---
.
Finsbury Food (LON:FIF)
71.5p (down 3% yesterday) – mkt cap £93m
Finsbury Food Group Plc (AIM: FIF), a leading UK speciality bakery manufacturer of cake, bread and morning goods for the retail and foodservice channels, is pleased to announce its unaudited interim results for the six months ended 26 December 2020.
The financial highlights for H1 look fine to me, considering that covid lockdowns amp; partial lockdowns will have caused many of its customers (e.g. cafes, coffee shops) to have been closed for some of the period.
Although the food retail customers (e.g. supermarkets) have been trading normally.
Gross margin increased, now 33.1% – due to operational efficiency improvements.
Brexit - removed a significant risk, but border supply chain issues need to be addressed.
Dividends – suspended, but under review. I imagine these are likely to return to previous levels of 2-3p in due course, implying a future yield of 3-4%
Pension deficit – looks fairly modest, requiring c.£0.7m p.a. cash contributions from the company.
Outlook – sounds cautious, but FIF should benefit from a re-opening of many customers currently closed due to lockdown.
The Board anticipates another resilient performance in the second half
Non-controlling interest is about 10% of profits, which is unusual. There must be a subsidiary which is not 100% owned. Worth checking if you're doing detailed due diligence yourself.
Going concern statement – looks fine, nothing of concern there.
Balance sheet - NAV £104.6m, less intangibles of £87.7m = NTAV £16.9m – adequate, but not strong.
As a presentational issue, I think the company scores an own goal by lumping together bank debt, and IFRS 16 lease liabilities. These are very different things, and in my view should be separately disclosed on the face of the balance sheet, not burying the split in note 6, because a lot of people don't get as far as reading the notes!
Cashflow statement - impressive, this is a decently cash generative business.
Valuation – consensus broker forecast of 8.12p for FY 06/2021 looks sensible, given that it achieved 4.1p in H1.
Bear in mind that this year has been significantly impacted by lockdown, so next year I would hope it might get closer to say 10p EPS due to normalising of trading as customer re-open. That would value FIF on a PER of about 7 – which seems very good value to me, given that it's not swimming in debt or pension schemes.
My opinion - although it's bounced in recent months (what hasn't?!), FIF still looks good value to me. I see this as an attractively priced value share. IF the lowly PER persists, I wonder if it might attract bidding interest? I could see this possibly being bought by private equity, and with 7 instis owning over 60% of the company, it would probably be an easy deal to do.
.
---
Begbies Traynor
(LON:BEG)
(I hold)
104p (pre market open) – mkt cap £133m
Begbies Traynor Group plc (the "group"), the business recovery, financial advisory and property services consultancy, today issues a trading update for its third quarter ended 31 January 2021.
I'm pleased with this, it sounds reassuring. Key points:
Strong trading in both divisions
Confident in full year outcome for FY 04/2021 – at least in line with expectations (footnote: adj PBT £10.2 – 10.7m)
Liquidity – significant headroom
Outlook – well positioned to deliver anticipated material earnings growth in FY 04/2022
If we take the upper figure of the company quoted consensus forecast of £10.7m, take off say 20% tax, that gives earnings of £8.6m, divided by 127.9m shares in issue, is 6.7p forecast EPS for FY 04/2021. At 104p per share, I make that a current year PER of 15.5.
More interesting is the growth for next year, partly due to acquisitions, Stockopedia shows 8.66p EPS, which reduces the PER to only 12.0
My opinion – this looks cheap. As we know, large numbers of businesses will need to restructure when furlough ends, which should keep BEG and others busy for a while. Not just with insolvencies, but also with property transactions. I also hold Frp Advisory (LON:FRP) in this sector, which also looks good value and pays divis.
BEG seems to have established a track record of making sensible acquisitions, to broaden its services. That has enabled it to generate good growth, without issuing too many new shares. I wonder if that might trigger a higher PER in due course, perhaps? With a bit of patience, I could see BEG shares maybe get to 125-150p later this year, good upside from 104p today. Not madly exciting, but worth having. Plus divis are paid out in May amp; November each year.
.
.
---
Tracsis
(LON:TRCS)
655p (down 0.5% at 08:35) – mkt cap £191m
Tracsis, a leading provider of software, hardware, data analytics/GIS and services for the rail, traffic data and wider transport industries, is pleased to provide the following trading update for the six months ended 31 January 2021.
H1 trading in line with the Board's expectations
High activity levels across large parts of the group
H1 revenue £22m (down 17% on H1 LY)
Covid impacted H1 revenues by c.£6m
Events amp; traffic data businesses should return to normal as lockdown lifted
EBITDA will be only slightly down on last year H1 £5.6m, because reduced revenues are from lower margin activities, plus cost-cutting done
Cash £21m, no creditors deferred
Rail division – doing well, helped by new contract wins, and multi-year recurring revenues
Guidance – FY 07/2021 expectations remain the same (but we're not told what they are!)
Investor presentation – isn't this terrific, bravo to Tracsis, all companies should follow suit (indeed many are) -
The Board is committed to communicating with all investors equally and directly, to ensure that its strategy, business model and performance are clearly understood. Accordingly, as part of the Group's Interim results roadshow, an online investor presentation will be given by management, hosted by piworld, on Tuesday, 13th April, at 1.30pm.

Anyone wishing to participate should register here: http://bit.ly/TRCS_FY21_interim_results_retail
Broker update – many thanks to Finncap for its update note this morning. They're forecasting 26.1p EPS FY 07/2021, rising to 34.8p next year, when conditions should be more normal.
At 655p current share price, that's a PER of 25.1 and 18.8 for next year.
I'm inclined to value the share on next year's earnings, which should be more typical of normal conditions.
My opinion – this looks quite good value. Tracsis is a group of interesting niche businesses, with high margins, cash on the balance sheet, and a track record of successful amp; disciplined acquisitions. We've also seen that it's been resilient during the pandemic.
To be able to pick that up for a PER under 20, strikes me as quite attractive. Quality at a reasonable price.
.
---
Springfield Properties
(LON:SPR)
151p (up c.1%, at 11:31) – mkt cap £152m
Springfield Properties (AIM: SPR), a leading housebuilder in Scotland delivering private and affordable housing, announces its interim results for the six months ended 30 November 2020.
Significant six-month growth – well placed for the full year
Substantial reduction in net debt through delivery against strong order book
This is a new company to me, I've never looked at it before, so please bear that in mind – it's just an initial review, and I might not understand everything fully.
It listed in Oct 2017, on AIM.
My first impression is that the financial highlights look good, considering there is likely to have been some unhelpful impact of covid -
.
Profit amp; EPS up 43% on H1 LY, it's looking good so far.
Land bank -
Total land bank of 15,029 plots (31 May 2020: 15,882) with Gross Development Value ("GDV") of £3.1bn (31 May 2020: £3.3bn)
Outlook -
Robust sales activity strengthened the order book, providing substantial visibility over full year forecasts…
The Group continues to experience excellent demand across the business, which is supported by strong market drivers in private and affordable housing. There remains an undersupply of housing in Scotland and the desirability of the type of housing Springfield offers has increased. With strong demand, good mortgage availability, low interest rates and the First Home Fund for first time buyers, the Group does not expect to be materially affected by the closing of Help to Buy (Scotland). In addition, it does not anticipate any significant impact on its supply chain as a result of the UK leaving the EU, although the Board keeps this under review.
"With substantial visibility over our private and affordable housing revenue for the full year, we look forward to delivering significant growth for 2020/21, and expect to be slightly ahead of current market expectations."
No footnote is provided to tell us what market expectations are.
Dividends - an interim divi of 1.3p is declared, not particularly significant for a 151p share. It paid a 2.0p final divi late last year, so the annual total for divis looks to be about a 2% yield.
Balance sheet - NAV £101.2m. There's only £1.7m intangible assets, which I always deduct, so NAV looks strong at £99.5m.
As I would expect for a housebuilder, the balance sheet is dominated by inventories at £155.1m, with relatively modest bank borrowings of £18m current, and £16m long-term. That's fine.
Valuation - looks fairly modest, at 9.7x forecast earnings for next year.
My opinion – on a quick initial review, I can't see anything wrong with this. It's got a solid balance sheet, outlook comments sound upbeat, and valuation seems reasonable.
Before buying this, I'd want to run a comparison with other housebuilders. In fact, I've just done a comparison with Persimmon (LON:PSN) and Barratt Developments P L C (LON:BDEV) on Stockopedia (it's under "Tools", then "Compare with…" on any company's StockReport). Stockopedia choses PSN as the winner out of those 3 housebuilders. Although I note that SPR ranks highly for the lowest PER and highest earnings growth rate. So it's well worth considering.
Overall then, my first impression of SPR is positive.
.
---
That's me done for today. Thanks for dropping by!
Regards, Paul.
Source:
https://www.stockopedia.com/content/small-cap-value-report-tue-23-feb-2021-air-tstl-soli-fif-beg-trcs-spr-768184/
Before It's News®
is a community of individuals who report on what's going on around them, from all around the world.
Anyone can
join
.
Anyone can contribute.
Anyone can become informed about their world.
"United We Stand" Click Here To Create Your Personal Citizen Journalist Account Today, Be Sure To Invite Your Friends.