Small Cap Value Report (Weds 24 March 2021) - HAT, QTX, TUNG, BMY, TPFG, CTO
Wednesday, March 24, 2021 6:25
% of readers think this story is Fact. Add your two cents.

Good morning, it's Paul amp; Jack here with the SCVR for Wednesday.
Agenda -
H amp; T (LON:HAT) – FY 12/2020 results. Resilient, but lots of moving parts. Bullet-proof balance sheet. Tricky to value.
Quartix Holdings (LON:QTX) – AGM trading update sounds upbeat, but valuation now looks sky-high
Tungsten (LON:TUNG) – loses a major client, but says pipeline is strong. Its track record is poor.
Bloomsbury Publishing (LON:BMY) – another ahead of expectations update. I try to work out what upgraded EPS might be.
Property Franchise (LON:TPFG) – resilient results and an acquisition from this sensible estate agency franchising group.
Tclarke (LON:CTO) – improving outlook and ambitious 3Y revenue growth target from this low margin, low multiple engineering and services group.
---
Let's start with some comments on a few of yesterday's backlog items;
£Hamp;T
286p (down 3% yesterday) – mkt cap £114m
Preliminary results for year ended 31 Dec 2020
There are lots of moving parts in these accounts from the UK's largest pawnbrokers. Reading through the commentary, performance in some activities were impacted by covid lockdowns, but the high price of gold greatly boosted profits from gold scrappage. Retail sales of jewellery have been strong. Demand for forex has been weak, due to reduced international travel. There's also the uncertainty over the ongoing FCA review of High-Cost Short Term Loans, with the outcome now delayed to Q2 of 2021.
Taxpayer support has included furlough funding, and business rates relief, boosting "other income" by £3.8m. It looks like the company is pocketing these, rather than repaying them to the taxpayer.
Considering all the disruption from covid lockdowns, the overall result for FY 12/2020 looks resilient –
Profit before tax down 22% to £15.6m
Diluted EPS down 27% to 32.1p – giving a PER of 8.9 – which looks cheap
Divis of 8.5p (up 81% on 2019) – yielding 3.0% and with clear scope to raise divis in future, due to the strong balance sheet.
Receivables loan books are down sharply though, which means future profits are also likely to fall, as less interest would be earned on these loan books, e.g.
Pledge book (for pawnbroking) was £48.3m at 31 Dec 2020, down 33% from a year earlier
Personal loan book was only £5.9m, down 64.5% on end 2019.
Balance sheet - this is a stand-out feature at HAT, it's outstandingly strong.
NAV of £134.5m includes £22.0m intangibles, so writing those off, NTAV is £112.5m – almost identical to the current market cap. It's very unusual to see a market cap fully backed with liquid assets.
All the bank borrowings have been repaid, so there is cash of £34.5m, and no bank debt. Although as the receivables books are built up again once demand returns, then the company might see cash fall, and possibly dip into its undrawn £35m bank facility.
Overall, it's absolutely bulletproof, and I'd say insolvency risk is as close to zero as you can get. Unless there was some kind of regulatory calamity, with a gigantic fine imposed, but that's the only risk I can see. There's no commercial risk at all, given that it owns the receivables books outright, and has £34.5m cash on top of that. This is an amazingly strong balance sheet.
Outlook – sounds uncertain at the moment, but seems poised to benefit from unlocking -
The extent to which social distancing and pandemic restrictions remain necessary will determine the pace at which the Group returns to pre-pandemic activity levels. A successful roll-out of the vaccine program will likely lead to increased demand for our services and will determine the extent to which we are able to rebuild our pledge book.
My opinion – neutral. I don't know how to value this share, because earnings are quite erratic. It does look very cheap on a balance sheet basis though. Pawnbroker shares often look irrationally cheap, it's difficult to see why the stock market would change its mind on that.
As you can see below, over a c.12 year period, the share price has ended up back where it started. Although there have been a good stream of divis over that time. So maybe it's best to think of it as an income share, with little prospect of much capital gains?
.
.
.
---
Quartix Holdings
(LON:QTX)
550p (up 8% yesterday) – mkt cap £266m
Quartix Holdings plc, one of Europe's leading suppliers of subscription-based vehicle tracking systems, software and services, issues the following trading statement ahead of its Annual General Meeting later today.
The Board reports that trading for the two-month period to 28 February 2021 was consistent with meeting market expectations for the year*.
* The Board believes that consensus market expectations for 2021 prior to this announcement, were as follows: Revenue: £25.6m; Adjusted EBITDA £5.1m; Underlying Free Cash Flow (before expenditure on 3G swap out in the US – see 2020 Annual Report): £4.0m.
Useful footnote, thanks.
EPS forecast from Finncap is for only 8.2p in 2021, down from 13.6p adj EPS in 2020, which is due to increased overheads to drive top line growth. The PER on 2021 forecast is 67.1 times. How that makes sense, I have no idea.
Clearly the market is not valuing this share on a PER basis at all any more.
The strong progress seen in the second half of 2020 has continued into 2021. New subscriptions in January were somewhat impacted by the national lockdown in the UK, however activity levels increased in February and this momentum has continued into March. As such, Management estimates that the Group will achieve growth of 6% in the first quarter of the year (circa 12,450 subscriptions versus 11,768), despite being down 4% after the first two months of the year.
International growth is showing good progress, from a low base.
My opinion – an encouraging update. The market clearly likes the potential from international expansion, and is putting a big premium on that.
It's way too expensive for me now, although as stated before many times, I do like the recurring revenues, strong cash generation, and divis. The growth rate would need to considerably accelerate to justify a £266m market cap though.
The rocketing share price amp; super-high PER just don't seem consistent with the history, or the current forecasts (lighter blue blobs) -
.
.
---
Tungsten
(LON:TUNG)
30p (down 19% yesterday) – mkt cap £38m
Tungsten provides accounting software.
It is going to lose a customer that accounts for 5% of revenues. Total revenues have been flat-lining around £36m p.a., so that implies about £1.8m in revenues from this one client, quite a hefty hit to take.
It's not immediate though, an extension to April 2022 is being executed.
Andrew Lemonofides, Tungsten's Chief Executive, commented: "We are disappointed to be advised of this decision and to be losing an important customer. However, we have a healthy pipeline of new business opportunities and will concentrate our efforts on replacing the volume relating to this transitioning contract over the coming 12 months."
My opinion - a hit of 19% to the share price seems quite savage. Although as the chart shows below, it's only giving up recent gains.
This announcement does call into question whether Tungsten's product is good enough though? If a large client is going through all the rigmarole of taking 12 to 18 months to transition to a different system, then it might suggest they're not happy with the existing Tungsten system maybe? Although there can be other reasons for changing software, so I'm speculating there.
Overall, I don't rate Tungsten. It's spent years struggling on, paring back huge losses to smaller losses, restructuring, etc. It's difficult to see any appeal to this share. Why get involved then?
The last reported balance sheet was weak, with NTAV negative at £(10)m, and a current ratio of only 0.44 – therefore I think the risk of another fundraising, and more dilution for shareholders, look high. Who would want to put more money in though? The story feels very stale now. Maybe a sale of the business to a competitor might be the best option, as it doesn't seem to have worked being a standalone listed company since Oct 2013.
.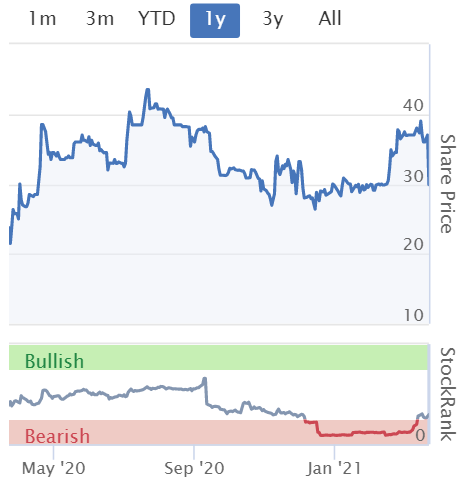 .
---
Bloomsbury Publishing
(LON:BMY)
268p (pre market open) – mkt cap £225m
There are lots of really dull companies updating us today, but this one stands out as interesting, hence why I'm covering it first.
Last time I looked at this book publisher was here on 29 Jan 2021, when the company put out a positive update, informing us that profit for FY 02/2021 would be "well ahead of market expectations", with a lovely footnote saying that adj PBT of £12.1m was consensus market expectations.
In the absence of any available broker research, I worked out manually that BMY looked to be heading for around 15p EPS for FY 02/2021.
Today's update – better still, it says -
Trading significantly ahead of upgraded expectations
Bloomsbury announces that revenue is expected to be ahead and profit significantly ahead of upgraded market expectations* for the year ending 28 February 2021. This surpasses the guidance provided in our statement on 29 January 2021.
* The Board considers current consensus market expectation for the year ending 28 February 2021 to be revenue of £171.0 million and profit before taxation and highlighted items of £14.8 million.
To summarise then, adj Profit was forecast at £12.1m, guidance was then raised to £14.8m in January 2021, and is now being raised again! Significantly ahead of £14.8m, so what does that mean? Last time they said "well ahead", which turned out to be a rise of £2.7m in profits. Is significantly ahead ahead of well ahead? Isn't this ridiculous! Why don't they just give a figure! Or a range, e.g. between x amp; y. Or approximately x, subject to audit adjustments?
We have to guess what profit might be. Let's use a similar increase to last time, so maybe £17m adj pre-tax profit? Take off 20% corporation tax, and that's earnings of £13.6m. To complicate things, the share count has gone up due to a placing, from 78m to about 84m, so let's take an average of say 81m, which gives my estimate of 16.8p EPS. That's only an estimate remember, so could be wrong.
Valuation – at 268p per share, I make that a PER of 16.0, which looks about right to me.
Balance sheet – checking out the last one as at 31 Aug 2020, it looks excellent, so this group is very soundly financed.
Reasons given amp; comment on the profit upgrade.
Lockdown – Feb 2021 saw an "exceptional sales performance"
Not known how reopening will affect consumer behaviour (hence not known if surge in profits is sustainable, or a one-off)
Digital – strong demand for academic publications
Net cash of £54m at 28 Feb 2021 (up from £44.1m at end Aug 2020) – looking at options for investing the cash pile
Modest taxpayer support of £63k furlough has been repaid – well done
My opinion – very good indeed. There could be some upside on the share price, but not a huge amount in my opinion. I can't see that a book publisher would sustain a PER above say 20. It's 16 at the moment, and has benefited from lockdown, so maybe 10-20% upside? Not madly exciting. Still, it's a very solid company, with a lovely balance sheet, trading very well. There's a lot to be said for that.
.
Jack's section The Property Franchise Group (LON:TPFG)
Share price: 227p
Shares in issue: 25,822,750
Market cap: £58.6m
Property Franchise (LON:TPFG) is now the UK's largest multi-brand lettings and estate agency franchising group. There are a couple of other listed players with a similar business model – Belvoir and M Winkworth come to mind – and all of them have attractive quality metrics due to the high-margin, low-cost, and cash-generative nature of this business model.
The big news at TPFG is the recent completion of the cash and share offer of Hunters on the 22nd of March. It's quite possible that the past year has opened up a range of Mamp;A opportunities for stronger operators in the real estate agency operations industry. Foxtons has also signalled its desire to find acquisition candidates here.
In fact it looks like perhaps the move has been a bit of a catalyst for the TPFG's share price recently.
The management at TPFG are a prudent bunch, so I'm hopeful that this recent acquisition is a good cultural fit.
Highlights:
Network income up from £93m to £94m,
Revenue up slightly from £11.4m to £11.5m,
Managed Service Fees (MSF) down from £9.7m to £9.4m,
Tenanted managed properties stable at c58,000,
Sales agreed pipeline at year-end almost double December 2019 at £10.3m (2019: £5.2m)
11 assisted portfolio acquisitions by franchisees, adding 1,305 managed properties
strong balance sheet, with net cash of £8.8m at the year-end (2019: net cash £4.0m)
FY20 was a volatile year for the estate and lettings agency industry given the period of full closure and subsequent restrictions in place for the remainder of the year.
The group says that the stamp duty holiday has had a positive impact on underlying activity levels, but extended lead times mean that this surge of activity will largely flow through into fees in early 2021.
Hunters acquisition
TPFG provides some useful info into Hunter's trading for FY20 as well:
Network income increased to £43m (2019: £42m)
Adjusted revenue decreased by 4% to £12.5m (2019: £13.0m)
Management Service Fees of £3.4m (2019: £3.2m); 64% Sales and 36% Lettings
Average branch revenue of c.£207,000 (2019: c.£205,000)
Tenanted managed properties of c.15,000 (2019: c.14,000)
Sales agreed pipeline increased 84% to £17.3m (2019: £9.4m)
Improved balance strength with zero net debt at the year-end* (2019: net debt £3.2m)
TPFG acquired Hunters for around £24m. With £12.5m of revenue that values it at c1.9x sales compared to TPFG's much loftier sales multiple of 5.17x. TPFG has more of its business in lettings though, which is more resilient. Still, I would imagine this is a good price to pay relatively speaking and is probably better value than the group's Ewemove acquisition, which drew criticism in some quarters.
TPFG hopes this acquisition will 'supercharge [its] expansion plans', and it looks like both the group and Hunters have performed well given the circumstances. There were times last year when it looked like there could be a market crash, so broadly stable revenue and a meaningful acquisition is a creditable result.
Conclusion
The extension of the stamp duty holiday announced in the March 2021 Budget and the intended easing of lockdown restrictions should bolster trading over the coming months. The stamp duty is an artificial dynamic that should be monitored though, and its removal is a risk to business.
That aside, TPFG has made it through a tricky period relatively unscathed, and now the outlook actually sounds quite positive.
The strong pipeline and momentum generated through late FY20 has continued into the current year and TPFG and Hunters both came into 2021 with sales agreed pipelines in their networks up more than 80% on the end of the prior year.
As a result, at the end of February 2021, the sales agreed pipeline had only reduced by 6% since the end of 2020, when they were at record highs. Sales agreed pipelines have also started to convert into completions at faster rates.
TPFG is a sensible, high quality, profitable operation with a track record of underlying growth and plenty of scope for steady expansion. You can probably make similar comments for Belvoir and M Winkworth, too.
The recent acquisition adds a point of difference though, and increases TPFG's scale: now the portfolio of managed properties stands at c73,000 properties. Uncertainties remain in the outlook but, external market considerations aside, the pipeline is robust and integrating Hunters could provide another growth lever going forward.
At 18.6x TTM earnings, TPFG is not obviously cheap and it might not shoot the lights out in future, but I think it can grow steadily and is worth considering as a solid, longer term quality hold.
TClarke (LON:CTO)
Share price: 103.7p (-1.71%)
Shares in issue: 43,052,558
Market cap: £44.6m
Tclarke (LON:CTO) is a UK-wide specialist engineering and business services group. It focuses on five key sectors:
Infrastructure – well positioned in the key growth sector of healthcare, which requires complex, technical engineering solutions,
Residential and Hotels – hotel projects include The Peninsula Hotel at Hyde Park Corner and the Pan Pacific Hotel, in the City of London,
Facilities Management – market-leading in-house Facilities Management (FM) expertise,
Engineering Services – major new London landmark office projects include 8 Bishopsgate, City of London, Bankside Yards, Southwark, and Facebook, Kings Cross,
Technologies – currently has live opportunities on four significant schemes in the South East.
TClarke comes with considerable business model risk and it tries to mitigate this as best it can. It strives for long term relationships and continuous repeat business 'which is as close to achieving reoccurring revenues as is possible in our markets.'
It's got a long heritage, stretching back to 1889, and is no doubt good at what it does, but the fact remains that this is a lower margin part of the market prone to turbulent trading and large, complex contracts.
You can see this fact reflected in the group's low valuation multiples:
Highlights:
Revenue -30.7% to £231.9m,
Underlying operating profit -41.1% to £6m; reported operating profit -79% to £2.1m,
Net cash -17.7% to £10.2m,
Underlying diluted earnings per share -46% to 9.66p; basic EPS -84.4%,
Total dividend steady at 4.4p,
Forward order book +13.2% to £456m.
TClarke faced significant challenges in 2020, but this is far more evident in its results than it is in TPFG's, for example. It's probably the reason why one is on a TTM PE ratio of 18.9 while the other is on 8.9x.
That said, TClarke has remained profitable and its average daily net cash balance was positive throughout 2020.
No doubt the group's operating margin of 2.6% is low, but it turns out that CTO would have reached its 3% target were it not for the lockdowns, over which the group just about broke even. The group hails this as 'an outstanding performance given the significant impact this [lockdown] had on our sector through site closures and major client driven project delays and reschedules.'
TClarke has also maintained its dividend over the year and the forward order book, which stands at a record £456m, is being powered by entirely new projects rather than just Covid-delayed projects. Still, if I were a shareholder, I would possibly prefer to see the cash paid out in dividends to instead be used to bolster the balance sheet.
The group has set a 3Y target of increasing revenues to some £500m – that would be a good jump from FY20's £231.9m and FY19's £335m. In fact, it would make for a 3Y revenue CAGR of 29%.
This target is supported by a year end record forward order book of £456m: £288m for 2021 and £168m for 2022 and beyond.
So there could be top line growth here if you are prepared to tolerate the risky mix of lumpy trading and low margins. But I would imagine scope for multiple expansion is limited, while the operating risks are considerable.
Conclusion
There are certainly things to like about TClarke. It has a long and proud heritage. It places emphasis on recruiting and training up apprentices (even during global pandemics). And FY20 results could have been much worse.
With a modest valuation and a hopefully improving outlook, there could still be an opportunity here. But on balance, the risks are too great for me. Given the business model risk, I'm surprised the company doesn't build up its cash balances and fortify its balance sheet.
Margins are low, contracts are big and complex, and a bad profit warning is never far away as a result. On those grounds, and while the top line may well grow in the near term, I think the mix of risks here justifies a lower earnings multiple.
Source:
https://www.stockopedia.com/content/small-cap-value-report-weds-24-march-2021-hat-qtx-tung-bmy-tpfg-cto-785394/
Before It's News®
is a community of individuals who report on what's going on around them, from all around the world.
Anyone can
join
.
Anyone can contribute.
Anyone can become informed about their world.
"United We Stand" Click Here To Create Your Personal Citizen Journalist Account Today, Be Sure To Invite Your Friends.