Small Cap Value Report (Weds 31 March 2021) - NXR, TPT, Deliveroo, CALL, GATC, AQX
Wednesday, March 31, 2021 8:09
% of readers think this story is Fact. Add your two cents.

Good morning, it's Paul amp; Jack here with the SCVR for Wednesday.
Timing - we're both on the case early, so should be done by 1pm.
Agenda -
Paul -
Norcros (LON:NXR) – a positive trading update, with clear guidance, profit up about 10% on previous guidance, which should trigger broker upgrades. Still looks good value, even after strong recent rise.
Topps Tiles (LON:TPT) – H1 trading update. Good Q1, weak Q2 (due to store closures from lockdown). Overall, looks priced about right to me, I can't get excited about this share because the company was struggling before covid.
Deliveroo – IPO has flopped. My comments on IPOs generally.
Cloudcall (LON:CALL) (I hold) – FY 12/2020 results. Costs are rising faster than gross profit, and that's set to continue in 2021. Not good.
Jack -
Gattaca (LON:GATC) – FY20 Covid hit for this engineering and technology recruiter, but improving leading indicators suggests rerate could continue. US Department of Justice risk remains a concern.
Aquis Exchange (LON:AQX) – maiden profit and successful integration of NEX exchange
.
---
Paul's Section
Norcros
(LON:NXR)
256p (pre market open) – mkt cap £207m
Norcros plc ("Norcros" or the "Group"), a market leading supplier of high quality and innovative bathroom and kitchen products, today issues an update on recent trading.
Further upgrade: strong momentum sustained…
a further improvement in profitability. Consequently, the Board now expects underlying operating profit for the year to 31 March 20211 to be no less than £31m on a post-IFRS 16 basis which compares to our previous underlying operating profit guidance for the year of no less than £28m.
Very good. Nice clear guidance.
Net debt - has disappeared!
The balance sheet remains very strong, and we expect to end the year at 31 March 2021 with no net debt (on a pre-IFRS16 basis) compared to net debt of £36.4m at 31 March 2020.
We're not told if there's any creditor stretch, or whether this is a sustainable position.
Valuation – Norcros's interim results (6m to 30 Sept 2020) showed underlying operating profit of £12.8m. Full year guidance is now £31.0m+, which implies a strong H2 performance of c.£18.2m u/l operating profit.
My sums show that this approximates to 26p EPS for the full year.
Reasonableness check – existing broker consensus forecast shown on the StockReport is 23.5p, multiply that by 31/28 (being today's upgrade in profit guidance, see above) also arrives at 26.0p EPS new forecast for FY 03/2021, so I'm happy with that figure.
Hopefully we might get some updated broker notes later, to confirm this.
The current share price is 256p, therefore the PER is 9.8 – sounds cheap, but bear in mind Norcros tends to trade on a single digit PER usually, due to its huge pension scheme, and its exposure to economic/political risk in South Africa.
My opinion – a strong update.
We've been saying for years here that Norcros shares look cheap.
9.8 times earnings for FY 03/2021 looks good value still, despite the recent strong rise in share price, because we can factor in further earnings growth in future years too. Plus probably more, sensible acquisitions, especially given that it has paid down debt, which gives it headroom to do more deals. So far management seems to have done well, with sensibly-priced acquisitions which fit well within the group.
It has a very high StockRank too.
Overall – an impressive update, and I think the recent strong share price is justified by the improved fundamentals.
.
.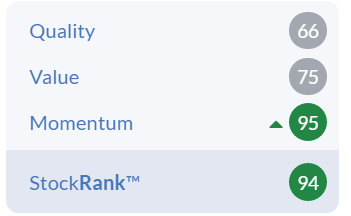 .
---
Topps Tiles
(LON:TPT)
69p (roughly flat on the day, at 09:12) – mkt cap £135m
Topps Tiles Plc ("Topps" or the "Group"), the UK's leading tile specialist, announces a trading update for the 26 week period ended 27 March 2021.
Resilient performance against a challenging backdrop
H1 revenues are slightly down on LY, at £103.6m (H1 LY: £106.2m)
Q1 (Oct-Dec 2020) was strong, but Q2 weak (due to lockdown restrictions – closed stores)
Gross margins also worse in Q2 vs Q1.
Outlook – Expecting a "sharp increase in sales" imminently, when the current lockdown is released, with gross margins normalising, which is what happened last year when the first lockdown was eased.
Balance sheet – Topps claims to have a strong balance sheet, and is "debt-free". I last reviewed the balance sheet here, and found it to be adequate, but not brilliant. It's not a concern overall. Note that Topps has managed so far without the need to dilute shareholders with an equity fundraising, an important spin-off benefit from having a sound balance sheet. I imagine it can probably continue without needing to do a fundraising in future, which means that we should hopefully be able to rely on EPS returning to pre-covid levels in due course.
Valuation – tricky. I think the best way to value this share, is look at pre-covid trading, which was c.5-7p EPS, and assume it might return to that level in due course. A share price of 69p means a PER range of between about 10 and 14. That looks about right to me.
My opinion – the problem with Topps, is that its earnings were under pressure, and falling, before covid. Suggesting that it might have been struggling with competitor pressure.
The share price seems to have anticipated a recovery to pre-covid trading already, so I would need to see evidence that it can beat pre-covid trading in future – i.e. some developments which make it a better business than before. Maybe there will be less competition in future, as there must have been casualties from weaker, independent competitors going bust? What about the threat from online competition? It's easy enough to look at pictures of tiles online, and be sent samples through the post. So is a large store network actually necessary?
Historically, Topps was a generous dividend payer, so that's probably the main reason to hold this share, anticipating a return of generous divis. Although scarred by covid, I suspect a lot of companies might want to hold a larger cash buffer in future. They should do anyway, but people quickly forget crises in practice.
Overall, I've got nothing against Topps, but can't see any compelling reason to want to buy or hold its shares at the current price, which looks about right.
As you can see below, it's not a growth company any more, hence should be on a lowish PER.
.
.
---
Deliveroo
Just a quick mention as this is topical.
Its IPO has gone ahead, priced at 390p, the bottom end of the 390-460p indicated price range. I was having a rummage through the Admission Document over the weekend, but gave up after seeing;
Two classes of shares: 1,704.5m Class A shares, for mere mortals, and 115.2m Class B shares for the founder Will Shu which have special rights for 3 years I think. To my mind, different classes of shares are just wrong, so it's not something I would entertain buying into, unless there was a really compelling reason.
Secondly, the valuation looks utter insanity. It doesn't even make a profit yet! In 2020 it made an underlying, adjusted EBITDA loss of £(9.6)m. So even the most favourable measure possible, didn't even make it into the black. Remember this isn't an early stage business, it's been around for a while. After a load of charges, the underlying loss for 2020 was £(223.7)m!
We also have worries about regulatory/wages for the gig economy, workers rights, etc., which might prevent ESG funds (a big part of the market now) investing in Deliveroo.
Is it a ground-breaking, paradigm shifting platform for global domination? Or as Mark Brumby quipped, is it just an app, connected to a load of guys on bikes?!
Valuation – the IPO price of 390p seems to correspond to a valuation of £7.1bn! How can that possibly make sense?
Current trading – it's opened way down on the float price, and at the time of writing is only just above 300p, that's about a 23% opening fall. Very much a flop then. In my experience, when IPOs crash on opening, that often heralds a period of under-performance for that share. I remember when Hss Hire (LON:HSS) struggled to float, and was priced at the bottom of the range, it fell off a cliff a few months after floating, and has never recovered. Mind you, that was a mess from day 1, and was floated with an insolvent balance sheet.
On the other hand, Facebook flopped after its float in 2012, languishing below its IPO price for about a year. It's since risen about 14-fold from the lows, over the last 9 years. So elephants can amp; do gallop in the modern world!
New listings generally – I'm told by friends in the city that there is a big pipeline of new IPOs, and loads of Mamp;A activity, driven in particular by private equity (PE), awash with cash, and paying full prices. All boom time stuff, so it won't last forever, but we could have a couple of good years out of this I reckon.
I'm all for more decent quality listings in London, we need to refresh the UK market, which has become stale. However, promoters must price them competitively. If investors are fleeced, with over-priced, opportunistic (e.g. beneficiaries of lockdown) floats, then the funding window could slam shut just as quickly as it's opened up.
Primary Bid – it's great to see more floats including an offering for private investors, through primary bid. This is essential to create some liquidity. After all, what's the point in floating a share, if they're just placed in large blocks with institutions? There's not any post-IPO liquidity!
With Deliveroo going to a deep discount, it just shows that people punting on IPOs can't just assume they will run to an immediate premium, you do have to be careful what you buy, and what you pay for it. I tend to avoid new issues, because the seller has chosen the timing amp; price, and they know the business much better than me. Hence I'm probably not being wise, being on the other side of that trade. But there are exceptions, some IPOs do brilliantly well – look at Fevertree Drinks (LON:FEVR) for example, where a private equity seller sold it cheaply, just as stellar growth was starting.
.
---
Mpac
(LON:MPAC)
(I hold)
I mentioned this company yesterday.
I found its results webinar, with Qamp;A very informative, so here it is, the recording is now live. Video is a much more digestible format, than ploughing through a lengthy results statement, I find, and I often pick up on important points that I missed, when reading the relevant RNS -
.
.
---
Cloudcall
(LON:CALL)
(I hold)
74p (down 4.5%, at 11:14) – mkt cap £36m
Checking the archive, I last commented here on CALL's recent (2 March 2021) placing at 81.5p, raising £7.5m. Prior to that, I was not impressed with its trading update here on 22 Jan 2021, for FY 12/2020. As mentioned then, the problem with CALL is that it's not growing fast enough, and overheads are constantly increasing. That has led to a prodigious cash burn ever since it floated, and repeated fundraisings. Always accompanied with super-bullish commentary! Forgive me for sounding jaundiced, but companies that keep missing targets deserve criticism. That said, covid wasn't their fault, and it did knock the sector (recruitment) that CALL is mostly focused on.
Right, that's the opening whinge out of the way, let's look at the numbers!
Final Results - for FY 12/2020.
Revenue £11.8m (up 4% on 2019) – of which 95% is recurring/repeating
Gross margin high, at 81% (2019: 79%)
Loss after tax is the best measure I feel, because large tax credits are a genuine cash inflow, so should be included in the valuation. Overheads increased a lot, so the loss after tax was a hefty £(5.7)m, (2019: £(2.9)m)
It's the costs which concern me. Sales amp; marketing rose 32% to £3.77m, and Administration expenses rose 24% to a heavy £8.55m. Remember there's only £9.5m of gross profit generated. By my calculations, revenues would have to rise c.70% just to reach breakeven. Hence the company needs to greatly accelerate top line growth, or cut overheads.
Balance sheet at 31 Dec 2020 has since been augmented by the £7.0m (after costs) placing post year-end. Taking that into account, the cash position should be fine for now.
Note retained earnings of £(74.97)m in the reserves section – this company really has burned through a lot of cash. Actually, that figure looked too high, so I've checked back, and CloudCall (previously called Synety) was reversed into a shell, called Zenergy Power, which brought with it retained losses of c.£(49)m. So actually, Cloudcall has "only" generated retained losses of c.£(26)m in the last 9 years as a listed company.
It shouldn't have to pay any tax then if it ever does make a profit.
Outlook –
Strong recovery in H2 2020 has continued into 2021 with performance since the end of the year in line with management expectations… as market conditions continue to improve, the Board fully expects the Group to return to its previous levels of growth…
Given the growth momentum generated in H2 2020, the Board is confident that the Group will be able to deliver revenue of £14m in 2021 representing growth of 18%.
In addition, the Company has provided guidance for 2021 operating expenditure which is expected to be approximately £16.9m compared to 2020 which was £13.9 million (including £1.3m of one-time COVID-19 related savings).
The Board also remains confident in its ambition to now reach monthly EBITDA breakeven by mid-2023 and achieve a £50 million revenue run-rate during 2026.
That sounds as if costs will once again be rising faster than gross profit in 2021 as well, so an even worse loss is on the cards.
My opinion – growth is nowhere near fast enough to justify the large, and rapidly rising cost base.
I'm not at all happy with things here. If we don't see a serious acceleration in growth during 2021, then I think the time might have come to ditch this position. It's less than 1% of my portfolio, and is really just a distraction now.
.
.
---
Jack's section
Gattaca (LON:GATC)
Share price: 150.2p (-0.86%)
Shares in issue: 32,290,422
Market cap: £48.5m
Gattaca (LON:GATC) shares have done well over the past couple of weeks – in fact a few small cap cyclical value stocks appear to have outperformed over that timeframe.
Perhaps it signals a slightly more risk-on attitude with investors now anticipating a successful vaccine roll out and life beyond lockdown.
It was pitched to the Stockopedia Investment Club in early February when shares were below 100p but, although the Club voted in favour, a secondary vote for just one Buy in that meeting meant Ferrexpo got the nod. It looks like we missed out – you can read the pitch here.
This is a specialist Engineering and Technology staffing solutions business, with a core focus on in-demand STEM (science, technology, engineering, and mathematics) skills, so it makes sense that the share price would rerate given the increasingly likely prospect of an unlocked UK economy in the near future.
Highlights:
Underlying revenue -30.6% to £206.5m,
Underlying net fee income (NFI: revenue less contractor payroll costs) -33.7% to £21.1m,
Underlying EBITDA -65.5% to £2m,
Underlying profit before tax -86.5% to £0.3m,
Underlying diluted EPS -84.9% to 1.1p, and
Net cash balance of £22.7m.
Continuing underlying results exclude the NFI and trading losses of discontinued operations in China, the contract Telecoms Infrastructure markets in Africa, Asia and Latin America as well as operations in Dubai, Malaysia and Qatar (2021 H1: £(0.0)m, 2020 H1 restated: £(1.5)m). There is also £0.2m of restructuring costs, £0.2m of amortisation added back, and £0.3m in exchange losses.
In the UK, demand was most impacted within the Aerospace, Auto and Maritime business. Infrastructure NFI was down 33%, and Energy was least affected with NFI down 12%. UK Technology NFI fell 37% but has returned to quarter-on-quarter growth and Gattaca expects that trend to continue through the second half.
International operations, which make up 12% of underlying NFI, was down 33% to £2.4m.
The group restructured in October 2020, realising annualised savings of some £4m and paving the way for increased investment in headcount and consultants as conditions improve.
Gattaca has also nearly finished upgrading its global technology platform. The Primary Business Systems ("PBS") will replace legacy systems and provide a more integrated and flexible centralised system.
Conclusion
FY20 results don't look pretty but, relatively speaking, emerging from the past year with a small underlying profit and equally small reported loss probably isn't bad. The group enters 2021 in decent shape and many investors will no doubt be hoping for a quick improvement in trading conditions.
Whilst the pace of the recovery remains uncertain, Gattaca is seeing more encouraging signs in leading indicators like improving activity rates. Full year 2021 underlying PBT is expected to be in line with market expectations.
The recent rerating of shares does also have to be taken into account. But even with a more than 50% rise, those shares still look cheap on a forecast basis.
There are a couple of caveats. Trailing twelve month (TTM) free cash flow is flattered by some working capital movements, and price to sales should probably track Gattaca's NFI rather than gross revenue. Still, adjusting for those, Gattaca trades on just over 3x FY19 free cash flow and 1.7x FY19 NFI, which is undemanding.
There is a hard-to-quantify risk in the form of the group's ongoing legal action with the US Department of Justice. The outcome of any potential fines associated with this is unknown.
This might rule it out for some, but if you can tolerate that risk, then purely on valuation and outlook I could see this continuing to rerate as the economy unlocks.
Aquis Exchange (LON:AQX)
Share price: 600p (+5.26%)
Shares in issue: 27,169,696
Market cap: £163m
Aquis Exchange (LON:AQX) is trying to build a UK rival to the AIM market after acquiring the NEX exchange in early 2020 and rebranding it as the Aquis Stock Exchange. Since then it has attracted some activity, including the listing of China-focused ecommerce group Samarkand, which has a market cap of around £63m.
Aquis Exchange also operates a pan-European cash equities trading businesses and develops and licenses exchange software to third parties (Aquis Technologies).
It will be interesting to see if the stock exchange in particular can gain traction – it could take a while – but competition for small cap listings could be a good thing as it might drive down listing costs. Funny how Aquis itself chooses to list on AIM though!
We seem to be in a period of significantly heightened corporate activity, so I wonder if Aquis can capitalise on that.
Revenue +67% to £11.5m,
EBITDA up from breakeven to £1.5m,
Maiden full-year pre-tax profit of £0.5m vs. FY19 pre-tax loss of £0.9m,
Membership of Aquis Exchange grew by 10% to 33; market share of pan-European continuous trading increased to 4.7% during 4Q2020 (4Q2019: 4.2%),
Post period, as of 31 March, As at 31 March 2021, membership had grown to 39 and market share to 5.0%
The group's CEO, Alasdair Haynes, comments:
Momentum has carried into current trading, with strong performances across the Group and particularly notable progress in AQSE, which is now truly fit for purpose for modern-minded SMEs looking to float. We have a clear vision, excellent team and an exceptional drive to succeed. So, whilst the road ahead remains uncertain at a macro-economic level, we have confidence we have an exciting year in front of us.
As well as achieving profitability, Aquis hired its first Chief Technology Officer, built its first cloud native exchange, and acquired and integrated the NEX Exchange.
Aquis exchange
This is the cash equities trading business. It allowed clients to trade more than 1,500 stocks and ETFs across 14 European markets in FY20 and now offers Swiss stocks too.
Over the period, Aquis' secondary market multilateral trading facility ('MTF') delivered growth despite challenging economic and regulatory conditions. The number of trading members grew from 30 to 33 and a number of members increased their activity levels, leading exchange revenue to increase 46% to £7.7m.
Market share of all pan-European has grown from 1.8% at the time of the IPO in June 2018 to 5.0% as of 31 March 2021.
Aquis Technologies
Aquis licenses its leading exchange related technology to international financial services clients. Revenue from technology licensing in 2020 grew to £2.3m, 'reflecting the increasing interest in our high-calibre, in-house technology.'
The highlight of FY20 was a successful proof of concept project in collaboration with Singapore Exchange (SGX) and Amazon Web Services (AWS) to create a cloud native exchange.
Aquis Stock Exchange (AQSE)
The NEX Exchange was acquired in early 2020 and has been rebranded as Aquis Stock Exchange Limited (AQSE). As of 31st December 2020, 87 companies were quoted on its two markets, with a total market capitalisation of approximately £1.8bn. It works with 49 registered brokers and 8 market makers.
For the 9 ½ months ended 31st December 2020, AQSE delivered revenues of £1.2m and a loss before tax of £0.5m.
The group also generated data revenues of £0.9m, up 165% in 2020 and helped by the inclusion of AQSE.
Conclusion
The trading figures are still quite small here given the £155m market cap, but I think Aquis is worth highlighting as a company of interest going forward.
It's the acquisition of AQSE that is intriguing. Can this rival AIM for small cap listings? And what further disruption and innovation can a hungry competitor bring to the table in the years to come? There is the risk that the incumbent exchanges are just too dominant and entrenched but so far it looks like Aquis has been able to grow market share in other parts of the company.
The valuation is expensive, with a lot of growth priced in, but if the company can execute then the opportunity is probably large and this could grow to become a high quality enterprise.
It's too expensive for me given where it is at operationally, but listing is often costly for small and mid caps so I'm curious to see if Aquis can win meaningful business.
Source:
https://www.stockopedia.com/content/small-cap-value-report-weds-31-march-2021-nxr-tpt-deliveroo-call-gatc-aqx-789454/
Before It's News®
is a community of individuals who report on what's going on around them, from all around the world.
Anyone can
join
.
Anyone can contribute.
Anyone can become informed about their world.
"United We Stand" Click Here To Create Your Personal Citizen Journalist Account Today, Be Sure To Invite Your Friends.