Stock in Focus: Is Rio Tinto cheap at amp;pound;100bn?
Monday, March 22, 2021 16:49
% of readers think this story is Fact. Add your two cents.

Mining giant Rio Tinto has become the fourth most valuable company in the FTSE 100 in recent weeks, as soaring iron ore prices have boosted the group's profits. Although the shares are trading close to record highs, the stock still offers a forecast yield of nearly 8%.
Rio is a new arrival in my SIF stock-buying screen this week, so I plan to take a closer look. I also want to revisit my decision last week to sell Morgan Sindall Group days before the FTSE 250 firm published its results. This cost SIF several thousand (virtual) pounds.
Morgan Sindall: good process, bad result
Regular readers may remember that I opted to sell construction group Morgan Sindall from my SIF folio last week, a few days before the company's annual results were due.
The results were good and included a strong outlook statement. Morgan Sindall shares promptly rose, meaning that I could have sold for around 12% more if I'd held on a week. I didn't, because doing so would have broken my rules-based process.
Instead of following the process, I'd have been speculating and allowing my subjective judgement to influence my decision making. In this case, I'd have come out of it with a little extra cash. But it could have gone the other way.
As it happens, even after last week's gains, Morgan Sindall still triggers my sell rules — the share price still lags the wider market on a one-year view.
Even a good process will sometimes deliver a bad result. As a systematic investor, that's something I just have to accept.
Rio Tinto (LON:RIO): More to come?
Rio Tinto has been a SIF portfolio stock once before. Back in May 2017 I added the shares to the portfolio at under £30, before selling at £40 for a quick 35% profit in February 2018.
I'd like to think that my new selling rules might have helped me keep hold of this stock for longer. Because if I had held on, my original Rio holding would have doubled by now.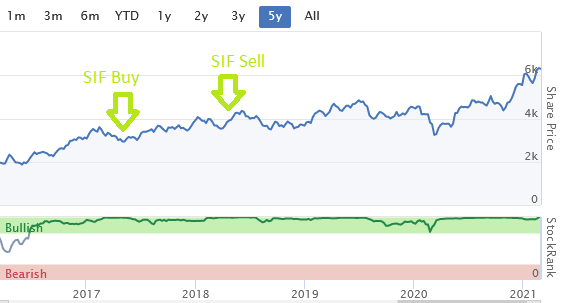 I'd also have enjoyed some massive dividend payouts. In its recent 2020 results, the company declared a $6.5bn of dividends, bringing the total payout for last year to a record $9bn. That's equivalent to a trailing yield of around 6.5%.
Rio Tinto is now back in my screen results with a StockRank of 99 and a market cap of £100bn.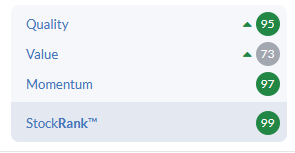 Investors do not seem to have been deterred by Rio's shameful destruction of a sacred Aboriginal site, or by ongoing problems with the giant Oyu Tolgoi copper project in Mongolia. I'm not surprised. Rio made 86% of its profits from iron ore last year. Demand for the red stuff appears to be the only thing that really matters right now.
The bull case rests on continued strong demand from China's steel industry. Steel foundries gobbled up Rio's high quality iron ore last year after the Chinese authorities flooded the economy with more than $5tn of stimulus payments.
The price of iron ore has doubled over the last year, to more than $170. Perhaps coincidentally, this is a level last seen 10 years ago, during a previous China-fuelled commodities boom.
Rio produced iron ore for $15.40 per tonne in 2020. With buyers at $170, this business is a licence to print money. But high prices for iron ore are now reported to be hitting the profitability of China's steel foundries. With China now starting to taper its stimulus programme, there seems to be some risk that demand will soften.
The likelihood of another commodities supercycle is occupying investment commentators at the moment. A prolonged period where demand outpaces supply could support high prices for a while longer. I don't know how likely that is, but I feel there are a few lessons we can draw from Rio's latest numbers.
Let's start with a look at the stock's value score.
Value: keep cycling
Can Rio shares really offer good value at these levels? Or is this a classic late-cycle situation where the share price looks cheap because it's being compared to peak earnings?
Rio Tinto's ValueRank of 73 is the lowest of its three factor scores. It's not a bad score, but I think there are some signs that the valuation is becoming quite full: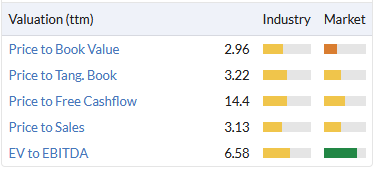 Why would a mining company trade at three times its net asset value? I think the clue to this lies in the other important metric that makes up the ValueRank score:

My screen specifies a minimum earnings yield of 8%. A double-digit earnings yield is generally cheap, in my view, unless profits are declining or abnormally high. As we'll see, Rio Tinto is enjoying strong profitability at the moment. But I think there's good reason to be cautious.
One additional value metric I find useful with cyclical stocks is the CAPE. That's the cyclically-adjusted price/earnings ratio.
This classic value measure averages earnings over 10 years and compares them to the current price. For a stock with cyclical earnings, the CAPE can be a useful indicator of where the company is in the current cycle.
According to Stockopedia, Rio Tinto shares have a CAPE ratio of about 17 - they are trading at around 17 times 10-year average earnings.
To put this in context, my research suggests that this is Rio's highest CAPE ratio in at least 10 years. Back in 2015, when the mining industry really crashed, Rio shares had a CAPE ratio of about five.
My view: Rio Tinto's valuation suggests it's getting close to the top of the cycle. But timing the top is impossible. This strong run could continue for a while yet.
Quality: super profit margins
Rio Tinto's giant iron ore mines in the Pilbara region of Western Australia are cost advantaged, to use the industry jargon. They have lower costs than most others and are also geographically well located to supply China.
This has a very beneficial effect on Rio Tinto's profitability, which is reflected in its QualityRank of 95.

An operating margin of 37% for supplying bulk loads of iron ore is remarkable. What's even more remarkable is that broker forecasts suggest the group's profits will rise by more than 40% this year, from $9.8bn to $15.9bn. Factoring in expected sale growth, I estimate this could imply an operating margin of around 45%.
My view: At this point, Rio's balance sheet looks pretty bulletproof to me, with minimal net debt and strong cash generation. I don't see anything to worry about on the quality front unless new CEO Jakob Stausholm is seduced by the idea of a big acquisition. Right now, I think that's unlikely, given the challenges he already has on his plate.
Momentum: it all depends on China
Rio Tinto's MomentumRank of 97 suggests an almost unblemished outlook. But broker forecasts suggest Rio's profits will peak in 2021 before falling in 2022:

If so, that would support my view that we're at the top of the cycle. This would also explain why the shares currently trade on just nine times forecast earnings, despite offering a cash-backed yield of more than 7%.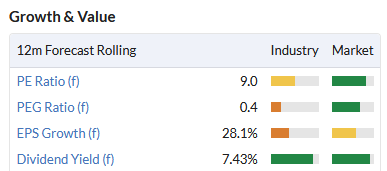 As always, we can break Rio's momentum score down into two factors, giving us more insight into trading patterns and institutional views.
Earnings estimates: Broker forecasts have been upgraded repeatedly over the last year. I wouldn't rule out the possibility that 2022 forecasts could edge close to 2021 numbers.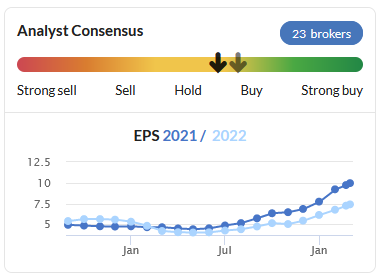 Price momentum: Buyers still seem happy to pile into Rio stock, perhaps tempted by FOMO and the high yield on offer. The stock's technical momentum indicators all look fairly strong to me at the moment: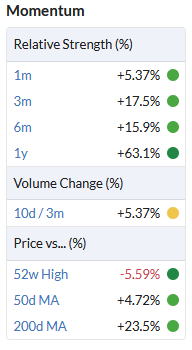 My view: Rio Tinto's momentum looks strong to me at the moment. But if forecasts continue to show profits falling in 2022, I'd expect the stock's MomentumRank to weaken over the year as 2022 forecasts take on more weight in the rankings.
My decision
FTSE 100 integrated coal, iron ore and steel group Evraz is already a SIF holding. So too is Russian gold miner Polymetal International. This means diversification considerations would prevent me adding Rio Tinto to SIF at the moment.
My decision not to buy Rio Tinto shares for SIF aligns with my rules. In this case it also reflects my personal view. I reckon there's a strong likelihood miners are getting close to the top. The stock might still be a lucrative trade, but I wouldn't add the shares to a long-term position at this level.
What do subscribers think? Am I too cautious given the likelihood of continued global stimulus? Or is the party nearly over?
Disclosure: At the time of publication, Roland owned shares of Evraz and Polymetal International.
Source:
https://www.stockopedia.com/content/stock-in-focus-is-rio-tinto-cheap-at-pound100bn-772954/
Before It's News®
is a community of individuals who report on what's going on around them, from all around the world.
Anyone can
join
.
Anyone can contribute.
Anyone can become informed about their world.
"United We Stand" Click Here To Create Your Personal Citizen Journalist Account Today, Be Sure To Invite Your Friends.