SIF annual review: +36%, but some uncomfortable truths
Tuesday, April 20, 2021 15:41
% of readers think this story is Fact. Add your two cents.

What a difference a year makes. When I reviewed the portfolio's annual performance 12 months ago, I was pleased to still be above water in the aftermath of March's crash.
Since then, the SIF folio has had a strong year. The portfolio has gained 36%, hitting new highs and outperforming the market by 11%. This takes the portfolio's gains over the five years since its inception in April 2016 to 56%, versus 15% for the FTSE All-Share index.
Naturally I'm pleased to have beaten the market by a material margin over half a decade. But despite this profitable performance, I'm less comfortable with the SIF strategy than I was one year ago.
In this annual review I'll try to explain why I'm having misgivings. I'll also look at some potential solutions.
However, I'll start by taking a look at the portfolio's performance over the last year. Gains have been generated by some of the biggest winners SIF has ever seen, but there have also been a few nasty losses.
SIF performance 2020/21
This may seem slightly odd timing for an annual review. The reason for this is that the SIF folio was launched on 19 April 2016. So my annual reviews tend to follow this date each year. This review covers the portfolio's performance from 19 April 2020 to 16 April 2021.
For newer subscribers, the SIF (Stock in Focus) folio is a virtual portfolio I run here at Stockopedia. I use a set of screening rules to select stocks for the portfolio and to dictate when they should be sold.
You can find a comprehensive overview of how I run the portfolio in this piece and see the latest version of my SIF buying screen here. Finally, you can learn more about how I sell stocks here.
Moving on, here's a summary of SIF's performance over the last year and since inception.
% Price return

19 April 2020 – 16 April 2021

19 April 2016 – 16 April 2021

Cumulative

Annualised

SIF folio

36.1%

55.5%

9.2%

FTSE All-Share

25.6%

14.9%

2.8%
Dividends: SIF doesn't formally track dividends, but I maintain a duplicate record of the portfolio which does track income. Dividends did not add a meaningful amount to the portfolio's returns in 2020/21, but they have done over the longer period since inception:
SIF 5yr total return: 71.2% / annualised: 11.4%

FTSE All-Share 5yr total return: 35.7% / annualised: 6.3% (Source: FTSE Russell/ 31 March 2021)
Comparing last year's gain with the cumulative gain to date suggests that SIF's performance has been somewhat lumpy. This is true. Broadly speaking, the portfolio has outperformed when the wider market has been rising. At other times, the portfolio has done little more than track the wider market.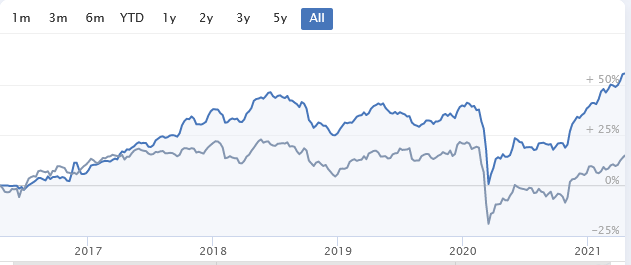 SIF (blue) versus FTSE All-Share index (grey) since 19 April 2016
Although no strategy can be expected to outperform the market at all times, this is one area where I think there's room for improvement. I'll return to this later.
Finally, here's a snapshot of the portfolio as it stands on 19 April 2021. There are 13 holdings in total, which is at the lower end of my target range: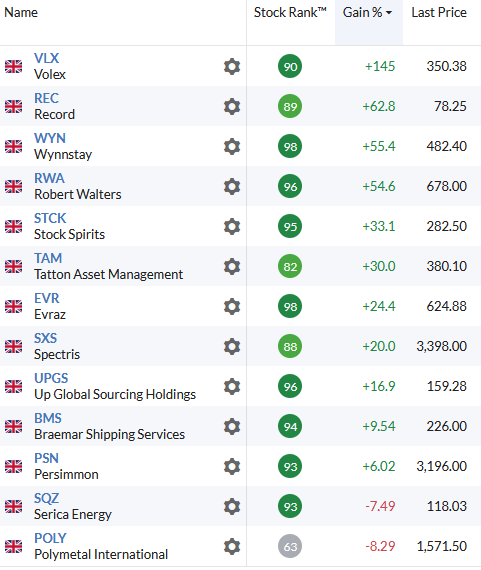 Winners amp; Losers
The market rally we've seen since April last year has driven some of the biggest gains in SIF's history.
Here are the top five winners from the last year – a mix of open and closed positions (as of 19 April 2021):
When the market crashed last year, I placed a temporary ban on selling shares to avoid ditching good companies at distressed prices. Events since then suggest that I should have kept the ban in place for much longer. Unfortunately, my premature return to selling in May left me forced to lock in some ugly losses.
Here are the five biggest losers from the last year (as of 19 April 2021):
The only one of these sales that has proved correct so far was that of Centamin, which I ditched following a profit warning. Although the gold miner's shares now trade on quite a low rating, they've kept on falling and are now down by 44% on my original purchase price.
The four other positions listed above have all delivered share price recoveries and (mostly) positive operating updates since being sold. SIF would be a more valuable portfolio if I'd held onto them all.
Lessons learned after five years
So what have I learned after five years and one major stock market crash? Here are the positives:
After five interesting years in the markets, I'm happy to have beaten the index conclusively. It seems that the SIF system does have some merit.

On the whole, I'm also happy with the kind of companies I'm buying and the prices paid for them.

I enjoy investing using a structured, quantitative approach.
However, there are some negatives, too. I've grown increasingly unhappy with the portfolio's trading style, which is based around a default holding period of nine months – you can see previous analysis on holding periods here).
There are three main reasons for my growing discomfort::
Philosophically, I want to be a long-term investor. In my non-SIF personal holdings, I expect to hold shares for many years, ideally indefinitely.

Mathematically, I believe I'm missing out on the opportunity to enjoy the compound gains that good companies deliver by reinvesting their earnings at high rates of return.

Financially, I dislike the relatively high trading costs I'm incurring. As I mirror the SIF holdings in a portion of my own portfolio, trading regularly has a real cash cost to me. This isn't just an abstract consideration.
What should I change?
I think that the best way to introduce this section is to present some alternative performance statistics.
What would have happened if I had never sold any of the stocks I'd bought for SIF? As it happens, I've kept a record of this.
SIF average actual holding period gain: 7%

Average buy-and-hold gain: 28%
I should caution that for various reasons, these numbers are not exactly correct. But I'm confident they are accurate enough to be a reliable indicator. I've shared this data through a Google Sheet here for anyone who would like to explore SIF's past holdings.
What's interesting is that for much of the portfolio's lifespan, my holding period gains have matched or exceeded the buy-and-hold gain. But over the last couple of years, this difference has eroded and gradually reversed.
This seems to confirm my view that by selling good stocks too soon, I'm missing out on the transformative gains good companies can provide. Scalping more modest profits on a wider range of stocks is not compensating for these missed opportunities.
Of course, it's possible to argue that the current gains across the market aren't sustainable and that they may reverse. Perhaps they will. But when and by how much? On balance, I find it hard to see the gap closing sufficiently to justify my high turnover of stocks.
The new selling rules I introduced last year were an attempt to mitigate this problem. Essentially, I adapted my screening rules to allow higher valuations and slower growth on existing holdings. This was done in an effort to prevent me giving away too much upside by selling winning stocks too soon.
I think this change was a move in the right direction, but I'm not sure that it's enough.
I reckon it's time to step up the challenge. I want to gradually evolve SIF into a buy-and-hold portfolio, where I spend more time analysing potential buys and less time trading.
Rest assured, I am not going to abandon my screen-based approach for selecting stocks. On balance, I think it's been successful and continues to have potential. However, I may tweak some buying criteria and will make more significant changes to my policy on selling stocks.
I accept that this strategy shift leaves me open to accusations of style drift. More prosaically, given the portfolio's outperformance versus the market, I may be trying to fix something that isn't broken.
However, I've always made clear that the SIF portfolio is an open-ended experiment whose progress I document here each week. In that context, I think it makes sense to try and improve its performance.
I'll lay out my plans here before I make any changes to the way I run the portfolio. Watch this space.
In the meantime, I'd be very interested in your views on the issues I've raised or any other aspects of SIF you'd like to discuss.
Finally — as always, thanks for reading and commenting so generously over the last year. It's been hair-raising at times, but the quality of contributions from the Stockopedia community is always excellent and much appreciated.
Disclosure: At the time of publication, Roland owned all the shares listed in SIF.
Source:
https://www.stockopedia.com/content/sif-annual-review-36-but-some-uncomfortable-truths-799659/
Before It's News®
is a community of individuals who report on what's going on around them, from all around the world.
Anyone can
join
.
Anyone can contribute.
Anyone can become informed about their world.
"United We Stand" Click Here To Create Your Personal Citizen Journalist Account Today, Be Sure To Invite Your Friends.