Small Cap Value Report (Weds 28 April 2021) - FCCN, MUL, ELTA, PEB, TRX, W7L
Wednesday, April 28, 2021 8:25
% of readers think this story is Fact. Add your two cents.

Good morning! It's Paul amp; Jack here with the SCVR for Wednesday.
Timing - I need to be finished c. 1pm today. Update at 13:20 – I've got a bit more time available, so am carrying on.
Agenda -
Paul:
Wickes (WIX) – is demerging from Travis Perkins, to become a standalone, listed company. WIX will have 252.1m shares in issue. I'll take a look at it once the price is live, but probably won't be a small cap. No section on this below, it's just a quick note here.
French Connection (LON:FCCN) – review of FY 01/2021 results – awful, as expected due to impact of 3 lockdowns. But balance sheet is still robust, and current trading sounds encouraging. Everything still to play for here. Bid talks continue. It's a special situation, so won't appeal to everyone.
Mulberry (LON:MUL) – a positive trading update, it moved back into profit in H2. But the shareholding structure is poor, being dominated by 2 major shareholders. Could be an interesting punt on the brand coming back into fashion? Good Far Eastern performance, and margins improved.
Electra Private Equity (LON:ELTA) – just to flag up an interesting special situation I've been researching. Not related to news today, so I've put it into a separate article here. In summary, this looks a cheap way into TGI Fridays and Hotter Shoes, which are the 2 remaining larger investments in this investment trust which is in the process of being wound up. Valuation of TGIs in particular looks anomalous, compared with much higher ratings of listed peers like Restaurant (LON:RTN) and Fulham Shore (LON:FUL) .
Pebble Beach Systems (LON:PEB) – a micro cap with too much debt amp; a weak balance sheet. However, it remained profitable in a difficult 2020, and has seen a strong increase in order intake in Q1 2021. Might be of interest to risk-tolerant investors?
Jack:
Tissue Regenix (LON:TRX) – Covid disruption but underlying operational progress from the Leeds University spin-off woundcare specialist. There is potential here, but also a track record of losses and equity dilution.
Warpaint London (LON:W7L) – branded cosmetics producer has made mistakes in the past, but could it be emerging from lockdown in better shape?
.
---
Paul's Section
French Connection
(LON:FCCN)
(I hold)
22.5p (pre market open) – mkt cap £22m
Preliminary Results – Year ended 31 January 2021
This is very much a special situation, and won't appeal to most people. Hence I won't be at all offended if you ignore this section and skip to the next one.
Due to the 3 lockdowns forcing closure of the shops, impacting non-essential retailers (and indirectly wholesale), these figures were always going to be grim, so no surprises here. Just for the record -
Revenues down 40% to £71.5m
Underlying loss of £(11.7)m – obviously a lot worse than the £(2.9)m loss in the prior year, due to the impact of lockdown closures
Further £8.0m non-underlying costs, taking the total statutory loss to £(19.7)m – nasty, but not terminal, because the balance sheet amp; liquidity are actually fine (see below)
Cost-cutting done, and focus on conserving cash
Balance sheet – of key importance for any loss-making company. A strong balance sheet buys time, to allow trading to be improved. A weak balance sheet can be terminal for a loss-making company.
FCCN is now seeing the benefit of going into the covid crisis with an unusually strong balance sheet. It has absorbed the heavy losses in FY 01/2021, and still has a balance sheet that looks remarkably perky, even after the awful £(19.7)m statutory loss in FY 01/2021.
NAV: still decently positive, at £9.5m
IFRS 16 lease entries are a large net negative: £6.6m right-of-use asset, less £(5.1)m current liabilities (roughly the annual rent bill, and note it's down 44% on a year earlier), less £(15.0)m longer term lease liabilities. That's a net negative of £(13.5)m. Removing all these IFRS 16 entries, NAV rises to a healthy £23.0m. That's actually a solid balance sheet position – much better than most smaller retailers.
Average lease length is only 1.9 years, as the problem leases gradually disappear, and the covid crisis has also allowed rents to be renegotiated, so this is becoming less of a problem as time goes on. Remember it's the retail part of the business that has always been the big problem – heavy retail losses (even before covid) obscuring the nicely profitable wholesale amp; licensing divisions.
Liquidity - net debt is only £1.3m, and there are ample borrowing facilities, including $6.5m US loan, and £15.0m facility from Hilco, all previously known about. The Hilco facility costs 7.5% p.a. for the drawn down element, and 1.5% for the unutilised bit. That's reasonable in the circumstances I think.
Current trading amp; outlook - this is the most important part, and it's encouraging I think.
Stephen Marks, the founder amp; major shareholder, has a long track record of telling it like it is in these updates, so I feel I can rely on being told the truth.
This sounds good -
Looking ahead I am pleased that the wholesale business in both the UK and USA has bounced back for the Summer and Winter seasons, even with the continued uncertainty and lockdowns.
E-commerce sales are growing with the Summer collection selling very well.
That last sentence augurs well for a decent recovery in the new financial year, I'm pleased with that.
This bit is also key, and positive -
With stores having predominantly re-opened in the UK, we are seeing a much better sales performance than we experienced at the end of the first national lockdown although it will take time to see how quickly things develop over the coming months, in our own stores but also for our wholesale customers. Overall though I feel that we are definitely moving in the right direction once again."
Offer talks - the company has been in a protracted formal sales process. Today we are just told that talks continue. To my mind, surely this is the wrong time to be trying to sell the business? I'd prefer the sale process to be shelved, and let a full trading recovery take place. Then sell the business once the problem retail sites have gone, and it's (hopefully) profitable again.
My opinion – FCCN needs to focus on growing the eCommerce side, and developing more licensing deals. Plus I think central overheads are still far too high for the relatively small size of the business.
Fix all that, then worry about selling the company later, is my view, for what it's worth.
Overall then, the £22m market cap seems too low to me. Remember this is not just a retailer, it's an internationally known brand, with decently profitable wholesale amp; licensing divisions. I remain of the view, that at some point, no idea when, there could be a decent payday here. Meanwhile, I'm reassured by the numbers today – there's little insolvency risk because it has a strong balance sheet, and ample working capital facilities. Hence everything to play for, and I'm happy to continue holding.
Another point to consider, is that FCCN has out-lived many of its competitors. If I'd told you 5 years ago that FCCN would still be standing, after Top Shop had gone bust, you would have possibly shaken your head is dismay at my foolishness. Yet that's exactly where we are. As footfall returns to key areas such as central London, then it will be interesting to see if FCCN benefits from having less competition?
Stephen Marks was criticised a few years ago for hoarding cash at FCCN, but due to unforeseen circumstances, it's proven to be the right decision. I wish more companies would be prudent with their balance sheets, because nobody knows what disasters might be around the corner.
.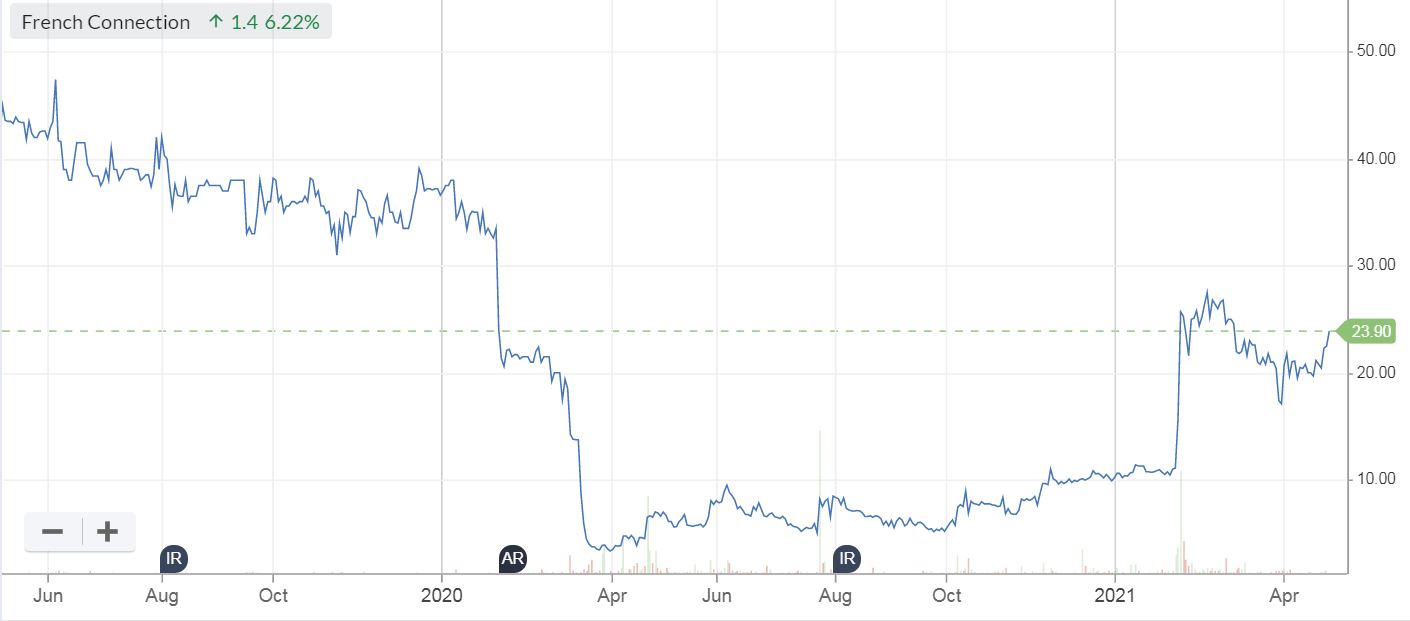 .
---
Mulberry
(LON:MUL)
286p (13%, at 11:37) – mkt cap £172m
A famous fashion brand, known for its expensive handbags. Looking back at the company's historic numbers, it emerged from relative obscurity, to hit the big time in 2010-12, when it suddenly became fashionable amp; made bumper profits, after which profitability wilted.
This share has therefore been all about whether it can regain former fashion star status, or not.
Here are my notes from 18 Dec 2020, when I reviewed the interim results, and flagged that onerous leases are a problem. Sports Direct (now called Frasers) mooted a takeover bid, but then withdrew. A reader here flagged up that 2 shareholders own almost all of the company, hence why it's so illiquid, and the quoted spread is more akin to a micro cap. Hence this needs to be seen as a special situation, with a volatile share price that could easily detach from reality, since so few shares are available to be traded.
.
.
Mulberry Group plc (the "Group" or "Mulberry"), the British luxury brand, this morning announces a trading update for the year ended 27 March 2021 ("FY21″).
This sounds positive -
In the Group's results for the 26 weeks to 26 September 2020, the Board stated that revenue for FY21 was expected to be lower than in the year ended 28 March 2020, but that losses would be reduced.
As a result of continued strong growth in the Group's Asian markets, strong sales on the Group's global digital platforms and improved margins due to lower mark-down sales, the Board now expects that the Group will outperform expectations and report a small underlying profit before tax for FY21.
Checking back to the H1 results, it made a £(1.9)m adj loss before tax in H1. Therefore, the above implies maybe £2m-ish profit in H2. Better, but not madly exciting, although this would have been impacted by lockdowns in some territories still. Maybe profits could rise further in future once lockdowns have ended?
Diary date – 22 July 2021 for FY 03/2021 results announcement.
My opinion - neutral. I can see the appeal of the brand, which might return to former glories. Maybe it's a fashion share where we should buy in, if we suddenly see its products everywhere, and celebrities endorsing Mulberry, etc. Although I'd probably only notice long after the trend had begun, so would probably miss any big move up.
I'm not keen on the shareholding structure, as small shareholders are at the mercy of the controlling shareholder, not ideal.
The chart seems to show that it's taken a long time to put in a base, so maybe there's a trade here for chartists?
.
.
---
Pebble Beach Systems
(LON:PEB)
9.75p (up 8%, at 12:56) – mkt cap £12m
A friend has asked me to look at this. Previously I'd disregarded it as overly indebted, but am happy to take a fresh look today, albeit briefly, as the market cap is so small.
Pebble Beach Systems Group plc (AIM: "PEB", "Pebble" or the "Group"), a leading global software business specialising in playout automation and content management solutions for the broadcast and streaming service markets, is pleased to announce its final results for the year ended 31 December 2020.
Revenues down 25% to £8.4m
Adj EBITDA down 29% to £2.7m – ignores capitalised development spend, so largely meaningless. £1.3m of development spend was capitalised in FY 12/2020.
Profit before tax down 18% to £1.1m – not bad, that's a reasonable profit on just £8.4m revenues
Adj diluted EPS down 39% to 1.1p (PER of 8.9, but remember there's lots of debt, so the PER should be low to reflect that)
Net debt £7.7m – still much too high for the small size of the company, in my view, but down £0.7m on a year earlier.
Not great so far! The commentary says covid had an impact – fair enough.
Current trading sounds better – Q1 2021 orders up 86% -
2021 started slowly as customers continued their cautious approach to investment decision making. As the first quarter has unfolded customer confidence has returned and the order intake for the first quarter closed at £4.0 million, up 86% compared with £2.2 million in the same quarter of 2020, which was largely pre-COVID-19. £1.5 million of these orders had been in the pipeline for several months but it is reassuring to see that our customers are emerging from the difficulties of 2020 and planning expansions of their broadcast and streaming services…
Our pipeline remains strong and has continued to grow in 2021 …
Balance sheet – this is the deal-breaker for me. It clearly needs a £5-10m equity fundraising to sort out this weak balance sheet.
NAV: £(3.47)m
That includes £5.0m intangible assets, which I would write off to arrive at:
NTAV: £(8.47)m
My opinion – it's a profitable little company, and I like the strong recovery in order book in Q1 2021. There's useful information in the going concern note.
For me personally, the balance sheet is too weak, and too heavily indebted, for me to want to invest at this stage. Good luck to holders.
.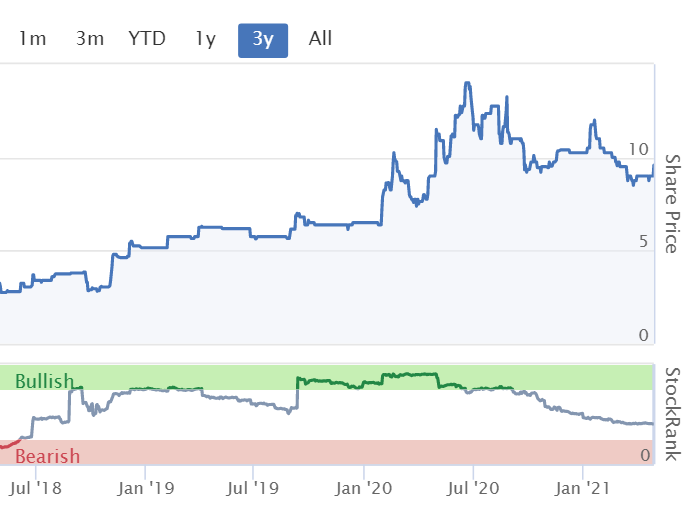 .
---
Jack's section
Tissue Regenix (LON:TRX)
Share price: 0.58p (-0.86%)
Shares in issue: 7,033,077,499
Market Cap: £40.8m
(I hold)
Tissue Regenix (LON:TRX) is a regenerative medical devices company. It's a Leeds University spin off that is commercialising a patented decellularisation ('dCELL®') technology.
This technology removes DNA and other cellular material from animal and human soft tissue leaving an acellular tissue scaffold which is not rejected by the patient's body. This can then be used to repair diseased or worn-out body parts.
Current applications address many critical clinical needs such as sports medicine, heart valve replacement and wound care.
In August 2017 the group acquired CellRight Technologies®, which is dedicated to the development of innovative soft tissue scaffolds. These devices may be used in spine, trauma, general orthopaedic, foot amp; ankle, dental, and sports medicine surgical procedures.
TRX is further along the riskier end of the investment spectrum. It's not my typical holding, but I've known the company for quite a few years now and do see some signs of progress:
A lot of time and money has now been spent on commercialising products and building out routes to market,
New directors have decent shareholdings and alignment with investors,
Poor share price performance a couple of years ago was compounded by Neil Woodford's distressed selling,
TRX revenue has grown and the market cap has come down, resulting in a more favourable valuation relative to revenue, and
The addressable market here is fairly large.
Daniel Lee was appointed as CEO back in November 2020 (after being head of US operations for two years) and sees 'expansive opportunities' for the group. You can see the new team taking stock in the Director Dealings tab. Here's the link to their bios on the investor site.
Those are the bull points. There are bear points as well. TRX has raised and burnt through an awful lot of investors' cash, and the group continues to rack up notable losses.
Thankfully, TRX's strategy now focuses much more on the commercialisation of its product pipeline. It looks like the group is making progress here with some pragmatic deals, including the launch of a new product under a white label opportunity with a top 10 global healthcare company.
Final results
Highlights (Covid disrupted):
Revenue stable at £12.8m (2019: £13m),
Orthopaedics and Dental revenue of £7.4m, +11%
Joint venture GBM-v sales level at £2.1m,
DermaPure® sales decreased by 22% to £3.3m,
Gross Profit down from £6m to £5.9m, gross margin level at 46%,
Operating Loss of £9.8m (2019: £7.2m) driven largely by a non-cash impairment charge of £6.1m arising from the annual impairment test on the CellRight Technologies,
Overhead cost base reduced by £400,000,
Cash balance at 31 December 2020 £9.6m (2019: £2.4m) following an equity fundraise raising net proceeds of £13.8m in June 2020.
So at present, TRX has about £6.76m of net cash and an enterprise value of £34m on annual revenue of around £13m, with good growth potential but ongoing substantial net losses.
The group reports a sizable net cash outflow from operations of £5.2m, plus a net cash outflow from investing activities of £1.4m.
There's no doubt cash burn and potential equity dilution remain key concerns here. Depending on market conditions, another placing is not out of the question. The Covid pandemic was beyond the company's control but the group still either has to reach profitability fairly quickly or further dilute shareholders.
See the net cash outflow from operations below. The FY20 results show a further £5.2m outflow.
You can see in the Major Shareholders tab that funds such as Jupiter increased their stakes in the June 2020 placing.
The cash raised has allowed for the capacity expansion programme in San Antonio, Texas. Phase 1 of this is now complete and is expected to increase the BioRinse® processing capacity by c.50% once operational, 'alleviating the capacity constraints which have historically impinged on the growth of the business'.
The DermaPure® portfolio was hit by the pandemic, with revenue dropping 22% due to the elective surgeries in the US getting postponed.
TRX's BioRinse® portfolio returned 11% growth driven mainly by increased penetration of the AmnioWorks™ product line. The controlled joint venture, GBM-v, maintained its revenues at 2019 levels despite surgical lockdowns in its German cornea business.
In terms of product development, the group has gained CE Mark approval for OrthoPure® XT for the European Economic Area, and continues to diversify its sales portfolio. 19 new DermaPure® clinical case studies have been undertaken for new product applications.
Distribution agreements for EU and UK distribution of OrthoPure® XT have also been signed for, and the group has a new strategic collaboration with a top 10 global healthcare company for the white label product mentioned above.
Meanwhile, Covid has prompted some cost reductions. The UK facility has been relocated to Garforth, Leeds, which should save some £0.4m annually. In late January further restructuring of the US business was undertaken to rationalise resources across the business. It is expected to reduce the overhead cost base by c.$700k on an annualised basis.
That's a lot of costs getting cut, so I do wonder how efficiently operations have been run in the past.
Conclusion
TRX is risky. There is a history of equity dilution and the company has not yet reached profitability. Covid, while not the company's fault, further sets things back.
The group talks about its increased financial strength, but that is relatively speaking and I'm not sure it can afford too much more disruption. Or rather, it can probably afford it, but it will likely come at the expense of existing shareholders in, say, two years time.
Some detail is missing in this update. Current trading for a start, and more detail on upcoming planned capital expenditures would clearly be helpful given the company's track record.
One positive is that the new management team has skin in the game. And there is potential here. The company has been slow to commercialise in the past so it would be churlish to dismiss the good work from new management so far, achieved under exceptionally difficult trading conditions. Costs are being reduced and capacity is being increased for when markets normalise. There is demand for its products.
Consistent revenues and gross profit isn't a bad result but this remains a speculative investment. Management expects strong growth in product demand in the second half of 2021 – let's hope so.
Warpaint (LON:W7L)
Share price: 124.25p (-2.55%)
Shares in issue: 76,749,125
Market cap: £95.4m
(I hold)
Warpaint London (LON:W7L) floated in 2017 but had a rocky introduction to listed life, failing to live up to its organic growth potential. Stalling UK profits, the large acquisition of Retra in 2017, and a costly expansion into the US have seen shares fall back down to earth.
This specialist supplier of colour cosmetics is made up of two divisions:
The largest division sells branded cosmetics under the lead brand names of W7 and Technic. Other own brand names include Man'stuff, Body Collection, Vintage, Very Vegan, and Chit Chat. White label goods are also supplied to high street retailers.
The other division is much smaller and trades in close-out and excess inventory of branded cosmetics and fragrances from around the world.
In early 2018, the board adopted a three-year strategic plan and has been updated for development through to the end of 2024.
The strategy includes:
Brand building and new product development to meet changing trends and consumer needs,
Growing UK market share. There have been launches in Tesco and wilko, and there are ongoing discussions with other retailers,
Growing US and China market share, and
Developing the online/e-commerce strategy for brand development and profitable sales.
Obviously lockdowns have impacted trading here due to store closures, but there are some signs that the group has used this opportunity to take stock of strategy and operations.
Highlights:
Revenue -18.3% to £40.3m,
Cash generated from operations +70.7% to £7.5m; cash at year end +81.5% to £4.9m,
Adjusted profit from operations -55.4% to £2.5m,
Adjusted earnings per share -50.8% to 3.1p,
Reported loss before tax of £1.1m (2019 reported PBT: £1.8m).
Adjustments include £0.24m of staff restructuring costs, £0.08m of legal costs, £2.4m of amortisation of intangible assets, and share based payments of £0.7m.
The financial results are clearly impacted but the cash flow performance is more robust. Warpaint has always been quite a cash generative company.
While adjusted profit before tax was £2.5m and adjusted earnings per share were 3.11p, net cash flow from operations was £7.5m, or c9.8p per share and free cash flow was £6.6m (8.6p).
But it's worth noting that the group's returns on capital have declined significantly and it's fair to question whether or not capital has been allocated efficiently in recent years.
That aside, Warpaint was agile in response to Covid, and there have been a couple of promising operational gains including the commencement of W7 sales in Tesco stores and the roll out of Technic and Body Collection products in Wilko stores.
And the pandemic has accelerated the group's ecommerce strategy. Revenue here has 'significantly' accelerated in the UK and USA, with the launch of Amazon FBA.
As noted in a recent update, W7L is seeing improved trading conditions in the new year and sales for the first three months are +9% year-on-year. Gross margin is improving, and additional W7 lines are now being stocked at an increasing number of Tesco stores.
Good news in the US as well, with W7 products now being stocked in over 1,000 Five Below stores.
The group is also now debt free with a £5.8m cash balance.
W7 sales accounted for 45% of total revenue and were down by 19% in 2020. Growth is anticipated here, with launches in Tesco and wilko. The group is in discussions with other major retailers and there was a strong recovery towards the end of the year.
The Technic brands comprise Technic, Body Collection and Man'stuff (as part of the Retra Holdings acquisition in November 2017). Sales of branded Technic product in 2020 was 36% of total revenue. Overall Technic sales declined by 10% despite the Covid-19 impact.
The business encompassing the Technic brands also produces and sells own brand white label cosmetics for several major high street retailers, with such sales being 7% of group revenue. These sales grew by 7% in 2020 but white label contracts are less profitable than branded opportunities.
The focus on close-out activities further reduced in 2020 and this division represented 12% of revenue in 2020, down from 15% in 2019 and 16% in 2018.
During 2020 Warpaint placed an increased emphasis on driving online sales. Absolute figures are small, but sales have more than doubled from £0.2m in 2019 to over £0.5m in 2020, with 'further significant progress' expected in 2021.
In Q1 2021 the Group's e-commerce sales were £0.24m, so if that pace can be maintained then online sales could double again in the year ahead.
In terms of geographies:
The UK accounted for 52.5% of group sales in 2020 (2019: 46.1%) and were down by 6.9% to £21.1m,
Europe has grown to account for 37.5% of group sales at £15.1m. Sales for the Group's brands into Europe are mainly to Spain, Denmark, Sweden and Germany (Brexit disruption is being monitored after some 'unexpected issues' that have since been negotiated),
The US has been the hardest hit, with revenue down some 55.7% to £2.1m, equating to 5.3% of overall sales. Current customers in the USA include Macys Backstage, Marshalls, and TJ Maxx. Post year end, following a successful trial with store group Five Below, W7 products are now being stocked in over 1,000 of their stores in the USA. The group is now prioritising online sales here.
Rest of the World (RoW) sales fell from £2.8m to £1.9m, or 4.7% of sales.
Conclusion
I've taken a starter position as I think there is recovery potential given the notable discount to previous highs. It's not without risk though.
Today's share price action isn't particularly important one way or the other in my opinion, as there's not much new information here. It is understandable if some existing shareholders take profits given the recent rerate.
It's good to see Warpaint talk more about the online opportunity, although this remains a surprisingly small part of the overall mix.
Trading improved in the second half of 2020 and this trend has continued into the first quarter of 2021, with further expansion into UK retail expected in the year ahead. Online sales are well positioned for the future and the group has culled some sub-scale brands, allowing it to focus on fewer brands with better market positions.
Lockdowns saw consumer demand switch to essential items and food. The idea now is that Warpaint enters 2021 as a more efficient and focused business, ready to capitalise on returning demand for cosmetics.
Let's see if that's how it pans out… Mistakes have been made in the past and cash has perhaps not been spent wisely. Hopefully, lessons have also been learnt.
The group is dedicating more resources to its pipeline of new products. As things stand, Warpaint's products are towards the budget end but the reviews I've seen appear to be impressed on the whole with the quality. I'm not the target market though, so I can't say for sure! If anybody has any actual experience with the products, please do share.
There's an online presentation and Qamp;A session later today at 5.30 p.m. BST (link here).
Source:
https://www.stockopedia.com/content/small-cap-value-report-weds-28-april-2021-fccn-mul-elta-peb-trx-w7l-802629/
Before It's News®
is a community of individuals who report on what's going on around them, from all around the world.
Anyone can
join
.
Anyone can contribute.
Anyone can become informed about their world.
"United We Stand" Click Here To Create Your Personal Citizen Journalist Account Today, Be Sure To Invite Your Friends.