Small Cap Value Report (Weds 7 April 2021) - SAGA, IGP, TAST, VP.
Wednesday, April 7, 2021 8:09
% of readers think this story is Fact. Add your two cents.

Good morning, it's Paul amp; Jack here with the SCVR for Wednesday of this shorter working week.
So you don't need to put in requests, I'll definitely be looking at 2 company updates that are large positions in my portfolio, namely Saga (LON:SAGA) (I hold) and Intercede (LON:IGP) (I hold).
Paul -
Saga (LON:SAGA) (I hold) – 07:59 snapshot view in the comments section below. Full write-up now also published. Sorry it took a while, there was lots to plough through.
Beeks Financial Cloud (LON:BKS) (I hold) – quick view on the placing announced last night amp; completed this morning.
Intercede (LON:IGP) – (I hold) in line trading update. No surprises. Company now (modestly) profitable, and balance sheet much stronger since debt all converted into equity in Feb 2021.
Tasty (LON:TAST) (I hold) – micro cap restaurant chain. Results show it lives to fight another day.
Jack –
VP. (LON:VP) – in line update and improving outlook from this specialist rental business
---
Paul's Section
Intercede
(LON:IGP)
(I hold)
104p (up 1%, at 08:46) – mkt cap £60m
There's also a change of auditor announced, following a competitive tender. PWC (in the role for 12 years) is replaced by BDO.
No surprises in the trading update for FY 03/2021 – here's my summary of it -
Revenues c.£11.0m – in line with expectations, and 6% up on last year – not bad in a year badly disrupted by covid/lockdowns
US (biggest market) performing strongly
Rest of World still adversely affected by covid (as previously announced)
Tight cost control
Improved profitability (no figures given)
Gross cash of £8.0m at 31 March 2021
Convertible loan notes have gone – they mainly (or might have been entirely, I can't remember, it doesn't really matter) converted into new equity in Feb 2021 – hence balance sheet is now greatly strengthened, and interest cost will reduce significantly in future – all good, but already known, so nothing new today
Diary date – FY 03/2021 results will be published in June 2021
My opinion – that's all fine, no surprises.
There's a really helpful update from Finncap out today, which we can access (many thanks as usual to Finncap for making its research available to PIs, incredibly helpful, and obviously it helps generate more interest in small cap shares, where PIs are the market).
Finncap doesn't yet have any FY 03/2022 forecasts, but these are expected to be initiated in June.
For FY 03/2021, Finncap forecasts adj PBT (profit before tax) of £0.9m, so the company is now profitable. That should rise to about £1.5m+ next year, with interest charges on the convertible loans now ceased. Some contract wins on top of that (at high gross margins) could see decent profits really start to kick in, I hope. That's the bull case for this share, and explains why the £60m market cap does make sense.
The striking thing about Intercede is its astonishing client list (branches of US Govt, 5 out the world's top 6 aerospace companies, major banks, etc). To think that a tiny AIM company provides their computer systems secure login software, is remarkable I think.
The company has developed a mid-market product recently, which it is now starting to sell through resellers. Hence the hope is that revenues amp; profits could move up a gear, as much bigger markets (not just the existing top end) open up, hopefully.
Overall, I think the price is currently about right. Downside risk looks small, because contracts are so sticky – note the recent announcement saying that the biggest client (US Govt) has asked for several years' support amp; maintenance to be agreed up-front. That sounds reassuring to me. Hence we should have a firm base level of (modest) profitability, with the hope that more, and bigger contract wins, could layer additional gross profit onto the largely fixed cost base.
For me, this is a long-term, "coffee can", holding. I bought most of them in mid-2018, and have been very pleased with progress so far – it's tripled in price, as increasing confidence in the turnaround has gathered. Plus of course we've been in a roaring bull market for the last 5 months in particular, where practically all small caps are going up! So we're all geniuses for the moment. Important not to let that go to our heads. Is it good stock-picking, or just accidentally being in the right place at the right time? Who can say? Conditions this bullish never last forever.
.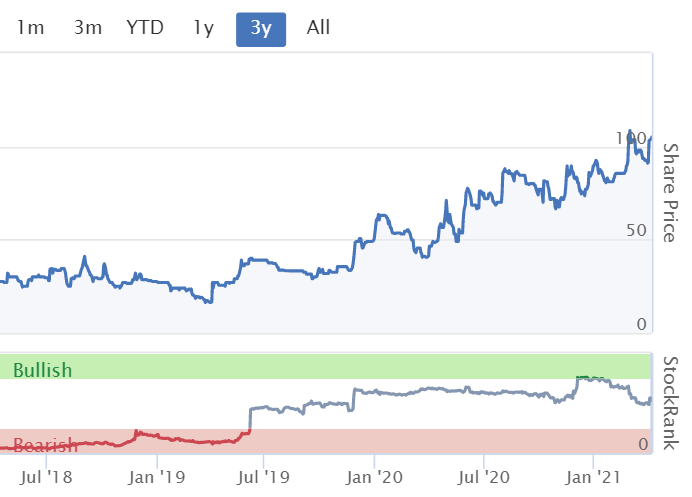 .
---
Beeks Financial Cloud
(LON:BKS)
(I hold)
118p (down 3%, at 09:35)
No. shares: 51.7m existing + 4.35m new shares in placing = 56.05m
Market cap (after placing): 66.1m
I originally posted this as a comment below, but thought I would elevate it to the main report, in case some readers don't look at the comments.
I was impressed with the last trading update from Beeks Financial Cloud (LON:BKS) (I hold) and have been gradually building up a position in it again, having previously held. It's a medium-sized position in my portfolio now.
The placing announced last night looks fine to me. I was a bit concerned that the balance sheet was looking a little strained, so am happy they've raised some fresh cash. Key points:
£5.0m fresh cash raised, which sorts out the balance sheet nicely
Only 8.4% dilution to existing holders, which is fine by me
Price of 115p only a 3.8% discount, which is reasonable
Gordon McArthur (founder) sold a few (435k shares) in addition to the fresh money raised for the company. He still holds 48.2% of the company, so this is also fine
Overall, I think Beeks looks priced about right at the moment, so am not expecting fireworks from the share in the short term.
What interests me in the longer-term potential, and the strong order book/pipeline. I think the company is operating in a very interesting niche, which it has almost to itself, with impressive clients amp; sticky revenues.
Hence I see this share as a "coffee can" hold forever type of share.
As you can see from the 3-year chart below, we all got a bit over-excited about things in 2018, and growth didn't subsequently meet up with the very high expectations. But it looks to be back on track now, judging from the last update.
.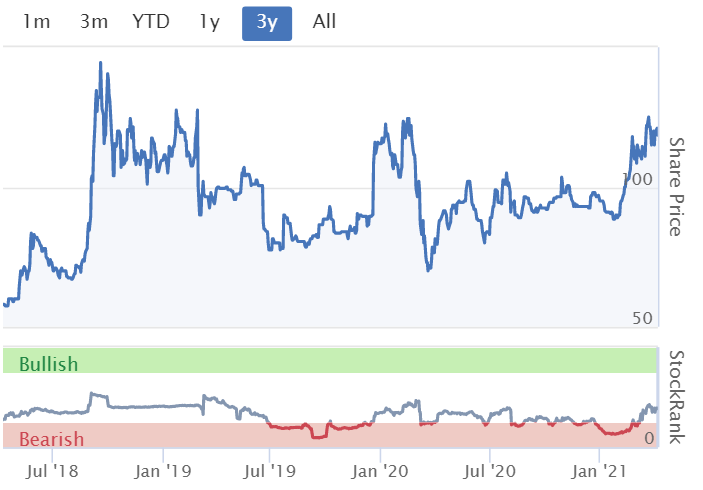 .
---
Saga
(LON:SAGA)
(I hold)
385p (up 10% at 10:05) – mkt cap £537m
See the comments below, for my snapshot view, just before the market opened. People seem to like this, so we'll do more of that in future. Here's a more detailed write up.
Saga plc ('Saga' or 'the Group'), the UK's specialist in products and services for people over 50, announces its preliminary results for the 12 months ended 31 January 2021
They've provided a little PR title to the announcement, which says -
Significant progress through the year, with disciplined execution of turnaround strategy
Insurance delivers resilient performance; Travel ready for restart with strong demand
Profitability - on an underlying basis, SAGA made £17.1m profit. That's very pleasing, considering its travel division was shut down for much of the year. The adjustments look fine to me, with the £(61.2)m statutory loss being mainly caused by a goodwill write-off of £59.8m, and restructuring costs of £30.8m, partially offset by some smaller unusual gains.
As expected, the lucrative insurance division generated more than enough profit to fund the losses from the travel division – a key strength in SAGA's business model.
This extract from the results (see table below) demonstrates the point very clearly – i.e. a highly profitable insurance business, with travel swinging from a small profit last year, to a big loss this year. Overall group, still profitable (modestly).
Now imagine if insurance profits stay the same, but travel rebounds to a large profit (since the 2 new cruise ships should make travel much more profitable than in the past, before it commissioned the new ships). We could potentially be looking at £150-200m p.a. future underlying profitability, is my best guess. Take off the tax, and put it on a PER of 15, and I get to a potential valuation of £2bn. That's £14 per share. Fanciful? I don't see why it is. Obviously I'm ignoring debt, but that's because most of it is funding the ships. So the assets offset the debt.
Other people might want to use a different valuation method, but the simple PER is my choice here, and gives an idea of the considerable potential upside, IF the turnaround works, and assuming that travel can return to normal.
.
.
Liquidity - is good. Some people seem to have wrongly thought that SAGA was on its knees financially, which is clearly not the case -
Strong liquidity position, with total available cash of £75.4m and undrawn revolving credit facility (RCF) of £100m at 31 January 2021
Results presentation slides – are very thorough, have a look at these. There's also a video presentation, which is about an hour long, I'll look at that over lunch. Click on the symbol that looks like an old-fashioned microphone, here.
FCA - this was flagged as a potential risk, but what SAGA says today sounds quite reassuring – it sounds like a problem – but not major –
FCA market study

The final recommendations of the Financial Conduct Authority (FCA) market study on general insurance pricing practices are expected in the second quarter of 2021 with implementation due to be complete by the end of 2021 . The FCA is proposing that when a customer renews their motor and home insurance, the price offered should be no greater than if the customer were new to the insurance company. Although we expect some short-term financial impact from the change, as pricing adjusts across both new business and renewals, we approach the implementation of the expected recommendations with confidence and, following our recent pricing changes and planned enhancements to our product offering, believe that we are well placed to operate successfully in a price equalisation market.
SAGA's 3-year fixed price policies have been successful. Logically, that would seem to reduce the risks posed by the above proposals.
Forecasts – SAGA has delivered underlying EPS of 13.2p (down from 121p LY), which looks a beat against consensus of (2.96)p shown on the StockReport.
Consensus forecast for FY 01/2022 of only a slight improvement to 24.67p EPS seems unrealistically pessimistic. Therefore, providing travel can resume in the summer/autumn, there could be some upside on that forecast possibly? Then of course future years, if travel is operating normally, would be orders of magnitude larger, as mentioned above. Hence there's very good upside here, I reckon.
If my numbers are anywhere near right, then the share price has gone from insanely cheap, to just cheap, having tripled in price from the completely irrational lows last autumn.
Remember we should be valuing shares on future earnings, not a one-off period of chaos that we've seen due to covid.
Forward travel sales - key information, as this tells us what demand there is for holidays amongst the over-50s, who have now been vaccinated in the main.
Obviously bookings for FY 01/2022 are down on last year, because travel hasn't yet opened up, and the cruise ships will only resume in June/July 2021 at the earliest. The prior year bookings were pre-covid, and for a full year, so are not meaningful to compare with.
More importantly, looking forward to next year -
…However, demand is very strong for 2022/23 departures, with revenue and passenger days ahead of the prior year by 160% and 142% respectively. Around 45% of revenue booked for 2021/22 is from customers choosing to rebook cruises cancelled in 2020. These figures exclude bookings cancelled in 2020/21 where the customer has indicated that they want to rebook but have yet to rebook onto a specific cruise.
That's really encouraging. We've heard from other cruise lines recently that forward bookings are extremely good. This suggests pent-up demand (something SAGA mentions today too), and of course opens up the possibility of margins increasing, if they can raise prices in a subtle way, without looking like cynical profiteers.
Note that SAGA now holds all customer deposits in trust, so they are not plundered for basic operation of the company, which is a strong selling feature, to reassure customers.
Debt - this is often misunderstood, so deserves some clarification.
There's a useful table setting out the net debt figures -
.
My comments on the above table –
Corporate bond – this is cheap, and has no repayments. It has to be repaid in full on May 2024, which gives 3 years' breathing space. So this is not a problem at all.
Term loan - only £70m now, as half was repaid from the money raised in the placing last year.
RCF - has been repaid in full, and £100m facility is still available – on top of the £75.4m available cash, giving headroom of an ample £175.4m. Not distressed at all, this is a comfortable position. The covenants have been relaxed too, so no issues there.
Ship loans - the 2 cruise ships are owned, and in the books at £635m asset (no impairment requirement was needed in the review). There are loans of £515.6m funding most of the cost of the ships (brand new). The lender has been very accommodating, in relaxing covenants amp; repayments. Therefore I don't see this as a problem. The ships are expected to generate £80m p.a. EBITDA once they start sailing – more than enough to fund the interest amp; capital repayments on the loans.
Overall - I just don't see the debt as being a problem. As you would expect for a cruise ship owner, SAGA needed, and was granted flexibility with its borrowings. Its placing last year (£139m after fees), repaid most of the bank debt, so there really shouldn't be a problem with any of this. I think investors who imagine SAGA is financially distressed, are behind the curve.
.
Going concern note – lots of interesting points in this, which reassures me, e.g. plenty of headroom on covenants, and -
… These actions, together with the cash generated by the Insurance business, enabled the Group to reduce net debt (excluding debt relating to Cruise operations) by £115m during the year despite the provision of £104m in cash support to Travel operations….
A number of European countries have already indicated they will be welcoming Saga customers and look forward to UK cruise ships entering their ports in the summer of 2021. The Group's ships are particularly sought after for their modest size (at less than 1,000 passengers) and the vaccine-only policy for customers… the flexibility of Cruise allows for itineraries to be modified accordingly.
Downside scenario planning sounds good -
The main downside scenario considered assumes no Tour Operations departures until March 2022, with Cruise resuming from November 2021 for Spirit of Discovery and from December 2021 for Spirit of Adventure. In this scenario, the Group has also assumed a slower recovery in load factors (remaining at 80% until July 2022) and incremental costs in operating the business. In assessing wider downside risks the Group has also considered other trading stress tests in relation to the Insurance business.
Although this scenario would be challenging, the Group expects to remain resilient and would not expect to need to take further actions to improve financial flexibility…
While the Group expects the outcome of a scenario more severe than the RWC to be unlikely, further downside sensitivities have been considered in light of the COVID-19 pandemic, including the impact of not being able to resume both Cruise and Tour Operations until March 2022. In considering this outcome, the Group has allowed for likely ongoing lower motor claims frequency than assumed in its base case plans, which in part offsets the adverse impact of continued delays to a resumption of Travel. In this scenario, the Group projects that it would have limited headroom to the interest cover covenant and would be near the limit of Cruise funding, but it would still remain in compliance with the requirements of its banking facilities for at least the next 12 months. The Group would however consider taking further actions to increase flexibility and reduce downside risks associated with the remote possibility of any further delay to the restart of Travel beyond March 2022. Such actions would include seeking additional amendments to bank facilities and consideration of alternative sources of funding.
Accordingly, the going concern note is clean. Remember the auditors have to approve these things, and the key point is that SAGA doesn't have a "material uncertainty" note, which auditors insist on, if such uncertainty exists.
Given the above factors, the Directors have a reasonable expectation that the Group will continue to trade through the continued COVID-19 disruption and will have sufficient liquidity for at least the next 12 months, and so have prepared the financial statements on a going concern basis accordingly.
Pension scheme - is only a minor problem, so not worth worrying about in my view, although it is a big scheme.
The pension trustees have largely completed the triennial valuation of the scheme as at 31 January 2020. Following discussions with the Company, the trustees are proposing a new deficit recovery plan totalling £39.0m over the next seven years, with the first payment of £4.2m paid in February 2021 and subsequent payments of £5.8m due each February thereafter until February 2027. Discussions with the trustees are ongoing but are expected to be concluded in the next two months.
That's fine. Relative to likely future group cashflows, the pension contributions look small.
My opinion – as you've probably already gathered, I feel that risk:reward here looks very good. Obviously if you think covid is likely to stop travel longer term, then it would be best to avoid everything travel-related. SAGA seems unique, in that it has an insurance business which can fund the losses whilst travel is shut down, I really like that.
I suppose the nightmare scenario would be if a new variant rendered vaccines ineffective, and became much more lethal, requiring more lengthy shutdowns. We all have to weigh up how likely we think that is, and of course it would impact everything, not just travel.
Providing that type of scenario doesn't play out, then I think the recovery potential for SAGA's profitability looks particularly good. Then there's longer term potential, under the watchful eye of Sir Roger de Haan (founder's son, and himself a successful long-term former CEO of SAGA). As an aside, note that he's personally made available a £10m loan facility to SAGA's cruise operations, on the same terms as the bank overdraft. That speaks volumes to me, about the commitment, and support of having the original CEO back again, overseeing the culture amp; reputational damage which occurred under the last lot running the company as a cash cow.
I think today's share price is entirely rational, and justified. In fact, for me, this share is still a buy. I intend topping up on any price dips, which we often see here – it's a strangely volatile share, given it's now c.£500m market cap. Market sentiment seems to swing wildly from optimism about re-opening amp; vaccinations, to gloom about repeated covid waves amp; poor vaccinations progress in other countries.
Press reports suggest that some countries are already preparing to roll out the red carpet for UK tourists, particularly older ones, as our vaccination programme has been so successful. Perfect for an over-50s travel company! Remember also that many over-50s are rolling in cash, often having fixed incomes, and little to spend it on over the last year.
There's a lot to like here, and I think the risks are well under control, given that debt terms have been relaxed, and the going concern note says SAGA should not need to raise any more cash even if travel doesn't resume until this time next year. Short term the share price could go anywhere, but I think looking a year or two into the future, we should see a usefully higher valuation of this business, providing travel gets back to some semblance of normality.
I think risk:reward with SAGA looks much better than a pure play travel company, e.g. airlines, etc.
.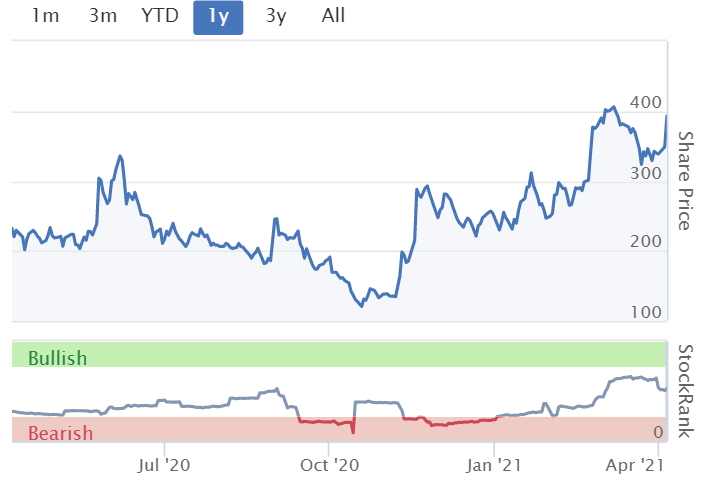 .
---
Tasty
(LON:TAST)
(I hold)
5.7p (down 5% at 11:45) – mkt cap £8m
I seem to own everything that's reporting today! This is too small to mention really, and horribly illiquid. I thought the results were quite reassuring, and the company has somehow managed to accumulate cash of £8m, although creditors look stretched. It's high risk, but might see a burst of positive sentiment once its restaurants re-open.
I was looking at booking up some nice restaurants last night, and was astonished to find my favourite two seafood restaurants are booked up until July! Anecdotally I've heard the same from friends. So it looks as if Brits are set to embrace eating amp; drinking out again, with great enthusiasm. Hence I do want a bit of exposure to this.
Strangely, the market makers marked down the share price here this morning, but my broker told me there were no sellers, and on the quiet the market makers (4 of them) were trying to buy! Things like that really annoy me, because it is price manipulation really. On the whole, MMs do a good job, but with micro caps in particular, you can't trust the quoted prices, they do get manipulated I'm afraid, sometimes, which is not acceptable.
---
Jack's section
VP (LON:VP)
Share price: 872.2p (+1.4%)
Shares in issue: 40,154,253
Market cap: £350.1m
VP (LON:VP.) was founded in 1954 and floated on the UK Stock Market in 1973, but it was arguably in 2000 when the group disposed of its general plant business to focus on higher return specialist activities that the business we know today began to take shape.
Since then Vp has developed a broad range of specialist rental businesses. Today, the group's core markets are infrastructure, construction, and housebuilding. I'm curious to see whether these rental businesses (with Speedy Hire being another one) are well placed for the gradual reopening of economies we hope to see.
Vp and Speedy both have attractive forecast PEGs (which divide the earnings multiple by the forecast growth rate), where a value of between 0.5 and 1.0 is seen as good.
And scrolling down to the Analyst Consensus box, we can see that, while earnings forecasts remain unchanged, the consensus rating has improved to a Buy.
But there are a couple of flags too: high levels of capital expenditure in the past means net debt has increased quite quickly and the net gearing ratio of 110.8% looks high.
Meanwhile the group's liquidity ratios are tight, with current ratio, quick ratio, and interest cover all less than 1x.
One encouraging point is that capex has been falling in recent years, and as long as the group's operations do not suffer due to this, it should allow the company to accelerate its debt reduction.
Still though, Vp's net debt, cash flow characteristics, and volatile historical results make it a riskier proposition, particularly given the cyclicality of its business.
This is a reasonably short update. The group says trading has been in line restricted activity over the past year.
Debt has fallen by 22% from £160m at 1 April 2020 to £124m at 31 March 2021 'creating an excellent platform for robust growth'. That's encouraging, as debt reduction should be a key priority here.
Meanwhile, Vp's core markets of infrastructure, construction and housebuilding have more recently experienced a positive trajectory. The board believes this recovery will accelerate and become increasingly robust.
UK highlights include a long term preferred supply agreement with Balfour Beatty Rail, the division's exit from the Netherlands, its involvement in the Valero plant shutdown in South Wales, and increasing HS2-related business. International trading has been volatile but there are signs of recovery as markets reopen.
Vp is beginning to invest again in new equipment to meet demand and revenues in the new financial year are at around 95% of pre-Covid levels.
Conclusion
Can Vp pull through Covid and take advantage of heightened spending over the next few years? Probably, and there could be some useful upside here – but I'm surprised a company with such a long heritage and such ingrained cyclicality does not have a stronger balance sheet. Equipment hire companies suffer badly in recessions, as work dries up, but costs remain fixed.
Perhaps management takes a different view of the group's financial health – in fact they do reference the group's 'strong' financial position in the update – but I would say a number of data points and ratios look dicey.
The below snapshot of the StockReport is a great way to get a quick feel for the group's finances.
On balance, it's more likely than not Vp will pull through and benefit over the next few years. The recent rate of debt reduction is encouraging, but investors should still carefully consider the risks involved here.
Source:
https://www.stockopedia.com/content/small-cap-value-report-weds-7-april-2021-saga-igp-tast-vp-792324/
Before It's News®
is a community of individuals who report on what's going on around them, from all around the world.
Anyone can
join
.
Anyone can contribute.
Anyone can become informed about their world.
"United We Stand" Click Here To Create Your Personal Citizen Journalist Account Today, Be Sure To Invite Your Friends.