Small Cap Value Report (Fri 14 May 2021) - FRP, WRKS, TET
Friday, May 14, 2021 8:09
% of readers think this story is Fact. Add your two cents.

Good morning! It's Paul amp; Jack here with the SCVR for Friday.
Timing – we need to be finished by 11:30 today, which is fine because we only have 3 companies to report on. I have to see a solicitor about making my will (purely precautionary, I'm feeling fine!). I've just been researching inheritance tax, and it's a nightmare. Now I see why so many elderly people blow their savings on round the world cruises! Rather that than pay 40% tax on it. I'll have to seriously think about starting up an AIM IHT-qualifying portfolio, which seems to be the easiest way around IHT. Update at 11:27 – today's report is now finished.
ZANE Zoom
Thanks to everyone who signed up for the Zoom meeting that humanitarian aid charity ZANE has organised for us, to show their appreciation for the funds we've raised, and to tell us more about their work.
It's 2pm today, and there are still a few places left. So if you email me before 11:30, I can get you a place.
.
---
Fashion news -
My morning email from Joules (LON:JOUL) (I hold) tells me that dungarees are back in fashion.
Some of my female friends tell me that dungarees never went out of fashion!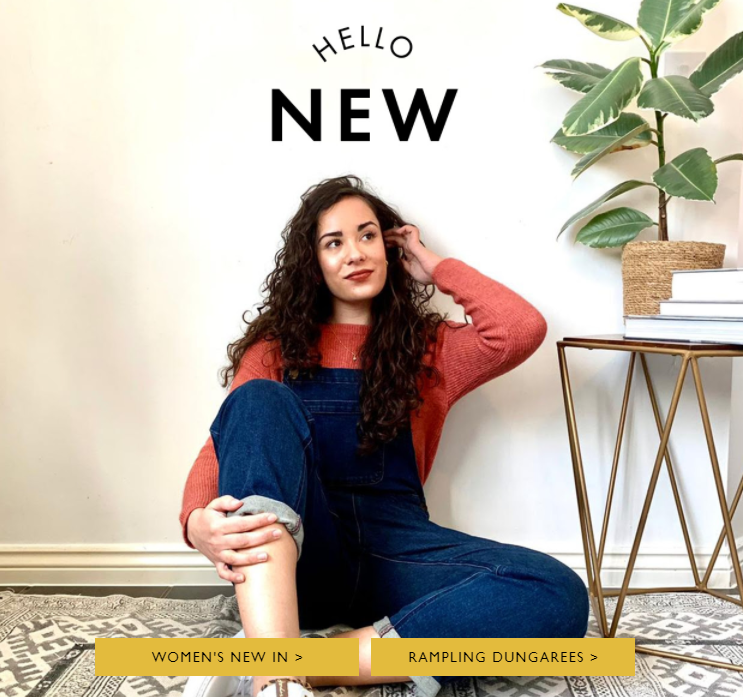 .
---
Agenda -
Paul's Section:
Frp Advisory (LON:FRP) (I hold) – FY 04/2021 trading update – another rise in guidance, the 5th since if floated in March 2020. Looks a decent share.
Works Co Uk (LON:WRKS) – incomplete information in today's FY 04/2021 trading update. This retailer was seriously struggling before covid, so I fail to see why the share price is showing such a strong recovery – sentiment more than fundamentals driving the price perhaps, as we've seen recently with a lot of retailers. I'm sceptical about the longer-term fundamentals, but have no idea what the shorter term share price will do.
Jack's Section:
Treatt (LON:TET) – circling back to Tuesday's update. Expensive valuation but impressive gross margin expansion begins to explain why this may be justified.
.
---
Paul's Section
Frp Advisory
(LON:FRP)
(I hold)
125p – mkt cap £304m
Here are my notes from 12 Feb 2021 – when FRP said it was exceeding market expectations, and upped adj EBITDA from £19.2m guidance, to £21m (which equates to 6.4p EPS).
Full Year Trading Update today –
FRP Advisory Group plc, a leading UK professional services firm specialising in advisory services, today announces a trading update for the full year ended 30 April 2021.
Strong performance, with continued growth and strategic delivery
Organic growth was driven by some large high-profile appointments early in the financial year and further gains in market share
Four complementary acquisitions were completed within the year, also contributing towards our growth.
As a result, the Group expects to report revenues for the full year to 30 April 2021 of £79 million, up 25% on the prior year (FY 2020: £63.2 million), and underlying adjusted EBITDA* of £23 million, up 22% on the prior year (FY 2020: £18.8 million). These results exceed the guidance provided in the 12 February 2021 trading update.
Indeed, that's another upgrade from £21m to £23m adj EBITDA – good news.
Although as I always complain, why on earth are companies reporting adj EBITDA these days? That's not real profit! We actually need the EPS and PBT figures please.
Broker update - many thanks to Cenkos for publishing an update note this morning, available on Research Tree. Strikingly, this is the 5th upgrade since FRP floated in March 2020.
The latest forecast for FY 04/2021 goes up to 7.1p – a PER of 17.6
Dividends – a key reason to hold this share, the 3.9p forecast divi is a yield of about 3.1%, and that yield could rise over time.
Liquidity – looks strong -
The Group's balance sheet remains strong with an unaudited net cash balance as at 30 April 2021 of £16.4 million (Cash of £24.4 million less recent structured debt of £8 million). The group also has an undrawn revolving credit facility (RCF) available of £10 million with Barclays Bank.
Diary date – results will be published on 27 July 2021.
Outlook - some short term uncertainty perhaps? A lot depends on when amp; how the Govt business support measures are withdrawn -
The medium-term outlook for our market remains positive and we have sufficient resource flexibility to service an increase in demand. The board remains confident of making further progress in the upcoming financial year."
My opinion – I'm impressed with these results, achieved against a backdrop of a subdued insolvency market. Note that FRP also has a corporate finance division, so benefits from high Mamp;A activity.
FRP is like a posher version of Begbies Traynor (LON:BEG) (I hold). I think both shares look attractive, for growth and yield. Plus they're good counter-cyclical hedges – i.e. they do well when the economy does badly, and seem to be doing pretty well when the economy is improving too.
The StockRank doesn't look right to me – in particular negative quality scores, when this is actually a high quality business, so something seems to have gone wrong here.
.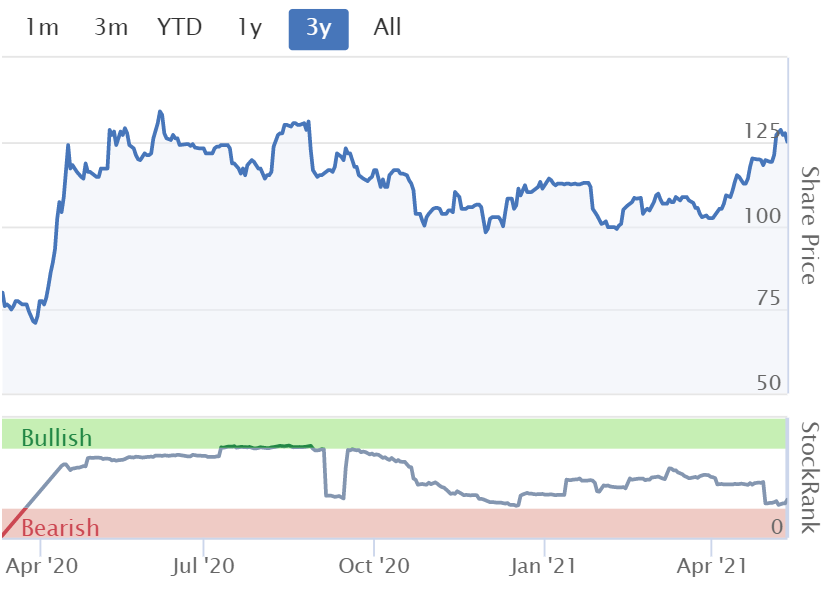 .
---
Works Co Uk
(LON:WRKS)
71p (down c.2% at 10:01) – mkt cap £44m
TheWorks.co.uk plc, the multi-channel value retailer of arts, crafts, toys, books and stationery, announces its pre-close update for the 53 weeks ended 2 May 2021 (the "Period" or "FY21″).
Clearly this has been a highly disrupted year, due to covid/lockdowns, nicely summarised by the company -
The Works has delivered a resilient performance, with lower sales than in FY20 reflecting Government restrictions, partially offset by good growth online and strong customer demand when stores were allowed to trade. During the 53 week Period, there were 16 weeks when all stores were closed and a further 8 weeks when at least 75% of the stores were closed, as required by Government restrictions. This included our peak Christmas trading period and, as a result, total sales (1) declined by 19.0% to £206.2m (FY20: 254.6m).
Online sales are up strongly, but the crucial figure (what % of total sales are online) is not provided. I seem to remember that it's not a particularly large element of total sales. I'm only really interested in buying retailers that have successfully switched to c.50% or more online sales (e.g. Next (LON:NXT) , Joules (LON:JOUL) (I hold)). The danger is that other retailers, with a smaller proportion of online sales, could end up withering away.
In line with expectations, but it's not stated what those expectations are! -
Immediately following the Government's announcement of the most recent lockdown in early January 2021, the Company revised its internal profit forecast. The final FY21 figure is expected to be in line with this forecast.
Liquidity - sounds fine for now, but these numbers below are meaningless, without telling us how much creditors have been stretched (especially rents, and VAT which I seem to recall was a big stretched creditor here). Stretching your creditors is not "generating cash" I'm afraid, because in the future those creditors have to be paid up-to-date -
Despite sales levels being significantly lower than normal, through the tight control of costs allied to careful cash management and use of the available Government support schemes, the Group ended FY21 in a strong financial position, having generated cash of approximately £7.5m during the year. On a pre IFRS 16 basis and excluding finance leases, the Group held net cash balances of approximately £0.5m at the end of the period (FY20 year end: net bank debt of £7.1m), resulting in headroom of £30.0m within its bank facility limit.
I'm surprised the bank is prepared to extend such a large facility, to a business that was struggling before the pandemic struck.
Current trading - a balanced appraisal of things here -
Sales since the majority of stores reopened have been very encouraging (the Group's stores in the Republic of Ireland are due to reopen on Monday 17 May). It is probably too soon to judge the extent to which these encouraging sales reflect strong underlying performance as opposed to pent up demand. As expected, with the reopening of the stores, online sales have reduced but remain significantly ahead of pre COVID-19 levels.
Outlook – guidance is withheld, which I think is not appropriate any more -
The Board's view is that the level of uncertainty at the beginning of FY22 related to COVID-19 and its potential impacts on the business is lower than it was at the beginning of FY21. Nevertheless, a higher than normal degree of uncertainty remains, and is expected to persist for some time particularly regarding the shape of the consumer recovery. In this context, the Group is not publishing profit guidance but, due to its strong financial position, and the evident appeal of its proposition, the Board is confident in the future prospects of the business.
I wouldn't describe the financial position as strong. Although checking back to the last interim results, if you reverse out the IFRS 16 deficit, then NTAV is not bad. Middling maybe, rather than strong.
My opinion - for me, the litmus test is, how was the business model before covid? Plus, what changes have since been made – e.g. have leases been jettisoned with a CVA or pre-pack (ideally, as with both Quiz (LON:QUIZ) (I hold) and Revolution Bars (LON:RBG) (I hold)), or have rents come down substantially on a consensual basis? Have sales shifted substantially online? Those are the key questions.
I don't feel WRKS is providing enough information for me to assess that. Nothing is said about rent reductions, for example. The proportion of sales online is also withheld. If that information was very positive, then it would be shouted from the rooftops. So I can only conclude from its absence, that the information is not so good.
We also have to remember that multi-site operators like WRKS have had a huge benefit from furlough amp; business rates relief. Those are one-offs probably, so the company has a mountain to climb, in increased sales, just to get back on an even keel after covid, once costs normalise. Plus higher wages. All assuming that covid doesn't worsen again.
Based on the limited information available, I think this big recovery in share price is probably presenting a favourable exit opportunity. This business was seen as a failed float, and had a big question mark over its long-term relevance, and even survival, before covid. Covid has probably made the longer term picture worse, not better. So why the share price has recovered so much, I really don't know. It looks like irrational market exuberance to me, a momentum trade feeding on itself?
Hence overall, I'm sceptical. It was a good rebound from the lows, but looks to have run ahead of the fairly harsh reality facing the company longer term, in my view.
We're seeing similar surging share prices in other struggling retailers, which have also gone to questionable recent highs, in my opinion – e.g. Ted Baker (LON:TED) and Superdry (LON:SDRY) – both of which were in difficulties before covid, and need a major sort out, which may or may not be occurring, the jury's out on those too. Time will tell, nobody knows for sure what's going to happen.
.
.
---
Jack's section
Treatt (LON:TET)
Share price: 1,135p (pre-open)
Shares in issue: 59,645,654
Market cap: £677m
Yesterday was a pretty dicey day on the markets for many, so it's notable that Treatt (LON:TET) shares were up by more that 7%. This ingredients manufacturer gave an update on Tuesday but it's a quiet end to the week so we have the space to circle back to it.
This high Quality consumer defensives stock just doesn't know how to go down at the moment. It's a great company, with a long history of revenue and profit growth, as well as dividend payments to shareholders.
The group's categories are Citrus (44% of group revenue), Tea (11% of group revenue), Fruit amp; vegetables (10%), Health amp; wellness (8%), Herbs, spices amp; florals (9%), Synthetic aroma (18%), and Coffee (currently negligible but with good growth opps in the US). The US remains its largest market, generating 45% of group revenue.
This is one of the better 'buy and hold' candidates out there, but the stock is becoming very 'expensive' according to relative valuation metrics.
It's never that simple though. If you are buying a stake in the present value of future cash flows, then a company with a lot of profitable growth in store can quite rightly command a high multiple and still be cheap in the absolute sense.
Is that the case here? The PE ratio has been rising and the dividend yield has been falling, so the company is commanding a higher premium than it has done in the past.
Some stocks look expensive and just get more expensive because the investment opportunity is so compelling. And, when that is the case, the possibility of upside earnings surprises means the forecast PE multiple might not actually be as demanding as forecasts suggest.
Strong growth over H1 with multiple opportunities across expanding addressable markets
Profit before tax and exceptional items for the current financial year is expected to be at least £20.0m, exceeding the current market consensus of £18.0m.
Highlights:
Revenue +13.5% to £60.8m,
Gross profit margin +880bps to 35%,
Operating profit +73.9% to £10.6m,
Profit before tax and exceptionals +71.4% to £10.4m,
Adjusted earnings per share +60% to 12.93p,
Dividend per share +8.7% to 2p.
The group reports encouraging revenue growth across its portfolio, with the increase in margins driven by higher value-added categories and an improved citrus mix. 'Healthier living' categories (tea, health amp; wellness, and fruit amp; veg) grew 57.1%.
There is also ongoing investment in Treatt's capacity and innovation capability to drive long-term growth, including the addition of a chief innovation officer.
Good trading momentum continues, with strong order book levels and growth opportunities 'across a number of expanding addressable markets'.
Progress continues with the group's £41m UK facility, with a further £8m of capex remaining.
Three years after completion, Treatt expects to be generating a 10 – 15% return on investment ('ROI') from this site and it will provide the platform 'to support its ambitious growth ambitions' alongside the recently expanded US facility.
The margin expansion could be the key here. Treatt is evolving into a higher margin provider of value-added products. This could transform profitability levels in the long run.
Conclusion
As ever, with Treatt, this looks like a special company that I wish I'd bought at half the price. But the fact of the matter is, if we'd paid the premium back then, shares would have more than doubled anyway.
The group has turned out a remarkable Covid performance given the challenging conditions, highlighting the defensive nature of, and demand for, its core products as well as the resilience of its business model.
The 'material' margin improvement could have further to run in future depending on the nature of new product development and the 'Healthier living' positioning aligns the group with some long term consumer trends.
Treatt is experiencing increased demand from existing customers across a wide product range and it continues to win new customers. People want what it makes.
The company says it is on course to generate at least £20m of PBT. Let's say that's £16m in profit after tax, which would give an FY21 PE ratio of just over 42x. Again, that looks expensive to me.
That said, could we be here again in a year's time with the shares having doubled once more? It's not going to happen from multiple expansion.
But the business is performing extremely well. It has transformed itself from a commodity-based ingredients business into a supplier of value-added ingredients and this evolution is prompting margin growth. This trend could continue.
And coupling that possibility of higher margins with Treatt's ongoing investments and growth opportunities, I would back it to meaningfully grow earnings per share in future years. Valuation risk is the immediate concern.
Source:
https://www.stockopedia.com/content/small-cap-value-report-fri-14-may-2021-frp-wrks-tet-809994/
Before It's News®
is a community of individuals who report on what's going on around them, from all around the world.
Anyone can
join
.
Anyone can contribute.
Anyone can become informed about their world.
"United We Stand" Click Here To Create Your Personal Citizen Journalist Account Today, Be Sure To Invite Your Friends.