Small Cap Value Report (Tue 4 May 2021) - PHD, Charlie Munger, OMIP, SUP
Tuesday, May 4, 2021 8:22
% of readers think this story is Fact. Add your two cents.

Good morning, it's Paul here with the SCVR for this shortened bank holiday week – I hope you had a relaxing long weekend.
Timing - we should be done by 1pm official finish time today, as it's quiet for news. Update at 12:24 – today's report is now finished.
Agenda -
Paul:
Proactis Holdings (LON:PHD) – agreed takeover bid at 75p announced on Friday afternoon. Failure to inform that market that talks were underway strikes me as appalling. A perfect example of why the Takeover Panel rules need to be enhanced, to require companies to disclose to the market if they are entering serious takeover talks, and not rely on rumour amp; speculation being the catalyst for the market being informed. Why is "secrecy" so paramount in the view of the Takeover Panel?
Link to Berkshire Hathaway's AGM over the last weekend.
One Media Ip (LON:OMIP) – buys Kid Creole amp; the Coconuts!
Supreme (LON:SUP) – upbeat trading update, but I have some complaints about the way this information is presented. Looks a good, entrepreneurial company, recently floated in Feb 2021, worthy of a closer look, in my opinion. With the usual risk of a new float, where most of the money went to a selling shareholder.
---
Paul's Section
Proactis Holdings

(LON:PHD)

– takeover bid
I mentioned this share last week, because a friend had suggested I take a fresh look at it. He thought there were signs of a turnaround. I did check out the interim figures, but as always the woefully weak, overly indebted balance sheet was the deal-breaker for me personally.
Having had several companies go bust on me over the years, I'm just not prepared to take solvency, or heavy dilution risk again. This does mean losing out on some spectacular risers, because in a bull market like this, often the riskiest shares rise the most (for a while anyway, before they crash back down to earth once the euphoric stage burns out).
To fix its problem levels of debt, Proactis clearly needed to do a placing that could roughly double the number of shares issued, by my estimates. Indeed the company seemed to tacitly admit this in its interim results last week, saying;
The Board looks forward to continuing to execute on our strategy to realise our ambition, whilst also exploring opportunities to accelerate this, address the capital structure and create shareholder value.
Does that tell you that they were going to announce a takeover bid the next day? Because that's what happened. I feel this price sensitive information should have been disclosed earlier. These things take weeks, even months, they're not done overnight. This is price sensitive information that was withheld – that is not OK, regardless of what the Takeover Panel rules state – they need to be changed, and this situation highlights why.
By coincidence, my leisurely lunch near Tower Bridge on Friday last week, was with the same friend, who fancied PHD and had taken a hefty stake in it personally. Just after 4pm, he leapt excitedly out of his chair, shouted, "Yes!" punched the air repeatedly, and began Dad Dancing on the promenade overlooking the Thames, near City Hall.
"Takeover bid, Proactis", he eventually gasped, whilst demanding champagne be delivered to our table.
It's all a bit of a blur after that.
When time permits, I'm going to revisit Proactis numbers, to try to work out why the bidder thinks paying a 79% premium over what the stock market valued Proactis, makes sense. For a business that doesn't generate any meaningful cash, and has way too much debt, it doesn't make sense to me at all, but clearly I need to look again and find out what the bidder saw, that most people didn't.
Above all though, it's the lack of disclosure that concerns me most. Lord Lee has been campaigning for better disclosure rules, and I can see why. His argument is simple – that when a company enters into takeover talks, it should inform the market, it shouldn't be optional. Proactis is a perfect example of failure to do so, which has cost people money.
Anyone who sold in say the last 4-6 weeks, was selling into a false market. Management of Proactis held material information, that a takeover bid was being negotiated, and they withheld that important, price sensitive information from the market. I think this is an outrage, and we all need to write to the Takeover Panel to point out this appalling situation, urging them to require disclosure when takeover talks begin in earnest. That shouldn't even be controversial, it's obvious.
.
---
Berkshire Hathaway AGM
Thanks to CNBC for putting together a summary (click on link in header above) of the main points from the legendary annual meeting of Berkshire Hathaway, where Warren Buffett and Charlie Munger are still going strong, in the 90's.
There are some cracking quotes here, including criticism of the "gamification" of trading, through free apps like RobinHood. Also Charlie Munger doesn't hold back in his criticism of Bitcoin, saying:
Charlie Munger calls bitcoin 'disgusting and contrary to the interests of civilization'
.
---
One Media Ip
(LON:OMIP)
7.75p – mkt cap £17m
Acquisition of Kid Creole and the Coconuts producer royalties
One Media iP Group Plc (AIM: OMIP), the digital music rights acquirer, publisher and distributor, announces that it has acquired the writer's share to the royalties of over 250 tracks of Kid Creole and the Coconuts ("Acquisition"), an American band created by August Darnell, that transcends the essence of 'Tropical Cool'.
For any readers woefully ignorant of 1980s Tropical Cool, here is Kid Creole's greatest hit:
.
It's never too early for a musical interlude here at the SCVR.
The Kid doesn't hold back in his upbeat assessment of his career:
August Darnell, the founder of Kid Creole and the Coconuts commented: "I started Kid Creole and the Coconuts in 1979. I had no idea then that I was destined to enjoy success around the world for the next 40 years. With the team at One Media iP and their Harmony iP initiative I have now ensured my musical legend will continue for another 40 years."
OMIP's CEO doesn't get left behind, with an amusing quip of his own:
Michael Infante, CEO of One Media iP, commented: "We are delighted to announce our third acquisition of the year executed through our innovative Harmony iP programme. The Kid has been a delight to work with and we look forward to many years of close association with him.
I want to say, "who is the Daddy?" but that would be too corny."
That's a good point actually, we never did find out who Annie's father was.
My opinion - joking aside, OMIP is one of several musical rights companies on the stock market, albeit probably the smallest. Personally I've never really looked into these companies, as I possibly incorrectly assumed that streaming, and free downloads, might kill off the value of published music eventually? Maybe not. OMIP is small, but seems to produce a rising profit each year, which isn't too bad.
From the graphs below, it seems there have been intermittent divis too – does that make sense for such a small company?
.

.
---
Supreme
(LON:SUP)
192.5p (pre market open) – mkt cap £224m
This company listed on AIM on 1 Feb 2021. It's been vaguely on my radar since then, and I think today is the first trading update since it floated.
Supreme concentrates on distribution of fast-moving consumer staples, with a high profit per square foot at retailers – e.g. batteries, vaping products, vitamins, etc. So far so good, that's a business model which appeals to me – repeat revenues, small amp; expensive items. Although I'm less keen on vaping products, given the as yet unknown long-term health risks.
Supreme (AIM:SUP), a leading manufacturer, supplier and brand owner of fast-moving consumer products, provides a trading update for the year ended 31 March 2021.
It's a slightly ahead of expectations update – with very good year-on-year (Y-on-Y) growth –
For the year ended 31 March 2021, Supreme expects to report a c. 30% increase in revenues to at least £121 million (2020: £92.3 million), in-line with management's expectations, and anticipates delivering Adjusted EBITDA1 slightly ahead of expectations of at least £19 million (2020: £16.2 million), an increase of c. 20%.
Movements in Group margin reflect the changes in revenue mix following the acquisition of Provider Distribution in February 2020 which are partially offset by stronger growth in higher margin products in Vaping and Sports Nutrition amp; Wellness.
The Group remains highly cash generative, with net debt at 31 March 2021 of approximately £5.1 million (31 March 2020: £18.7 million).
Oh dear, EBITDA again – it has its uses, but not to the exclusion of real profit numbers. It just irritates me, because it's a waste of time trying to work out what actual profit is.
I have another complaint too. The headlines say this -
- Strong performance across key growth categories
- Adjusted EBITDA ahead of expectations
But further down it says -
Adjusted EBITDA1 slightly ahead of expectations of at least £19 million
Why did the word "slightly" vanish from the headline bullet point? I hate this type of thing, it just undermines trust in the company, when advisers try to be too clever for their own good.
Outlook - no figure, but this sounds OK -
"The new financial year has started well and we are looking ahead with confidence on delivering on our expectations."
My opinion - at my first glance, I like the look of this business.
If I speak to management, my view would be this – keep the advisers away from the RNSs, and just tell the clear unvarnished truth. That will build investor confidence over time.
Also, get some broker research out there, that PIs (private investors) can access easily, to help our understanding of the company.
So far so good, the price has risen to a decent premium from the 134p float price in Feb 2021. In a rising market of course.
.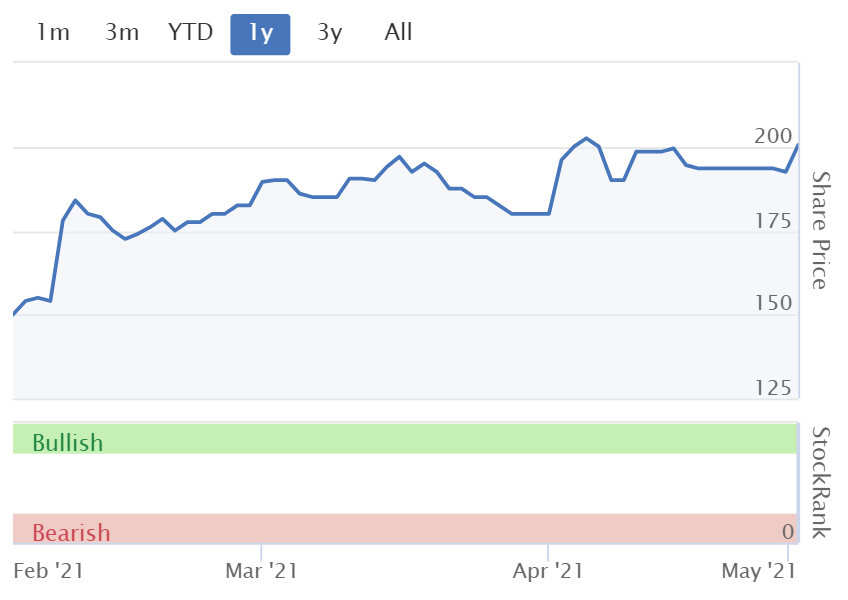 .
---
All done for today, see you tomorrow – it's Boohoo (LON:BOO) (I hold) results day, so I'll be focused on that to begin with, but will create a new post for that, and provide a link in tomorrow's SCVR.
Regards, Paul.
Source:
https://www.stockopedia.com/content/small-cap-value-report-tue-4-may-2021-phd-charlie-munger-omip-sup-804739/
Before It's News®
is a community of individuals who report on what's going on around them, from all around the world.
Anyone can
join
.
Anyone can contribute.
Anyone can become informed about their world.
"United We Stand" Click Here To Create Your Personal Citizen Journalist Account Today, Be Sure To Invite Your Friends.