Small Cap Value Report (Fri 4 June 2021) - SAL, POLX, CREO, TUNG, CDGP
Friday, June 4, 2021 8:09
% of readers think this story is Fact. Add your two cents.

Good morning, it's Paul and Jack here, with Friday's SCVR.
I'm getting my 2nd AstraZeneca jab this afternoon, so am looking forward to that. The NHS App is very good, I downloaded it onto my phone last night, it keeps a record of your jabs, which could be useful in future to prove you've been vaccinated (for travel, etc), so you might want to look at downloading it yourself, if you haven't already done so.
Timing – we're making good progress, so should all be done by 1pm official finish time, or earlier.
Agenda -
Paul's Section:
Spaceandpeople (LON:SAL) (I hold) – too small for the SCVR, at only £3m mkt cap, but seeing as I've looked at its 2020 results out this morning anyway, might as well post my brief notes. It's a speculative punt, but has survived the lockdown, and sounds like there is some potential here, with (previously announced) new contracts. High risk warning.
Polarean Imaging (LON:POLX) (I hold) – highly speculative, but several shrewd friends tell me this MRI scanning company looks to have interesting potential. High risk warning on this one, so won't appeal to most readers.
Creo Medical (LON:CREO) – another highly speculative jam tomorrow medical devices company, issuing results for FY 12/2020. Prodigious cash burn. I've got no idea how to assess companies like this, so am neutral.
Tungsten (LON:TUNG) – some signs of life here, in today's year end update for FY 04/2021.
Jack's Section:
Chapel Down (OFEX:CDGP) – perennially loss-making, cash-burning UK wine producer. Disposal of non-core beer business and a strong performance in ecommerce and direct to consumer are positives, as is the strong market position, but there's still plenty to be done to show that this can become a sustainably profitable business for investors.
---
Paul's Section
Spaceandpeople
(LON:SAL)
(I hold)
* High risk, extremely small *
14.25p – mkt cap £3.0m
Only a tiny position, which got through to my Spreadex account due to a clerical error. It's too small for the SCVR, at only £3m mkt cap, but seeing as I've looked at its announcement today anyway, might as well quickly post my notes below.
FY 12/2020 results, out this morning.
It's still in business, and has survived the pandemic, thanks to taxpayer-backed loans.
New CEO, Nancy Cullen – I think it's too early to judge her, because the pandemic hit amp; stalled the business soon after she stepped up.
Loss of £(2.1)m before non-recurring charges, £(3.6)m statutory loss – a seriously bad year, due to retail lockdowns
Balance sheet weak at NTAV of £(2.2)m, so don't be surprised if it needs to do a placing at some stage. Are the receivables collectable?
Cost-cutting done
Outlook – promising, maybe? Talks of a "vastly strengthened portfolio" (of shopping centre clients) in the UK, and "an improved long-term contract with ECE in Germany".
My opinion – high risk, a speculative punt. However, the £3m mkt cap gives plenty of upside, if the new venues (e.g. former INTU shopping centres) do generate decent returns. I seem to have bought a tiny position in this at 6.9p, thinking it would either go bust, de-list, or recover. It's doubled so far, so it's tempting to run the thing, and see what happens on re-opening. Or maybe sell half, and run the rest for free?
I like the concept of pop-up retailing, and SAL tends to do better in retailing recessions (but not when they're completely shut of course!) as there's more demand from landlords for its pop-up shops amp; kiosks when their other revenue streams are under pressure, as they are now, as never before.
NB.Be careful with the StockRank here, as with many nano caps, there's not reliable broker coverage – only 1 broker reporting here, and what looks like incredible 2021 forecast earnings.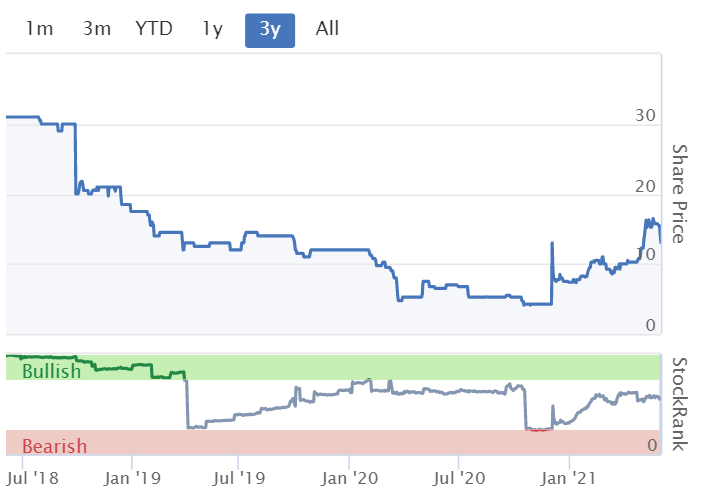 .
---
Polarean Imaging
(LON:POLX)
(I hold)
93p (pre market open) – mkt cap £197m
* Highly Speculative *
It's a bull market, so everyone likes the occasional punt! Several of my shrewd HNW investor friends have flagged Polarean to me, as being something they think has potential, so I picked up a few on the basis that these investors' previous ideas have generally done very well.
What does it do? It's found a way of making MRI lung scans more detailed amp; useful, using Xenon gas. This is completely outside my area of expertise, so I'm not offering any view on whether the product is likely to work or not, that's up to readers to research for yourselves.
My notes from this morning's FY 12/2020 results -
Date set for approval in USA is 5 Oct 2021 – a reasonable timescale
Mgt background looks impressive – see video of recent presentation on InvestorMeetCompany
Revenues only $1m – product is just being sold in small numbers to research facilities (e.g. top universities) to assess it
Gross profit of $710k – a high percentage, so if product is approved amp; rolled out, then company could become profitable, at what level, I have no idea
Operating loss of $6.6m in FY 12/2020
Balance sheet was weak at NAV $8.7m, however£27m raised post year end, so is fine now – looks fully funded for (hopefully) product launch later in 2021, or early 2022?
Impressive cornerstone investors backed recent £27m fundraise, including Bracco Imaging – a gt;E1bn revenues Italian healthcare group, active in diagnostic imaging – so I'm impressed they've invested in Polarean, and must have checked out the technology. Also, Amati AIM VCT invested, and other institutions.
My opinion – this is a complete punt for me. I'm just flagging it up here for people to do your own research, if you like speculative things, as shrewd investors tell me it could be the real deal. Obviously this type of share is high risk, because if the approvals don't happen, and/or the product is found to not work as hoped, then the share price would collapse by a very high percentage. Hence personally, I always limit my position size to an amount I could afford to lose. I'm just hoping that POLX isn't BOLX!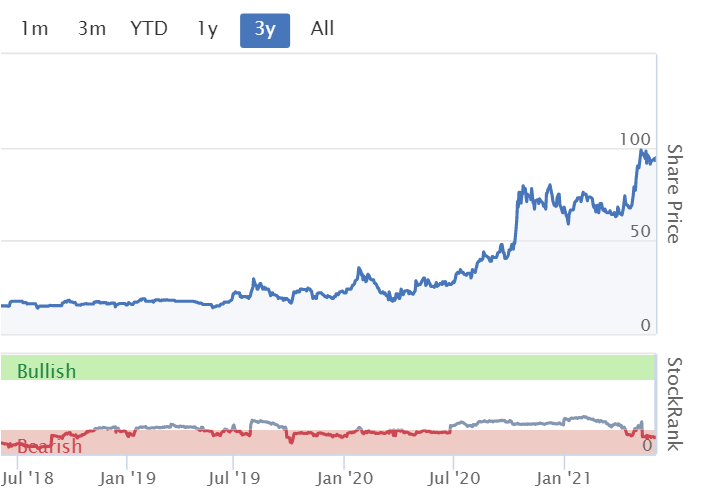 .
---
Creo Medical
(LON:CREO)
208p (down 1% at 09:44) – mkt cap £329m
* Highly speculative *

Jumping from one loss-making jam tomorrow medical devices company above, to another, more extreme one here. For useful background, see Roland's recent article about CREO here.
Results for FY 12/2020 are out today.
I rarely cover things like this, and no HNW investors have told me they like this share, I'll let you know if that changes!
Revenues £9.4m (up from a negligible £13k in 2019)
Massive losses of £(20.7)m after tax (because tax credits can be seen as part of earnings for loss-making companies like this, so I use PAT not PBT for such situations) in 2020, and £(15.9)m in 2019
Balance sheet – all that matters at cash burning companies is: how much cash is left, and how long will it last? Creo had £45.1m cash. No net cash figure is given in the commentary, but I see the balance sheet has liabilities called "Interest bearing liabilities", which sounds like debt to me, of £4.0m + £6.54m. There's also "Non interest bearing loans" of £1.79m. Net all that off, and it looks like net cash of £32.8m
Cashflow statement – shows £(16.3)m operating cash outflow, plus a further £20.6m cash outflow for an acquisition. Therefore, if we assume it's not going to make any more acquisitions, then the net cash pile of £32.8m looks roughly enough to last until the end of 2022 – no immediate cash worries then.
My opinion – neutral. The valuation of the company is entirely based on hopes for the products it is launching. I can't assess that, so can't take this any further. It's the sort of share where you would need to do in-depth research on the products, and would need specialist sector knowledge to be able to judge their chances of commercial success.
For most private investors, buying shares like this is just gambling, so it doesn't interest me. There's always the risk of further fundraises, and dilution. Note that the share count has roughly doubled from 2017 to now.
The Stockopedia computers snort with derision at jam tomorrow shares, and they're usually right to do so, because such a high proportion of jam tomorrow shares turn out to be awful investments. So the StockRank is predictably low, at just 16 – a useful warning to us.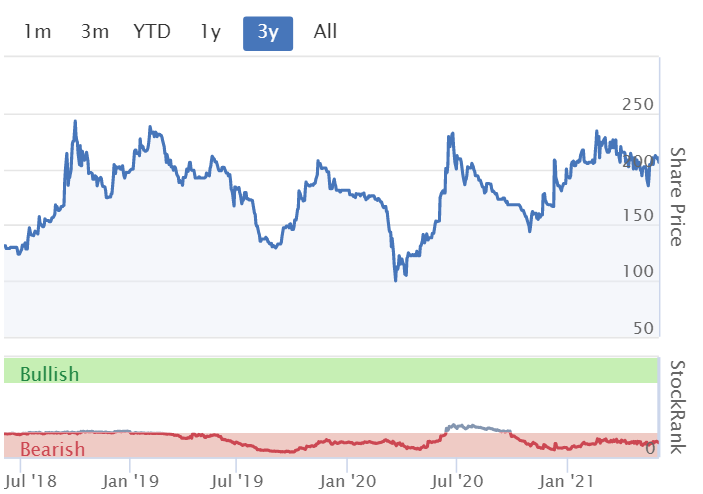 .
---
Tungsten
(LON:TUNG)
34.5p (up c.5% at 11:28) – mkt cap £43m
I last looked at Tungsten (an accounting software company) here on 24 March, when the shares fell 19% on news of a major client loss. I pointed out that Tungsten has a very poor long-term track record, and also needs a fundraising due to its weak balance sheet (NTAV negative at £(10)m)
Positive news came out on 13 April 2021, of a new customer win – an impressive client name too, NTT (European division), a "leading global technology services company". It's Japanese headquartered, and google says it's the 4th largest telecoms company in the world, in terms of revenue, and the 5th largest publicly traded company in Japan, after Toyota, Misubishi, Honda, and Japan Post. Hence a really impressive client win. I didn't focus on this announcement at the time, but it looks important, not least as a reference customer to help win other new clients.
Trading Update - today
Tungsten Corporation plc (AIM: TUNG), a leading provider of digital financial management products and software solutions, today issues a trading update ahead of the announcement of its full-year results for the year ended 30 April 2021.
Trading is recovering after covid impact
"Strong momentum in new sales", and "recovering transaction volumes" towards the end of FY 04/2021
Large client wins: 8 (up on 6 last year)
Revenue essentially flat vs LY, c.£36m
93% of revenue is repeatable/recurring – giving good visibility for future
Adj EBITDA in line with guidance – but doesn't remind us what guidance is, distinctly unhelpful
Net cash is £2.1m – running tight in my view, so high likelihood of a placing at some stage, but the horrendous cash burn of the past has stopped due to cost cutting
Current trading shows a rebound in transaction volumes after falls last year
Outlook -
"Our current sales conversion rate and increasing year-on-year transaction volumes across the business, particularly in Europe and North America, gives us cautious optimism for FY22 delivery. The solid sales pipeline and an additional £1.0 million of investment in tech development and compliance functions in FY22 will provide us with a strong platform for future growth."
My opinion – not a basket case any more, and the NTT Europe contract win does seem impressive. I think a further fundraising is likely, but if it raised a top-up of say £4m, that's only 10% dilution, so not necessarily a major worry.
I thought Proactis was hopeless, and Tungsten reminds me of it. However, someone saw value in Proactis, and bid for it, at a large premium. Which I think shows that recurring revenues at software companies are valued highly by acquirers. Hence there's a possibility someone might bid for Tungsten, as I've mentioned before here. I'm tempted to have a little dabble.
.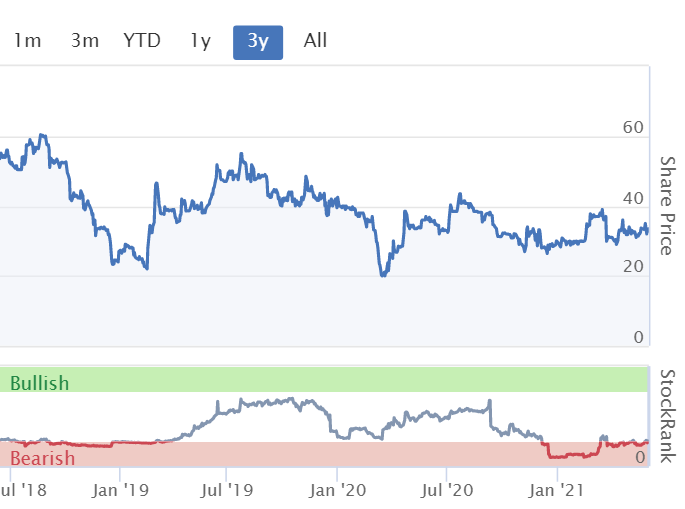 .
---
Jack's section Chapel Down (LON:CDGP)
Share price: 59.5p (unchanged)
Shares in issue: 162,600,159
Market cap: £96.7m
Chapel Down (OFEX:CDGP) is a bit of a rarity: a UK winemaker. It's a nice business to look at, but whether or not that makes it a good investment is an entirely different question. Liquidity is an issue, with a 496bps spread and an average of about £11,500 worth of stock trading hands.
While revenue has gone up, the group has struggled to turn a profit, with total operating expenses moving up more or less in line with revenue. This has resulted in precious little for shareholders to shout about over the years.
The group also reliably burns cash.
Whenever I see consistently negative free cash flow, I like to check the Net Debt and Average Shares lines in the Balance Sheet section of the Financial Summary. Cash to fund operations has to be coming from somewhere, and this brings with it important implications for historic and potential shareholder dilution and debt levels.
Of course, this year Chapel has had Covid to contend with too. While the weather might be perking up now, and a 25 acre vineyard in the heart of Kent sounds like a nice place to be, on trade demand must have suffered greatly in recent months.
I'm rooting for this UK vineyard, but I can't say it's winning me over at first glance as a potential investment.
Final results
Wine amp; spirits
Wine and Spirits revenues on a continuing basis up 32% to £13.294m
Wines and Spirits gross profit on a continuing basis up 31% at £5.149m
Adjusted EBITDA for Chapel Down Wines and Spirits was up 76% at £1.608m
Wine sales volumes up 38% despite losing a third of on-trade business over lockdowns,
Direct to consumer (D2C) volumes were up 467%, offsetting reduced hospitality and retail volumes. D2C has grown from just 4% of Chapel's trade in 2019 to 18% today.
The 2020 harvest was 'excellent… in both quality and quantity'
Beer amp; cider
Beer and Cider was badly affected by the lockdowns, with sales down 52% to £2.265m
Gross profit fell 68% at £0.451m. The group experienced 'heavy discounting and intense competition' here.
Adjusted EBITDA was a loss of -£1.629m (2019: loss of -£1.776m).
Adjusted EBITDA for the group was a loss of -£0.021m (2019: loss of -£1.236m).
The loss before tax however, was a much larger -£7.860m (2019: loss of -£4.285m) due to the £6.677m of exceptional costs associated with the disposal of Curious Drinks Limited which completed on 23 April 2021.
This strikes me as a good move – beer is fiercely competitive, full of operators that have been doing it literally for centuries.
I imagine this was a huge and costly distraction for management of a company that has established a strong market position as a winemaker.
And the team says its core wine business is now in much better shape, with 'a great deal of excitement around English wine'. Chapel has used this restructuring as an opportunity 'to transform sales towards e-commerce'.
A 32 % increase in turnover at its continuing operations to £13.294m is promising, as is the 31% increase in gross profit to £5.149m. Plus the group says its 2020 harvest is its third highest ever.
Chapel is going to invest in further capacity and equipment over the next 2-3 years. More detail here would be nice but this, alongside the direct-to-consumer and ecommerce growth (ecommerce grew by some 467% in the year, albeit presumably from a low base) and the disposal of Curious, could mark the beginnings of a more intriguing investment case moving forwards.
Risks remain. Chapel Down's fortunes will forever be tied to the notoriously fickle British weather. The group raises concerns about the availability of labour and Brexit, which has not had an impact so far, could always complicate the shorter term picture.
Conclusion
This is more interesting than I had initially imagined but I do remain wary.
The crucial changes are in the level of profitability, the disposal of Curious Brewery, and the strong performance in e-commerce and direct to consumer.
With the furloughing of staff and management's decision to reduce spend over lockdown, we might not be able to count on the margin improvement as a permanent feature.
The disposal is more promising.
The combined business made a loss before tax of -£7.860m, with the Wines and Spirits delivering a profit before tax of £0.955m and Curious Drinks recording a loss before tax of -£8.815m (including the £6.677m exceptional write-down of net assets).
There's a strong wine and spirits brand here, and Chapel already exports to the US, Norway, Latvia, Hong Kong, Japan, New Zealand and China.
Given the track record this is not one I would invest in just yet – but I would monitor performance post-disposal of the brewery and keep an eye on its growing ecommerce and D2C businesses to see if they can continue to grow post-lockdown. It could lead to a more sustainably profitable business.
Meanwhile, revenue growth has been encouraging and Chapel Down has built up a strong market position in the UK over the past 20 years or so.
Source:
https://www.stockopedia.com/content/small-cap-value-report-fri-4-june-2021-sal-polx-creo-tung-cdgp-818724/
Before It's News®
is a community of individuals who report on what's going on around them, from all around the world.
Anyone can
join
.
Anyone can contribute.
Anyone can become informed about their world.
"United We Stand" Click Here To Create Your Personal Citizen Journalist Account Today, Be Sure To Invite Your Friends.