Small Cap Value Report (Tue 29 June 2021) - D4T4, TAST, MER, APP, CSSG
Tuesday, June 29, 2021 8:22
% of readers think this story is Fact. Add your two cents.

Good morning, it's Paul amp; Jack here with Tuesday's SCVR
Timing - TBC. I've (Paul) got several quite long company zooms today, which I'll report back on if there's anything of interest.
Electra Private Equity (LON:ELTA) (I hold) is doing a Capital Markets Day online. Signup details are here. I'm increasingly excited about its forthcoming spinout of TGI Fridays (now known as Fridays) in the next few months. Then I'm also booked in to hear from management at Various Eateries (LON:VARE) – which looks pricey, but interesting (a roll out of premium bars).
Agenda –
Paul's Section:
D4t4 Solutions (LON:D4T4) (I hold) – a quick review of its FY 03/2021 results. Numbers look in line, or ahead, depending on which forecast you're using. Very strong balance sheet. Difficult to value. Certainly not cheap on a PER basis, but the software seems to have great potential.
Tasty (LON:TAST) – trading update from this minnow casual dining chain. Trading well since re-opening, but no figures given. Reminds us of the many headwinds the sector is facing as things normalise.
Jack's Section:
Mears (LON:MER) – a solid update from this housing services provider, but financial and business risks remain so it's hard to see a great deal of long term upside.
Appreciate (LON:APP) – disappointing results and short term outlook statement but management appears to be creating a more focused operation that is investing for future growth, so could be worth researching on share price weakness.
Croma Security Solutions (LON:CSSG) – micro cap, so liquidity must be considered. Good trading momentum though and nearly half of market cap in net cash.
to follow
---
Disclaimer -
A friendly reminder that we don't recommend any stocks. We aim to cover notable trading updates amp; results of the day and offer our opinions on them as possible candidates for further research if they pique your interest. We tend to stick to companies that have news out on the day, and market caps up to about £700m. We avoid the smallest, blue sky type companies, and a few specialist sectors (e.g. resources, pharma/biotech).
A central assumption is that readers then DYOR (do your own research) and discuss in the comments below. The comments, incidentally, sometimes add just as much value as the articles. We welcome all rational views, whether bull or bear!
---
Paul's Section
D4t4 Solutions
(LON:D4T4)
(I hold)
395p (yesterday's close) – mkt cap £160m
Preliminary results amp; board changes
D4t4 Solutions Plc (AIM: D4T4, "the Group", "D4t4″), the data solutions provider, announces its preliminary results for the year ended 31 March 2021.
I last reported on D4T4 here on 1 April 2021, with its "comfortably ahead" trading update for FY 03/2021. That led to a rise in broker consensus forecast, which Stockopedia is showing as 9.65p. Actual fully diluted adjusted EPS has come out at 9.52p, down 15% on last year.
There's a broker update from Finncap out this morning, which shows the 9.5p adj EPS as being a 14% beat against its own forecast.
Revenue is as expected, at £22.8m.
Adjusted profit before tax is £4.45m (down 12% on last year).
Not madly exciting then, with profit being down on last year, but the context is a poor H1 (loss-making), with the shortfall being recouped in H2, which has happened before with D4T4. Although it's increasing annual recurring revenues nicely, it also seems to still be heavily dependent on H2 contract wins, as in the past.
Divis – small, and not really what this share is about, it's a future growth company.
Current trading – in line with expectations.
Directors – both the founders are retiring, and a new CFO is being sought. I don't know whether that's significant or not.
Outlook –
The Board remains highly confident in the Group's strategy; our underlying business is delivering against our key KPI's and performing well, and D4t4 is well positioned in its key markets. The current revenue visibility, order book and pipeline of opportunities all bode well for the future.
Valuation – this is the tricky bit! D4T4 has big name clients, and impressive software. Plus the company is making positive noises about its new fraud prevention platform.
Finncap's latest note this morning shows a 29% drop against its previous FY 03/2022 EPS forecast of 8.0p. This is reduced to 5.7p, but rising to forecast 9.8p adj EPS for the following year, FY 03/2023.
At 395p per share, that produces a current year PER of 69, dropping to 40 times. Clearly not a share for value investors then!
However, it's a growth company, and seems to have very impressive software, so investors need to be comfortable with it spending more to roll-out the new product, suppressing short term profitability (which is what has driven the forecast fall today).
What should it be valued at? I don't know, but it's starting to look fully valued to me.
Balance sheet – very strong, with plenty of cash, so no concerns here at all.
My opinion - I'm intrigued by the potential for expansion, as D4T4's software seems to be impressive, and helps companies improve their profitability by processing their data better. Therefore, I think the share price is probably being chased up by investors who like the story more than the short term numbers.
Taking a longer term view, the track record is not madly impressive given the high valuation -
.
Overall, I think I'll run with this one. It's difficult to value, and probably needs another out-perform trading update to justify any further rise in share price, but who knows?
Companies with great products, and huge potential markets, can be valued very aggressively in bull markets.
.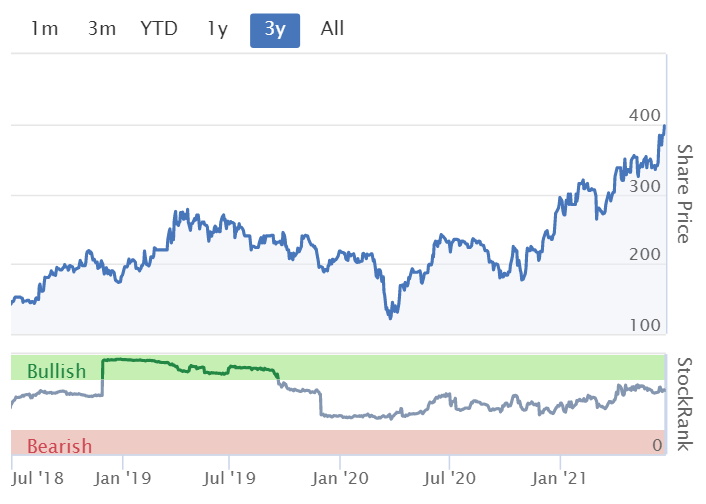 .
---
Tasty
(LON:TAST)
(I hold)
6.0p (unchanged) – mkt cap £8.5m
Too small amp; illiquid really, but Jack thought it might have interesting read-across for other hospitality sector stocks. Also I (Paul) have a small holding here, so looked at it for my own purposes anyway.
TAST operates the Wildwood chain of (mostly) pizza amp; pasta casual dining restaurants. Also a handful of "dim t" restaurants.
Today we are told -
49 out of 54 restaurants are fully open, with social distancing measures
Takeaway amp; delivery performed well in lockdown, and after sites re-opened
Last 6 weeks (indoor dining allowed) – "strong like-for-like growth" (but no figures provided)
Encouraged by strength of recent trading, despite restrictions – pent-up demand
Outlook – TAST believes trade will "remain robust" over the summer
Challenges – supply chain disruption, staffing, wage inflation, business rates resuming, furlough amp; VAT support phasing out
Leases – consensual agreements reached on 80% of the sites. Continuing to negotiate with remaining landlords amp; creditors
My opinion – sounds generally positive, but with no figures provided, and nothing said about liquidity, it's difficult to forecast where this company is going.
Evidence is mounting that people are keen to eat out again, although this update is a reminder that the sector faces serious headwinds. Set against that, demand seems strong, and a lot of competition has disappeared.
I'm surprised TAST hasn't done a CVA, as that was mooted a while back. It would be a good way to clear the rent arrears amp; dispose of moribund sites. That's what Revolution Bars (LON:RBG) (I hold) did last year – renegotiated with most landlords, then did a CVA to sort out the remaining sites where landlords wouldn't co-operate.
The 3-year chart below is a reminder that the pandemic was the cherry on top of an already-rancid cake.
.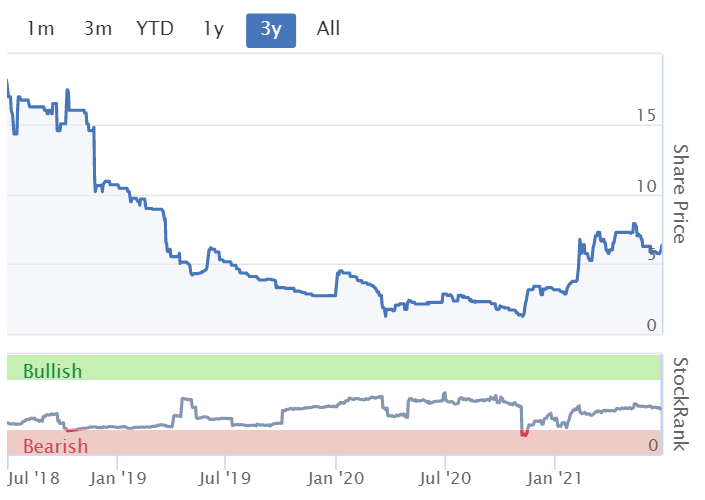 .
---
Jack's section
Mears
(LON:MER)
Share price: 184p (pre-open)
Shares in issue: 110,881,897
Market cap: £204m
Mears (LON:MER) is a housing services provider. It provides local authorities and housing associations with housing related and domestic care services. It's the UK leader in the former and has a growing share in the fragmented market of the latter.
This is a tricky area – typically low margin and sometimes requiring capex. Mears also has to deal with long-term contracts, which can be a risk.
The group has struggled to consistently grow revenue:
And the high cost of sales (80.6% of revenue in FY20) means net profit has remained broadly flat, even swinging to a loss in the most recent financial year (before extraordinary items).
On the point of extraordinary items, there have been a lot of these. Approximately one every other year for the past ten years, including a massive £88.3m loss in FY19. Mears has recently disposed of part of its Domiciliary care business, sold for only £7.5m.
The group does offer value (with a Value Rank of 88), but the financial health scores are creaking and the share price has not gone anywhere in a hurry over the years, so it's got the potential to be a value trap.
AGM update
Trading at Mears in the calendar year to date has remained in line with management's expectations… the board re-iterates its previously provided guidance for the full financial year ended 31 December 2021 ("FY2021″), as being in line with current market forecasts.
Those are:
Consensus FY21 forecasts of £771-811m revenues ranging from £771m – £811m, and
Adjusted profit before tax in the range of £21.3m – £25.4m
The group says that the 'return to normal payment mechanisms' across its contract portfolio is now largely complete with activity levels increasing. Group revenues for H1 are expected to be in excess of £430m, with adjusted profit before tax (before exceptionals and amortisation) in the region of £11.0m.
Improving trends in working capital and net debt have continued, with average daily net debt anticipated to be approximately £20m. This is down from the £97m reported in FY2020, which is encouraging, and Mears expects to return to dividend payments shortly.
Conclusion
The group trades at just 0.25 trailing twelve month (TTM) sales and 2.1x TTM free cash flow, so there's the possibility that, if the group is managed well with an effective strategy, the shares could rerate.
But it looks like a tough industry that is expensive to operate in. I don't see why you would assign Mears a particularly high multiple and the group's track record suggests a company that works very hard but struggles to translate that effort into profits for shareholders.
The dividend was cut steeply in FY19, before Covid, which suggests either that the business model is prone to shocks or some financial risk. Mears does have a pension fund and quite high capital lease obligations, so even with the apparent value on offer, I think there are probably more attractive investment propositions out there to spend time on.
The StockRank has been improving recently though, and the narrative sounds stable if not spectacular, so if conditions remain favourable with economies opening up there could always be a rerating in the shorter term.
---
Appreciate
(LON:APP)
Share price: 35.4p (-10.4%)
Shares in issue: 186,347,228
Market cap: £66m
Appreciate (LON:APP) is a financial services business that provides gifting and reward products. It sells these products via digital channels, its direct sales force, and a network of agents. Products include Love2shop gift vouchers, single store gift cards, and VIP travel experiences.
There are signs of potential quality here. Good cash conversion, high levels of free cash flow, a net cash position, and previously encouraging returns on investment figures. But these profitability metrics have been declining recently and the group is simplifying its operations at pace.
It says it wants to create 'wow' moments for its customers (both corporate and retail) but, with shares down 17% as of writing, it looks like the wrong kind of wow today.
Highlights:
Revenue -5.2% to £106.8m,
Group billings -3.2% to £406.5m following the early impact of the initial lockdown and ceasing of hamper packing,
Unaudited, non-recurring losses relating to the wind down of the hamper packing business of £1.1m
Operating profit down from £6.4m to £0.8m,
Profit before tax down from £7.7m to £1.3m,
Earnings per share down from 2.96p to 0.46p,
Year end free cash up from £29.6m to £31.4m,
Final dividend of 0.6p recommended, making for 1p of total dividends per share.
The falls come from reduced profitability in Corporate and a loss of business over lockdowns in Consumer (some of which is deferred).
Corporate billings rose by 1.8% to £201.3m and revenue increased by 6.8% to £53.7m, although net profit fell from £6.6m to £2.6m due to lower margin business (namely the free school meals initiative) and higher administration costs.
I wonder why the company took on this school meals work if it's at such a lower margin? And why were there higher admin costs?
Consumer billings -7.6% to £205.3m due to lockdowns and reduction in Christmas Savers. Revenue down from £62.4m to £53.1m. Segmental profit consequently falls from £5.3m to just £0.5m, with a £1.1m hit (non-recurring) also coming from the closure of Appreciate's hamper business.
Unfortunately, some of these trends are not limited to FY20. The group's current trading and outlook:
Trading in the first 12 weeks of the current financial year has been slower than anticipated and continued to be impacted by the pandemic, as customer buying and spending patterns take time to return to normal levels…

…the Christmas Savings' order book has been held back by COVID‐19 restrictions impacting face‐to‐face agent activity during the crucial renewal and recruitment period, combined with higher levels of unspent paper vouchers (up by £6.4m compared to last year) due to shopping restrictions, which customers appear to intend to use towards Christmas 2021, rather than starting a new savings plan. Whilst initiatives to recruit Christmas savings' customers continue, the order book is now predicted to be c.14% down following the continued COVID uncertainty, having quoted c.11% lower in April.
Billings are considerably higher than the same period last year but remain 8.6% down on 2019.
Conclusion
Unwelcome news for shareholders, but I wonder if this is just a continuation of temporary Covid disruption, but with the nature of Appreciate's businesses meaning softer trading has continued for now while other businesses see signs of recovery?
After a quiet Christmas period, unspent paper vouchers are £6.4m higher compared to last year and 'some' customers intend to use them towards Christmas 2021, rather than starting a new savings plan (why wouldn't all of them be doing this?)
That said, I don't see why gifting products would be fatally affected by the pandemic even if the effects linger longer here than for most. These results probably aren't as bad as expected given the initial share price drop. Hundreds of companies have suffered similar disruption.
But then again, a falling order book does not bode particularly well for now. The fear is that this marks something more significant than temporary disruption. The group comments:
In response to this reduced predicted order book for 2021, a number of initiatives are underway to encourage customers to save and incentivise agents. We held a virtual event to engage agents in May and introduced a regular prize draw to encourage customers to add to their savings' plans. We also introduced new agency commission structure in 2020 to support plans.
Appreciate has a good cash position of £31.4m. Digital Billings grew an impressive 287% to £68.5m and it has invested heavily here, to the tune of about £6m over the past two years. There are other longer term growth initiatives underway.
There are signs of quality in the underlying business, but management must now unearth that so that shareholders benefit.
Reading up on the story, Appreciate is clearly a company in transition. It is simplifying its operations with the sale of its brand engagement subsidiary, the end of its hamper business, and the wind down of the contract packing and Republic of Ireland businesses. There are several non-recurring costs this year that will not be repeated in future.
Turnarounds are easier said than done, and the more complex a problem is, the greater the scope for slippage, additional costs, and further complications.
But it could be that, underneath the Covid disruption and unfavourable shorter term dynamics, a fundamentally simpler and stronger enterprise is emerging. There are points of interest here, and this one could be worth cautiously getting to know a little better, although there's no doubt sentiment is against Appreciate and the short-term outlook is rocky.
---
Croma Security Solutions
(LON:CSSG)
Share price: 81.25p (+3.5%)
Shares in issue: 14,902,486
Market cap: £12.1m
This is a tiddler but is notable for yesterday's strong share price reaction to its trading update – flagged by EffortlessCool. Trailing twelve month revenue is £31.5m, so it's possible that this is a more valuable and larger enterprise than the market cap lets on.
For now, however, liquidity is obviously a key consideration. You can reliably buy less than £2,000 worth of stock and if you decided you needed to get out in a hurry, I wouldn't bank on being able to do it. The group does have some notable shareholders for a micro cap, namely Canaccord and Liontrust. Directors also own a good chunk of stock – the top shareholder is group CEO Roberto Fiorentino.
This is a small outfit run by ex-military professionals with five divisions (at least according to its website. The RNS refers to two divisions):
Trading statement for the 12 months to 30 June 2021
Robust Trading
Both divisions have traded well since the start of the year and the impact of Covid-19 has been more than offset by strong performances elsewhere in the group. The board now anticipates a better result than previously expected, with FY EBITDA of at least £1.85m (2020: £1.75m). Taking the group's net cash figure of £5.5m below and using that for the EV calculation, that looks like striking value on the face of it (EV/EBITDA of c3.85x).
Croma Systems (which includes the lockdown-affected locksmith stores) is expected to deliver an increases in sales and profits against the prior year.
Croma Vigilant, the largest division, is also expected to perform well against the prior year. This division has benefitted from the increased need for manned guarding and Proception services.
Balance sheet – no debt (excluding lease liabilities) with net cash of £5.5m. That's highly significant given the market cap, as is the level of annual revenue.
Conclusion
Trading momentum is positive and if this is a viable business, then the shares are likely mispriced at current levels on account of the material net cash holding. Croma has struggled to increase net profits in line with revenue growth though.
Despite that, the group looks strongly cash generative so perhaps profits are understated.
With such a small market cap, corporate governance and depth of management are key considerations. Is there enough quality at the top to get Croma up to the next level in terms of scale? A quick look at indeed shows some mixed reviews from employees. By itself, not enough to come to any kind of conclusion, but it's enough to suggest this is an area to investigate further. As noted above, it's good to see some institutions present.
There's probably potential here, but also clear risks primarily around liquidity – if there is ever a profit warning and you want to get out, it's going to be tricky. This must partially explain the cheap valuation.
Source:
https://www.stockopedia.com/content/small-cap-value-report-tue-29-june-2021-d4t4-tast-mer-app-cssg-829465/
Before It's News®
is a community of individuals who report on what's going on around them, from all around the world.
Anyone can
join
.
Anyone can contribute.
Anyone can become informed about their world.
"United We Stand" Click Here To Create Your Personal Citizen Journalist Account Today, Be Sure To Invite Your Friends.