Small Cap Value Report (Tue 8 June 2021) - NGHT, IGP, PCIP, WATR, AMO
Tuesday, June 8, 2021 10:41
% of readers think this story is Fact. Add your two cents.

Good morning, it's Paul amp; Jack here with the SCVR for Tuesday.
Timing - I'm (Paul) running a bit late today, so am planning on working on this until mid-afternoon.
Agenda -
Paul's Section:
I'm trying out a new idea – posting quick comments in the comments section below, to give an initial pre-8am view on stocks most of interest to me. I'll gauge reader interest in this by the number of thumbs ups to those comments. Full sections on those shares will follow later this morning.
Nightcap (LON:NGHT) – strikingly good trading (+53%) using 2019 comparatives, on a like-for-like basis. Surprisingly strong, for this mainly London based small bars group. Shares look way over-valued, but this strong re-opening trading (still with covid restrictions remember) augurs well for Revolution Bars (LON:RBG) (I hold)
Intercede (LON:IGP) (I hold) – good results, with a decent increase in profits, despite covid disruption. Balance sheet is transformed, with debt converted into equity, and an £8.0m cash pile. Lots of interesting commentary provided in the RNS. I have high hopes for this company, as a long-term position.
Pci- Pal (LON:PCIP) – a strong end to the year, guidance is raised, 5% better than expectations on both revenues amp; loss. Superb organic growth (+60%), but still loss-making. I like it, as growth this strong is hard to find, and only takes a few years to transform the Pamp;L.
Jack's Section:
Water Intelligence (LON:WATR) – detailed update on FY20 and the subsequent trading period through to 30 April 2021; excellent current momentum and a significant global opportunity, although the high rating might put some off.
Amino Technologies (LON:AMO) – H1 revenue growth of 19% looks to be better than the recent norm and the group is investing for future growth, so this could justify a little more research.
---
Paul's Section
Nightcap
(LON:NGHT)
27p (up 17%, at 08:25) – mkt cap £44m
This is a recently listed bars group. I've not looked at it before.
The Board of Nightcap (the "Board") is pleased to announce an update on the Group's recent trading. All of the Group's 19 premium bars are open and trading across London, Bristol and Birmingham, in compliance with government guidelines for group sizes and social distancing.
Looking at its website, the bars seem to mainly be in London.
Re-opening trading update – covering the 3 weeks from 17 May to 6 June, being when indoor trading could resume, albeit with some restrictions – e.g. social distancing, table service, no standing at the bar, etc.
Despite restrictions, like-for-like sales growth vs 2019 was +53% – that's extremely impressive, and seems to be way ahead of other figures I've seen – e.g. pubs in general were apparently down 20%, due to restrictions, according to recent press reports.
The out-performance of NGHT is all the more surprising, given that it's focused mainly on London – which supposedly has seen an exodus of people (e.g. Europeans returning home due to the pandemic), people working from home so not going into London as much, etc.
The +53% is split between NGHT's 2 brands:
London Cocktail Club +69% LFL revenue growth vs 2019
Adventure Bar Group +46% LFL revenue growth vs 2019
Recently opened bars (2 in Birmingham) are trading well. This is the start of a national roll-out planned for the next 3 years.
Outlook -
Whilst we look forward to all COVID-related restrictions being lifted on 21 June 2021, in line with the government's previous guidance and the bars being able to trade to their full potential, we now have confidence that all sites will continue to trade well even if the current capacity restrictions remain in place.
My opinion – this is a great time to be expanding any retail or hospitality offering, because there are so many good sites available at cheaper rents. We've heard that from several other hospitality operators, e.g. Fulham Shore (LON:FUL) and Revolution Bars (LON:RBG) (I hold) recently. Hence any company with a good format, and the money to fit out new sites (often now already fitted out, only needing a revamp, rather than expensive fitting out of a shell) have good opportunities to establish profitable new sites on realistic rents.
That said, chronic labour shortages (and rising wages) are a big problem at the moment, according to many reports.
NightCap recently raised £10m at 23p in a placing.
Amazingly, the market cap of NGHT is almost the same as Revolution Bars (LON:RBG) (I hold), despite being a fraction of its size. That doesn't make any sense to me. It seems obvious that RBG is currently under-priced, and NGHT is over-priced, in my opinion. The market currently has a different opinion, so it will be interesting to see how things pan out.
The exceptionally good first 3 weeks trading from NGHT should have good read-across to other premium bars (as opposed to bog standard pubs). However, 3 weeks is too short a timeframe to draw any long-term conclusions, other than that it's a very strong start. It remains to be seen where the figures settle, and how long pent-up demand is likely to take to normalise? I've very optimistic about that – I reckon young people could want to party hard for the rest of this year, especially as summer holidays look to be slipping backwards off the agenda.
So far so good though, and I find this very encouraging for the potential at RBG. Comparing notes with friends also holding RBG, we reckon it's worth 30-40p (including recent dilution) on fundamentals, and that the current price represents a sentiment (and placing!)-driven opportunity. It's a question of crunching the numbers and not being emotional about it.
The trouble with newly floated shares, is that they tend to be initially over-valued, and a wave of positive investor sentiment based on novelty leads to the price going way ahead of where it should be. With just 19 sites, NGHT is valued currently at more than £2m per site, given that they can be set up for a lot less than that, then I think the valuation of NGHT looks way too high.
I think the same is probably true of Various Eateries (LON:VARE) which is also benefiting from the it's new amp; exciting investor sentiment, often driven by "star" founders, like Sarah Willingham of TV's Dragons Den who fronts NGHT, and Hugh Osmond who fronts VARE. Give it a year or so, and I think valuations may come down to more realistic levels. They may be good operators, but a bar is a bar, and star founders cannot change the economics of operating a bar. Competitors copy successful formats, so there's little sustainable advantage to any particular format, hence why I'm not interested in chasing these over-priced recent floats in this sector.
.
---
Intercede
(LON:IGP)
(I hold)
101.5p (up 5%, at 09:34) – mkt cap £58m
A results presentation is happening this Thursday -
… via the Investor Meet Company platform on 10 June 2021 at 4.30 p.m. (BST).
Intercede, the leading specialist in digital identity, credential management and secure mobility, today announces its preliminary results for the year ended 31 March 2021.
Revenue up 6% to £11.0m, despite covid, and forex headwind (most revenue is generated in the USA)
Revenues in the core USA market up 14% – not bad
Gross margin is almost 100%, so the operational gearing here couldn't be better – stronger revenue growth in future could see a big rise in profitability – growth is the key here
For me, the key profit figure is profit after tax, because like many software companies, it receives Ramp;D tax credits, which is effectively part of profitability. PAT is £1.53m (up 53% on LY)
Diluted EPS of 2.8p (LY: 1.9p) – giving a PER of 36 – which may sound high, but bear in mind that many small tech companies this size don't make any profit at all!
Finance costs – note that the £429k cost of the convertible loan notes will disappear now. Hence we can add that back for future years. The impact is quite material – profit before tax of £1.1m for FY 03/2021 would become £1.5m adjusting for this factor, and a corresponding gain to future EPS, offset by the increased number of shares in issue since the convertible loans converted – all known factors, so nothing new.
Balance sheet – this has been transformed for the better by the convertible loans disappearing. NTAV is £4.7m, and note that the accounting is conservative, with no Ramp;D capitalised. Therefore the company is now self-financing, securely funded, and the risk of dilution is negligible – that's a dramatic improvement from where we were 3 years ago, when another placing looked very likely.
Cashflow – excellent, with very good cash collection, leaving the company with net cash of £8.0m, although that does benefit by £4.8m relating to deferred revenue
Growth – mainly coming from partners, globally – I'm hoping this is just the start of the growth phase, now that previous problems have been fixed
Hugely impressive major clients list, 20 years experience, over 1,000-person years of internal expertise
Very sticky, long-term clients, low attrition rate. E.g recent Dept of State large order is 10-year contract – hence v good visibility of revenues
Phase 1 or turnaround now completed successfully
Phase 2 aim is to drive "consistent double digit revenue growth" – which I think would be transformative for profits, if achieved
Expanded addressable market, with product development
Staff satisfaction greatly increased, and staff attrition fell to zero in FY 03/2021
Strong orders in the pipeline – FY22 contains opportunities of similar scale (to the large DoS contract win in FY21)
Continued Ramp;D, substantial at £2.9m p.a. – or 26% of revenues – very high, which I like
No plans to pay divis as yet
.
Outlook -
I am optimistic for the future of Intercede, given its compelling and relevant offering for allowing dispersed workforces to securely work remotely and the relatively limited impact the pandemic has had on the business thus far. The improved performance, particularly in our US market with its 14% growth in revenues, and a robust pipeline of new sales opportunities, reinforces this optimism.
However, COVID-19 continues to significantly affect the broader global economic environment and it is too early to be complacent about the impact it may continue to have on us or our customers, particularly those still in lockdown in Europe and the Middle East. With strong and broader customer relationships, wider product offerings and a strong financial position we are well placed to meet our growth expectations during the next phase of the Group's strategic development.
I'm not concerned about the covid uncertainty, because IGP's main market (the USA – at 83% of revenues) seems to be a long way ahead of other regions in terms of re-opening. Other markets are the icing on the cake, it's the USA which really matters for Intercede.
Finncap forecasts - are available today on Research Tree, or from Finncap's own research portal. As always, thanks to Finncap for making this available to us, very helpful. I'm printing off this note now, and will read it fully later.
The headline forecasts look beatable to me, I think the bar is being set deliberately low, to allow future out-performance updates. A drop in EBIT from £1.8m to £1.6m seems unrealistic for FY 03/2022. A rise to £2.3m EBIT in FY 03/2023 is at least moving in the right direction, but I'm viewing the Finncap forecasts as a low bar for the company to step over with ease, hopefully.
My opinion – sorry it's taken me so long to go through the results statement, but I wanted to thoroughly go through everything, not my usual quick skim, as I've got quite a lot of money riding on this share.
I'm very happy overall. This company is absolutely transformed from when I originally bought in at just 31p in Aug 2018, and have since added to the position at higher levels. Back in 2018 it was looking high risk, was loss-making, and almost out of cash. Here we are 3 years later, with the debt having converted into equity at c.68p, and an £8.0m cash pile.
Several years growth has occurred, and Intercede is now decently profitable amp; self-financing.Therefore I think the share price having more than tripled, is fully justified. The impressive CEO has done what he said he'd do, in a well planned amp; executed turnaround.
It all now hinges on the sales pipeline converting into accelerated growth, in revenues amp; profit.
There's a good opportunity available to the company to grow, let's see how it pans out. I do wonder if IGP might become a bid target for a larger software group at some stage, for the value in its expertise and client relationships.
So far, so good, I'm happy to hold this share permanently. The valuation looks OK to me, not over-valued, despite the big rise you can see on the 3-year chart below – the improving fundamentals have driven this.
.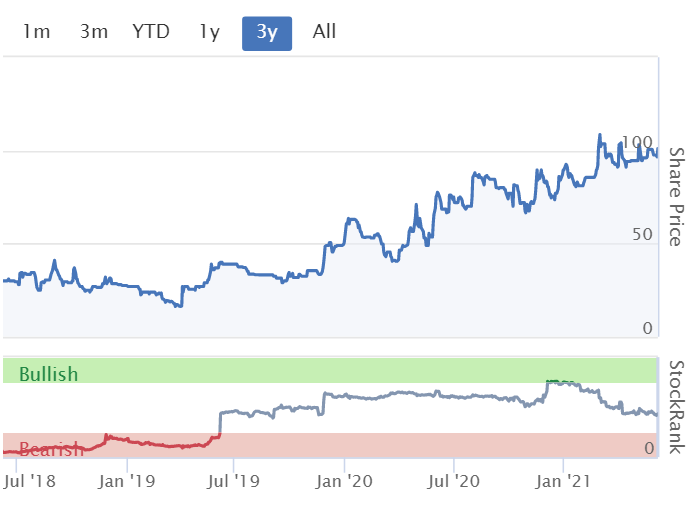 .
---
Pci- Pal
(LON:PCIP)
(I hold)
92.5p (up 4.5%, at 14:22) – mkt cap £60m
Trading Update amp; Repayment of Debt Facility
PCI-PAL PLC (AIM: PCIP), the global cloud provider of secure payment solutions for business communications, announces a trading update for the year ending 30 June 2021 (the "Period") and repayment of its outstanding debt facilities.
Positive trading continued into Q4
Full year revenues expected to be 5% ahead of market expectations – helpfully the figures are detailed in a footnote
Revenue growth for FY 06/2021 is pretty stunning, at +60%, I'm almost certain that's organic too
Adverse forex movement (weaker dollar) has been absorbed – sales bookings in line with expectations
Strong momentum going into new financial year
Cash generation ahead of expectations
Debt of £1.7m is being paid off early, to save £0.1m interest cost – makes sense
75% of sales are expected to be generated using partners (similar model to Intercede above)
Diary date – more detailed trading update in third week of July
Summarising the numbers:
Old guidance: revenues £6.7m, adj loss before tax £3.8m
New guidance: revenues £7.0m, adj loss before tax £3.6m
My opinion – it's rare to see organic growth of +60%, at high margins. Contracts are long-term and sticky, so you can work out on the back of an envelope how profitable this company should become in a few years. As more investors realise that, the share price has soared.
I have mixed feelings about the recent placing amp; geographic expansion. On balance, I would have preferred the company to keep overheads lean, and continue rapid expansion in the large USA market, which is surely big enough? Diversifying into other geographies, whilst still loss-making is questionable. I think that's taken the shine off things, because the increased set up costs in new territories has pushed breakeven further out. It's frustrating when that happens, as it seems to with so many loss-making companies.
A more gung-ho view is that the company has a niche market opportunity, which should be grabbed with both hands, in all viable markets. Breakeven is pushed out further into the future, but the eventual business (and hence profits) should be larger in the long run.
My opinion – I think the share price ran a bit ahead of itself, so it's quite reassuring to see it taking a breather.
With such impressive organic growth going on, I'm sitting tight on my shares here, and don't see a great deal of downside risk, as it's fully funded now, and rapidly expanding sales – sticky, recurring revenues. There's lots to like here, but it is still loss-making, so it won't appeal to everyone.
.

---
Jack's section
Water Intelligence (LON:WATR)
Share price: 869p (+1.64%)
Shares in issue: 15,492,443
Market cap: £134.6m
(I have an interest in this share)
Water Intelligence (LON:WATR) is a leading multinational provider of precision, minimally-invasive leak detection and remediation solutions for water supplies.
This is a Stockopedia Investment Club stock, so you can find the more detailed stock pitch here.
The group's vision is to grow its technology-enabled services and become a 'One Stop Shop' for water infrastructure solutions.
Progress here is going well. The group is building a multinational growth company, and its brand is differentiated through its use of proprietary technology to pinpoint water leaks and remediate leaks in minimally-invasive and cost-efficient fashion.
It operates through a hybrid franchise/corporate structure in its core business of American Leak Detection (ALD), which is mostly corporate in its original market of the US. Currently the group is selectively buying back franchises when prudent to do so.
Abroad though, there is a greater mix towards corporate, where it is expanding and allocating capital internationally. This is perhaps the primary risk for such a profitable company. International roll outs can be tricky and if it proves harder than anticipated, can quickly become a drain on management time and company resources. The focus on corporate stores makes this more capital intensive.
The growth rates åre top notch and Water Intelligence has recently been exceeding expectations.
And that's why you'll see the market now ascribing an extremely high rating (in fact its forecast PE ratio is comfortably within the top 10% of the market, with a Value Rank of just 15).
It's an exciting, highly profitable, and cash generative company with a global opportunity – but there's not much room for error at these levels. A misstep in execution or a delay in the global rollout would likely trigger a derating, at least in the short term.
For now though, this has been a great success for holders following a remarkably strong multi-year run. And despite this incredible run, the group is still a relative minnow with a market cap of c£132m:
Full year highlights:
Revenue +17% to $37.9m; Total franchise System-wide sales (franchisee gross royalty-generating sales) and corporate-operated sales surpassed $140m
Statutory Profits Before Tax (PBT) +78% to $4.2m; adjusted PBT (adjusting for non-cash amortization and share-based payments plus non-recurring costs) up 50% to $5.1m,
Diluted earnings per share (EPS) +69% to 18.8c
Strong growth in WATR's core businesses of ALD (residential and commercial markets) and UK-based Water Intelligence International (WII) (municipal market);
ALD revenue grew by 15% to $33.6m, with royalty income up 3% to $6.7m despite eight franchise reacquisitions during 2020. U.S. Corporate-operated sales rose by 21% to $17.4m with profit margins expanding to 22%.
Equipment sales grew by 11% to approximately $1m as franchisees reinvested despite Covid-19 disruptions and Insurance revenue increased by 20% to $8.5m.
UK-based Water Intelligence International (WII) revenue increased by 27% to $4.3m.
The full year performance is good but what's arguably more important is the unaudited update for the more recent trading period to 30 April 2021. Here the group says:
2021 has started with an even higher growth trajectory than its five year CAGR. Through 30 April, revenues have grown by 47% and statutory profits before tax by 154% against the same period in 2020, despite the Group's markets being adversely affected by the pandemic during both periods.
That's some operational momentum.
The group continues to reinvest in new technologies to reinforce its brand leadership as a technology-enabled solutions provider for the Green Economy.
There's plenty of activity going on in the period including the reacquisition of eight franchisees, three new national insurance contracts, and ongoing investments into sewer diagnostics.
In the more recent period through May 2021, Water has another three national insurance contract wins, as well as completing three transactions (two franchisees plus PlumbRight Services) and the acquisition of stormwater runoff and irrigation IP assets from FastDitch.
The balance sheet is asset-light but with a growing cash pile (now up to $6.8m). No surprise there, as this is a part-franchise model boasting its own tech, which paves the way for potentially high returns on capital as it matures.
About $24m of the group's $44m total assets consists of goodwill and intangibles. Very little in the way of liabilities – mostly just $2.9m of borrowings and $5.7m of trade payables.
Cash generation was strong. $5m of net cash from operations is comfortably ahead of the $4.2m PBT figure, although the group has been borrowing and issuing shares in order to fund some $9.2m of franchisee reacquisitions.
Conclusion
Perhaps the only real drawbacks here are the valuation and the group's slow reporting. Releasing audited results for the period to 31 December 2020 some six months later is not ideal.
On that point, the business is scaling rapidly and executive chairman DeSouza notes the addition of 'experienced leaders to strengthen both board and management as we move to the next level of corporate development'. So let's hope that Water Intelligence soon leaves these niggling concerns behind.
Regarding today's valuation: if historic (and indeed current) growth rates can be maintained, the share price will not look so expensive in a year or two's time.
If the broad-based organic and acquisitive growth, innovative technology, and substantial global market opportunity piques your interest then Water Intelligence is well worth a look. The trading update for the current year through to 30th April 2021 is particularly noteworthy.
Water Intelligence is building an international business backed by its own technology and innovation, with diversified services across residential, commercial, and municipal customers, based on a hybrid franchise model that gives it an innate degree of optionality as to how it proceeds with its expansion. There is execution risk though, of course, as there is with any international roll out.
As it deals in water preservation, the target market is potentially huge and will never expire, although continued technological innovation could at some point render its current product suite obsolete. It's unlikely in the short term and to that I would argue that Water Intelligence is as well placed as anyone to actually come up with that technological disruption, should it happen.
And in the group's home market of the US, President Biden's Clean Energy plans are clearly good news for the likes of Water Intelligence over the next few years. This is one of the more eye-catching companies around at the moment, although admittedly it comes with a price tag.
Amino Technologies (LON:AMO)
Share price: 152.5p (+2.35%)
Shares in issue: 83,320,643
Market cap: £127m
Amino Technologies (LON:AMO) technology combines video on demand with live TV, allowing customers to watch content in real time and enabling Pay TV operators, broadcasters and media owners to better engage with their audiences.
It's capitalising on a structural shift here: the way consumers watch television is changing and distributors of this content need to evolve their models in order to meet this demand. Research by Horowitz shows that 72% of video content viewers have at least one streaming service; the U.S. average is 3.3 streaming services per household. The figure is presumably similar in the UK.
Of initial interest is the fact that Amino qualifies for the Ramp;D Breakthroughs screen, having spent some 12.8% of revenue on Ramp;D on a trailing twelve month basis. An encouraging characteristic that suggests this company has the desire and capacity to fund future growth.
There's middling value on offer here, but the company's positioning in a growth sector and its recurring revenue potential mean it could be of interest.
H1 revenue expected to be significantly ahead of prior year with continued improvement in earnings quality and visibility
Revenue for the first half is expected to be up 19% to approximately $45.3m and the group expects to report higher margin software and services revenue of approximately $10.0m (H1 2020: $9.7m), and an exit run rate Annual Recurring Revenue (ARR) of approximately $13.8m (H1 2020: $10.1m). This is up 37% on the prior year.
Amino has a '2025 strategy' based on the convergence of streaming services and traditional Pay TV.
In May 2021 it acquired Nordija, a Danish streaming and Pay TV platform specialist. This will be integrated into the group's 24i business and will scale Amino's end-to-end video streaming portfolio. It should be earnings enhancing in the first full financial year of ownership.
The group ended the period with gross cash of $17.0m, drawn credit facilities of $7.0m and undrawn credit facilities of $8.0m. Strong sales towards the end of the period led to an increase in receivables, which the group expects to collect in H2.
Amino did raise net proceeds of £9.4m equity fundraising to fund future acquisition opportunities in order to help it continue to deliver against its 2025 strategy.
A further update on trading will be provided at its half year results on 3 August 2021.
Donald McGarva, CEO of Amino Technologies, said:
We have had an excellent first half. We have grown revenue by 19% and recurring revenue by 37% and enter the second half of the year confident in meeting our full year expectations. We have executed strongly on our strategy and this progress provides us with the confidence to fulfil our ambitious growth plans. We continue to focus on growing software and recurring revenue whilst at the same time strengthening our long-term customer relationships and making it easy for people to connect to the TV and video they love.
Conclusion
This is a brief update and there is no indication of profit performance, but revenues are up, the company is well funded for future growth, and it's hard to pick out any faults here. Particularly given a fairly undemanding forecast rolling PE multiple of 15.8x.
Returns on equity and capital look a little low. This might change in future if current research amp; development costs bear fruit.
Revenue growth over the past couple of years has been slow and profits have been choppy, so it's heartening to see H1 revenue up by 19% and recurring revenue up by 37%. Comments on the outlook for the second half are also positive, and the wider opportunity around the convergence of streaming services and traditional Pay TV could be attractive.
The group also has more funds now to pursue growth opportunities following its recent placing, and the Nordija acquisition signals an appetite for expansion.
There are signs that this one could be worth a closer look, particularly at current levels, although I remain neutral at present.
Source:
https://www.stockopedia.com/content/small-cap-value-report-tue-8-june-2021-nght-igp-pcip-watr-amo-820199/
Before It's News®
is a community of individuals who report on what's going on around them, from all around the world.
Anyone can
join
.
Anyone can contribute.
Anyone can become informed about their world.
"United We Stand" Click Here To Create Your Personal Citizen Journalist Account Today, Be Sure To Invite Your Friends.