Small Cap Value Report (Weds 16 June 2021) - SCS, ELTA, BOTB, MOTR
Wednesday, June 16, 2021 8:09
% of readers think this story is Fact. Add your two cents.

Good morning! It's Paul amp; Jack here with the SCVR for Weds.
Book recommendation – several friends have suggested The Art of Execution to me, by Lee Freeman-Shor.
I tried the audiobook, and found it full of contradictions. However, I found a nice spot at a pop-up beach bar in Bournemouth last night, and found the same book on my kindle. I read a quarter of it, and thought it was excellent. Maybe more for traders than long-term investors? However, still full of pearls of wisdom, much of which is based on statistical analysis of several years' worth of trades from top fund managers. I won't spoil it by giving anything away, it's just an excellent book that I think many of you will find useful, and enjoy reading. I certainly picked up some tips on how I can improve my investing performance.
Timing – TBC
Agenda -
Paul's Section:
Scs (LON:SCS) (I hold) – strong trading amp; beating market expectations for this year amp; next year. Still looks cheap to me.
Electra Private Equity (LON:ELTA) (I hold) – a strong trading update from its main investment, TGI Fridays. Sales since re-opening are running +12.5% on 2019 comparables, despite restrictions on trading. I remain bullish on this, seeing it as a cheap entry into two forthcoming floats, TGI Fridays and Hotter Shoes.
Nwf (LON:NWF) – correction re last week's SCVR.
Jack's Section:
Best Of The Best (LON:BOTB) – FY21 figures more or less as expected, with growth opportunities going forward. But a reduction in customer activity as lockdowns ease hits the share price and makes sustainable growth rates harder to gauge for now.
Motorpoint (LON:MOTR) – interesting used car company that looks to have made a lot of progress in its online proposition. Competition could be a concern, but there's potential here. Management hopes to double revenue in the medium term – the margins it can generate on this will be important.
---
Scs
(LON:SCS)
(I hold)
290p (last night's close) – mkt cap £110m
ScS, one of the UK's largest retailers of upholstered furniture and floorings, today issues the following trading update for the 46 weeks ended 12 June 2021.
SCS has an unusual July year end, so this looks like an unscheduled update.
PR summary – no less than 3 of them, all of which are delightful for shareholders -
Current trading very strong and the Board now expects FY21 to be ahead of market expectations
Outlook for FY22 substantially better than current market forecasts
Resumption of dividends with interim dividend declared today
A table of like-for-like ("LFL") order intake (NB not the same as revenues, due to the time lag in making product to order) is provided. I've highlighted below the more relevant comparison column, with uninterrupted trading in FY 07/2019. Whereas the middle column (comparing 2021 with 2020) is a bit of a red herring, as the eye-catching +370.8% is comparing re-opening this year, with lockdown 1 last year, so best ignored I think.
.
I've highlighted that this year was (13.1%) down on 2019 at the H1 stage. The latest figure has improved a bit to (9.5%) year-to-date ("YTD"). So better, but still down on normal trading in 2019. To be fair, I would expect that, given that the main sales channel (the shops) have been closed extensively this year (and last).
For comparison, here is the SCVR from 10 June 2021, where I looked at the most recent update from larger rival Dfs Furniture (LON:DFS) which published considerably stronger order intake, up 10.4% on 2019, versus (9.5)% down for SCS announced today.
Online sales – strong, as I would expect, but they don't give the key number of what % of total sales are online. DFS indicated this had settled at c.19% post-reopening. Based on what they've told us before, I think SCS is probably a bit behind that, but moving in the right direction.
Order book – strongly up, unsurprisingly given bumper order intake catching up after lockdown easing. Currently stands at £116.6m (inc VAT) or £97.2m exc. VAT assuming all sales are vatable.
Liquidity – cash is up to a ridiculous £101.3m, with no debt (ignoring IFRS 16 lease liabilities, because they're not debt). Plus an unused £20m taxpayer-backed CLBILS facility that's not likely to be used.
Furlough - £3.0m in taxpayer grants have been repaid – well done SCS. Take note scumbags at other companies who've pocketed the money, and paid yourselves big bonuses (see recent press).
Dividends - a very modest 3.0p interim dividend is announced. The company has the capacity to pay huge dividends if it wishes, the cash is just sitting in a bank account doing nothing. Favourable working capital cycle means that the cash pile largely revolves permanently. So I see this as just the start for potentially much larger divis.
Outlook - substantially better than forecasts. I can't find any broker notes unfortunately, these are clearly only available to the select few, not riff-raff like us!
Stockopedia shows consensus of 23.4p for FY 07/2021 (which we're now told will be beaten, but they don't say by how much).
FY 07/2022 has a ridiculously low 12.9p broker consensus forecast, so no surprise that's going to be beaten substantially.
My opinion – I'm valuing SCS on normalised trading which I estimate to be c.30p per share. It's probably therefore on a PER of about 10, which combined with tons of cash on the balance sheet, means it's too cheap, if my figures are correct.
.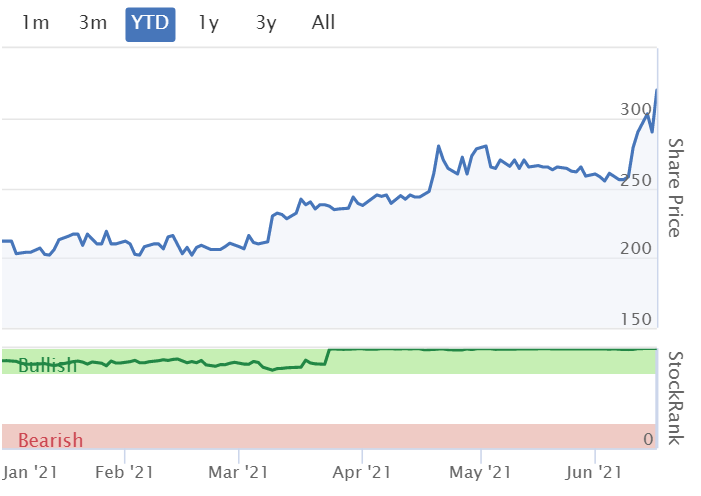 .
---
Electra Private Equity
(LON:ELTA)
(I hold)
590p (unchanged) – mkt cap £230m
Trading update amp; company announcement
This is a special situation which I'm keen on. It's an orderly winding-down of an investment company, with 2 remaining businesses – TGI Fridays (casual dining chain), and Hotter Shoes. Plus some cash at the holding company. Both restructured during the pandemic, and look excellent businesses to me.
ELTA shares will morph into holdings in TGI and Hotter, with both being listed as standalone businesses in the next 6 months.
ELTA says today that its plans for listings are progressing as expected.
Hostmore - this is the name for the new company which will be demerged, and listed on the main London market in Q3 of this year, owning TGIs and 63rd+1st (a start-up new brand, with one site). If you do some research, you'll discover that TGIs has been revitalised under new management, and has very good prospects in my opinion. It is targeted to generate c.£30-40m p.a. EBITDA once full trading resumes.
Interestingly, management (experienced in hospitality sector) sound ambitious to grow a larger group -
Following the demerger, Hostmore will seek to add rapidly growing, early-stage businesses to its portfolio of complementary brands, exploring opportunities to extend its offering in experience-led hospitality and leisure concepts.
TGI Fridays (they're calling "Fridays" now) current trading – this looks encouraging to me, given that there are still considerable restrictions on inside dining -
In the 4 weeks since re-opening for dine-in customers on 17th May 2021, Fridays stores have recorded like-for-like 'LFL' growth vs the equivalent period in 2019 of 12.5%.
This LFL growth excludes the contribution from new stores including that of the first 63rd+1st store, which is trading in line with management expectations following its opening on 24th May 2021.
If that level of performance is maintained, the outlook is good. If anything, growth might accelerate once restrictions are lifted, supposedly in July, but who knows if that happens? Trading at +12.5% 2019 LFL, TGIs will already be profitable, see the table which compares the sales uplift with forecast EBITDA from the last results statement -
As you can see, current trading at +12.5% is off the table. Whether it can be maintained at that level, who knows? This is being achieved with the existing pandemic restrictions remember, so it could even increase further on full re-opening.
What the market values Fridays at, will remain to be seen. 10x EBITDA looks a sensible guess, based on peers Fulham Shore (LON:FUL) and Restaurant (LON:RTN)
Take off £60m debt, and that gives a potential market cap for Fridays of about £340m. Very nice upside on ELTA's current £230m mkt cap. And we only have to wait a few months.
Hotter Shoes – this company is basically thrown in for free. It sells comfy shoes for the over 50s, assembled in the UK from components manufactured in the Far East. The shoes are indeed comfy, I have 2 pairs recently purchased in the mid-season sale online.
Most of the shops were closed in a restructuring, so it has successfully switched to mainly online sales.
We're told it is trading strongly today. May 2021 sales up 38% on May 2020.
Gross margin is up 7%, quite a big improvement.
Who knows what it's valued at when it floats? I see this as icing on the main cake (TGIs).
Online Capital Markets Day – this should be interesting. It's focused on the much larger business of TGI. Hotter Shoes will have a separate CMD later this year. Obviously ELTA needs to drum up some interest in these 2 floats.
Diary date - 09:30 to 12:30 on 29 June 2021.
How to attend – details to be announced the day before.
Guidance – detailed guidance for analysts is provided, I won't repeat that here.
My opinion - this is a very good update, on the strong trading at TGI Fridays.
It's such an obscure share, that not many people seem to be aware of it, buried within ELTA.
I remain of the view that this share provides a cheap entry point into 2 forthcoming floats, both of which are things that I would want to buy anyway. ELTA is a bargain way in, if my figures are correct. Ultimately the stock market will decide what Fridays and Hotter are worth, not me! So it's educated guesswork at this stage.
Looks like a bit of profit-taking going on at the moment, as with lots of shares that have risen a lot. Personally I've not sold any of mine, because I want to wait for the 2 floats to happen, which could deliver good upside, if they are well received.
.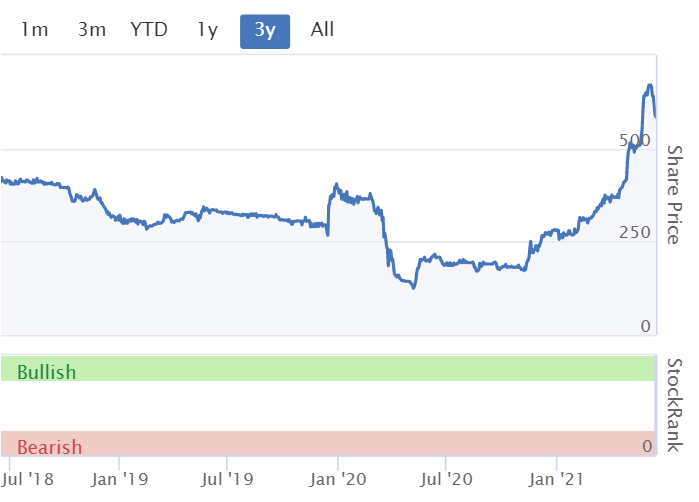 .
---
Correction
Nwf
(LON:NWF)
Last week I moaned about NWF not including a footnote to detail what market expectations are.
A friend emailed me shortly afterwards, to indicate that there is a footnote that I hadn't spotted!
It wasn't asterisked, and was right at the end of the RNS, after the disclaimers, in a small font, so I missed it unfortunately. Sorry about that.
We're more than happy to put the record straight when we get anything factually wrong here, so when I have time later I'll go back and amend the relevant report from last week.
With my apologies to NWF amp; its advisers. I do like their idea of putting market expectations on a company's investor relations website, then it can be updated regularly, which seems a nice idea that helps investors. Let's hope more companies follow suit.
.
.
---
Jack's section
BOTB (LON:BOTB)
Share price: 1,825 (-30.6%)
Shares in issue: 9,382,253
Market cap: £171.2m
(I hold)
Best Of The Best (LON:BOTB) is an online provider of competitions in which users pay a small fee to 'spot the ball' from a football photo. It sounds simple, but it has proven to be immensely popular, particularly during lockdowns.
There's a debate around whether this is a truly skill-based competition. If it was to be classified as gambling, that would have licensing implications.
At present it is classed as the former but the fact that this could change in future represents a regulatory risk. It's probably the primary longer term risk to bear in mind here.
That's because the company transitioned away from its original model of providing physical competitions at retail sites and airports and has now become an online-only service. The group exited its final site by September 2019, months before the first lockdown – fortuitous timing.
Apart from that, full credit goes to the management team however. The strategic pivot has been truly transformational, enabling much faster revenue growth, increasing the total addressable market, decreasing costs, increasing cash flows, and significantly improving marketing efficiency and impact.
The share price has come off a little bit recently after a tremendous run following an in-line update and are down sharply this morning. The market was getting used to beats but now BOTB is flagging a reduction in customer activity as lockdowns ease.
Whether or not this develops into a more sustained reduction in growth rates remains to be seen.
Even if it does, I would argue that the 99 StockRank, market-leading returns on capital, and strong CAGRs mean BOTB has earned a little patience. But that's scant consolation for shareholders this morning.
The shares are illiquid, so we can expect ongoing volatility.
Highlights:
Revenue +156% to £45.68m,
Gross profit +187% to £28.27m; gross margin up from 59.1% to 61.9%,
Operating profit +235% to £14.1m; operating margin up from 23.6% to 30.8%,
Profit before tax (PBT) +236% to £14.06m,
Cash flow from operations of £14.27m,
Earnings per share (EPS) +227% to 122.52p,
Net assets of £8.96m, substantially underpinned by property and cash,
Cash balances of £11.8m and no debt as at 30 April 2021,
Proposed 5.0p Final Dividend and Special Dividend of 50.0p.
It looks like revenue is slightly ahead of forecasts (£45.68m vs. £44m) and earnings per share are slightly behind (122.52p vs. 125p). Taking into account this morning's steep drop, that values BOTB at 3.75x sales, 6.1x gross profit, and 14.9x earnings.
The balance sheet is spotless with no debt and £4.3m of trade and tax payable easily outweighed by the net cash balance. Retained earnings are up 235% to c£8m.
BOTB is highly cash generative, with just £150,000 spent on financing activities. That makes for free cash flow of £12.4m after subtracting from net CFO of £12.6m.
The move to online has 'significantly improved capital efficiency' and the MidWeek competition continues to drive growth. This, coupled with the significant year-on-year growth in online marketing investment and player acquisition, are the key drivers of today's results.
William Hindmarch (founder, CEO, and 32% shareholder) says:
BOTB's ability to generate cash, our strong balance sheet and the fact that we have no debt gives us confidence in our ability to deliver continued future growth.

We are excited about the opportunities that the year ahead holds for BOTB, with a recovering economy and hopefully a return to normality. However, in contrast to the summer 2020 period, we have experienced somewhat of a reduction in customer engagement since the latest easing of lockdown restrictions on April 12, 2021, specifically relating to the understandably long-awaited re-opening of hospitality and non-essential retail. We are closely monitoring this, but with our flexible model, growth strategy and plans for the year ahead, we expect customer engagement to return to normal levels before too long.
It's likely this reduced customer activity that shareholders will focus on and the shares will open down.
Putting that to one side for the moment, the growth strategy remains focused on driving digital sales, with the 'Dream Car' and 'Lifestyle' competitions joining the 'Midweek Car' competition. BOTB now has native iOS and Android apps. This is a positive step, as a large slice of current business (and likely even larger proportion of future business) will be done by smartphone.
The group points out that the vast majority of website visits and over half of group revenue now comes from mobile devices. This is a key area of focus in terms of IT development.
Marketing is predominantly digital media, complemented by traditional advertising channels. All marketing investment is strictly calibrated on the cost per acquisition of a new customer versus their predicted lifetime value. This is a key shift in the nature of BOTB's marketing and has so far generated stellar results.
Social media remains a core marketing channel, driving both customer acquisition and brand awareness. BOTB's Facebook page now attracts over 400,000 followers, and the YouTube channel stands at over 60,000 subscribers, with Instagram followers nearing 300,000.
Two new TV ads were produced and aired during the period, with ongoing testing and optimisation for different audiences.
Conclusion
Sharp drops are never pleasant but if you strip out shareholder expectations and the cautious near term outlook, BOTB has had a stellar year and continues to have good growth opportunities.
It has generated triple digit revenue and profit growth, it's highly cash generative, dividend-paying, with expanding margins and market-leading returns on capital, and is operated by the founder-owner.
Longer term, the question is how much of the recent growth is a one off Covid boost that will dissipate. It's still too early to comment clearly on this and we'll just have to see how the data plays out. But it has coincided precisely with people being able to go to the pub etc.
FinnCap has so far maintained its forecasts but there's a chance it might revise these down in time.
Given the lack of liquidity and a raft of new investors that have been attracted to the shares over the past year, I'd say share price risk is to the downside in the short term. But this could overshoot and end up too cheap.
At 14.9x FY21 earnings, given the returns on capital being generated, you could make that argument now. Again though, we need more visibility on trading prospects. For most companies that have benefitted from Covid tailwinds, you can refer to FY19 results as a rough benchmark. This is impossible with BOTB given the change in strategy. Lots of people will be trying to figure out fair value in the weeks ahead.
But BOTB has a flexible model, and clear growth plans for the year ahead. There's no debt so whatever the share price does, the actual risk to the company is limited to whatever 'normal' levels of trading are. The database of over 1.7 million supports existing competitions and can also provide new opportunities. I think there's a path for sustainable, high quality growth but that's just one opinion and there's no doubt the uncertainty will weigh on the share price.
BOTB is doing the right things but the external conditions have changed, and so too has sentiment. I'd pay a penny for Slater's thoughts, as they bought in just two months ago at £24 or so.
---
Motorpoint (LON:MOTR)
Share price: 279.7p (+0.25%)
Shares in issue: 90,189,885
Market cap: £252.3m
Motorpoint (LON:MOTR) is the largest independent vehicle retailer in the UK. It sells 'nearly-new' vehicles, most of which are up to two years old and have covered less than 15,000 miles. It does this from 13 sites.
The group's Auction4Cars.com is a business to business digital auction platform that provides a quick route for sale of part-exchange vehicles that do not fall into MOTR's nearly-new retail criteria.
This is a car supermarket group, with quite different investment characteristics to other car dealers by the looks of it. Emphasis is on a more omnichannel approach to the car market. Operating margins are higher, as is its price to sales multiple, and its return on capital figure is much better.
It could be worth monitoring, particularly when you pair the returns on capital with a track record of relatively steady revenue growth:
The group trades on a forecast rolling PE ratio of 24.9x but the forecast PEG is just 0.7 as earnings are predicted to normalise and revert more towards pre-Covid trading.
Mark Carpenter, the group CEO, owns nearly 10% of the company.
Highlights:
Revenue -29.1% to £721.4m as a result of Covid and lockdowns,
Gross profit -20.8% to £62.5m and PBT -48.4%,
Gross margin +90bps to 8.7% due to improved vehicle sourcing, improved controls, and strong demand following the first lockdown,
EBITDA -33% to £18.3m,
Operating cash conversion down from 98.4% to 148.9%,
Basic earnings per share -48.8% to 8.4p,
£3.9m of government job retention support and £1.8m in rates support.
Of the 68,000 vehicles sold in the year, c25,000 were sold on the Auction4Cars.com ecommerce platform.
Motorpoint looks to have moved quickly with its online offering, which could be promising. Investment in upgrading technology and marketing infrastructure substantially increased during the period and has so far exceeded management expectations. Motorpoint now has a fully 'digital end-to-end customer journey' so the experience has presumably improved quite a lot.
In Q4, online retail sales grew 89% year-on-year, with Home Delivery (launched in May 2020 and has since delivered 9,300 cars) representing 57% of this growth.
The group also notes 'significantly increased opportunities for new sales-only branches to complete hub and spoke network, due in part to OEM rationalisation of franchised network'
Current trading
All employees have returned from furlough and, since branches reopened, trading has been strong and significantly ahead of the same period in FY20. Margins for both retail and wholesale sales are 'well ahead of seasonal levels' due to increased use of data in pricing decisions and strong demand.
The group notes the semi-conductor shortage impacting new car production. This is expected to benefit sales of nearly new cars in the short term. This could then of course become a headwind further down the line.
Motorpoint talks us through its new strategic objectives: the group plans to significantly increase its rate of growth, with the aim of at least doubling FY20 revenue to over £2bn of total revenue in the medium term, with an improved margin and strong cash generation.
This will be achieved through:
Growing E-commerce revenue to over £1bn by substantially increasing investment in marketing, technology and data,
Opening 12 new sales and collection branches to service revenue growth, increasing investment in the customer proposition, and expanding our supply channel,
Leveraging the Auction4Cars.com platform to accommodate new supply channels and to launch a marketplace offering,
Increasing operational efficiency through further automation and technology investment as customers migrate to E-commerce channels.
The CEO adds:
I believe Motorpoint is the best in class in the nearly new car market with leading national brand awareness metrics, an unrivalled heritage, enhanced digital presence and expertise that will ensure we continue to strengthen our competitive position. We now have an opportunity to grow rapidly as we continue our transformation into an E-commerce led business with huge potential.
Conclusion
This reads well to me. Motorpoint has clearly been busy over the past year. The group is exposed to cyclical spending habits but the ecommerce progress and ambition is promising.
It has invested in E-commerce and now has a fully scaled Home Delivery service, an integrated, end-to-end digital customer journey, additional capacity to grow through its enlarged branch presence, and has an ambitious growth strategy to more than double revenue and profit in the medium term through increased investment in technology, marketing, data and talent.
It is 'well advanced on its journey to become the dominant E-commerce led omnichannel used car retailer in the UK' and its digital-led auction channel has potential. The business model seems quite differentiated, making it more interesting than most in what can be a brutal and low margin industry.
Competition could be a concern, but Motorpoint is confident that it enjoys a dominant market position. Perhaps this is a particularly talented management team? If so, it could be worth backing them, particularly if they can nail online which looks to be the case.
Everyone's saying they are prioritising online at the moment, and most are doing well from it given the present conditions. Turning that into a more sustainable, longer term growth opportunity probably requires more skill however. The rewards could be big, so it will pay to back the right horse.
If you apply the FY20 profit margin of 1.5% (prudent hopefully, as the group anticipates margin expansion) to the £2bn medium term revenue target, then that would lead to medium term net profit of c£30m. Divide by 90,189,885 shares in issue and that would be 33.1p of earnings per share.
Against today's share price of 282p, that suggests to me the shares are probably fairly valued at these levels, but a lot of this comes down to just how much margin expansion management can generate. I could be undercooking the potential here.
With such a large amount of revenue, small changes in this critical margin assumption make a big difference to the investment case.
It's potentially a brave new world of online nearly-new car retailing and if there is a long runway for growth, it could be worth paying these prices. That requires some thinking and a bit of vision. For now, it's on the watchlist due to the management shareholdings, intriguing business model, and high returns on capital.
Source:
https://www.stockopedia.com/content/small-cap-value-report-weds-16-june-2021-scs-elta-botb-motr-823764/
Before It's News®
is a community of individuals who report on what's going on around them, from all around the world.
Anyone can
join
.
Anyone can contribute.
Anyone can become informed about their world.
"United We Stand" Click Here To Create Your Personal Citizen Journalist Account Today, Be Sure To Invite Your Friends.