Stock in Focus: Drax could be a cash cow
Sunday, July 4, 2021 2:01
% of readers think this story is Fact. Add your two cents.

My SIF stock screen is delivering a fairly minimal set of choices this week. Just eight companies satisfy all of my screening requirements. Of these, four are in the portfolio, two are ruled out on diversification grounds, and the final two are overseas stocks.
This situation arises periodically and doesn't concern me. Indeed, I see it as a sign that the screen is working as intended, filtering for affordable growth. What I often do at times like this is to experiment with disabling individual rules in the screen.
I usually find that there's one rule in particular which is limiting my choice of stocks. This week is no exception. By disabling the rule requiring a trailing earnings yield of more than 8%, the number of stocks in the results jumps from eight to 44.

By making this change, I was hoping to find companies whose operating profits were hit by one-off costs last year. These might have been related to the pandemic or some other factor. Such companies might normally pass all of my rules and could potentially be cheap.

One example appears to be utility group Drax (LON:DRX), which is also a member of this year's NAPS portfolio.
Drax booked £226m of "coal and other asset obsolescence charges" in 2020. Without these, the company's underlying operating profit would have left it with an earnings yield of 7.4% — close to my 8% minimum.
Last year's losses reflect the company's final farewell to coal generation, which substantially ended in March 2021. Most of the company's generating capacity has now been converted to biomass (wood pellets) and Drax now provides c.15% of the UK's renewable electricity.
Opinions vary on how sustainable biomass generation really is, but that's a debate for another place. The reality is that biomass is supported by UK government policy and by a subsidy scheme that runs until 2027.
In 2020, Drax received a staggering £837m of subsidy payments from the government, against power sales of £2,164m.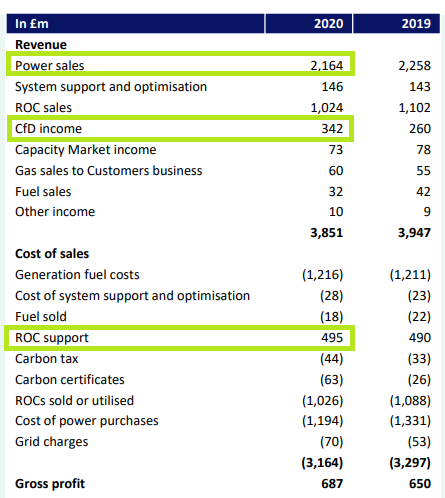 Source: Drax FY20 presentation
With this kind of tailwind, I reckon Drax could be a potential cash cow.
Stockopedia rates Drax shares quite highly too, with a StockRank of 83. However, individual factor scores are mixed, with a high MomentumRank, but a lowish QualityRank.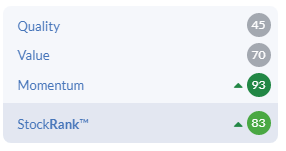 Let's take a closer look.
Value: reasonably priced
As this is a utility stock, I'm looking for a modest valuation and an attractive yield. Drax's ValueRank of 70 looks promising. Drilling down into the value factors which make up this score reveals a mixed picture:

We must also consider a few other valuation metrics:
Earnings yield: My understanding is that last year's asset impairment charges were mostly one-off and non-cash, so I'd be prepared to adjust them out.
Using the company's adjusted operating profit of £189m, Drax has an earnings yield (EBIT/EV) of 7.4%. That's just below my threshold of 8%.
Price to earnings ratio: Using the normalised eps data from Stocko's data provider gives Drax a trailing P/E of 22.
However, if we're prepared to accept the company's own adjusted measure, this falls to a more reasonable P/E of 15.
Dividend yield: Drax has made several dividend cuts over the last decade, but the payout was increased last year. The shares have a trailing yield of 3.9% – above the FTSE 100 average of 3%.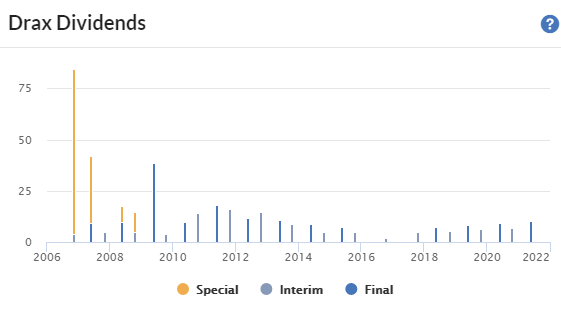 Debt: The company's latest update indicates that its net debt/EBITDA ratio should fall to 2x by the end of 2022. Borrowing has risen since the year end due to the acquisition of Pinnacle, the company's Canadian biomass supplier.
This level of leverage is towards the upper end of what I'm comfortable with, but the company's subsidised and regulated cash flows suggest to me that the situation is unlikely to become problematic.
Verdict: I think Drax looks reasonably valued, but not obviously cheap. Free cash flow was stronger than earnings last year, which seems to support my view that I can safely ignore last year's non-cash exceptional charges.
If Drax's quality and momentum characteristics are positive, then I can imagine this stock could have some upside potential.
Quality: better than it looks?
The ValueRank is a backward-looking metric, in keeping with the tradition of value investing. The QualityRank includes a mix of measures designed to highlight both historic profitability and forward-looking trends. It's intended to identify companies with improving quality metrics.
Profitability: For a variety of reasons, Drax has performed poorly in terms of reported profit in recent years. This is reflected in very weak profitability scores:

Cash generation: However, free cash flow generation has been more consistent and generally improving. In the graphic below, we can see that dividends have been well-covered by free cash flow since 2016:

F-Score: The Piotroski F-Score includes nine tests to see if the company's financial performance is improving. The F-Score is heavily-weighted in the QualityRank due to its predictive qualities.

I think it's worth noting that all three of the failures in the F-score breakdown relate to last year's reported loss. The other measures – relating to cash generation and pricing power — all show improving trends.
This seems to support my view that if we filter out last year's transitional events, Drax could have positive momentum.
My verdict: I think that Drax's ability to generate attractive free cash flow and fund dividends could form the basis of an investment case for the stock, at the right price.
Momentum: a strong setup
Drax's MomentumRank of 93 suggests that the market has a positive view of the outlook for the business. For our purposes, this factor rank can be divided into two elements.
Price momentum: These technical factors give us a snapshot of a stock's trading volumes, price action and performance against the wider market.
All of this information is captured in a useful snapshot at the top of the StockReport: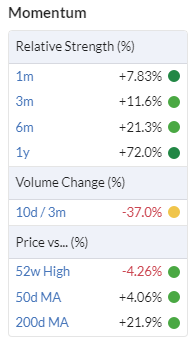 The only area of weakness seems to be the 10d/3m volume change. This suggests buying has fallen off recently. However, I think this needs to be seen in context.
Drax shares surged in March, after the company published its annual results and announced the acquisition of its main biomass supplier. We're just coming out of the tail end of that three-month comparison period. I suspect the volume change metric will improve as this market-moving event falls out of the numbers.
Earnings estimates: I'm looking for a rising trend of earnings forecasts, as history tells us that companies which beat expectations often outperform for longer than expected.
Broker forecasts for Drax have been upgraded more than once over the last three months:

The outlook for 2022 is particularly bullish, as we can see from the brilliant broker consensus trend chart: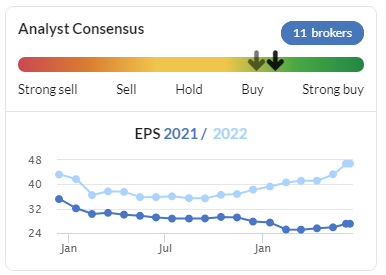 My verdict: Drax appears to have strong momentum. This seems to support my view that the company's profitability and cash generation could improve as the business moves on from the transitional events of recent years.
The stock's rolling forecast metrics for the next 12 months look attractive to me and satisfy all of my screening tests: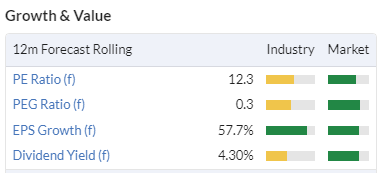 Note the strong forecast earnings (eps) growth. This implies a 2022 forecast P/E of just 9.4, with a 4.5% yield. If Drax can deliver on this, then I think the current valuation could start to look usefully cheap.
My decision
Drax comfortably satisfies all of my screening rules except the earnings yield requirement. This reflects (what should be) last year's one-off losses, marking the end of the firm's coal operations.
I'm tempted by Drax but I'm not going to buy the shares this week. The reason for this is that even using the underlying earnings yield of 7.4%, this stock still doesn't quite pass all of my screening rules. I don't want to overpay for a heavily-geared business whose outlook beyond 2027 is still – arguably – uncertain.
To hit my target earnings yield of 8%, I estimate that Drax's share price would need to fall by about 10%, to around 400p. This may seem unlikely right now, but after such a strong run I wouldn't be surprised to see the stock pull back a little.
I'll keep an eye on this situation over the coming weeks and if pricing improves, I may choose to add Drax to the portfolio. Of course, if I do, I'll mention it here before taking any action.
Source:
https://www.stockopedia.com/content/stock-in-focus-drax-could-be-a-cash-cow-823514/
Before It's News®
is a community of individuals who report on what's going on around them, from all around the world.
Anyone can
join
.
Anyone can contribute.
Anyone can become informed about their world.
"United We Stand" Click Here To Create Your Personal Citizen Journalist Account Today, Be Sure To Invite Your Friends.