SIF Folio: Headlam could still be cheap
Wednesday, October 13, 2021 12:33
% of readers think this story is Fact. Add your two cents.

This week I'm going to look at flooring distributor Headlam (LON:HEAD) and consider whether to add it to my SIF (Stock In Focus) portfolio. This popular small cap has impressed over the years and I regret not buying it in last year's crash. I'll be interested to see if the stock still tempts me after a strong rally over the last 12 months.
Before I start looking at Headlam, I want to take a moment to revisit the system I use to select stocks for SIF. I've been running SIF for over five years, but I'm aware that many newer subscribers may not be familiar with the original remit for this virtual portfolio.
In short, my aim is to try and consistently beat the market with a systematic approach to buying and selling shares. So far, I've succeeded. The system I use is to select stocks to buy from a screen that's designed to highlight affordable, good quality businesses with positive momentum.
You can see the full version of this screen here. But the screenshots below show how my screening criteria map onto the three core factors used to power the StockRanks – quality, value and momentum.
Valuation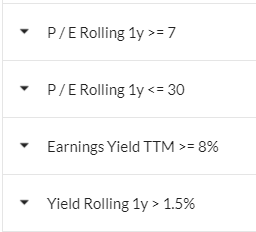 Quality

Momentum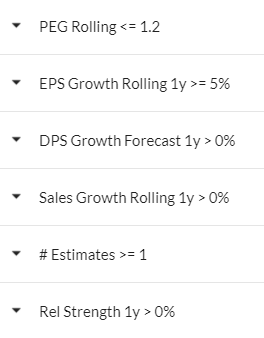 This is only a snapshot of how SIF works. There are some other rules involved in my buying decisions, and I have a separate set of rules for selling stocks. But I hope this provides a useful starting point for understanding how this portfolio is run.
Headlam (LON:HEAD)
Headlam describes itself as "Europe's leading floorcoverings distributor". The company says it's six times larger than its nearest peer and has the "broadest product range" in the market.
This £425m business operates 66 businesses in the UK, France and Netherlands. Each of these operates under its own trade brand, but benefits from Headlam's sourcing and logistics network, plus other centralised resources.
One way to look at Headlam's business model is as an aggregator. It buys centrally and in size and then sells locally to many small customers. By doing this, the group can secure better pricing. Headlam's operating businesses and their customers can then benefit from a wider choice of products, at more competitive prices.
Headlam's end customers are mostly independent retailers and flooring contractors in the commercial and residential sectors. One of the group's key growth aims is to target larger buyers, such as major housebuilders and larger retailers. This market is still quite fragmented, so I think that even a moderate degree of success could be enough to move the needle.

Source: Headlam H1 2021 presentation
I reviewed Headlam's recent half-year results in the SCVR in September. They showed revenue and profits returning to 2019 levels during the first half of the year. More broadly, these results confirmed my view that this is a well-run business with attractive potential.
The only thing that has changed since last month is that chief executive Steve Wilson has resigned with immediate effect. Wilson had been with Headlam for 30 years and was CEO for five. I wouldn't have been surprised to see him retire, but his sudden departure makes me think that there might have been some kind of disagreement in the boardroom.
However, experienced CFO Chris Payne will take over as interim CEO and the company says that there is no change to previous expectations for the year. So I'll assume that whatever the reason for Mr Wilson's departure, it should not affect the company's near-term performance.
Let's take a look at how Headlam's key metrics compare with my screening criteria.
Value: still cheap enough?
Headlam's share price has doubled over the last year. The stock is now trading at pre-pandemic levels.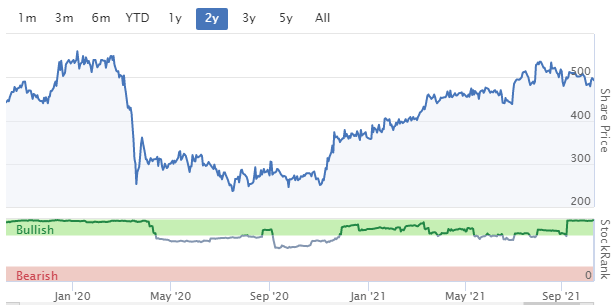 This business clearly aren't as cheap to buy as it was even six months ago. But I continue to think that Headlam shares could offer reasonable value. This view appears to be supported by the stock's ValueRank of 71 and some attractive trailing valuation metrics: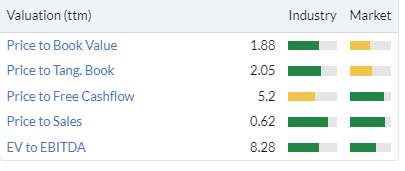 More conventionally, Headlam is currently trading on around 16 times earnings over the last 12 months, which of course included periods of lockdown and trading restrictions. That's well within my screening range of 7 – 30. It also seems undemanding to me, given the near-certain improvement in earnings this year.
Balance sheet: The events of last year forced many overleveraged companies to dilute their shareholders in the hunt for cash. Headlam was not one of these. The reason for this is that the business went into the pandemic with a strong balance sheet.
Headlam doesn't have a pension deficit and my sums show it's reported a net cash balance for nine of the last ten years. Here's a snapshot since 2015:

More impressively, the company reported an average daily net cash balance of £30.5m during the first half of this year in its recent results.
Companies often window dress their balance sheets to achieve net cash balance at period end dates. Maintaining an average daily net cash position is a much tougher achievement.
I see this as evidence of good financial discipline, consistent cash generation and minimal use of debt. That's a very attractive combination, in my opinion.
SIF screen rules – one failure: Headlam passes all of the valuation tests from my screen except the one relating to earnings yield (EBIT/EV). My screen requires a minimum of 8%, but Headlam currently has an earnings yield of 6.4%, according to Stockopedia: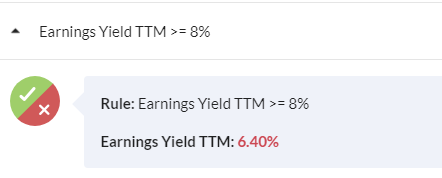 Why am I still considering this stock, instead of excluding it? There's a rule for this, too!
If I haven't been able to add a new stock to SIF for four weeks or more, as is the case today, I allow myself to relax my valuation criteria slightly. I do this to widen the pool of potential buys. This rule was inspired by legendary growth investor Jim Slater – you can see a fuller explanation here.
Taking this approach allows me to continue investing in attractive businesses in buoyant market conditions. I've found it to work well over the years, as it often highlights companies that are performing well and have decent momentum. I think Headlam could be one such company.
Overall, I've no serious concerns about Headlam's valuation.
Quality: understated excellence?
As a distributor, Headlam doesn't earn fat profit margins. Pre-Covid, the group's operating margin averaged around 5.5%:

Events last year hit the group's profitability, but margins are recovering and I don't expect any lasting damage. Indeed, the company says that it expects to be able to achieve an underlying operating margin of 7.5% by 2023.
I think that would be a worthy achievement, if delivered. But what I find more interesting is Headlam's return on capital employed (ROCE). As we can see in the graphic above, Headlam was generating a mid-teens return on capital each year in the years before the pandemic.
For me, this is a truer measure of quality. It tells me that the company has been able to invest capital in its operations at attractive rates of return. In turn, this has historically supported good cash generation and attractive dividends:

I don't see any reason why Headlam won't be able to achieve similar results in the future.
Headlam's Piotroski F-Score supports my view that the company's performance is recovering well. This fundamental health score measures whether key metrics such as profitability and cash generation are improving or worsening. Headlam's score of 7/9 indicates that performance is improving in most areas:

I'm pretty happy with the quality of this business. I'd have no qualms about being exposed to this company, even in more difficult times.
Momentum: the acid test
In my view we have a good company at a reasonable valuation. Headlam's MomentumRank of 86 certainly suggests we can expect a positive outlook too.
However, these shares aren't dirt cheap anymore. At current levels, broker forecasts put the stock on around 14 times forecast earnings, with a 3.5% dividend yield.

For shareholders to enjoy further gains, I think we'll need to see continued momentum beyond this year's recovery. How likely is this?
Price momentum: The StockReport Momentum graphic provides a useful snapshot of technical metrics.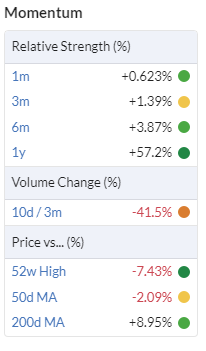 Buying has fallen off since the company's half-year results last month, but this isn't unusual for a small cap. I'm comfortable enough with this.
Earnings estimates: The broker forecast trend is also positive. 2022 earnings forecasts are around 10% higher than they were 12 months ago, despite some intermediate volatility.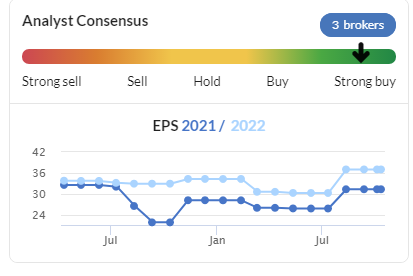 Overall, I think Headlam does have positive momentum, although I would argue that the share price is probably up with events at this time.
My decision: a bullish bet on the economy?
I think Headlam is a good quality, well-run business. If the macroeconomic outlook remains stable and Headlam continues to perform consistently under its new management, then I don't see any reason why the shares can't perform well from here.
Although I might prefer to pay a little less for this stock, Headlam passes all of my screening tests and does not obviously overlap with any existing holdings in SIF. I'm going to buy the shares for SIF this week and – as usual – also for my own real-money portfolio. I'll make both trades after this article has been published.
Source:
https://www.stockopedia.com/content/sif-folio-headlam-could-still-be-cheap-884230/
Before It's News®
is a community of individuals who report on what's going on around them, from all around the world.
Anyone can
join
.
Anyone can contribute.
Anyone can become informed about their world.
"United We Stand" Click Here To Create Your Personal Citizen Journalist Account Today, Be Sure To Invite Your Friends.