Small Cap Value Report (Tue 14 Sep 2021) - SOM, TND, PMP, TPFG, ZYT, PRV, EKF, XAR
Wednesday, October 13, 2021 9:57
% of readers think this story is Fact. Add your two cents.

Good morning, it's Paul amp; Jack here with the SCVR for Tuesday (I'm posting this early on Monday evening, to secure a lie-in on Tuesday!)
Agenda -
Paul's Section:
Somero Enterprises Inc (LON:SOM) (I hold) – my notes from the PIWorld-hosted interim results webinar yesterday afternoon. As always, I only jot down the key points, so don't rely on this being completely comprehensive. I hope it's useful for people who haven't got time to spend an hour watching the whole hour-long webinar.
Portmeirion (LON:PMP) (I hold) – interim results look solid (it's the seasonally slow half), with upbeat commentary. Outlook is in line with market expectations, but I reckon the company's probably heading for a beat, as the forecast is low. Strong balance sheet, dividends to resume. This share looks good value to me, and I'm happy to continue holding. Not the most exciting share you could chose, but it looks a decent, solid business, at a modest valuation.
Just added a new section at 11:40 – notes from my Qamp;A today with PMP's CEO.
Zytronic (LON:ZYT) – a more positive trading update, ahead of expectations. The £0.3m loss in H1 has been recouped in H2. Good to see the company recovering, but it's still a long way short of historic levels of revenue amp; profits, so I can't see much of an attraction at this stage.
Porvair (LON:PRV) – a Q3 trading update (slightly ahead of expectations), but doesn't comment on full year expectations. Some sectors seeing a recovery in orders. All a bit vague. Valuation looks stretched to me.
Xaar (LON:XAR) – interim results look poor – loss-making, but the company seems to think it's doing well – delusional? Strong balance sheet. It's impossible for me to value this share, because the £160m market cap rests entirely on future expectations, not existing performance.
Jack's Section:
Tandem (LON:TND) – after years in the doldrums, the Tandem share price has rerated on the back of lockdown-fuelled demand for its products. This narrative underweights the good work done by management though. Revenue and profits are up, and the company is building a warehouse that will cut costs and increase capacity.
Property Franchise (LON:TPFG) – strong trading continues for this property franchise group, which has recently completed an acquisition and has multiple growth opportunities. Fortunes are tied to the property market, but rental is resilient and the business model is cash generative, so the ingredients are there for continued progress.
Ekf Diagnostics Holdings (LON:EKF) – the group again upgrades full year guidance. There's a lot going on here, including an agreement away from the core business that has led to three public listings in recent times. The relative valuation multiples are high but the momentum has been strong recently and there are multiple growth opportunities, so it remains an interesting situation.
Explanatory notes -
A quick reminder that we don't recommend any stocks. We aim to cover trading updates amp; results of the day and offer our opinions on them as possible candidates for further research if they interest you. Our opinions will sometimes turn out to be right, and sometimes wrong, because it's anybody's guess what direction market sentiment will take amp; nobody can predict the future with certainty.
We stick to companies that have issued news on the day, with market caps up to about £700m. We avoid the smallest, and most speculative companies, and also avoid a few specialist sectors (e.g. natural resources, pharma/biotech).
A key assumption is that readers DYOR (do your own research), and make your own investment decisions. Reader comments are welcomed – please be civil, rational, and include the company name/ticker, otherwise people won't necessarily know what company you are referring to.
---
Paul's Section Somero Enterprises Inc (LON:SOM)

530p – mkt cap £297m
My notes from PIWorld Webinar yesterday.
As usual, I've jotted down the main points, hopefully there aren't too many omissions or errors.
Opening comments from Jack Cooney, President amp; CEO -
H1 2021 (Jan-Jun 2021) – incredible result for us, but put unprecedented strain on our organisation. Had to hire 30 new people, to cope with demand, which wasn't easy in a pandemic. Also logistics problems, and shortages of some components, plus challenges re the pandemic. The team has done an incredible job, and not missed one promise to any customer, unlike many other OEMs. SkyStrip – new product launched June 2021 – taking total product range to 18. Another new market segment (no details given) is launching late this year, to increase addressable markets further.
Expansion of Head Office from 100k to 150k sq.ft., will enable better deliveries.
Interim divi up 125% to 9 US cents
Raised profit guidance again last week
CFO's Review -
Very strong H1, led by the USA market, driven by demand for warehousing.
All product lines in demand.
Europe – UK, Poland, Spain amp; Germany all good (although overseas sales are still small)
China – flat (and very small). India good. Reading between the lines, I think mgt have more-or-less given up on China, and are concentrating on other markets which are more receptive, e.g. Australia mentioned a few times, with a direct to market approach beginning to work (with a sales team out there, as opposed to selling through local partners).
Some problems doing important on-site demos, due to pandemic. Should improve in future.
"Other" revenues of $13.3m – this is mainly parts, and shows the strength of the installed base. It dawned on me for the first time, that maybe we should see this as semi-recurring revenue? As the installed base grows, this should also grow – a positive thing.
Gross margin high, and up, at 59%, thanks to higher volumes and manufacturing efficiences, plus some modest price rises. Expecting a more normal gross margin in future of 57% (still very good, and providing lovely operational gearing when sales rise – but also horrible negative gearing in recessions, as we saw in 2008)
Higher costs – e.g. 30 more staff, mainly towards the end of H1, so will kick in harder in H2. Also higher commissions.
Balance sheet healthy, e.g. $32.8m cash. $4m capex needed to expand HQ.
Share buyback – $1m left to complete, by end 2021. This is used primarily to offset dilution from share options, not as a primary way of paying shareholders (which is what the divis are for).
Global growth opportunities were discussed. I drifted off a bit during this bit (and ESG, which is the usual time to make a cup of tea!), so might have missed something. SkyScreed (For high rise buildings) will be launched in the UK amp; Australia. Continuing to grow addressable markets with new products.
Outlook – see slide 15.
** Key point - mgt emphasised a couple of times that the upwardly revised guidance recently provided is "very prudent". Therefore, I am confident we can expect further upgrades as 2021 progresses.
Qamp;A
Expected life of boom screeding machines? Similar to a car – so 7-10 years, but depends on utilisation (like mileage affects life of a car). Often customers will trade machines in for an improved newer version before that time.
Are labour shortages a problem in US construction? Yes, but skilled labour has been a problem for a while. Plays to Somero, as our equipment helps reduce the need for labour by automating concrete laying.
Semiconductor shortages a problem? No, not relevant to us.
Dividend policy – pay out 50% of adj net profit as ordinary divis. Special divis paid out with 50% of cash in excess of $20m base requirement.
Storm Ida had any impact? No direct impact from any storms this year. Helped by a fragmented customer base.
Inflation impact? Many input prices are rising in the building sector, we're in line with others in raising our prices.
Any change in customer confidence? No, remains intact. There are some delays in customers getting hold of other building supplies.
Succession planning – we've always had plans, nothing more to say.
International – US has recovered the strongest, as it had fewer covid restrictions than other countries. Pleased with performance internationally, and expect to see further international growth, and investment in staff overseas. I felt there was a slight change in tone, with them sounding more upbeat about international expansion/recovery this time, with the direct sales approach in Australia seeming to be the best way forward, so we might see this approach expanded into other countries maybe?
China – a listener pressed for more colour on the company's failure to even scratch the surface of this potentially vast market. Somero has not been able to educate the market as to the benefits of perfectly flat floors. Phrases like "we recognise the limitations", and "long term journey", suggest to me that this market has probably been put on hold for now, until there are signs of it being an easier nut to crack. Focusing instead on better short amp; medium term market opportunities internationally.
My opinion - I really, really like this share – a high quality business, on a bargain basement PER. Paying lovely divis, and with a strong balance sheet. As mentioned in my review of last week's interim results, I think it's more realistic to work on 50p EPS rather than 40p EPS for 2021. It's already done 23.3p in H1, the seasonally quieter half of the year. If I'm right, then the PER would be barely above 10. Obviously I've converted from dollars into sterling, as SOM reports in US dollars.
Yes, it's cyclical, but its end markets have also grown considerably in the last decade, as eCommerce expands, as have the product ranges. There seems good scope for international expansion too, where SOM's sales are still quite modest.
At some point there might be a slowdown, but it's difficult to see why that would be any time soon, unless there's some kind of macro setback that we're not expecting. Inflation amp; supply chain problems seem well-controlled.
There's lots to like here in my opinion, and it's difficult to see much downside, if reasonably positive macro circumstances prevail.
.
.
---
Portmeirion

(LON:PMP)

(I hold)
645p (up 4% at 08:09) – mkt cap £88m
Portmeirion Group PLC, the designer, manufacturer and worldwide distributor of high quality homewares under the Portmeirion, Spode, Royal Worcester, Pimpernel, Wax Lyrical and Nambé brands, is pleased to announce its results for the six months ended 30 June 2021.
Excellent first half performance driven by success of online strategy
Portmeirion experienced excellent trading in the first half with year-on-year sales growth of 35%. Furthermore, the business has not only recovered to its pre-pandemic levels but is now exceeding them with sales up 24% compared to two years ago in H1 2019.
That's good, but it's only +7% like-for-like (LFL), with the rest of that 24% uplift being due to acquisitions.
Online growth – sounds good, up 124% vs H1 2019. The company says it is in the "early stages of our digital journey".
Own website sales were £5.2m, being 12.1% of total revenues. Although it also says that 51% of total UK/US sales are made online, which must refer to third party websites in addition.
Own website sales have been at much higher gross margin too, up 900 bps, which is impressive.
Seasonality – a quick check here confirms that PMP has a very heavy H2 bias to profitability, due to the importance of the Christmas Tree product range, and gifting of other products in the festive period. Hence the quieter interim results are not hugely important, the outlook statement is more important to me.
H1 headline profit before tax of £1.5m, is a respectable result, and in line with pre-pandemic levels, so that looks fine. Adjustments are quite modest, at £378k restructuring costs.
Dividends are resuming, which is pleasing.
Balance sheet - is strong, with a particularly healthy working capital surplus.
Note that the small pension scheme deficit has turned into a small accounting surplus in this period. Note that the cashflow statement shows a £900k payment into the pension scheme in H1, so it looks as if there's still an actuarial funding requirement. I'll clarify this when I talk to the company shortly amp; will update this article accordingly.
Current trading/outlook - sounds confident -
"We have seen strong trading in the first half of the financial year, including a significant benefit from the focus on our online transformation strategy. Since the period end trading has continued that trend into the first two months of the second half of the financial year.
Looking forward we continue to have a strong order book across our key markets. While we are cognisant of the ongoing, widely reported disruption and volatility in global supply chains we are confident the accelerated strategic investments we are making across our business will enable a strong path of growth in the next few years…
We remain confident of achieving market expectations1, and the accelerated strategic investments we are making across our business will enable a strong path of growth in the next few years.
1 Current consensus market expectations for 2021 are revenue of £90 million and profit before tax of £6.4 million, and for 2022 are revenue of £99.5 million and profit before tax of £10.0 million.
Those forecast figures tie in with the forecasts shown on the StockReport (remember Stockopedia quotes net profit – i.e. profit after tax)
It seems to me that the bar has been set low – I'm expecting PMP to easily beat the 2021 forecast. In 2017,2018, and 2019, it made at least £7.0m profit in H2, so if we pencil in the same this year, then that implies close to £9.0m profit for the whole of 2021 – much higher than the current forecast of £6.4m.
It's always good to test the reasonableness of forecasts, because it shows up what risk there might be of a profit warning, or a profit beat. In this case, I think we should be lined up for a profit beat in 2021.
Valuation – based on existing consensus forecast of 37p, and a share price of 645p, then PER is 17.4 – probably about right. However, as mentioned above, I think the FY 12/2021 forecast is much too low, and a figure nearer 50p looks more likely, given decent H1 trading, and positive outlook comments about the order book for H2.
If my estimate of 50p EPS is correct, then the PER would drop to only 12.9
On this basis, I think PMP shares look good value.
My opinion – I'm happy with this update. The company has recovered well from the pandemic, and looks to be firing on all cylinders again. It doesn't seem overly concerned with supply chain issues, I'll ask them about that.
I do like the focus on growing online sales, that's where things are going.
Longer term, I've always felt that PMP's strong, historic brands have considerable untapped potential. So it's good to see new product ranges being developed – e.g. the beautiful Botanic Garden range (which I have at home!) could be broadened into all sorts of other products, not just ceramics.
Overall then, with a reasonable/cheap valuation, strong balance sheet, and a sensible strategy, I think this share continues to look good. It probably won't be a multibagger, but it could attract a takeover bid possibly, and I think it probably has a good long-term future.
The share price is still well below pre-pandemic levels, although checking the share count there had been dilution unfortunately, with the share could going up from c.11m to c.14m. Nevertheless, I think there's further scope for share price rises, if as I suspect, 2021 performance beats existing modest forecasts.
.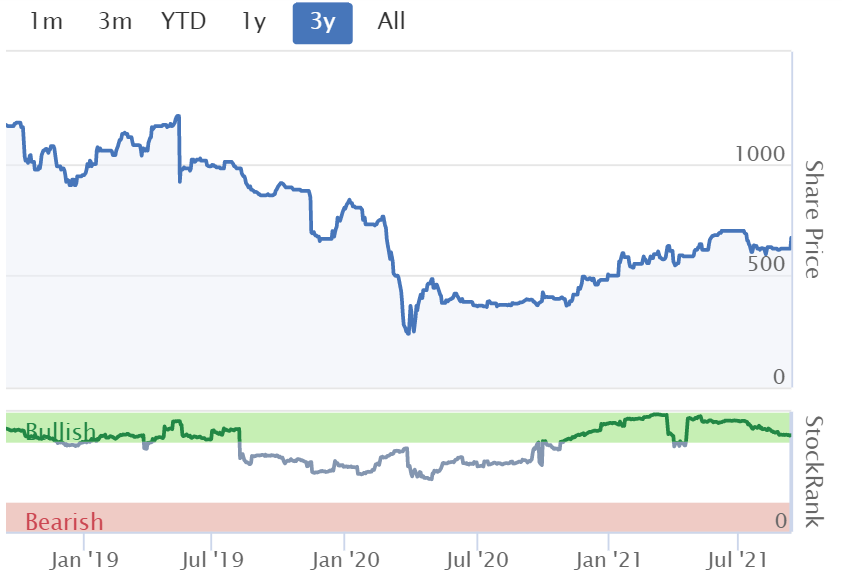 .
Notes from my Qamp;A with Portmeirion's CEO today
Supply chain – I asked a few questions about this, as it's a hot topic at the moment.
About 50% of product is made in the UK, the rest in various countries abroad, e.g. China, Vietnam, India, and others. Shipping is a global problem. Typically each container holds about $100k of stock, so shipping has gone up from 3% to c.12%, but this won't last forever. Some delays to shipping also higher cost. We've got plenty of stock. It's being well managed, and mitigated. Unknown factor for H2 amp; beyond, so guidance reflects higher costs. Should be upside from that in future once freight costs normalise.
Dividends or acquisitions? No acquisitions planned at the moment, as have plenty of work to do on the existing 6 brands, capex projects underway amp; planned to make production more efficient amp; higher margin. New products being launched, "plenty to go at". Might look at acquisitions once all the above has been done, so maybe 12-18 months, but would be a distraction now.
Dividends - guidance given is 3x cover. Note that capex is currently running about 3x historic level, last year and this year, which is good use of the cash as should produce a much better operating profit margin in future.
Online sales – I'm impressed that half sales are online in UK/US main markets. Which websites? Own website obviously, but also retailers (e.g. Macy's, John Lewis are important), and pure play websites, e.g. Amazon amp; Wayfair. Online is a key area of focus for Portmeirion, as indicated in the results statement. Building relationships with the end customers through online sales.
Made In Britain + union jack? How important? Very important in some key markets, e.g. USA, Japan, South Korea. It's seen as a sign of quality, and heritage. Also, in the UK itself, people are more keen to buy locally produced goods after the pandemic, to help companies amp; people here. Also, environmental benefit to buying goods made in the UK, lower carbon.
Fundraising – was it a mistake to dilute shareholders with the fundraising last year? No, it was the right decision. It enabled us to press ahead with capex and drive the business forwards, whereas otherwise we would have had to batten down the hatches, and put things on hold. Liquidity position is good now, and have plenty of cash, and headroom on bank facilities.
Thanks for the footnote setting out what market expectations are! Smiled, saying we listened to feedback from you and others, and decided to implement that. Brokers can be a bit "sniffy" about stating what market expectations are in trading updates, but we insisted, because it's helpful to private investors.
Pension scheme query – why £900k cash outflow, yet a balance sheet surplus? Difference between actuarial and accounting standards. The £0.9m included a catchup £300k from prior year. Was £1.2m p.a., now likely to be £0.9m p.a. for next few years, before ultimately looking to offload pension scheme completely. So looks a modest, manageable situation, not a big problem.
My impression – I like the CEO, who's a hands-on manager, doing lots of sensible things to grow the business amp; improve profitability. I'm comfortable with the business being in his hands.
.
---
Zytronic
(LON:ZYT)
182.5p (up 22%, at 10:31) – mkt cap £21m
Zytronic, a leading specialist manufacturer of touch sensors, provides the following trading update.
Historically, ZYT was a decent little company, making bespoke touch sensor screens, earning strong profit margins. However, performance began to deteriorate before the pandemic, and then obviously last year was poor, around breakeven. The underlying problem seems to have been that a number of its lucrative long-term projects reached end of life, and the company has not been able to replace them with enough new business.
The surplus cash pile was distributed via a tender offer, so unusually, ZYT now has fewer shares in issue (11.4m) than historically (c.16m). Therefore theoretically, the share price chart could go higher than before, and would be a lower market cap than before. Potentially interesting, if performance does recover.
.
.
There's encouraging news today -
At the time of our interim results in early May 2021 we commented on the start of an improvement in sales as a basis for expecting a gradual return to profitability.
We are pleased to report the continuation of an improvement in sales during the second half, currently running at more than 30% ahead of the first half, which has enabled a faster return to profitability and reversal of the first half loss.
Revenues and profits for the full year to 30 September 2021 are now expected to be ahead of market expectations and we plan to provide a further update in due course.
Looking back at the H1 2021 results, revenues were a dismal £4.8m, but the loss before tax was only £(0.3)m, due to modest overheads.
Today's update seems to suggest it has recouped that loss in H2 to date.
H2 revenues would be heading for gt;£6.2m, if the 30% improvement on H1 continues. That's still low by historic standards though, where it was typically generating c.£11m revenue per half year.
The cash pile is still large, last reported at £7.8m, and that's after the cash outflow from the tender offer.
My opinion – it's a decent update, but for me personally this share doesn't attract any interest in me, because performance has been too unreliable in the past, and subject to profit warnings when large lumpy orders expire.
The current £21m market cap is well supported by probably about £8m of cash.
Why is Zytronic listed? They haven't done anything with the listing, e.g. management are not interested in doing acquisitions.
To take the market cap higher, I think it would need much stronger profits, which is dependent on winning some new, large, long-term contracts. I wouldn't particularly want to take a punt on that basis, because it's just guesswork – not a good enough reason to invest for me.
EDIT: the latest broker update pencils in breakeven for FY 09/2021, and there are no forecasts for next year. So it's very difficult to value this share, as I indicated above, it's largely guesswork.
.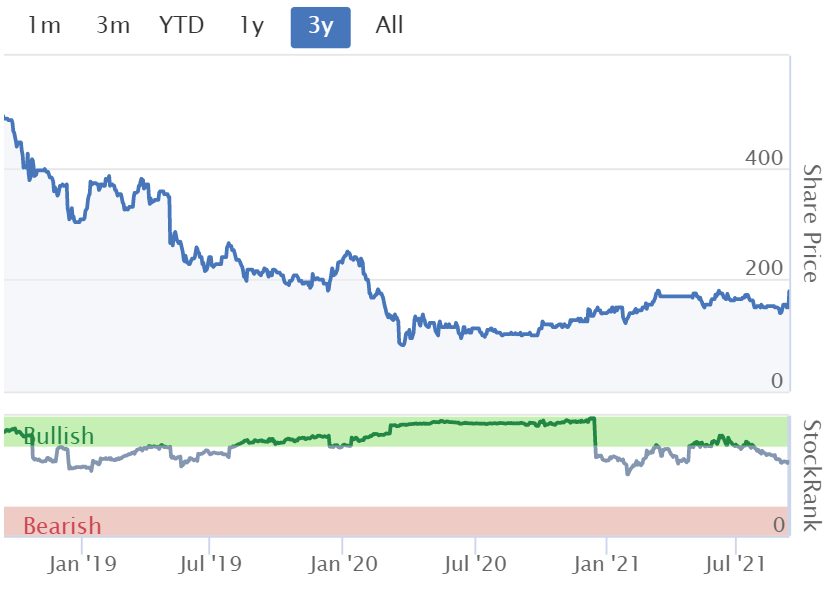 .
---
Porvair
(LON:PRV)
640p (up c.3% at 11:51) – mkt cap £295m
Porvair plc ("Porvair" or "the Group"), the specialist filtration, laboratory and environmental technology group, announces the following trading update for the nine months ended 31 August 2021.
This is today's update in full -
Trading in the third quarter has been modestly ahead of expectations.

Order books in industrial process, laboratory and aluminium are healthy.

Aerospace orders are improving but remain below pre-pandemic levels.

Supply chain dislocation is a significant near-term issue and while thus far the Group is navigating supply, logistics and inflationary pressures satisfactorily it is too early to determine to what extent they will affect full year performance.
The company has ducked the issue of full year expectations, so we are left to assume that it must be in line.
I'm not sure why anyone would see this update as positive particularly, it looks neutral to me, but the share price has risen 3% today.
Valuation – based on existing broker consensus of 23.1p, the PER is almost 28 times. That seems far too expensive to me. It's a good company, but not that good. Perhaps people believe the company can beat expectations?
My opinion - I've never been able to fathom why Porvair permanently attracts a premium rating. It's a decent company for sure, but organic growth looks fairly pedestrian. There should be upside from the aviation sector coming alive again.
Personally I wouldn't be willing to pay anywhere near the current share price. So it gets filed in my good company, but far too expensive tray.
.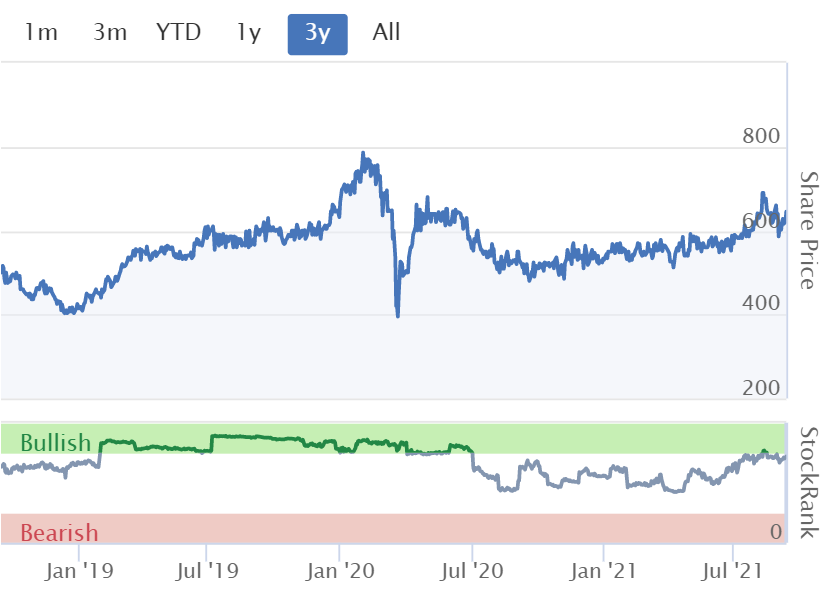 .
---
Xaar
(LON:XAR)
205p (down 10% at 12:15) – mkt cap £160m
There's been a lot of positive commentary this year on this printhead maker, from shrewd investors. So I welcome the chance to review its numbers.
Xaar plc ("Xaar", the "Group" or the "Company"), the leading inkjet printing technology group, today announces its interim results for the six months ended 30 June 2021.
CONTINUED STRONG PERFORMANCE WITH POSITIVE MOMENTUM IN THE BUSINESS
Am I looking at the right numbers? Because this is in no way a "strong performance"!
H1 revenues £26.3m – in line with mgt expectations
Low gross margin of only 29%
Adj loss before tax of £(2.3)m
Net cash is good, at £17.1m
Outlook – the key part is this -
Whilst the COVID-19 pandemic continues to cause business disruption, the Group is concentrated on securing continuity of supply of components to eliminate any interruption to the supply of printheads in 2022.
The ongoing pandemic makes it difficult to provide reliable guidance on the outlook for the remainder of 2021 and beyond, however the short-term outlook remains positive with a healthy order book across the business.
The success we have had in the first half of 2021, and the strength of the Group's balance sheet and cash position, means the business is well-positioned to withstand further volatility caused by the pandemic. We remain confident our full year 2021 results will be in line with expectations.
Some of that seems a bit contradictory.
Balance sheet - is strong, so there shouldn't be any issues with solvency or dilution.
Inventories look a bit high, and it does mention slow-moving stock in the commentary.
My opinion – based on current loss-making performance, the business is worth very little, if anything. So the £160m market cap rests entirely on investor expectations for a future improvement in performance, and maybe the value of its IP? That could happen, because in the past Xaar was tremendously successful, when its innovative print heads took off big time for printers of ceramic tiles. Could it pull off a repeat of that? Maybe, your guess is probably better than mine!
It's always had interesting things in the pipeline, e.g. print heads that can print in 3D, e.g. onto bottles.
For my purposes though, it's impossible to value Xaar, and I don't see anything attractive in the shares, other than speculative upside if you think its development projects are likely to do well. I'm not in a position to assess that.
Xaar shares have 10-bagged from the lows last spring, so I can see why investors would be banking profits today, on these poor results.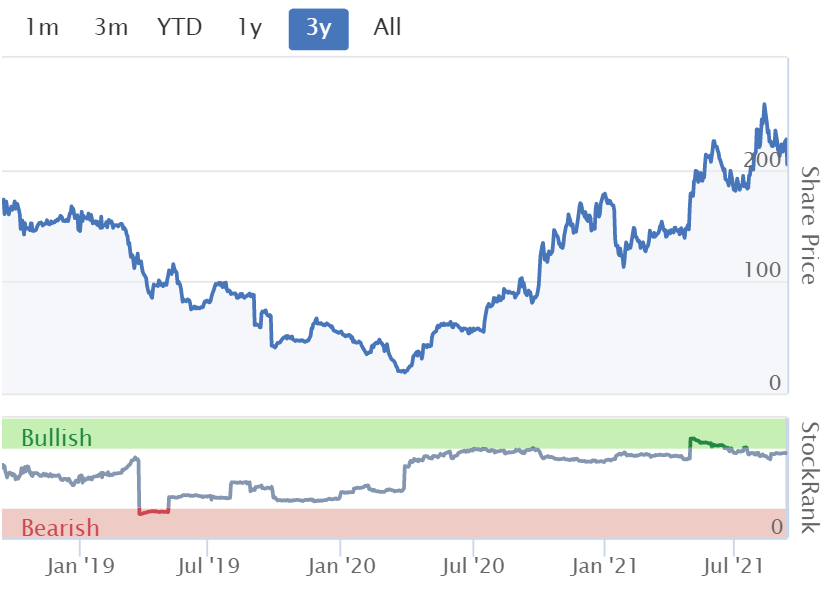 .
---
Jack's section

Tandem
(LON:TND)
Share price: 585p (+10.38%)
Shares in issue: 5,236,516
Market cap: £30.6m
(I hold)
Tandem group is a retailer of leisure goods, bicycles, and mobility scooters. The first two in particular have been in demand over the lockdowns and there has been a dramatic share price rerating here after years of inactivity.
But even after that strong rise, shares trade on just 9.4x earnings and the group maintains a net cash position despite spending millions on an ambitious freehold warehouse project that could have important implications for future trading and profitability.
It seems the market is either reluctant to rerate Tandem given its track record of pedestrian relative strength, or it believes current trading levels are either transient or could be frustrated by rising costs and supply chain issues.
The company is very small – a market cap of just £30m – so liquidity is a consideration and this may make it an inappropriate investment for some. Tandem also has a slightly fractious history with shareholders, although the revised management team has in recent times made great strides here.
Half year report to 30 June 2021
Financial highlights:
Revenue +14% to £19.262m,
Gross profit +9.2% to £6.066m,
Operating profit +35.5% to £2.003m,
PBT +35.3% to £1.907m,
Net profit +40.4% to £1.602m,
Earnings per share +37.4% to 31.2p,
Net assets +21.6% to £18.568m,
Cash and equivalents down from £6.322m to £5.85m.
The decrease in cash (and a further decrease in the net cash position) primarily arises from a big new freehold warehouse project Tandem is overseeing, more on which below.
Gross margin has fallen from 32.8% to 31.5% as a result of well flagged increased supplier and freight costs. Not all of these were passed on to customers. On the other hand, that same disruption has led to slightly lower operating costs (particularly in light of increased revenue), down from £4.078m to £4.063m due to restricted travel and exhibitions.
The net result is a substantial increase in operating and net profit, up 35.5% and 40.4% respectively. Encouragingly, the company splits out its trading in this update, providing investors with more insight into the results.
Toys, sports, and leisure includes sales from all wheeled toys and leisure ranges (including the Ben Sayers golf brand). Revenue here grew by 9% to £7.539m despite a very strong lockdown comparative. As with Character Group, Tandem has its own Peppa Pig licence which continues to trade well. The group's own brands here are all going from strength to strength: Hedstrom, Kickmaster, and uMoVe and Stunted scooters all ahead; Ben Sayers 'considerably ahead' and the forward order book remains strong.
Bicycles – revenue broadly stable (£5.489m compared to £5.55m), although children's bicycle range Squish was 'materially ahead'. Both IBD and national retailer demand continued to be very strong but the greatest challenge remains sourcing stock. The sales order book for bicycles remains 'exceptionally strong' at over £20m.
Home amp; garden – predominantly Expressco, which is Tandem's growing direct-to-consumer business (and perhaps the biggest beneficiary of the upcoming warehouse work), saw revenue growth of 14% to £4.216m. This is despite a poor summer in terms of weather and supply chain issues. Unsurprisingly, products like gazebos, party tents, heating, and garden storage have been strong. Tandem continues to invest in its key home and garden websites and has recruited additional digital marketing and product development/buying resources for H2, 'which we expect to have a positive impact in 2022 and beyond'.
eMobility – includes revenue from ebicycles, escooters, and mobility scooters. The fact that this is a separate division hints at management's ambition for these products. Revenue grew 174% to £2.018m in the period. Furthermore, mobility scooter sales were actually down 16%, so the growth in ebicycles and escooters is something to keep an eye on. Improved battery ranges and more affordable prices make this a growing and environmentally friendly market.
Outlook – A continuation of previously reported trends:
global demand is high,
shipping containers are in short supply,
input costs remain at historically high levels.
Management is being kept busy by the day job of navigating this tricky environment, deferring shipments and seeking alternatives when necessary in order to maintain profitable supply.
Group revenue to 31 August 2021 was up 14% to approximately £27.6m, which is the same rate of growth as in the six month reporting period, while the current sales order book is much higher at £30m compared to £11.9m in 2020. The interim dividend is increased by 10% to 3.43p per share, payable on 15 November.
Some grumble about the low levels of dividend payments here but I much prefer a truly sustainable lower dividend that keeps the emphasis on growth capital expenditure such as this warehouse, which should hopefully deliver far more value to shareholders in time.
Cash and property – the balance sheet is fine. Net assets of £18.6m backed up by cash of £5.85m set against borrowings of £3.706m and a pension deficit of £4.005m, with pension payments ably covered by cash flows.
The purchase of the land in Castle Bromwich utilised £1.425m of cash. Net cash after borrowings was £2.144m due to the purchase of the land at a cost of £2.850m in April 2021 and related development costs. We can see a cash outflow in cash from investing of £3.158m relating to this project.
The land is right next to the group's Birmingham base and should reduce costs and improve operational efficiency once completed. The existing buildings have been demolished and the site cleared. Planning permission is expected to be granted and the tender process is nearing conclusion. The construction cost is expected to be in the region of £4m due to rising material costs and, as with everything these days, there are delays in sourcing certain building materials.
Conclusion
Tandem comes across as a good, steady company with a diligent management team that is navigating present conditions while laying the groundwork for future growth. All this with a habitually strong balance sheet and attractive cash generation characteristics. It's a very conservatively run company with a long term mindset.
And yet the market skepticism remains, perhaps understandably. The neutral investor will see quite a scary share price chart characterised by long periods of inactivity and relative underperformance ending with a dramatic upwards rerating. Or perhaps they have yet to forget previous issues between management and shareholders. If the team executes and earnings grow then perceptions will change.
There is a well run, growing business here with exciting prospects, one that has made tangible efforts to communication with the market. The group talks with shareholders frequently and is now reporting performance across its divisions. And it has just appointed a broker to provide additional coverage.
The above is not to say that this is a certain profitable investment – nothing ever is – but there are positive signs at the least.
If we simply double H1 EPS we get a full year figure of 62.4p and a forecast PER of 9.4x even after this morning's 10% jump. That's quite modest for a net cash, profitable, growing company investing in capex projects. It's also a significant relative valuation discount to Character (LON:CCT) : A forecast PER of 9.4 vs. 15.1, and a price to sales of 0.75 vs. 1.12. Partially closing that gap to trade at 1x sales would value the shares at 708p. This is some way below Cenkos' price target of 868p. I think it's undervalued.
Nevertheless, this remains a micro cap and as such this will always rule it out for some investors. You need to have a certain risk tolerance to invest in this part of the market.
---
Property Franchise
(LON:TPFG)
Share price: 302.6p (-0.79%)
Shares in issue: 32,041,966
Market cap: £97m
The Property Franchise Group is the largest property franchisor in the UK and manages the second largest estate agency network and portfolio of lettings properties in the UK.
It was founded in 1986, listed in 2013 as MartinCo, and has since grown to a portfolio of nine brands operating throughout the UK. Shares are now at all-time highs following the group's acquisition of Hunters and a strong property market.
Full Year profit anticipated to be ahead of market expectations
Financial highlights:
Revenue +117% to £11.1m; +37% like-for-like and +19% LfL on 2019 comps,
Management Service Fees (MSF) +73% to £7.3m; +35% LfL and +117% on 2019,
Adjusted operating margin up from 45% to 47%,
Adjusted EBITDA +108% to £5.2m; +49% LfL and +117% on 2019,
Profit before tax +57% to £3.1m, up 54% on 2019,
Adjusted basic EPS +99% to 14.9p,
Cash generated from operations +88% to £4.7m,
Interim dividend +81% to 3.8p,
Net debt of £5.4m.
Network income increased 118% to £89.4m (+38% LfL) and the sales agreed pipeline is up some 247% (+64% LfL). The difference between those numbers is the impact of the recent Hunters acquisition, which is more sales-focused and thus complements TPFG's traditionally more rental-focused business model. It has also led to an increase in rental properties managed though, up from 58,000 to 73,000.
​​This integration is going smoothly. Minimal staff turnover, with initiatives to extract synergies and enhance revenue underway and expected to benefit in FY22. The group's revenue split for the period was 50% lettings and 50% sales, reflecting both the well-timed acquisition and the 'extremely buoyant' sales market this year.
Hybrid property agent EweMove also looks to be building traction, with 37 new territories added (H1 2020: 6) and a profit before tax of £900,000. This is as much profit in the first half of 2021 as in the whole of 2020.
The eight high street-led brands have performed 'exceptionally well'. Five new offices were opened on the high street, with 11 'spokes' from 'hub' offices also created. TPFG now has over 438 physical office locations, conducted the sale of over 13,000 properties in H1 FY21, and manages in excess of 73,000 tenanted properties.
Finally, the partnership with LSL Property Services is progressing well with c260 of TPFG's 350 franchisees signing up to the mortgage and protection advice service.
Gareth Samples, CEO, comments:
We are early on in the execution of our strategic growth initiatives and are delighted to already be on track to meeting ambitious targets. EweMove sold 37 territories in H1 2021 and currently trades in 152 territories. Hunters has delivered just over three months of profitability to our Group and has much more to give. Our strategic partnership with LSL is gathering pace and has been enhanced by our post-period acquisition of The Mortgage Genie. At the same time, we have invested and continue to invest in our senior management team so that we can support our talented franchise owners to take advantage of the opportunities on offer. This momentum underpins our confidence for the future.
Outlook – all brands continue to trade well in H2, notwithstanding the expected slight softening in the holiday months of July and August. As a result, the board now anticipates full year profit performance to be ahead of market expectations.
The group expects conditions to normalise at some point in the coming periods but is also confident in its ability 'to grow materially' regardless of external conditions.
The focus in the near term will be on the integration of Hunters, continued recruitment into EweMove and the development of its Financial Services division following the post-period end acquisition of The Mortgage Genie. TPFG hopes to improve margins and cash generation from its already high levels.
Conclusion
TPFG has pride of place in my growing list of stocks that I shouldn't have sold. It has capitalised on favourable market conditions and has a busy strategy with multiple avenues for profitable growth. The group has driven EweMove's continued rapid growth, made tangible progress in its financial services ambitions and completed the significant acquisition of Hunters.
At some point the strong market conditions might fade, but then again I recall people (quite sensibly) questioning property market prospects at the start of the pandemic. It's hard to predict these things and hindsight bias tends to make everything obvious after the fact.
Despite the end of the full stamp duty holiday in June 2021 the demand for homes remains high as a result of a shortage in supply. July and August were quieter, as is usual, and TPFG has noticed activity ramping up in early September.
Likewise, the lettings market remains active and resilient.
Earnings per share were forecast to be 22.4p for FY21 but it looks like this will be beaten. So let's say 25p – that values the company on 12.1x FY21 earnings, which is still quite modest even after the recent rise. It could be that these earnings figures will be unsustainable depending on how the property market plays out over the next couple of years.
On the whole it's hard to really fault these figures in any way. If the shares fall at any point I'll seriously consider buying back in but, to be honest, it hardly seems expensive at the 300p mark.
---
Ekf Diagnostics Holdings
(LON:EKF)
Share price: 82.8p (+3.5%)
Shares in issue: 454,993,227
Market cap: £375.4m
EKF Diagnostics is a point-of-care business that designs and manufactures things like small blood analysers and associated consumables. It's associated with various promising enterprises including £RNX , Verici Dx (LON:VRCI) , and Trellus Health (LON:TRLS) .
The group has a lot of activities going on across a range of fronts – it all points to strong growth prospects, although fully getting to grips with the company and its various enterprises will likely take some time. It's been a strong performer so far though, so it could be time well spent.
Further upgrade to current year trading
Financial highlights:
Revenue +46.5% to £38.56m,
Adjusted EBITDA +42.9% to £12.76,
Net profit +122% to £9.19m,
Net cash from operations down from £6.94m to £1.13m,
Earnings per share +126%, Diluted earnings per share are 1.98p (H1 2020: 0.87p)
Net cash of £20.38m,
Dividend of 1.1p per share to be paid on 1 December.
The increase in operating profit and adjusted EBITDA is caused by a substantial increase in volumes associated with sales of contract manufacturing products.
While Core business revenue is up 6% to £1.21m, Life Sciences (including contract manufacturing for PrimeStore MTM and PBS) is up some 142%. New PrimeStore MTM and PBS manufacturing facilities have been opened in Cardiff and Boerne to meet wider customer demand in the UK and USA.
Cash generated from operations in H1 2020 is £1.13m (H1 2020: £6.94m). This drop is due to higher inventory levels as a result of the increase in order volume and to ensure security of component supply. Trade debtors have increased as a result of increased trading activity and because of 'extended terms granted to certain commercial partners'. The group says it is seeing very little evidence to date of collection difficulties as a result of COVID-19, but it's still something to keep an eye on in future updates.
The gross profit margin has reduced from 57% to 48% mainly as a result of the product mix.
Strong trading from 2020 and the beginning of the year continued into Q2, with improving trading in the core business and ongoing strong demand for contract manufacturing services for COVID-19 sample collection devices and associated kits. Maintaining growth rates while the Covid business (hopefully) subsides is important given the company's reasonably expensive relative valuation.
Here the group says:
It is a measure of our success in creating and servicing this business, which we started from scratch last year, that we are now discussing the supply of products for non-COVID-19 indications, driven by demand from our customers. These products include areas such as in molecular diagnostics for which work has already started in the US. We see this as a significant growth opportunity for EKF.
Over the next five years, EKF aims to use its internally generated resources to:
Invest in the core business to maximise the value of its distribution network and 'drive aggressive organic growth',
Maximise value from its agreement with Mount Sinai Innovation Partners (MSIP), which provides advanced access to innovative commercial opportunities,
Seek out earnings-enhancing acquisitions,
Establish a progressive dividend policy, and to
Maximise the opportunity to assist clients to control the impact of COVID-19, and to evolve its resulting contract manufacturing capabilities to a broader range of diagnostic and healthcare settings.
Contract manufacturing – sales up 170.5% to £17.47m.
Diabetes – sales in the diabetes segment are up 8.1% to £10.18m.
Hematology – sales up 12% £5.86m.
Central laboratory and life sciences – sales down 10.1% to £2.37m. Central Laboratory sales continue to be affected by the pandemic, mainly in the USA.
Other – up 36.8% to £2.68m. This category includes sales of a number of products including our Lactate Scout sports medicine product and other diagnostic tests, the most important of which is for pregnancy.
So contract manufacturing is responsible for a large part of today's results.
MSIP partnership – This is an interesting aspect of EKF. Its Preferred Partnership Agreement (PPA) with MSIP provides the group with advanced access to innovative commercial opportunities arising from Mount Sinai Health System owned technologies in the field of healthcare technologies.
This relationship had already lead to the successful spin-out of Renalytix and its subsequent spin-out of Verici Dx. EKF's residual holding in Renalytix is valued at £10.8m, and the holding in Verici, received as a dividend from Renalytix, is valued at at £1.8m.
In May 2021, Trellus Health, which was formed by MSIP, EKF, and its management in 2020, successfully floated on AIM. This is now a £110m market cap company.
Following the completion of his tenure as CEO, Julian Baines will manage the relationship with MSIP. A pipeline of new opportunities has been identified.
The above investments have resulted in an H1 unrealised gain of £6.21m, shown as a movement in Other comprehensive income.
Buybacks - the group is authorised to make buybacks and 'will make further purchases if considered appropriate'.
Outlook – The Board is very confident that trading for the year ending 31 December 2021 will be comfortably ahead of already materially upgraded management expectations.
Christopher Mills, Non-Executive Chairman of EKF, commented:
The Group remains confident that its growth strategy, as outlined to shareholders at the Annual General Meeting in May, and set out above, will create a business which, aside from any COVID-19 related revenues, is capable of generating significant double-digit growth in adjusted EBITDA over the next three to four years.
Conclusion
EKF is no doubt trading well but I have to say there's a lot to wrap your head around here. Certainly one of the more intriguing listed propositions.
Compared to Tandem and TPFG, getting to grips with EKF's various businesses and activities might take a bit more time. We have the strong figures to fall back on though which suggest that it is worth further research. H1 revenue is up 46.5%, the outlook is positive, and management has guided that FY21 results will be comfortably ahead of already upgraded expectations.
Clearly, there are growth opportunities across a range of fronts. Digging into all of the prospects from core manufacturing through to the MSIP agreement will take a bit of time but it looks like there are the makings of a strong investment case beyond Covid here. With this MSIP agreement already leading to three stock market listings, it's fair to say that EKF has evolved a long way from its beginnings as an electrical engineering company.
One point to consider is that there's not much earnings growth in forecasts here – in fact the consensus view is that earnings will fall in FY22. Whether that remains the view after today's bullish comments remains to be seen but, at 27.3x forecast rolling earnings, valuation becomes a bit of a concern.
The group has a track record of raising and then beating guidance though so this could well be a stock that rewards further research. The StockRank progression is an encouraging trend.
Source:
https://www.stockopedia.com/content/small-cap-value-report-tue-14-sep-2021-som-tnd-pmp-tpfg-zyt-prv-ekf-xar-866155/
Before It's News®
is a community of individuals who report on what's going on around them, from all around the world.
Anyone can
join
.
Anyone can contribute.
Anyone can become informed about their world.
"United We Stand" Click Here To Create Your Personal Citizen Journalist Account Today, Be Sure To Invite Your Friends.