Small Cap Value Report (Mon 6 Dec 2021) - SCS, SNWS, SPSY, MMH
Monday, December 6, 2021 4:25
% of readers think this story is Fact. Add your two cents.

Good morning! (first section posted early, on Sunday evening). It's Paul amp; Jack here with the SCVR for Monday.
Many thanks to Jack amp; Roland for looking after things last week. Jack thought I needed a week off, and that coincided nicely with a trip to Manchester, to help my nephew celebrate his graduation. So fully refreshed, I'm now raring to go!
Agenda -
Paul's Section:
Scs (LON:SCS) (I hold) – I've made a video primarily to analyse the balance sheet, comparing it with larger competitor Dfs Furniture (LON:DFS) . There's an astonishing contrast – with DFS having no net cash, and SCS having more than its entire market cap in net cash. I demonstrate that there is clearly an opportunity for an acquirer to strip out a large amount of cash – making the company vulnerable to a takeover bid. Furniture retailers have a highly favourable business model – few inventories or receivables, and goods made to order, with some cash received up-front, and suppliers paid later.
Smiths News (LON:SNWS) – confirms receipt of £8.1m cash from pension scheme surplus. Divi being upped. Amazingly cheap on a fwd PER basis, at 3.7 – which looks too low, even allowing for the structurally declining nature of its business model (distribution of newspapers amp; magazines).
Marshall Motor Holdings (LON:MMH) – confirmation that the 400p cash takeover bid from Constellation is approved by MMH management. It's a formality, as the controlling shareholder of MMH has agreed the bid. This deal demonstrates the value in the sector, and I would expect to see more takeover bids for other listed car dealerships – so there could be some nice opportunities here.
Jack's section:
Spectra Systems (LON:SPSY) – new customer win in the group's K-cup business (coffee) signals good momentum and potential here. It's a short update with no reference to other parts of Spectra's operations, but a positive one nonetheless. The valuation appears reasonable given the prospects, although liquidity is a consideration.
---
Explanatory notes -
A quick reminder that we don't recommend any stocks. We aim to review trading updates amp; results of the day and offer our opinions on them as possible candidates for further research if they interest you. Our opinions will sometimes turn out to be right, and sometimes wrong, because it's anybody's guess what direction market sentiment will take amp; nobody can predict the future with certainty. We are analysing the company fundamentals, not trying to predict market sentiment.
We stick to companies that have issued news on the day, with market caps up to about £700m. We avoid the smallest, and most speculative companies, and also avoid a few specialist sectors (e.g. natural resources, pharma/biotech).
A key assumption is that readers DYOR (do your own research), and make your own investment decisions. Reader comments are welcomed – please be civil, rational, and include the company name/ticker, otherwise people won't necessarily know what company you are referring to.
---
Scs

(LON:SCS)

(I hold)
I made the video below last night, primarily focused on comparing the structure of the balance sheets of Scs (LON:SCS) with its larger rival Dfs Furniture (LON:DFS) . As you can see, SCS is hoarding an unnecessarily large cash pile, whilst DFS has done the opposite – spending all its cash pile, taking advantage of the permanently favourable working capital structure of the furniture retailing sector. The contrast is striking, and highlights the value in SCS shares – cheap on a PER basis, and groaning with surplus cash.
SCS's approach is super-cautious, whilst DFS is arguably reckless, but it demonstrates what could be done, e.g. by an acquirer of SCS, hence the cash pile could attract a takeover bid. Also note that DFS had to do a dilutive equity raise in the pandemic last year, whilst the much more conservatively financed SCS did not need to dilute shareholders. So there are advantages to having a bulletproof balance sheet.
.
If you would like to download my SCS/DFS spreadsheet, this link should open it in GoogleDocs, and you can then save your own copy amp; change it any way you want.
There's also an excellent recap on SCS (also on video) from a recent Mello presentation, by sector expert Alan Charlton, worth a watch here -
.
My opinion - the risk has definitely increased since the last update (although SCS is still trading in line with current year market expectations).
A sharp slowdown in order intake in the last 7 weeks could just be things normalising (after a previous surge in pent-up demand). Or, there's a risk it could be a more enduring downturn, we just don't know at this stage.
Also, I am a bit concerned that the order book has continued growing, which means there's an increasing backlog of manufacturing amp; deliveries, that the company will have to work its way through by 31 July 2022 year end. That could mean poor interim results to end Jan 2022.
Hence I suspect we could have short term volatility, but personally I invest long-term, and reckon the current price could be locking in a near-10% dividend yield (plus special divis/ more buybacks) once conditions normalise. Plus the possibility of a takeover bid. Hence overall, I've got no idea what the share price is likely to do in the short term (same with everything!), but for me the medium term fundamentals look very attractive.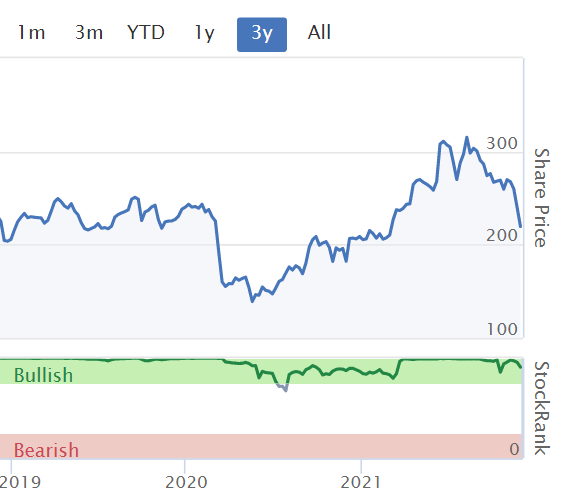 .
---
Smiths News

(LON:SNWS)

(I hold)
36p (pre market open) – mkt cap £89m
Pension Surplus amp; Dividend Declaration
Receipt of pension surplus and increased final dividend for FY2021
This is an interesting turnaround, where everything has been going (almost) according to plan. The latest news is that the company has received £8.1m cash from the winding up of it pension scheme. This is being used to further reduce bank debt. All of this is as expected, but it's encouraging to have confirmation, and the amount is significant at 9% of the market cap.
Dividends – have resumed, and the final divi for FY 8/2021 is being upped slightly from a previously announced 1.0p, to 1.15p now.
My opinion - I'm really pleased with how this one is panning out. See the archive for more details about the turnaround here, but this is the brief version -
Disposal of the disastrous Tuffnells acquisition completed a while ago, so SNWS is now focused on the core business of rapid overnight distribution of newspapers amp; magazines.
It's a structurally declining business, but revenues are based on cover prices, which offsets some of the volume reductions each year.
Costs are mainly volume-related, and are reduced on a 3-year planned basis.
This results in predictable, reliable, EBITDA of about £10m per quarter.
Debt is reducing, and is no longer a problem – allowing the resumption of well-covered divis, with a yield that is set to grow significantly once debt falls below an agreed level with the bank
PER is extremely low (fwd PER of just 3.7!)
Pension scheme now gone
Everything management said would happen, has happened. The last trading update did indicate slightly higher costs, but nothing too bad.
Overall, I think this share looks mis-priced. I think there's a re-rating opportunity here, and personally I'm targeting an exit price of about 70p, which I think is a more realistic valuation.
I reckon there could be a chance of someone swooping on it, with a takeover bid, to add a cash cow to an existing business, and maybe use SNWS's rapid overnight delivery network for additional purposes?
So a thumbs up from me, as a value share/turnaround/income special situation. Although we do have to bear in mind the structurally declining nature of the business.
.
.
---
Marshall Motor Holdings
(LON:MMH)
395p – mkt cap £307m
This announcement looks a formality under Takeover Panel rules, as the 400p cash bid was previously announced, and necessarily hinges on the support of the controlling shareholder, which owns 64.4% of MMH -
.
.
Note that the FCA has 60 days to approve the change of control, so there might be a risk of them throwing a spanner in the works. For that reason, and a higher competing bid looking unlikely (as the price being offered is good), then personally I would be inclined to bank the profits, in case the bid falls through for regulatory reasons.
The bidder, Constellation, is a large group in the automotive sector, and already owns brands such as BCA (takeover bid in 2019), WeBuyAnyCar, and Cinch. Which does make me wonder about competition rules, and the risk that might pose to this bid?
Taking a look at the sector, CAMB was taken private in an opportunistic deal. Looking at other car dealer shares on the chart below, which is 2021 YTD (year to date), we can see the extent of the lovely bid premium being offered for MMH.
If you struggle with colours, here are the share price rises from the top down, for 2021 YTD:
Marshalls +189%
Vertu +92%
Pendragon +77%
Lookers +41%
Motorpoint +17%
I think this shows the opportunity in the sector. These shares are generally backed by strong balance sheets with loads of freehold property, so they're extremely attractive to bidders, and I've been saying for ages that a wave of consolidation in the sector looked likely.
My opinion - this sector is enjoying ridiculously super-normal profits at the moment, mainly because shortages of new (and used) cars are pushing up gross margins. Everyone knows that won't last forever, but valuations still look cheap based on reduced profit forecasts in future years.
I'm expecting to see more takeover bids in the sector.
---
Jack's section
Spectra Systems
(LON:SPSY)
Share price: 164.5p (+6.13%)
Shares in action: 45,303,644
Market cap: £74.5m
Despite some attractive financial characteristics, positive news flow, and an impressive breadth of use cases for its intellectual property, the Spectra Systems share price has struggled for momentum over the past year or so.
If I had to speculate as to why, I'd say one reason is its communications with the market. I've never seen the management present and, after taking a look at the group a number of times, it's still quite hard to fully grasp the scope of the enterprise and its prospects going forward – although much of it sounds promising given the valuation.
An example of this is the group's K-Cup product, which is the subject of today's announcement. I've been scouring the website and most recent annual report to uncover some more details here and the best I've found is the following:
Spectra Systems' coating formulation will allow coffee suppliers producing their K-cup lids at LMI Packaging Solutions to have complete functionality in the Keurig K-cup system.
It would be nice to know more – what are the economics, the potential market size, the demand dynamics? How much power do customers have, will they prove to be quite concentrated and will SPSY have pricing power? Perhaps this information is available, but it does not seem to be easily attainable.
Spectra does a lot. It's a leader in machine-readable high speed banknote authentication, brand protection technologies, and gaming security software among other things. It also now invests in early stage companies, so is something of an incubator.
The common thread (save for the software bit) is the leveraging of its proprietary materials knowledge and technology for security purposes and other commercial applications.
There's a 645 bps spread to take into account and an all-round lack of liquidity in the share price. The last time I looked, you couldn't actually buy the shares on Barclays SmartInvestor either. I'm unsure what the availability is like on other platforms, so it's worth checking.
This is actually a very short update.
[Spectra] is pleased to announce that its newest customer using the company's optical materials in K-cups for Keurig brewers has already placed three orders totaling $394,000 since September. The orders from the new customer are already 93% of the expected 2021 revenues from this product and 46% higher than total orders in 2020.
Founder and CEO Dr. Nabil Lawandy comments:
We are very pleased to have received such large orders for our optical materials from our newest K-cup printing customer. Based on this order pattern, we expect that this new customer, along with the existing customer, will result in over $1MM of high margin revenue in 2022.
Conclusion
This update is solely to do with one line of business for the group, representing about 6.1% of FY22 forecast revenue (using the revised $1m+ guidance). It's good news but it is just a small part of the overall enterprise at present, so if this does pique your interest then it's worth going over the company's other operations.
The bank notes business, for example, continues to make up the bulk of Spectra's revenue and profits.
The orders from the new customer (of $394,000) are 93% of expected FY21 revenue, which suggests just over $419,000 for the current year ending 31 December. They are 46% higher than total orders in FY20, which suggests $269,863 for that year.
So there's good momentum here, and Spectra says this is high margin revenue. If just one customer can come along and transform this business line's revenue outlook, then perhaps the opportunity is substantial. But it is only one piece of a puzzle with quite a few parts to it.
That said, the valuation continues to look attractive here. Where else can you find a growth stock on a forecast PER of 15.9x and a trailing twelve month price to free cash flow of 11.4x (SPSY often generates more FCF than EPS)? There's also a 4.63% forecast dividend yield to receive while you wait for earnings growth to drive a rerating.
It continues to look undervalued and neglected to me given the prospects, so potentially attractive. There's the liquidity to consider as well though – if anything does go wrong then the share price reaction could be aggressive, so you need to have a certain risk tolerance.
Source:
https://www.stockopedia.com/content/small-cap-value-report-mon-6-dec-2021-scs-snws-spsy-mmh-910534/
Before It's News®
is a community of individuals who report on what's going on around them, from all around the world.
Anyone can
join
.
Anyone can contribute.
Anyone can become informed about their world.
"United We Stand" Click Here To Create Your Personal Citizen Journalist Account Today, Be Sure To Invite Your Friends.