Small Cap Value Report (Tue 3 May 2022) - CARD, OOUT, IUG, QRT
Tuesday, May 3, 2022 8:43
% of readers think this story is Fact. Add your two cents.

Good morning! Paul amp; Jack here with Tuesday's SCVR. Welcome back Jack!
Agenda -
Paul's Section:
Card Factory (LON:CARD) – FY 1/2022 figures are out. Real profits are a small fraction of the inflated EBITDA amp; cashflow numbers. Balance sheet still very weak, and the company is completely dependent on bank facilities – recently renewed, so not an immediate worry. I don't see any attraction to this share, unless you believe it can significantly increase sales.
Intelligent Ultrasound (LON:IUG) – my first look at this heavily loss-making niche medical equipment maker. High gross margins, and strong revenue growth in 2021 results caught my eye. But admin costs look way too high, and it's running out of cash, flagging up the need for another fundraising in the going concern statement. So probably not the right time to buy, as it's so speculative, but could be an interesting company to watch for signs of accelerating order intake in future, maybe?
Quarto Inc (LON:QRT) – see the reader comments section, where we have a discussion about this book publisher which is demonstrating a strong turnaround. Many thanks to mjfgs and jimrog64 for flagging up this share, and apologies we didn't spot the turnaround (after 8 years of writing about it, we gave up coverage right at the low. Typical!) [No section in the main report - see reader comments section only]
Jack's section:
Ocean Outdoor (LON:OOUT) – digital out-of-home advertising specialist (DOOH) currently looking to sell itself due to 'technical trading challenges' with the share price. Business is recovering nicely as economies open back up, but a lot of this recovery is priced in. I'm happy to watch from the sidelines as Ocean's largest shareholder weighs up whether or not to bid for the company.
---
Explanatory notes -
A quick reminder that we don't recommend any stocks. We aim to review trading updates amp; results of the day and offer our opinions on them as possible candidates for further research if they interest you. Our opinions will sometimes turn out to be right, and sometimes wrong, because it's anybody's guess what direction market sentiment will take amp; nobody can predict the future with certainty. We are analysing the company fundamentals, not trying to predict market sentiment.
We stick to companies that have issued news on the day, with market caps up to about £700m. We avoid the smallest, and most speculative companies, and also avoid a few specialist sectors (e.g. natural resources, pharma/biotech).
A key assumption is that readers DYOR (do your own research), and make your own investment decisions. Reader comments are welcomed – please be civil, rational, and include the company name/ticker, otherwise people won't necessarily know what company you are referring to.
---
Paul's Section:
Card Factory
(LON:CARD)
64p (up 9% at 08:35)
Market cap £218m
Card Factory, the UK's leading specialist retailer of greeting cards, gifts, wrap and bags, announces its preliminary results for the year ended 31 January 2022 ('FY22′).
I've been looking forward to seeing some numbers from CARD, because its big news recently was the renegotiation of bank facilities, and seemingly avoiding having to do a dilutive equity fundraise – very good news, as the risk of dilution previously looked high, given the balance sheet weakness.
I reviewed CARD's refinancing arrangements here on 21 April.
The financial highlights section has some apparently huge cashflow amp; EBITDA figures, but these are stated post IFRS 16, an accounting standard that has turned these metrics into complete nonsense, for multi-site businesses. So these numbers need to be ignored, otherwise they mislead us into over-paying for the shares. This is not genuine cashflow at all, because the highlights numbers exclude £57.8m in rents, which are shown further down the cashflow statement in 2 entries (£54.5m and £3.3m).
Look at how small profit before tax is, compared with EBITDA -
.
To demonstrate the point further about how £85.6m in EBITDA turns into only £11.1m in profit before tax, there's a useful reconciliation in note 14 -
.
Note – the substantial net finance expense, because the business remains highly indebted, with the half year and full year balance sheets showing a favourable lull in bank debt, which is higher at other times in between -
It should be noted that Net Debt at the half and full year period ends is lower than intra-year peaks, reflecting usual trading patterns and working capital movements.
Given this, I think the company should report average daily net debt, which would be a more realistic figure. I don't see that number disclosed anywhere.
The huge depreciation charge above of £49.1m mainly relates to rents, under the ridiculous IFRS 16 rules. Only £8.8m of that figure is actual depreciation (on fixed assets).
Also note at the bottom of the reconciliation above, there are favourable working capital movements in both years. Over the two year period, inventories have been run down by £21.3m, and trade payables increased by £25.1m, which is where a lot of the debt reduction has come from – squeezing working capital. Those are sensible actions to take, when you have too much debt, but can the business continue squeezing its working capital, or might it need to let things increase again? Low inventories could mean shortages at peak times, especially if product intake from the Far East is delayed on ships. Many companies are increasing inventories at the moment, to ensure no shortages occur.
LFL sales are only down -3.9% compared with pre-pandemic, which seems very good. This has been achieved mainly through increasing the average spend per customer, up 22%, largely offsetting transaction volumes down 23%.
This is impressive, and means there could be good upside on future sales, if customer footfall returns to pre-pandemic levels.
Some price rises are being implemented, although I can't find any reference to the average price rise. Given that CARD prices are low, and average basket size is small, then I imagine CARD should be able to cope better than most in the higher inflation environment we currently have.
Current trading amp; outlook - this is a bit waffly, with no numbers, but it's in line with expectations anyway -
Balance sheet – NAV is £219.6m, but this is dominated by a huge £320.7m intangibles (mainly goodwill), which needs to be removed. That takes NTAV into negative territory, at £(101.1)m.
Cash of £38.3m is more than offset by gross bank borrowings of £111.0m, giving net bank debt of £72.7m. Net debt has come down a lot, but much of that is due to stretching working capital (running down inventories, and taking more credit from suppliers). Those tend to be one-offs, and can't be repeated year after year, or might even reverse somewhat in future years.
Capex has been very modest, so there might be a backlog of store refurbishments needed now?
Online – is still only a very small part for the business. My concern remains that CARD has missed the boat, and now has highly profitable online competitors which dominate the space, e.g. Moonpig (LON:MOON) . CARD has a lot of catching up to do, if it can catch up at all?
Going concern - this is surprisingly good, saying the business would still have financing headroom, even in severe forecasts. I'm struggling to see how that would be credible, but the auditors must have reviewed the forecasts and be happy with them.
My opinion – there's nothing in these numbers to excite me. It only made £11.1m profit before tax (PBT), and as we know businesses are facing lots of cost headwinds now.
The balance sheet is weak, with bank debt reduction having come more from squeezing working capital than from profits.
I still think bank debt is much too high, especially at seasonal peaks (no figures provided, but it does say these are higher than half year and full year end net debt balances). Hence the business is still completely reliant on bank support, and has been very lucky to have had such accommodating bank managers over the last couple of years. The revised bank facilities require further staged reductions in facilities, therefore I doubt there's likely to be any cash available for dividends for several years, which is a condition of one of the bank loans anyway.
I think the bull case requires faith that sales could be considerably increased, to produce operationally geared improvements in profits.
As things stand, the valuation if anything looks expensive to me, so I can't get excited about CARD shares. Shareholders here took a lot of risk in the last couple of years, for not much upside. So risk:reward wasn't good in my view. Although now the dilution risk has gone away, with the recent bank refinancing, then risk:reward has improved.
It's surprising that the share price is up 9% in early trading today, but maybe people have latched onto the apparently huge cashflows (which are not real!).
.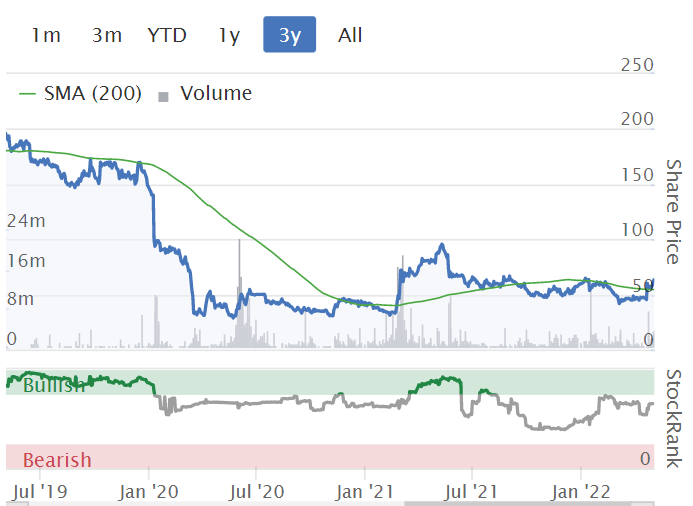 .
---
Intelligent Ultrasound
(LON:IUG)
14.5p (up c.2%, at 12:16)
Market cap £41m
I've not looked at this share before, because it's a serial loss-making, cash burner.
However, today's results show a decent increase in revenues, and upbeat outlook comments, which caught my eye on a slow news day. Has the company reached an inflection point I wonder?
Occasionally jam tomorrow companies do come good. It's so important to be ready to change your mind when the positive signals start to come through. A good recent example is Audioboom (LON:BOOM) , which I've followed for years, being resolutely sceptical, given years of abject failure. I missed a couple of positive trading updates, and by the time I'd twigged here (autumn last year) that things were turning positive, I'd missed a multibagger!
Intelligent Ultrasound Group plc (AIM: IUG), the 'classroom to clinic' ultrasound company, specialising in artificial intelligence (AI) software and simulation, announces its unaudited preliminary results for the year ended 31 December 2021, showing a positive year of simulation revenue growth, a small reduction in operating losses and encouraging progress in the clinical AI portfolio, despite the restrictions of the pandemic.
FY 12/2021 results show revenues up 47% to £7.6m – a good outcome, because revenue had previously flat-lined around £5-6m for 2018-2020, although the pandemic hit in 2020 might have obscured an underlying growth rate. That seems to be the case given a strong surge in 2021 revenues. The trouble is we don't know whether growth in 2021 was catching up from the pandemic, or the start of a stronger long-term growth trend. Hence it's very difficult to assess what the future might hold.
Profitability – it's never made a profit, and the loss after tax (to take into account Ramp;D tax credits, which is legitimate for this type of company) was £(3.6)m , slightly worse than 2020 loss of £(3.3)m.
As soon as I see repeated losses, I ignore everything else, and go into loss-making company mode, immediately focusing on the cash position amp; cash burn as the most important issue. Especially right now, in a small caps bear market, when fresh funding may not be available on reasonable terms.
Cash – has fallen to £4.95m, from £8.77m a year ago. If that trend continues, then it's going to run out of cash in early 2023.
Going concern statement – confirms that another fundraising will be needed, creating a "material uncertainty". That's enough to repel me, because the funding window has been slammed shut, and fund managers are probably now seeing customer redemptions, rather than fresh investments coming in. That limits their scope to provide fresh funding to speculative companies. So my worry is that IUG is running out of cash at the worst possible time.
Overheads - looking at the Pamp;L, I like the high gross margin. This means strong operational gearing, if sales can be further cranked up.
Looking at the top section of the Pamp;L (below), you can see that administrative overheads are far too high for the size of company. In fact, revenue would need to double, to double gross profit, which would be necessary just to reach breakeven. That's assuming no further increase in overheads, which in practice is not how things tend to work. If revenues were to double, then admin costs would probably increase somewhat too, although a lower percentage. Hence in practice I think revenues would need to more than double just to reach breakeven.
.
Are revenues likely to double? – who knows, we can't predict the future.
I'd want to see signs of demand really taking off, to convince me to have a punt on this. So let's take a look at the outlook comments for signs of stellar growth kicking in.
Outlook - this sounds positive, but probably not positive enough, given the rapidly reducing cash pile -
Outlook

With a growing range of both AI and simulation related products, a scalable operational base and pandemic related restrictions around the world relaxing, we have had a strong start to 2022. We have had a high number of NHS financial year-end orders in the first quarter, and we therefore expect revenue for 2022 to be ahead of current market expectations.

We are focussed on growing sales in both the more established simulation market and the newer, potentially higher growth AI imaging market, but will continue to monitor cash and overheads against this anticipated sales growth curve and any future investment of new AI products and expansion of our sales networks. We remain excited about the potential of our 'Classroom to Clinic' business.
My opinion - I'm only reviewing the figures remember, not trying to make a detailed study of IUG's products amp; competitors. Although the high gross margins, and installed base of 650 medical establishments, suggests that IUG has something of value, and with pricing power. It's sold internationally too, not just in the UK.
The arrangement with GE sounds interesting, and I wonder if GE might be a potential bidder for IUG possibly?
As a standalone company though, it strikes me that IUG may be trying to do too much, with inadequate funding. Hence, as the going concern statement suggests, another fundraising will be needed, creating a "material uncertainty". I'm never keen on investing in anything that needs more funding. That's risky enough in a bull market, but can lead to horrendous dilution in a bear market, when institutions just name the price for their support, which can often be half the current market price. Even if PIs get a look in via an open offer, it doesn't really matter, because the share price is likely to drop around half anyway. That then almost forces us to buy more, to maintain our position. Why take the risk?
Upside could come from major order intake. If that were to happen, then traders could jump on this share, and bid it up to a much higher market cap.
All in all then, it's not for me at this stage, but it's worth keeping an eye on the RNS, for signs of any game-changing order intake, which would be the time to buy on the opening bell.
By the way, I've already raised a green blob with Stockopedia HQ, because the forecast info is clearly not right.
.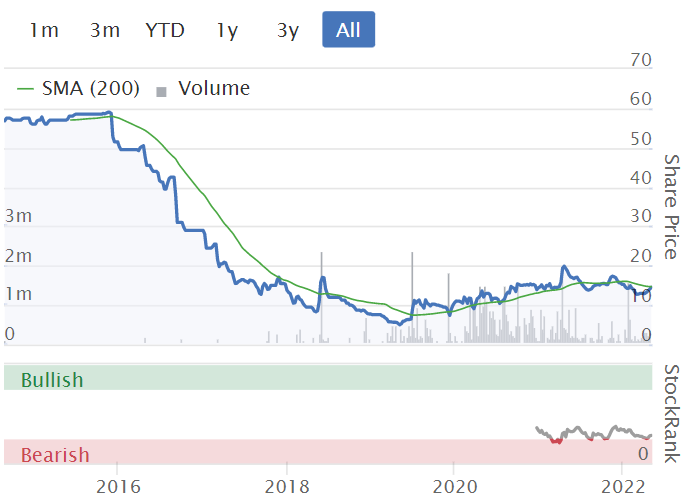 .
---
Jack's section
Ocean Outdoor
(LON:OOUT)
Share price: $10.11
Shares in issue: 53,930,223
Market cap: £438.23m
Full year results to 31 December 2021
Ocean Outdoor is an operator of premium Digital Out-of-Home ("DOOH") advertising in the UK, the Netherlands, the Nordics and Germany. Its portfolio of advertising locations stretches across 351 cities across Europe, including the famous Piccadilly Lights in London.
I'm not sure of the operating history here – it looks like the group has grown revenue from a standing start back in 2018, with variable levels of profitability.
In fact, there have been some pretty eye-watering losses. Is this some kind of roll up perhaps, with one off costs impacting the bottom line? The 2020 income statement is dominated by a £139m unusual expense but if we strip that out then the company would still have lost £41m on an underlying basis.
I'm also unsure why the share price is in USD when the reporting currency is GBP and the UK looks like the group's largest region. It looks like liquidity could be an issue here, with an unusually large 296bps spread for shares in a £617m enterprise.
That's why management continues to conduct a strategic review:
In November 2021, we announced the initiation of a strategic review to evaluate potential strategic and financial alternatives to maximise shareholder value. This decision was taken after the Board and management felt that the Company was undervalued, with the share price continuing to face technical trading challenges unrelated to Ocean's strong business fundamentals and intrinsic value. At this current time, the Board is evaluating a potential sale to its largest shareholder, Atairos, which may or may not lead to a transaction. Whilst there can be no certainty that a formal offer will be made, discussions continue and Atairos have presented a proposal to the Board which is being considered.
I am interested to see how this develops. As OOUT's largest shareholder, Altairos must have a good degree of insight into the business. If anybody understands whether or not Ocean Outdoor is undervalued, it would be its largest shareholder. But what would it signal to the market if a deal does not go ahead?
Full year figures:
Revenue +43.3% to £124.4m,
Gross profit +87.9% to £42.1m,
Loss before tax down from -£156.5m to -£30.3m,
When there are big losses on the income statement like this, it helps to check the cash flow statement to see whether or not the group is cash generative. There's a hierarchy of losses and one-off non-cash charges (which happened last year) are perhaps the least serious offender, although they do introduce a large dollop of subjectivity into the accounts.
Here we see that OOUTT generated cash from operations of £47.1m (FY20: £32.1m), so that allays some of the more immediate concerns. In this instance, there are no unusual expenses – just a large amount of depreciation and amortisation, about £67m compared to just £4.6m of capex. How expensive is an estate of billboards and advertising screens to maintain on an ongoing basis, I wonder?
In terms of operations, contracts have been won and maintained in the UK. Contracts won include with the Canary Wharf Group (a long-term contract value of £30m) and Edinburgh's St James Quarter (contract for £25m). New retail and key roadside contracts have been won in the Netherlands, and new screens are up in Denmark, Norway, and Sweden (Nordics).
Conclusion
2021 has been a year of recovery for the out of home advertising sector, reflected in a significant rise in revenues and profits for OOUTT, which has invested in differentiating itself with prime retail locations and digital technology. It appears to be leading the market, at least in the UK.
Operationally, this has correlated strongly with the Covid recovery, but I would argue that the window in which the share price was low enough for investors to make good money was small.
The group is forecast to grow and I can imagine there are exciting developments and innovations to come for the digital OOH advertising market that could see it add increasing value to its customers. There are also a lot of costs to running the business at present though, which makes me wonder about how profitable such an enterprise can become.
The gross margin appears to have recovered in H2 but it has been volatile so far, including before Covid.
A price to sales of nearly 5x and a forecast PER of 23.2x doesn't strike me as cheap, although I note a PEG of 0.4x. I'm happy to wait for now, particularly as the group's largest shareholder weighs up whether or not to make a bid.
Source:
https://www.stockopedia.com/content/small-cap-value-report-tue-3-may-2022-card-oout-iug-qrt-946996/
Before It's News®
is a community of individuals who report on what's going on around them, from all around the world.
Anyone can
join
.
Anyone can contribute.
Anyone can become informed about their world.
"United We Stand" Click Here To Create Your Personal Citizen Journalist Account Today, Be Sure To Invite Your Friends.