Small Cap Value Report (Thu 11 Aug 2022) - MRK, VID, CKT, MIRI, REVB
Thursday, August 11, 2022 7:09
% of readers think this story is Fact. Add your two cents.

Good morning from Paul amp; Graham!
Agenda -
Paul's Section:
Marks Electrical (LON:MRK) – an impressive, if slightly vague trading update. Why can't they just say that they're trading in line with expectations, instead of hinting at it? MRK seems to be strongly out-performing a difficult market. Shares have drifted down to a more sensible valuation, providing it hits forecasts for FY 3/2023, which might be a stretch given the deteriorating macro picture, possibly? Long-term though, I think this is an impressive, entrepreneurial company, with a commonsense, lean operating model. Tons better than problem-strewn larger competitor AO World (LON:AO.)
Revolution Beauty (LON:REVB) – another bombshell announcement. As we warned here on 2 August, this makeup business looked seriously over-stocked, and with a CFO resignation amp; audit delays, I feared more bad news to come. It's come this morning – "material" audit issues re over-stocking, bad debts, and revenue recognition. Just for gamblers at this stage, I remain of the view that it's uninvestable until we have proper information amp; figures. More detail below.

Graham's Section:

Videndum (LON:VID) (£653m) – Full-year results at this hardware and software provider are heading to be at the top end of expectations. The content creation market is booming and I would expect that to continue for the foreseeable future. Videndum has been deal-making and it has both the debt load and the earnings adjustments to prove that. But shareholders have not been diluted and the company has good organic revenue growth in addition to acquisition-related growth. There are some attractive features which make this stock worth investigating in more detail.

Checkit (LON:CKT) (£27m) (-12.7%) [no section below] – this software platform helps companies to "understand the hidden activity of your deskless workforce and their interactions with critical equipment and buildings". According to this update, H1 revenues were down by 31%. Non-recurring revenues were allowed to evaporate, as planned. Annualised recurring revenues, however, are up by 48%, in line with expectations, and are now at £10.2m. The cash balance reduces to £19.5m (down by nearly £5m in six months). The Board is "accelerating its plan to achieve profitability".
Paid researchers at Edison haven't changed any of their forecasts. Judging by the share price reaction it appears that the company was expecting this H1 result, but its investors weren't. Investors may have thought that non-recurring revenues would drop at a slower pace, and/or that the cash burn wouldn't be so severe. At the current rate of burn, the cash would all be gone by mid-2024. Edison are predicting heavy losses both this year (£9.4m) and next year (£6.7m). I'm very concerned for the future of Checkit's cash pile.

Mirriad Advertising (LON:MIRI) (£21m) (-0.9%) [no section below] – this company claims to have proprietary in-content advertising technology. Similarities with Bidstack (LON:BIDS) come to mind. Today's interim results lead with "strategic developments" – a growing client roster, a contract signed with Magnite ($MGNI), and a new Canadian project. Unfortunately, H1 revenues fell to just £577k, after Chinese revenues collapsed. Administrative expenses for the six-month period were a staggering £8.9m and the company is now looking to make annualised cost savings of £5.2m. Again, the cash pile is significant at £17.7m but the stock needs to trade at a drastic discount to this level, to account for the rapid burn and the vast gulf between revenues and expenses.
---
Explanatory notes -
A quick reminder that we don't recommend any stocks. We aim to review trading updates amp; results of the day and offer our opinions on them as possible candidates for further research if they interest you. Our opinions will sometimes turn out to be right, and sometimes wrong, because it's anybody's guess what direction market sentiment will take amp; nobody can predict the future with certainty. We are analysing the company fundamentals, not trying to predict market sentiment.
We stick to companies that have issued news on the day, with market caps up to about £700m. We avoid the smallest, and most speculative companies, and also avoid a few specialist sectors (e.g. natural resources, pharma/biotech).
A key assumption is that readers DYOR (do your own research), and make your own investment decisions. Reader comments are welcomed – please be civil, rational, and include the company name/ticker, otherwise people won't necessarily know what company you are referring to.
---
Paul's Section:
Marks Electrical
(LON:MRK)
68p (pre market open)
Market cap £71m
Marks Electrical Group plc ("Marks Electrical" or "The Group"), a fast-growing online electrical retailer, provides a trading update for the four months ended 31 July 2022 ("the period"), ahead of the Company's Annual General Meeting to be held today at 11:00 a.m. BST.
Company's summary -
Continued strong trading momentum despite challenging market back-drop
The year end is FY 3/2023, so we're getting an update today on Apr, May, Jun amp; Jul 2022.
Key points -
"Strong trading"
Revenue up 13.7% to £27.7m
"Particularly challenging market back-drop" – the market is down 20% it says.
Market share (online) grown from 2.5% to 3.8%, for major domestic appliances ("MDA").
Market share (online) in consumer electronics is very small, but has doubled, to 0.6%.
Market conditions – heavy discounting amp; increased marketing costs.
Particularly good performance in TVs, vacuums, washers amp; dryers, and aircon.
Final divi is modest at 0.67p.
"Robust balance sheet and strong cash position" – but no numbers provided today.
Outlook -
Whilst the remainder of the year is difficult to predict, our focus on maintaining a market leading customer proposition and healthy cash flow provides us with the best platform to generate continued profitable market share growth".
Balance sheet – no figures are provided today, but checking the last one at 31 Mar 2022, it's OK. NTAV was £9.4m, with very little in fixed assets, and a healthy working capital position. No concerns here. I wouldn't describe it as "strong", but it's adequate. Cash was £3.9m at 3/2022 year end, with no interest-bearing debt.
Broker research – commissioned, from Equity Development, which is fine – so these are effectively the company's forecasts. For this year, ED forecasts £94.0m revenues (down from £96.9m forecast in a note in April 2022), with £7.0m PBT, and 5.3p EPS remaining unchanged.
The share price has been drifting down since IPO (when it was over-priced, in my view), to a more sensible valuation now of a PER of 12.8 – that looks about right to me.
My opinion - I would have liked more specific comments on the most important thing – how are profits compared with market expectations (broker forecasts)? Today's update dodges that, so as is so often the case, we have to read between the lines, to deduce what overall performance is like.
"Strong trading" is used twice, so that implies profitability is probably in line with expectations.
Revenue growth was 44% last year (FY 3/2022), so it's no surprise that growth has slowed this year, given how tough consumer sentiment has become. I think to be announcing today +13.7% revenue growth in a market that is down 20% is remarkably good. Providing they're not discounting to shift volumes at uneconomic prices, but that doesn't seem to be the case.
Larger competitor AO World (LON:AO.) got into trouble this year, and had to do an equity fundraise. I don't see any danger of that with MRK. Also, MRK doesn't have all the baggage on its balance sheet that AO has, relating to warranties, MRK has a much cleaner business model, hence a lower risk investment I think.
When it floated in Nov 2021, I did originally wonder how MRK manages to make a much better profit margin than AO, and was a bit sceptical. However, webinars from the company subsequently persuaded me that it makes a good profit margin through basic, common sense cost control, and having a really well thought out business model – serving most of the UK from a single site in Leicester, and controlling all its own logistics. The founder/CEO certainly comes across well, as a passionate, no-frills entrepreneur, which is what I generally look for when choosing small cap investments. Here's a link to an introductory video about the company.
The share price now looks more sensibly valued than the hyped valuation at initial float. However, given the worsening macro picture, I am a bit worried that there could be some risk to the forecasts – i.e.a potential profit warning later this year? It seems a little odd that MRK has so far completely shrugged off much worse economic conditions this year.
Providing it continues out-performing its peers, and hits forecasts for this year, then MRK shares could be a decent long-term bet. I'm not sure about shorter term though, given macro headwinds. That's probably what everyone is thinking, so it's difficult to see much upward pressure on the share price for now anyway.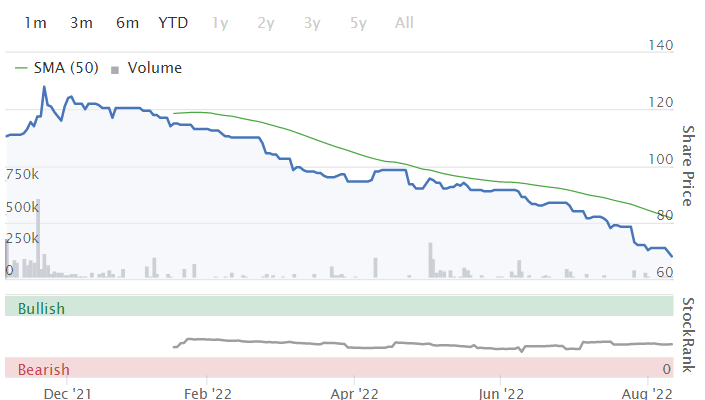 .
---
Revolution Beauty
(LON:REVB)
8p - down c.50% today at 11:28
Market cap £25m
I wasn't at all happy with the bombshell news from REVB of audit delays, when we covered it here on 2 August 2022, flagging up a serious over-stocking issue that could lead to the auditors requiring provisions to be made against inventories. I concluded -
My main concern is what looks like massive over-stocking, by my calculations nearly a year's worth of inventories are on hand, which is a potentially major problem. Hence I suspect it might need to warn on profits again, so am staying safely on the sidelines. [SCVR 2 Aug 2022]
Let's see what the latest horror show is -
Update on the Group's audit for year ended 28 February 2022
Revolution Beauty Group Plc (AIM: REVB) the multi-channel mass beauty innovator makes the following update on Group's ongoing audit for the year ended 28 February 2022.
The auditors have "raised certain accounting issues", which "could have a material impact on the results for FY22…"
The issues are -
Stock provisioning (i.e. slow moving or obsolete stock that needs to be written down in value, hitting profits),
Bad debt provisions (i.e. customers not paying)
Revenue recognition.
A further announcement will be made when the audit adjustments have been agreed with the auditors.
Liquidity is not affected -
It should be noted the potential changes to the results for FY22 do not impact the net debt position previously notified of £21.2m as at 31 July 2022 and management reiterate they believe that the Group's £40m revolving credit facility provides sufficient liquidity for the future.
I suppose the issue would be how audit adjustments hit profit, and whether that might trigger bank covenants being breached? So there is some risk. No doubt the bank will be taking a pretty dim view about these issues, and the clear lack of financial control.
No wonder the CFO left in May 2022, it seems like he left behind a real mess.
Profit guidance – for the new financial year is unchanged, but will anyone believe the forecasts now?
Management also confirm that guidance for the year ending 28 February 2023, as set out in the announcement on 2 August 2022 remains unchanged.
My opinion - we're still in the dark, not knowing the scale of the problems.
Although serious over-stocking was obvious from the accounts as far back as Aug 2021. I did some sums here a year later, on 2 August 2022, concluding -
"REVB looks to be massively over-stocked. Deducing that it might currently have about £100m in inventories at cost, then applying a gross margin og 48% (achieved in H1), I estimate that current inventories would fuel about £192m in revenues (excl.VAT). With full year revenues of c.£220m expected for this new year, that means it could be holding about 319 days worth of sales in its warehouses! Which is crazily high.
This is the main question to ask management – why are they holding such excessive inventories? How much of that is slow-moving? Maybe this is why the audit is delayed, as the auditors have to check inventories for slow-moving lines, and make a provision against anything that can't be sold above cost."
Hence I'm ringing an alarm bell here, that I think REVB has problem levels of inventories, maybe it was budgeting/buying for much larger sales? Or maybe some stock has been provided to retailers on a sale or return basis?
It's not right anyway, so the excessive inventories are a red flag for me. There could be trouble ahead, with another profit warning, I suspect" [SCVR 2 August 2022]
Sorry for quoting my own work, but it saves typing out the same explanation again.
Is it a bargain now it's halved again, to just 8.6p? Maybe, we don't know. The market cap is down to only £25m, and I don't think the business is likely to go bust. But it will certainly need to generate some cash, by clearing excess inventories, and reducing bank debt.
Management obviously have zero credibility now.
Institutions seem to have been dumping this share for any price they can get.
At this stage, I think REVB is just a punt, for gamblers, because we haven't got enough information to value it accurately.
That said, it's a decent sized business, and could recover from these issues. So who knows?
I won't be dabbling myself, I'd still rather wait for the full facts to emerge, then make a rational decision. So at this stage, this one is really just for gamblers/traders.
.
---
Graham's Section:
Videndum
(LON:VID)
Share price: £14.13 (+5%)
Market cap: £653m
This company was previously known as "Vitec".
I find a name change to be worth investigating. It's always got something to do with changing the company's image, which says a lot about what the company is trying to achieve and what it stands for.
For example: did the company destroy its reputation, and is it now trying to escape from its past? (e.g. Quindell changing to Watchstone Group).
Is the company trying to sound more modern? Has it actually modernised? (Reckitt Benckiser changed RB in 2014, then changed back to Reckitt in 2021. Well done to the design consultants on that one!).
Then you have the cases where there has been a fundamental change in the business (e.g. Northbridge Industrial Services becomes Crestchic).
Videndum explained its decision this way:
The name change… comes for two reasons. The first is to "differentiate" itself from other companies that operated under the Vitec name; the second is to "avoid financial penalties" under an already settled dispute with a third party that was deemed to have prior rights to the Vitec name in several territories.
The name chosen is Videndum, a Latin noun meaning "that which must be seen" or "a must-see", which "better reflects our purpose and opportunity in the multiple content creation market segments in which we operate."
When there are legal problems with your own name, and other companies are trying to use the same name, then a name change seems in order! So this sounds like a perfectly reasonable decision.
Let's move on to today's interim results from the "international provider of premium branded hardware products and software solutions to the growing content creation market":
Revenue +23% to £224m. Organic revenue growth 11%.
Adjusted operating profit +37% to £30m.
Operating profit +16% to £19.7m – note the big mismatch between adjusted and actual results.
Full-year adjusted PBT is expected at the top end of current market expectations.
The company helpfully provides market expectations, and these expectations are for adjusted PBT of £51m – £54.6m.
The dividend increases, and the forecast yield is 3%, according to Stockopedia.
Thanks to Videndum's focus on the content creation market, CEO Stephen Bird says "c. 75% of the business is exposed to strong structural growth drivers, underpinned by technology change driving shorter growth cycles".
It's a good point and makes sense: vloggers and streamers like to have the latest kit and are likely to upgrade more frequently than the average Joe or Jane upgrades their gear (I've had the same desktop for five years, and only had two mobile phones over the past eight!).
Adjustments
Let's try to understand the large gap between the actual and the adjusted profits.
As expected, it's to do with the acquisition strategy. Here are the details:
It's up to you whether you agree that all of these £10.7m of expenses are non-underlying. Everyone's entitled to a view!
My view:
Amortisation: in general, I don't allow this.
Acquisition-related charges: if this consisted purely of transaction fees, I would allow it. However, in the case of Videndum it includes several other things, including "retention bonuses". So I wouldn't necessarily allow for all of these to be adjusted out.
Integration and restructuring costs: it's too easy for companies to lump various expenses in here which were needed anyway, so I'd allow for maybe 50% of this to be adjusted out.
This might seem like very boring accountancy work, but it's the difference between the company earning £20m and £30m of operating profits. It's the difference between a 16% growth rate and a 37% growth rate. So it makes a huge difference to the valuation.
That's why I go into so much detail when looking at adjustments – they really, really matter to the value of the business!
Based on my initial reading, I would allow about £4m to £5m of Videndum's adjustments. If you want a simple rule of thumb that might keep you out of too much trouble, you could use a 50% rule: when a company gives you lots of adjustments, assume that half of them are justified and half of them are padding. But of course there's no substitute for reading the adjustments in detail and deciding for yourself!
Leverage
Videndum has used lots of debt to fund its deals, and this has resulted in a higher interest expense of £3.3m over the six-month period.
On the balance sheet, interest-bearing loans and borrowings add up to £188m (I ignore the company's reported net debt, as this includes lease liabilities).
Offsetting that, there is £31m of cash. So the true net debt figure is around £157m.
Borrowings consist of:
A large RCF (in pound sterling)
A US dollar term loan ($48m outstanding) that expires in late 2024.
A US dollar term loan ($42m outstanding) that expires in early 2025.
There are both currency risks and interest rate risks involved with these loans. The company has bought interest rate swaps to reduce the latter, and says that 59% of borrowings are now effectively "fixed" in nature.
My view
I've got bogged down with the financials, instead of analysing the business, but there is quite a lot to chew on when it comes to this company's financials!
Overall, I've not seen anything that would be a deal-breaker in terms of investing here. But I would definitely take the earnings adjustments with a pinch of salt, and I'd also want the valuation of the equity to reflect the leverage, i.e. the financial risk. I would be careful to use the enterprise value of £810m, not the market cap
Some of the things I like, based on running through these results quickly this morning:
11% organic growth (at constant currencies) is attractive.
Despite needing a lot of money to do deals, the company hasn't resorted to diluting its shareholders over the years. The share count has been steady.
I agree that the company's products are attractively positioned in exciting growth sectors, but I lack familiarity with the brands and how they rate against the competition.
I'm open to the idea that the shares are good value at the current level, given the growth prospects in this sector.
The next time I study this company, I'll need to look at the product portfolio and see how it stacks up against the competition. Maybe readers can help me out with any insights you might have on this front?
Source:
https://www.stockopedia.com/content/small-cap-value-report-thu-11-aug-2022-mrk-vid-ckt-miri-revb-952341/
Before It's News®
is a community of individuals who report on what's going on around them, from all around the world.
Anyone can
join
.
Anyone can contribute.
Anyone can become informed about their world.
"United We Stand" Click Here To Create Your Personal Citizen Journalist Account Today, Be Sure To Invite Your Friends.