Small Cap Value Report (Tue 9 Aug 2022) - APH, BWY, RPS, HAT, LOAD, ZTF
Tuesday, August 9, 2022 8:25
% of readers think this story is Fact. Add your two cents.

Good morning from Paul amp; Graham. Today's report is now finished.
Agenda -
Paul's Section:
Alliance Pharma (LON:APH) (£511m) (no section below) – many thanks to JCPr for flagging up (in yesterday's reader comments) a very unusual situation here. The auditor, KPMG, seems to have resigned, and published a vague, but critical-sounding resignation letter, saying its relationship with the company broke down, over a corporate governance concern. Here is KPMG's brief amp; vague letter, and APH's response. These letters are rare, and are not issued lightly. Hence personally I wouldn't want to be holding this share, as I'd be worrying about what has gone on at the company to prompt KPMG to issue this unusual public criticism. Deloitte is the new auditor, so another big name firm.
Bellway (LON:BWY) (£2.9bn) (no section below) - not a small cap but… I like to read housebuilder updates, for general read-across to the economy as a whole. Things sound fine here. Continued strong demand. Mortgage availability remains good. Low unemployment. Help to buy scheme ends in March 2023, but doesn't seem a concern. Building cost increases offset by higher selling prices. Ongoing planning challenges (delays). Availability of materials gradually improving, but still some regional shortages. Net cash of £245m (listed housebuilders generally have really strong balance sheets, far better than at the outset of previous recessions). Record output expected in FY 7/2023, but H2 weighted.
My view – I like the housebuilding sector right now – valuations have come down heavily, balance sheets are robust. Interest rates are only expected to rise to c.3-4%, which doesn't strike me as anywhere near enough to trigger a housing market crash. Higher nominal incomes suggests house prices could remain robust, but nobody knows at this stage.
RPS (LON:RPS) (no section below) – congratulations to shareholders here, with an agreed, cash, takeover bid at 206p announced – a tremendous premium of 76%! Wow, that's a superb exit price. Interim results are also announced, with trading ahead of expectations, and a good outlook. The bidder is WSP – a large Candian consulting group, which is itself valued highly (Stockopedia shows a forward PER of nearly 25). Therefore paying a 76% premium for RPS takes RPS's valuation up from a forward PER of 14.5, to 25.5, similar to WSP's.
I always look at takeover bids, and see if there were any obvious signs to have spotted. There's nothing in RPS's numbers previously to get excited about. Looking through previous SCVRs, to me, it looked quite a good company, priced about right. I suppose the opportunity here was to investors who spotted that valuations abroad seem to be much higher, thus making RPS more attractive to an overseas bidder. Well done to investors who spotted that! I wonder if there are other companies/sectors where similar disparities exist between UK valuations, and those abroad, which could see takeover bids? Any ideas? There's obviously an element of luck too, because takeover bids are very difficult to predict. Bidders can be attracted by aspects of a company that might not be obvious from its figures. Anyway, it's great to see a generously priced takeover bid, let's hope we have more, to give the UK market a boost.
Zotefoams (LON:ZTF) – I've spent a few hours looking at this, on publication of good interim results today, and ahead of expectations outlook against lowered forecasts, which have today been raised by 6%. I also had a good Zoom with management, to deepen my understanding of the company, its products, and a Qamp;A session. I've got a favourable impression of this share, and it looks set up to beat market expectations after a strong H1 amp; good order book. Balance sheet is fine, and benefits from freehold property factories. Debt is likely to come down considerably in the next few years, as big capex programmes are now done. Blue sky upside is in for free, with re-Zorce recyclable drinks carton. Overall, it's a thumbs up from me.
Graham's Section:
H amp; T (LON:HAT) (£165m) – barnstorming results from the UK's largest pawnbroker. The pawnbroking pledge book is up by 27% in six months and daily lending volumes are 40% higher than they were pre-Covid. Revenues and profits are both up by more than 40% compared to a year ago, and the company continues its dividend tradition (payouts every year since 2007). The very difficult economy means that Hamp;T's services are in greater demand than they've ever been. I don't see this improving in the short-term, so I think it's possible that Hamp;T can hit its broker forecasts of much higher profits in the years to come. The new management team is doing a fine job: if they can continue their selective approach when it comes to acquisitions, and open new stores very carefully, I expect shareholder satisfaction to remain high.
Crestchic (LON:LOAD) (£64m) (+16%) [no section below] – this is a designer, manufacturer and international supplier of load banks to a wide range of industries. Until June of this year it had the less interesting name, "Northbridge Industrial Services". However, in 2021 it carried out a strategic review and decided to make a disposal, leaving it to focus on its load bank business. This business has had an excellent post-Covid year and has now raised its expectations three times.
Today's trading update is significantly ahead of expectations: the FY 2022 revenue estimate is increased by 9% to £42.5m, and the EBIT forecast is raised 36% to £7.5m (by Equity Development). FY 2023 estimates also see substantial upgrades (the EBIT forecast for next year is now £8.1m). The demand for rentals is particularly strong, as Crestchic reports having secured "its largest ever hire contract", and there is some visibility for 2023 as "a significant proportion of the work secured over the past two months will continue into next year". Major tailwinds include the growth of data centres worldwide and increased oil and gas exploration in Asia and the Middle East. Price increases are being passed onto customers "sensitively" to maintain sales margins.
This company has some interesting features: it has a track record stretching back to the 80s, it designs its own gear (although I don't know if there is proprietary technology involved), it has international diversification, and it is comfortable with both rental and sales. Judging by its new profit forecasts, and very low borrowings, there's a case to be made that it's undervalued at current levels.
---
Explanatory notes -
A quick reminder that we don't recommend any stocks. We aim to review trading updates amp; results of the day and offer our opinions on them as possible candidates for further research if they interest you. Our opinions will sometimes turn out to be right, and sometimes wrong, because it's anybody's guess what direction market sentiment will take amp; nobody can predict the future with certainty. We are analysing the company fundamentals, not trying to predict market sentiment.
We stick to companies that have issued news on the day, with market caps up to about £700m. We avoid the smallest, and most speculative companies, and also avoid a few specialist sectors (e.g. natural resources, pharma/biotech).
A key assumption is that readers DYOR (do your own research), and make your own investment decisions. Reader comments are welcomed – please be civil, rational, and include the company name/ticker, otherwise people won't necessarily know what company you are referring to.
---
Paul's Section:
Zotefoams
(LON:ZTF)
273p (up 12% at 09:40)
Market cap £133m
9 August 2022 – Zotefoams plc ("Zotefoams", the "Company" or the "Group"), a world leader in cellular materials technology, today announces its interim results for the six months ended 30 June 2022.
I've got a call with management arranged for 10:45, so I'd better do some work on these numbers and think of something intelligent-sounding to ask them.
H1 revenue up 23% to £59.0m (up 21% at constant currency)
Cost inflation offset by selling price increases – a key positive in my view.
Gross margin held steady at 28.9% (seems quite low though)
Profit before tax up 42% to £5.7m (a healthy 9.7% profit margin) – great to see profit rising faster than revenue.
No adjustments to accounts, which I like. Growth has been mainly organic, so there's only £2.3m of goodwill on the balance sheet [source: 2021 Annual Report, note 12]
"Good momentum" for H2, with strong order book.
Net bank debt £37.0m, but this looks fine because it's secured on freehold property in the books at cost of £31.6m (see note 10, 2021 Annual Report) – including a large site in Croydon (since 1938!), and another in Kentucky, USA – it's great that ZTF owns its main factories (Poland is leased).
Inflation/supply chain -
"Input inflation, other than energy pricing, has moderated and supply chains are operating more normally, however, there is a heightened level of risk associated with macroeconomic factors and the demand environment.
Outlook – positive -
"Whilst remaining mindful of these risks we now expect full year underlying profit to be ahead of current market consensus expectations.
I suggested to management that a footnote would be useful to explain what market expectations are. Their broker didn't like that idea, apparently. Time to change broker maybe? After all, it's a small cap, so Peel Hunt amp; Investec are not suitable brokers, as they don't have any interest in private investors – but we're the market for small cap shares, hence the misalignment.
Bank debt - looks quite high, at £37m. I asked whether interest rates are hedged, which they're not – the rationale being that debt should reduce quite quickly now the main capex has been done.
A competitive tender process was undertaken (smart move!) that resulted in ZTF staying with Natwest amp; Handelsbanken, but on improved terms.
Going concern note – nothing of concern, it's fine.
Balance Sheet – looks fine to me. It's a fairly capital-intensive business, with £95m of fixed assets, but that includes £31.9m in freehold sites.
There's a pension deficit, but I confirmed with the company that deficit recovery payments are fairly modest, at under £1m p.a.
Customer concentration – is a risk, with the largest customer (Nike) generating 33% of H1 revenues.
Aviation sector – now a tailwind as demand gradually returns.
New products - ZTF has developed a novel, fully recyclable drinks carton, called re-Zorce. There could be exciting future upside from this, if the product takes off. Management says there's considerable interest in it, but it's pre-revenues, being in trials which are now scaling up. This could be a nice catalyst for a re-rating, if the newsflow is good in future. Or it might not, so I would see this as a bonus if it comes off.
Valuation – estimates are raised today, to 14.4p for FY 12/2022 – a PER of 19.0 times, which seems expensive, but I wonder if the forecast is set too low? Full year PBT is forecast at £8.8m, but it's already made £5.7m in H1, leaving just £3.1m to do in H2. Seasonality usually evens out between the 2 main divisions, another reason to expect H2 to be similar to H1, and hence beat forecasts for the year.
So I reckon the actual out-turn for 2022 could be better than forecast. In difficult macro times, we need modestly set forecasts.
Quite punchy growth is forecast for 2023 amp; 2024, at 21.8p and 27.5p EPS respectively. If those numbers are achieved, then I think a share price of 273p now would probably have increased maybe 50-100% by then.
My opinion – I've just had a really good Zoom with management, to try to better understand this business. My impression was certainly positive, so it was worthwhile spending the time to dig a bit deeper in this today.
It's strange that broker consensus forecasts have been falling (from about 18p, to 13p) this year, yet the company has now put out positive interims, and is ahead of (lowered) expectations. Still, that's preferable to forecasting too high, then having a profit warning.
Overall, I give ZTF a thumbs up – this looks an interesting business, well-managed, and performing well. Hence I think it's a good one for readers to do some more research for yourselves on, taking a long-term view of course. I've no idea, as always, whether or not this is a good time to buying the share, that's up to you to decide.
Looking at its long-term chart, ZTF shares got onto a fancy, growth company rating previously, but have since sold off heavily onto a much more reasonable rating. Hence I find this much more attractive as a value/GARP investment proposition, than in the past.
.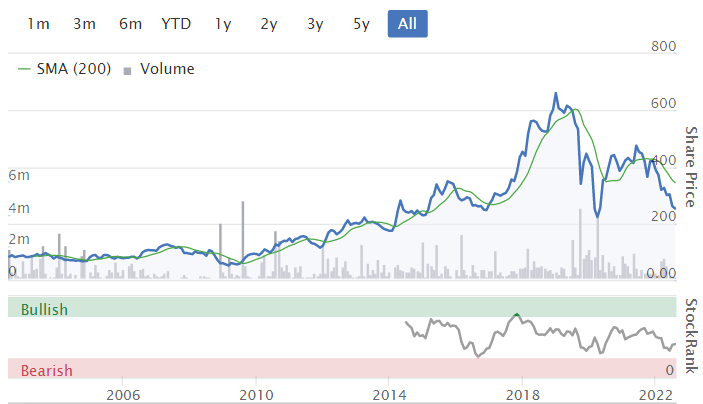 ---
Graham's Section:
H amp; T
(LON:HAT)
Share price: 414.5p (+1%)
Market cap: £165m
This is the UK's largest pawnbroker. I don't currently have a position in it – maybe I should!
Today's interim results follow a trading update last month that gave us a glimpse of what these numbers might be.
It turns out that the pawnbroking pledge book is even bigger than that trading update suggested. This loan book is now £85.1m (versus £84.2m according to the trading update).
This is up by 27% in six months: an extraordinary growth rate for a mature business. It's a sign of a very difficult economy, as demand for these loans is "at record levels", and lending volumes are "40% above pre-pandemic norms".
It also doesn't hurt that the average price of gold was up by more than 10%, compared to last year, as this allows for larger loans on the same items.
Retailing is doing very well, too – retail sales of £20.8m (H1 last year: £12.4m).
I've gone back to check the pre-Covid performance in H1 2019. That year, H1 retail sales were £18.5m, and the number of stores was substantially lower than it is today. So I think the retail performance still has a distance to travel, to make a complete recovery.
That doesn't worry me too much, however, because what really matters here is the pledge book, and its performance is stunning.
It's the large pledge book that distinguishes Hamp;T from all the other small lenders, even from other pawnbrokers. Back in H1 2019, Hamp;T's pledge book was smaller by more than a third.
Let's see how this translated to revenue and profits:
Revenue £77.8m (+49.7%)
Operating profit £7.4m (+41.2%)
Pre-tax profit £6.7m (+44.3%)
These numbers are not adjusted – they are the statutory accounting results.
Balance sheet
Net assets finish the period at £139m, after £3m of dividends were paid out. Excluding intangibles, book value is £116m. So Hamp;T is now trading at a meaningful premium to book value – something that I thought Hamp;T deserved.
There was a large cash outflow, as it's not possible for Hamp;T to grow its pledge book at a fast pace without borrowing to do so. Receivables (a proxy for loans outstanding) increased by £18m, and this was paid for from Hamp;T's profits and with the help of a £15m increase in borrowings. All told, net debt finished the period at £8.6m.
Outlook
Some key points from the outlook:
The company is looking to expand its geographic coverage. I would have said the existing coverage is already quite good, so I hope they are very careful with this. Remember that 70 stores were acquired as recently as 2019. Five new stores have opened this year, and another three are opening this month. Hopefully the terms of new leases are flexible and cheap.
Consolidation: the company thinks that more opportunities to consolidate the sector may present themselves. I'm not so sure about that: with a high gold price, the sector is likely doing well, making it a bad time to make more acquisitions. The purchase of Money Shop in 2019 was a special situation.
Retail/FX are both set for a strong year. In retail, Hamp;T has recently gained additional expertise in watches and is developing this line of business. In FX, overseas travel continues to recover and should support FX demand.
And the main point: that demand for pawnbroking will remain robust in these conditions:
We anticipate continued strong demand for our core pawnbroking product as the impact of inflation on the consumer increases the need for small sum, short term loans at a time when supply of credit is more constrained than has been the case for many years.
My view
I'm surprised that the Hamp;T share price hasn't moved much today, but I guess people were expecting the good news. See how much the share price had already moved in recent weeks:
The company's broker previously flagged that it would raise this year's PBT estimate by 15%-20%. It has today raised the estimate by 18%, to £18.7m.
For FY 2023, it is forecasting PBT of £28.8m, and then £33.6m in FY 2024. This is based on the massively larger pledge book continuing to grow.
I do think that these very large increases in profitability are possible. My only concern is that management might throw caution to the wind and sign lots of leases, or make acquisitions, at prices that aren't in the long-term interests of the company.
To be clear: I don't think they've put a single foot wrong so far. Their acquisition of the watch repair business makes good strategic sense to me, and I have no problem with the pace of store openings thus far. I just know that when profits are booming, it can be very difficult to say no to deals!
Hamp;T's current CEO joined the business in late 2020/early 2021. You can view an interview with him here, where he talks about "evolution not revolution". If he can stay true to that mantra – and say "no" to as many deals as possible – I'm confident that he'll succeed.
This is also a Super Stock, with good quality and extremely strong momentum:
Source:
https://www.stockopedia.com/content/small-cap-value-report-tue-9-aug-2022-aph-bwy-rps-hat-load-ztf-952207/
Before It's News®
is a community of individuals who report on what's going on around them, from all around the world.
Anyone can
join
.
Anyone can contribute.
Anyone can become informed about their world.
"United We Stand" Click Here To Create Your Personal Citizen Journalist Account Today, Be Sure To Invite Your Friends.