Small Cap Value Report (Wed 3 Aug 2022) - VARE, GRG, GDWN, VCP, CREO
Wednesday, August 3, 2022 7:17
% of readers think this story is Fact. Add your two cents.

Good morning from Paul amp; Graham.
Agenda -
Paul's Section:
Various Eateries (LON:VARE) – this share slipped through the net in June, on a busy day, so I've gone back to look at its last interim results. With the share price in freefall, is there a value opportunity for shares in this expanding clubhouse style bar/restaurant group? The short version is no, not really. It's still unproven (loss-making to date), and almost all the cash pile has come from a related party loan. So I think there are better alternatives in the hospitality sector (e.g. Brighton Pier (LON:PIER) which reported positively last week), and Revolution Bars (LON:RBG) (I hold) which reported positively yesterday, and is similar market cap to VARE but much bigger, profitable and debt-free.
Greggs (LON:GRG) (£2.18bn at 2131p) [no section below] – not a small cap but… I had a quick look at interim results from this on the go food retailer yesterday. It's a good business, and shares have lost a third of their (over-priced) peak 2021 value, and now look more sensibly priced (not cheap though). I'm mentioning it for read-across to other retail/hospitality shares. Sales shot up 27%, but profits were only flat against last year. This is due to "the re-introduction of business rates, increase in VAT and higher levels of cost inflation". FY 12/2022 outlook is in line with expectations – which is EPS flat vs 2021. If one of the best operators can only achieve flat profitability against all these cost headwinds, and withdrawal of large Govt support, then what chance do lesser hospitality/retail businesses have? Hence I think it's best to assume that profits remain under pressure for this sector for 2022 and 2023. Providing forecasts are set realistically modestly, that's fine. But racy forecasts expecting big profit growth could be an accident waiting to happen. It's like a minefield at the moment, we have to pick our way through very carefully.
Graham's Section:
Goodwin (LON:GDWN) (£213m) – this family business reports full-year results that show a small improvement over the prior year, but are held back by rising energy costs. In addition, the company's mechanical division suffered from volatile energy and commodity prices (fortunately, the company was able to renegotiate contracts for this division). The outlook statement is unusually strong and is based on some exciting developments and contract wins in the mechanical division, along with strong momentum in the refractory division and energy hedges in place. There are lots of moving parts to consider, but my instincts are that the valuation here is on the low side – analysts, institutions and the City have no interest in this share.
Victoria (LON:VCP) (£379m) [no section below] - No news from Victoria today, but I thought it was worth mentioning that a short-seller has published a note on the company, claiming that two of Victoria's acquisitions (one cost £25m, the other £17m) were dubious. Specifically, the note alleges that the two companies were already Victoria subsidiaries, and that the deals were structured so as to hide this fact from investors. It's unclear why Victoria might have done this, but the possibilities are worrying. However, I've not verified any of these claims, and I expect that Victoria's Chairman Geoff Wilding will be eager to respond to them and refute them. I've always found this company's aggressive, leverage-driven growth to be unsettling; if I were a shareholder, I would now be anxiously awaiting Victoria's response to these claims.
Creo Medical (LON:CREO) (£140m) (+3%) [no section below] – this medical device company gives an H1 update: revenues +10% versus H2 last year, gross margins are up, and costs are down. However, this is an early-stage company and will report a meaningful loss at the EBITDA level, albeit a smaller loss than the previous year. Last year, the company used up nearly £34m in cash across its operating and investing activities, and finished the year with £43.5m of cash at year-end. Quantitatively, this is extremely high-risk: the StockRank is only 3 (i.e. it's a "Sucker Stock"), and it passes two of Stockopedia's short-selling screens, one of which relates to bankruptcy risk.
---
Explanatory notes -
A quick reminder that we don't recommend any stocks. We aim to review trading updates amp; results of the day and offer our opinions on them as possible candidates for further research if they interest you. Our opinions will sometimes turn out to be right, and sometimes wrong, because it's anybody's guess what direction market sentiment will take amp; nobody can predict the future with certainty. We are analysing the company fundamentals, not trying to predict market sentiment.
We stick to companies that have issued news on the day, with market caps up to about £700m. We avoid the smallest, and most speculative companies, and also avoid a few specialist sectors (e.g. natural resources, pharma/biotech).
A key assumption is that readers DYOR (do your own research), and make your own investment decisions. Reader comments are welcomed – please be civil, rational, and include the company name/ticker, otherwise people won't necessarily know what company you are referring to.
---
Paul's Section:
Various Eateries
(LON:VARE)
34p
Market cap £30m
This expanding chain of clubhouse style all-day, upscale bar/restaurants caught my eye when it floated, but was so obviously over-priced, that it has not as yet been of any interest to us here at the SCVR.
I last looked at it here in March 2022, on publication of FY 10/2021 results, and wasn't impressed with the valuation at 57p per share. Although, given pandemic disruption, small scale, and lack of track record, it's difficult to value. There seemed an excess premium for experienced management, and not enough substance to the valuation.
The price has been in freefall, along with a lot of the hospitality sector, which makes me wonder if the time might be right to take a fresh look? Are there bargains here? Nightcap (LON:NGHT) is another one which floated at too high a price, and has since come down a lot.
VARE put out interim results (26 wks to 3 April 2022) on 23 June, and I've been meaning to circle back to it ever since.
Here are my notes on H1 results -
Trading in line with FY 9/2022 expectations.
H1 revenues £17.8m
Adj EBITDA (IFRS 16 – i.e. the totally meaningless figure!) of £1.7m
Loss before tax of £(2.6)m.
Remember impact of omicron in this period, which won't have helped, but there would have been support from Govt measures, e.g. business rates relief.
Balance sheet – not great, and a possibly concerning structure. NTAV is only £9.4m, bear in mind for a start up like this, the market cap is now over 3 times NTAV, which means two thirds of the market cap is hope, not fact as yet.
Freehold property is £2.3m, but most sites are leased. RoUA is £22.9m, less lease liabilities of £27.6m, so a deficit of £4.7m on the balance sheet re leases – suggesting that not all sites are properly profitable.
This is what concerns me – cash was £14.5m in early April 2022, which is being used to acquire amp; fit out new sites. Fine. But there's a "connected party" borrowing of £12.6m. So net cash is hardly anything probably by now, as it's rolling out new sites.
Therefore the exact terms of this loan are of crucial importance – e.g. if the loan could be called in, that could trigger administration, and allow the assets to be bought in a pre-pack for a lot less than they cost to build. I'm not for a moment suggesting that is likely, but it could be possible, depending on the terms of the related party loan. It's probably fine, but this kind of thing absolutely has to be carefully checked before buying a share. It's not a good structure, in my view. I would prefer to see an expanding bars chain ideally debt-free, and using its own cash, not borrowing money for expansion from a connected party.
Broker forecasts – WH Ireland help us with forecasts. It's all rather uninspiring. VARE is forecast to make a loss before tax of £(2.7)m this year FY 9/2022, and a reduced loss of £(1.8)m next year. That really concerns me. Why is the company rolling out a format, that has yet to prove it can make any money? Particularly when it's spending a fortune on fitting out quite large sites, in premium locations? When they're all spangly amp; new, is when they should be generating big profits. If they can't make money collectively when brand new, they definitely won't make money once all the fittings are starting to look worn out.
My opinion - we've not yet seen clean figures for post-pandemic trading yet. As things stand though, I cannot see any evidence that there's a decent, profitable format here with VARE, that is worth rolling out. That could only be ascertained from seeing the management accounts, in particular site by site economics, which of course we're not privy to.
That said, several industry insiders have told me that this is a golden era to be opening new sites in hospitality, because the deals available (rents, reverse premiums, rent-free periods) are once in a lifetime good. Plus there will be many more to come, when evictions begin in earnest following the end of the rent moratorium.
I'll keep an open mind, and half an eye on VARE, to see how things progress. At the moment though, I cannot see any reason to pay more than NTAV, which is £9.4m, or less than a third of the current share price.
For further research, here's the interims video presentation:
.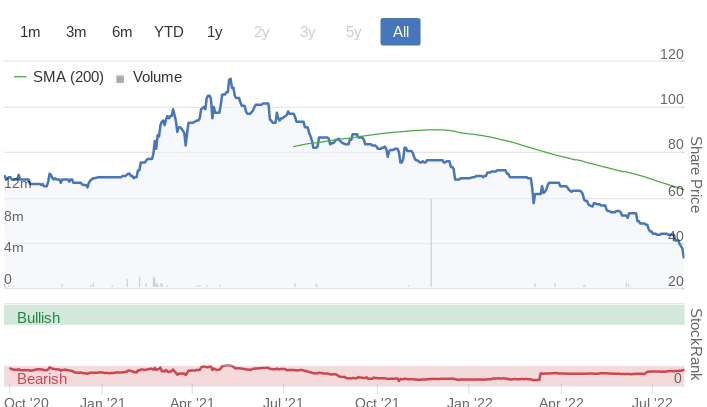 ---
Graham's Section:
Goodwin
(LON:GDWN)
Share price: 2770p (+11%)
Market cap: £213m
This is an engineering group with a very long track record of dividends and profitability. The oldest company in the group, Goodwin Steel Castings, was incorporated back in 1883.
(Since I'm a "sleep sound" investor, this is something I look for – companies with an extremely long heritage. If they've lasted this long, there's a decent chance that they will still be around when I retire!)
The company is still heavily owned by members of the Goodwin family, and is managed by them – something that is all too rare.
As for the share price performance, the past five years have been somewhat pedestrian.
The all-time high was reached all the way back in 2014 (during an oil and gas boom), and financial progress has slowed since then:
Let's bring you up to speed with today's results for FY April 2022:
Revenue £144m (+10%)
"Trading profit" (excluding the impact of an interest rate hedge) £17.2m (+4%)
The dividend increases to 107.8p and will be paid bi-annually from now on (one nice feature of family businesses is that family members tend to live off their dividends – so these businesses truly are run for the benefit of shareholders!)
At the very top of the statement, the Chairman points out that energy costs increased by £3.8m compared to the prior year. Without that obstacle, we can imagine that profits would have been significantly higher. But should companies be valued on the basis of lower energy costs, or are higher energy costs the new normal?
Refractory Division – see here. This provides materials used in the production of jewellery and in various other industrial processes.
Refractory is outperforming Goodwin's Mechanical Division by some distance: the numbers below are from a footnote in today's RNS:
Mechanical Revenue £105m (down 2%)
Mechanical Operating Profit £9m (down 16%)
Refractory Revenue £72m (+28%)
Refractory Operating Profit £13m (+36%)
In Refractory, Goodwin reports that cost increases have been passed on to customers, that both existing and newer products are performing well, and finished by saying:
Whilst the success of the Division has been seen across all companies, special mention should be made of our jewellery investment casting powder companies in China and in India having generated record profits in the year, even though the domestic market in China is still depressed due to the prolonged lockdowns and travel restrictions.
In Mechanical, the volatility of commodity and energy prices required contracts to be renegotiated. This division has been forced to evolve, and management sound very confident in its future:
Despite… the demise of our product sales to the non green oil and coal sectors, our re-aligned business offerings are more in demand than they ever have been, which is seen by the growing workload that customers are booking up to be delivered now years in advance. With the confidence of a solid and growing forward order book the tide has turned; all things being equal, the next few years should see the Mechanical Engineering Division returning to its former glory with even higher levels of turnover than at the peak of the oil and gas industry in 2014.
Forward orders, by the end of this year, should be "in excess of the levels the Group experienced when it was really busy a decade ago", although the industries it serves have changed.
There's a lot happening in the Mechanical division:
Information about a large nuclear storage contract won by this division can be found here. I see that Carr's

(LON:CARR)

also won this contract.
There are positive noises around Goodwin's Radar subsidiary (link), the Chairman saying "I believe there will be a workload for Easat, the likes of which readers of their accounts for the past thirty years have never seen".
The company is also excited about its new Polymer manufacturer.
Energy and Outlook – having been hurt by energy prices in FY 2022, this risk exposure has been reduced:
…now armed with a multitude of short and long – term hedges in place the Group is set to deliver substantially higher profitability in the current year, partly as a result of not having to absorb the price volatility of the energy markets that have been seen over the past twelve months, irrespective of the improving performance
Net debt is £29.8m, in line with the Board's expectations.
My view
There's a lot to digest with these results, particularly since Goodwin is not a stock I've covered regularly.
But it's always interesting to get a chance to look at a solid family business – in principle, I'd be eager to invest in something like this.
The main drawback for me is complexity: I prefer when I can say in one sentence what a company does. In the case of Goodwin, what would that sentence be? The array of subsidiaries across two divisions is a lot for one person to understand, and a lot to keep track of.
Putting that issue to one side, the outlook statements published today are greatly encouraging, as the Chairman sets out the case for "substantially higher profitability" in the current year.
There's another green flag which I always like to mention when I find it; this company has zero analyst coverage. It's on the main market, rather than AIM, so it doesn't even have a Nomad analysing it.
Zero coverage is a sign that institutional investors have no interest in it (remember that Goodwin is majority owned by insiders). It's also a sign that the company itself has no interest in marketing its shares.
If you want a stock that few other investors are interested in, and that is not bothered to try to stimulate its own share price, then stocks with zero coverage are a good place to start!
Stockopedia leaves blank the spaces where the estimates normally go:
This means it's up to us to come up with our own forecasts. The range of possible outcomes is likely to be very high, but I keep coming back to the Chairman and his outlook for "substantially higher profits".
EPS reported today was 169p. If we round that up to 200p for the current year, we get a current PE ratio of 14x (using the latest share price).
That's reasonable, given the sector, but maybe doesn't give enough credit for a proven management team who are likely to control risks very well and are heavily invested in a successful outcome for shareholders?
With energy hedges in place, what is left to worry about?
[Comment from Paul: Thanks Graham, very interesting section. A broker note on Goodwin (LON:GDWN) (I hold) has just come through via Research Tree, from Shore Capital. Unfortunately, it's just a summary of today's results, and doesn't contain any forecasts. But at least it's the first sign of any broker coverage for a long time. Hopefully Shore might publish forecasts in due course].
Source:
https://www.stockopedia.com/content/small-cap-value-report-wed-3-aug-2022-vare-grg-gdwn-vcp-creo-951890/
Before It's News®
is a community of individuals who report on what's going on around them, from all around the world.
Anyone can
join
.
Anyone can contribute.
Anyone can become informed about their world.
"United We Stand" Click Here To Create Your Personal Citizen Journalist Account Today, Be Sure To Invite Your Friends.