Small Cap Value Report (Fri 23 Sept 2022) - W7L, REVB, ITS, WRKS, Mini Budget
Friday, September 23, 2022 7:09
% of readers think this story is Fact. Add your two cents.

Good morning, it's just Paul here today, with it being a Friday (usually slow for news, so I can catch up with backlog items of interest here).
Mini Budget
Tax cuts are expected. I'll be following the announcement c.09:30 and am planning on updating this section asap afterwards with the key points. Here it is -
Mini Budget – Kwasi Kwarteng speech to House of Commons today
Here are my notes, hopefully I caught the main points correctly.
Energy costs – reiterated household amp; business support measures already announced.
Erratic wholesale prices – Govt will give 100% guarantees to emergency bank loans for suppliers.
Overall measures on energy will reduce peak inflation by 5%. Plus cheaper costs for index-linked debt.
Bank of England – is taking action to control inflation, "independence is sacrosanct".
Growth – is too low. Tax burden too high. Need to break this cycle.
Aiming for 2.5% p.a. trend growth in GDP, via tax cuts amp; supply side reforms.
Prudent public finances (!) UK national debt is 2nd lowest as % GDP in the G7. Plan to reduce as % of GDP in medium amp; long term.
Costings will be published today. Energy plan costs are particularly uncertain, will cost £60bn in 6 months from Oct 2022, and then come down. Price of inaction would be far greater.
Infrastructure – too many barriers to enterprise, e.g. planning system, childcare, immigration. Planning is too slow amp; fragmented on major projects. Need to unpick complex laws. List of priority projects to be published today.
Houses – more new houses needed. Reforms, including release of surplus Govt land.
Unemployment – lowest for c.50 years. Need to get more people off benefits amp; into work.
Strikes – other countries have minimum service levels, we'll introduce the same. Pay offers must be put to union members in future.
Pension funds – reforms to boost investment in infrastructure.
Cap on bankers' bonuses – will be repealed. Hasn't worked – either repelled high earners to overseas, or raised base salaries vs bonuses.
Financial sector – more regulatory reforms to come in autumn.
Levelling up – new investment zones will be introduced, with big tax incentives – e.g. no business rates, 10 year tax relief on investment, no NIC on first £50k per employee. Mentioned possible locations including Teeside, South West, and Norfolk (??).
Corporation tax – rise from 19% to 25% will be cancelled (Paul: this is highly significant for company earnings, across the board. As expected though, as with most of this announcement). 19% will be lowest in the G20, attracting business to the UK. Bank surcharge will remain at 8%. This will plough £19bn back into the economy, for jobs, investment, and dividends.
Investment allowance of £1m p.a. was set to reduce to £200k. Cancelling that, will remain at £1m permanently.
EIS/VCT/SEIS limits will be raised. Want a nation of entrepreneurs.
Office of tax simplification – abolishing it, to instead embed simplification into Treasury, HMRC, etc. Sunset EU regulations.
IR35 to be simplified, too complex amp; costly. 2017 amp; 2021 reforms will be repealed.
Tourism – VAT-free shopping, digital scheme to be introduced.
Booze – planned increase in duties will all be scrapped. More support for small brewers.
Personal tax – social care levy will be scrapped, and no cuts to NHS spending.
National insurance amp; dividend tax increases also scrapped. Worth £330 per person on average for 28m people.
Stamp Duty – being reduced at the bottom end. Zero up to £250k. Zero to £420k for first time buyers.
Income tax top rate of 45% will be scrapped. It's too high vs internationally.Top rate will now be 40%, as it was previously for over 20 years, including whole of New Labour Govt (apart from their last month!)
Basic rate income tax will reduce from 20% to 19%, 1 year sooner, in April 2023.
Focus is now on growth, and being globally competitive, not on income redistribution.
My view - this is a very big package of economic stimulus. It's likely to cause a big increase in Govt borrowing, at least in the short term, but if that averts a prolonged recession, then it might be the right thing to do, only time will tell.
---
Agenda -
Warpaint London (LON:W7L) – The short version is that I'm very impressed with this makeup company's progress. I wrote up a positive review of it earlier in Sept, after FY 12/2022 profit guidance was raised. This positive impression was reinforced by the interim results/commentary. It looks a very good value/GARP share now, in my opinion. So it's high on my personal watch/future buys list. I'm hoping to speak to management at some point too. More detail below.
Revolution Beauty (LON:REVB) – another update from this company whose shares remain suspended, due to accounting problems that emerged during the audit, causing a failure to meet the 6-month deadline for accounts publication. Today's update says an independent investigation has begun, as problems seem to have deepened – little clarity on what these problems actually are, but it sounds a can of worms. Banks remain supportive, and net debt looks manageable. Timeline is "several months" for this investigation. It doesn't look bust, but we have no idea of how extensive the accounting problems are, so who knows what will happen? More detail below.
In Style group (LON:ITS) 26.5p (£14m mkt cap) [no section below] – today's RNS is really an operational update, although it's called a trading update (but doesn't say anything about trading). It's trying to sound upbeat, but the reality is that brokers have been reducing forecasts, and a heavy loss is now expected for FY 3/2023. Cash is down to £4.3m, and it's all about cutting costs and survival. Hence I don't see any value in the equity as things stand. (no section below).
Works co uk (LON:WRKS) – a big rise of 35% this morning, but my initial quick reaction is to be a bit careful over these strong numbers for FY 4/2022, because they're not likely to be repeated – forecasts have been cut heavily for FY 4/2023 after the profit warning in August. (more detail below)
---
Explanatory notes -
A quick reminder that we don't recommend any stocks. We aim to review trading updates amp; results of the day and offer our opinions on them as possible candidates for further research if they interest you. Our opinions will sometimes turn out to be right, and sometimes wrong, because it's anybody's guess what direction market sentiment will take amp; nobody can predict the future with certainty. We are analysing the company fundamentals, not trying to predict market sentiment.
We stick to companies that have issued news on the day, with market caps up to about £700m. We avoid the smallest, and most speculative companies, and also avoid a few specialist sectors (e.g. natural resources, pharma/biotech).
A key assumption is that readers DYOR (do your own research), and make your own investment decisions. Reader comments are welcomed – please be civil, rational, and include the company name/ticker, otherwise people won't necessarily know what company you are referring to.
---
Paul's Section:
Revolution Beauty
(LON:REVB)
Shares suspended at 19p (£59m market cap)
It's a makeup special today! Shares in REVB are still suspended, since it was unable to publish FY 2/2022 accounts by the 6-month deadline, once problems emerged with its audit. Today's update says that -
BDO LLP ("BDO"), the Company's auditor, has written to the Board and identified a number of serious concerns that have arisen during the course of its work on the FY22 audit regarding, amongst others, the Group's ability to provide sufficient and accurate audit evidence in respect of a number of key audit areas and the validity of certain commercial arrangements entered into by the Company. BDO has indicated that, at the present time, it is not able to sign an audit report in respect of the FY22 accounts….
Well that's as clear as mud! An independent forensic investigation has begun, at BDO's recommendation, and is expected to take "several months" to conclude.
Is it going bust? Doesn't look like it, at the moment. Net debt is £16.1m, well within a £40m facility, providing "sufficient liquidity". Technically in breach of bank facility (due to late accounts), but banks remain supportive so far.
Current trading – a variety of excuses (macro, Ukraine, consumer sentiment, costs, etc) resulting in a profit warning today for FY 2/2023 – materially below market expectations. It seems strange that competitor W7L is trading well, with those macro factors not impacting it at all. So it's obvious that REVB's problems are home-grown.
My opinion – shareholders have to hope that the problems get resolved, and shares resume trading, but that won't be for several months, if at all. The risk to shareholders is getting wiped out, if someone offers to pay off the bank, by buying it out of administration. I speculate that Mike Ashley amp; Boohoo, and possibly others might be circling? Note that Boohoo bought a stake in the market shortly before the shares were suspended (which was a known factor, so nobody was caught out by the suspension, it was pre-announced). It'll be interesting to see how this turns out. When accounting problems emerge, it usually seems to end up being a lot worse than originally thought.
---
Warpaint London
(LON:W7L)
126p
Market cap £97m
Warpaint London plc (AIM: W7L), the specialist supplier of colour cosmetics and owner of the W7 and Technic brands is pleased to announce its unaudited interim results for the six months ended 30 June 2022.
Record first half sales and significantly improved gross margin
I've been very impressed with the progress of W7L, in particular this year, where it has delivered a series of profit upgrades. Impressive, given the tougher consumer environment.
Here are my notes from the last positive update on 8 Sept 2022, when profit guidance was raised by 8%, and I also flagged the 6% dividend yield, strong balance sheet, and entrepreneurial management with big stakes. Plus a reasonable PER. So W7L is a favourite value/GARP share of mine (no current holding personally).
Here are my notes from the recent interim results -
H1 revenues £25.2m
Revenues are £10.4m UK (up 17%), and £14.8m International (up 55% – key point)
Gross margin increased from 34.5% to 39.0% – very impressive, as shows pricing power improving, despite input cost amp; freight headwinds. Confident about future margins.
Divis – interim divi is 2.6p (H1 LY 2.5p). Full year forecast yield is good, at 5.5%
Seasonality is an H2 weighting to revenues, profits (and divis)
Growth seems to be helped by new accounts (Boots, CVS mentioned), and strong online.
Further big new retailer accounts commencing Oct '22 (H-E-B) and Jan '23 (CVS stores).
W7L products are value-orientated brands, ideal for current conditions.
Sees opportunities for further growth.
£480k legal dispute, but mostly provided for last year – what's this about?
Most product is made in China – a risk?
Balance sheet – looks excellent. NAV £39m, less £8.5m intangibles, so NTAV is fine, at £30.5m. Inventories are high, but commentary explains why, to ensure continuity of supply amp; to instantly meet large orders – sounds fine to me, and commentary reassures on stock provisioning (so shouldn't end up like REVB!). Net cash £2.9m.
Cashflow – slightly negative, as cash sucked into increased working capital. That's fine, as long as it reverses at some point in future.
My opinion – this all looks very good. Something positive is happening here, with W7L's products obviously going down well with consumers and hence retailers. I like that new accounts are being won, and that international expansion is particularly impressive.
Entrepreneurial management with big stakes (founded the company 20 years ago).
It's priced like a value share (see below), but is actually a growth company. Providing growth continues, then that looks very attractive to me.
---
Works co uk (LON:WRKS)
39p (up 35% at 08:27)
Quick View - I saw that Works co uk (LON:WRKS) was up 35% in early trades, so am planning on looking at that one next. Having a very quick look, I think maybe people are getting carried away with the good figures for FY 4/2022. These numbers are not sustainable. In particular, it benefited hugely from business rates relief.
There was a profit warning for FY 4/2023, which I covered here on 8 Aug 2022, and caused the share price to plunge. Look at what has happened to broker forecasts since -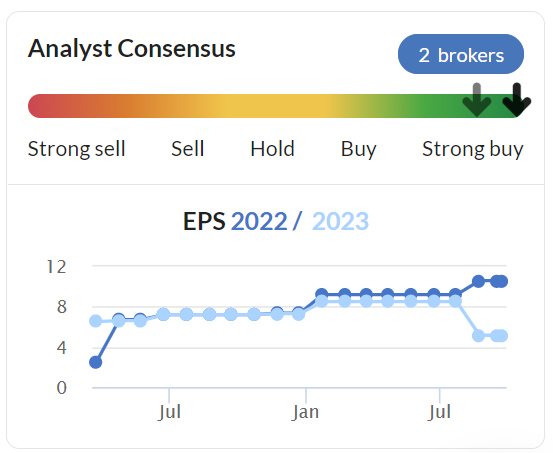 That's clearly demonstrating that the 2022 figures are not going to be repeated, which the company reiterates in today's outlook comments.
For that reason, I would urge caution over this morning's euphoric reaction to these numbers – possibly more of a selling opportunity, than a buying opportunity? Who knows, I can't predict short-term market sentiment, anything can happen.
Balance sheet – is OK actually. NAV £21.6m, less £2.7m intangibles = NTAV of £18.9m. But bear in mind the IFRS 16 lease entries add up to a deficit of £17m, so if we eliminate those entries, NTAV would rise to about £36m, which is fairly secure actually. So I'm not worried about solvency. Although a deficit on the IFRS 16 numbers is clearly indicating that there are some loss-making shops that need to be disposed of, and will be a drag on performance.
With a consumer downturn, and increased costs (e.g. wages, utilities), plus business rates kicking back in, I very much doubt whether WRKS will make significant profits in future.
Bulls might point to its value product offering, which could prove of more enduring appeal in a consumer downturn possibly?
I'll have a closer look later today, but those are just my initial thoughts. As always, we're happy to hear your views, whether you agree or disagree!
Source:
https://www.stockopedia.com/content/small-cap-value-report-fri-23-sept-2022-w7l-revb-its-wrks-mini-budget-954268/
Before It's News®
is a community of individuals who report on what's going on around them, from all around the world.
Anyone can
join
.
Anyone can contribute.
Anyone can become informed about their world.
"United We Stand" Click Here To Create Your Personal Citizen Journalist Account Today, Be Sure To Invite Your Friends.