Small Cap Value Report (Mon 17 Oct 2022) - ASC, EVE, MADE, BOOM, VCP, RM.
Monday, October 17, 2022 7:22
% of readers think this story is Fact. Add your two cents.

Good morning, from Paul amp; Graham. I'm interviewing the CEO of Sanderson Design (LON:SDG) at 16:00 today, so I got up early to prepare my questions. Should be interesting, I really like this share (no current holding).
Podcast - as usual this went up on Saturday, with just a brief market overview, then most of it covering numerous shares that were in last week's written reports here. The mystery share (my best idea of the week) is already marked in Thursday's report.
I've got to share this with you. I was telling off someone on Twitter for being disloyal to the UK, but his response floored me (rolling around laughing!). You might enjoy this -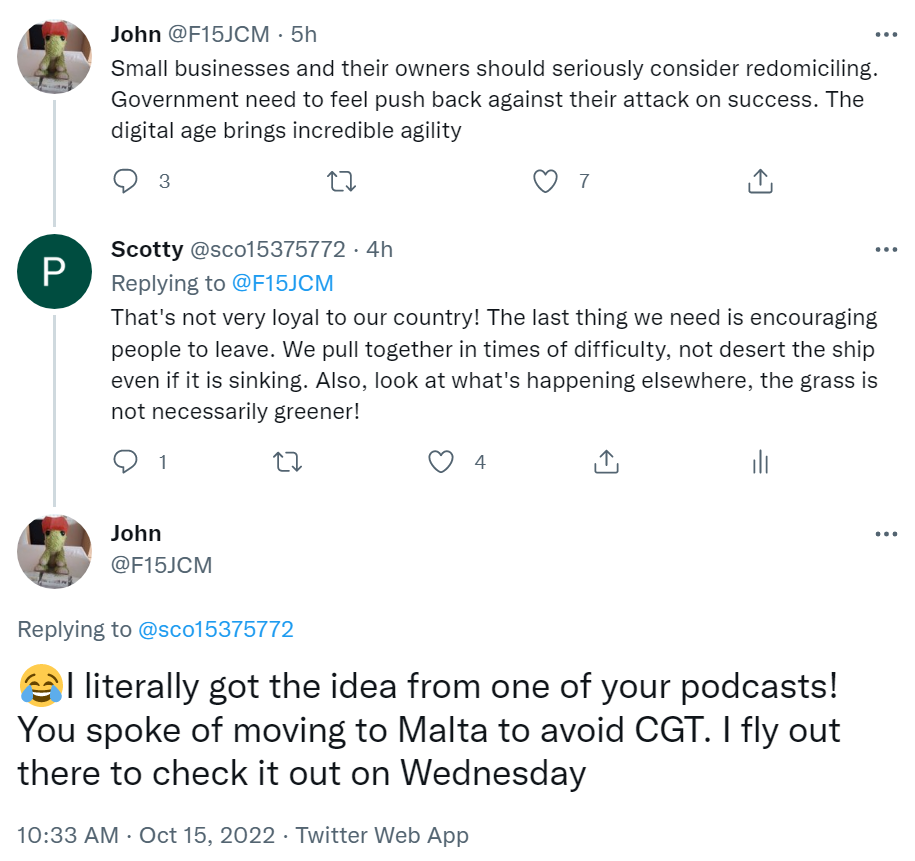 ---
Agenda
Paul's Section:
ASOS (LON:ASC) – this eCommerce fashion business responds to weekend press coverage that it's negotiating an amendment to its banking facilities. The press also report that trade credit insurance is tightening. Looks ominous to me, so I'd steer clear for now, due to elevated risk of a discounted fundraising.
Made.Com (LON:MADE) – another update from this almost-bust eCommerce furniture retailer. It says several potential deals have been indicated by buyers, but also that any deal would require immediate interim financing. So why wouldn't buyers just wait for it to go into administration imminently, then buy it for less, and without liabilities, from the administrator? I think this is extremely high risk, hence remains uninvestable. People could get lucky though, you never know for sure how things are going to pan out.
Audioboom (LON:BOOM) – Q3 update sounds positive, but Q3 revenues have actually slipped sharply from earlier this year. It's still trading profitably though, and has an increased cash balance. To be fair, new management have done a good turnaround here, but podcast publishing is a crowded space, hence is low margin. I'm not sure there's much of an investment opportunity here. Could be a takeover target though?
Graham's Section:
eve Sleep (LON:EVE) (£1m) (no section below) – this story reaches its almost inevitable conclusion, as the administrators are called in "to preserve value for creditors". Additional funding was needed this month, but was not forthcoming. Commiserations to anyone still holding this. But in truth, this one never really got off the ground, even in the good times. A summary of its financial performance is pictured below: it's hardly surprising that a company with numbers like this would eventually run out of road.
.
Victoria (LON:VCP) (£504m) – this carpet group announces that H1 trading is in line with expectations and that it expects "meaningful positive cash flow in H2", along with "operational synergy gains". I review some of the history here: a short-seller attack that was met with the company announcing a share buyback, during a year which has seen a crew of large short-sellers ramp up their negative interest in the company. Overall, 2022 has been a very bad year for the Victoria share price but I would have zero confidence in a long trade here, even at this lower valuation. The debt load is high, the financial structure is complicated, the acquisitions are complicated, and the flooring sector is not exactly a safe haven in a bad economy. I take a negative view on this company and therefore on the stock.
RM (LON:RM.) (£16m) – more bad news from this educational company that helps schools to modernise. Its disastrous IT project has resulted in lower revenues than expected at one of its divisions, as it continues to struggle with high operating costs and warehouse inefficiencies. While the turnaround remains possible with bank support in place, I continue to see little reason for fresh buyers to take an interest in this share. When a company has both serious operational problems and serious financial problems, I think the risk levels become far higher than most investors (including myself) are willing to tolerate.
---
Explanatory notes -
A quick reminder that we don't recommend any stocks. We aim to review trading updates amp; results of the day and offer our opinions on them as possible candidates for further research if they interest you. Our opinions will sometimes turn out to be right, and sometimes wrong, because it's anybody's guess what direction market sentiment will take amp; nobody can predict the future with certainty. We are analysing the company fundamentals, not trying to predict market sentiment.
We stick to companies that have issued news on the day, with market caps up to about £700m. We avoid the smallest, and most speculative companies, and also avoid a few specialist sectors (e.g. natural resources, pharma/biotech).
A key assumption is that readers DYOR (do your own research), and make your own investment decisions. Reader comments are welcomed – please be civil, rational, and include the company name/ticker, otherwise people won't necessarily know what company you are referring to.
---
Paul's Section:
ASOS
(LON:ASC)
492p (down 7% at 08:34)
Market cap £498m
Sky reported over the weekend that Asos's biggest lenders have hired advisers, and that Asos has asked for amendment of the terms of its £350m bank facility (RCF). Sky also says that "at least one major trade credit insurer" has "decided to reduce its support".
This is very worrying, as when banks bring in advisers to conduct an independent review, in my experience it often means they want to get out of a lending situation, but need some independent advice to use as cover.
Listed companies of this size rarely become insolvent though, so my guess is that the most likely outcome is probably that Asos might have to tap shareholders for fresh equity, in conjunction with renewed but reduced bank facilities.
This is the response from Asos this morning -
ASOS Plc ("the Company") notes recent media reporting and confirms that it is in the final stages of agreeing an amendment to the future financial covenants in its Revolving Credit Facility, which matures in July 2024.
This action will give ASOS significantly increased financial flexibility, against the uncertain economic backdrop. ASOS retains a strong liquidity position and this is a prudent step in the current environment.
My opinion – it's astonishing to see that the bull market in Asos's shares over the last 12 years has evaporated. However, the company has never really made much profit, and cashflow has been poor, with no divis being paid, and all cashflow being sucked into capex to make bigger amp; bigger warehouses as revenues soared to c.£4bn.
There again, even just a year ago, the forecasts looked good, and profits were on a strongly upward trajectory. However, it's now clear that this was all down to the pandemic eCommerce boom, and look how profitability has since melted away (similar story for Boohoo (LON:BOO) [I hold] unfortunately, and the whole sector actually, here and overseas) -
.
I think it's best to avoid any eCommerce company with a stretched balance sheet, which Asos clearly now has.
The ones to focus on in this sector, in my opinion, are the still-profitable companies, with plenty of cash in the bank. Hence the two that recently caught my eye are Victorian Plumbing (LON:VIC) and Angling Direct (LON:ANG) (I have no position in either, but they're on my watchlist).
Asos is probably likely to survive, but the dilution risk from a fundraising (from a position of weakness) is too great a risk right now. A fundraise would probably be at quite a discount, so why would we want to be holding this share, in advance of such a value-destroying risk?
Best to steer clear, I reckon.
---
Made.Com
(LON:MADE)
9.3p (up 30% at 08:35)
Market cap £35m
Further to the announcement on 4 October 2022, the Board of MADE has received a number of non-binding indicative proposals (the "Proposals"). Having reviewed these Proposals the Board has invited a select number of parties to progress towards firm offers by the end of October, following a due diligence process. The Proposals provide a range of different transaction structures, including possible offers for the issued and to be issued share capital of the Company.
Based on the working capital requirements of the Group, any firm offer would require interim financing to be put in place at the time that firm offers are expected, which the parties involved in the process are aware of…
My opinion – the way I read this, the range of possible deal structures probably includes buying it out of administration (i.e. a 0p outcome for existing shareholders). However, it sounds like there could also be solvent deal structures, with something being paid for the existing shares – although no indication of at what price.
The big problem with this situation, is that MADE has already told the market that it's close to having to call in administrators. The last going concern note stressed not just that more equity was needed, but that it had to happen fast, or MADE would run out of money. Today's announcement confirms this.
Ask yourself this, if you're negotiating to buy a company, and you know that it's on the brink of having to call in administrators, then what do you do? The obvious answer is get all the due diligence done, indicate a possible bid (but nothing binding), then stall them and wait for it to collapse. Then you buy it for a song from the administrator.
The only scenario I can imagine working positively here for existing shareholders, is if a number of parties are desperate to buy it, and compete with each other over price, which might result in a solvent outcome.
Situations like this are difficult to assess, because only insiders know what's going on, and it would obviously not be allowed for them to trade with inside information. Everyone else buying or selling the shares, is just guessing (or breaking the law, if they do know inside information).
Risk:reward looks shockingly bad to me, so I remain of the view that this share is totally uninvestable. Insolvency seems to be looming, and I think a 0p outcome is by far the most likely scenario. A white knight could emerge, with a solvent solution, you never know. But why take the risk of a 100% loss, when things are this precarious?
.
---
Audioboom
(LON:BOOM)
475p (up 2% at 09:18)
Market cap £80m
Audioboom (AIM: BOOM), the leading global podcast company, is pleased to provide a trading update for the quarter ended 30 September 2022.
44% YTD revenue growth, 125% YTD adjusted EBITDA growth, 2022 contracted revenue of US$73m
I remember researching Audioboom over the summer, and published my thoughts on the Interim results here in July.
Today's update shows a deceleration in revenues, of $16.2m in Q3 (down 4% vs Q3 LY). The easy prior year comparatives have now finished, so it will be a lot harder for BOOM to demonstrate further growth from now, I think.
Sequential revenues this year work out like this -
Q1 $19.7m
Q2 $21.2m
Q3 $16.2m
Clearly this is a negative trend now, blamed on "global economic headwinds impacted advertising demand". It says the trend improved within Q3, and that "improvements forecast throughout Q4".
BOOM is a low gross margin business, so we don't have to worry about operational gearing magnifying the reduced revenues impact on profitability.
Adj EBITDA – is $0.6m for Q3, and $2.7m for the nine months so far of FY 12/2022. Note that BOOM only has a tiny depreciation amp; amortisation charge, so EBITDA is very similar to operating profit, which is good. However, the interims showed that $2.0m operating profit was more than consumed by an outrageous $2.3m share based payments charge, leading me to question for whose benefit this company exists? Shareholders or management/staff? Note that a forex gain boosted the statutory $566k statutory PBT at the interims by $1.0m. Generating a lot of revenues in dollars must be helping performance at the moment too, I imagine.
Liquidity – looks OK, with cash of $8.0m, up from $5.8m at end June 2022. There's an undrawn overdraft facility of $1.7m too.
The balance sheet looked OK to me back in June 2022, with NTAV of $17.4m. So I think the risk of equity dilution from another fundraising actually looks fairly low. I did raise a flag over receivables looking very high, at $19.0m at June half year end. Management did explain this, but I can't remember their explanation, but I still think the figure looks too high.
Outlook - this sounds positive, but I think the contracted revenues must refer to the whole year FY 12/2022, and as I identified above, the sequential performance of revenues is not good. Prior year comparisons are soft, but now turning harder.
Advertising demand began to rebound in the second half of Q3, and that trend is continuing into Q4, with advertising bookings of more than US$73 million in place for 2022 – 21% more than the entirety of last year's revenue. We are confident of a positive end to the year".
Maybe the softer Q3 was just a blip then?
So I think the talk of growth in today's update is not really giving an accurate picture, although technically correct as couched.
My opinion - Audioboom has been an excellent turnaround under new management who I think have done a good job, taking a previous basket-case and turning it into a viable business, that makes a little profit, but all swallowed up by share options charges this year so far.
I looked at various podcasting platforms/publishers when launching my own podcast earlier this year, and quickly concluded that Audioboom's offering was not competitive for me, because they wanted to charge fees. Whereas Acast is the publisher that I went with, because it's free (and performs superbly, I have to say).
BOOM's niche is actually creating its own content, which drives business, and it's got a good place in the US podcast market. So someone might bid for it, at some point in the US, maybe?
Would I value BOOM at £80m based purely on fundamentals? No way, it's far too expensive if just viewed as an ordinary business (not a sexy tech share), because it's only very modestly profitable, and in reality sequential quarterly growth has now apparently stalled. Plus advertising demand is likely to soften due to macro pressures, although the US seems a lot more buoyant than Europe amp; the UK right now.
Overall, I think we should recognise that BOOM is now a proper business, that makes a little profit, and that's vastly better than its speculative, and at times precarious past.
But I don't really see any value here, on fundamentals. Maybe the best bet is for holders to hope that someone larger acquires it, at a premium price.
.
.
---
Graham's Section:
Victoria
(LON:VCP)
Share price: 435p (+8%)
Market cap: £504m
This carpet maker and distributor issues an in-line trading update for H1: revenues are in excess of £700m and EBITDA in excess of £100m, numbers that are in line with expectations.
Victoria expects "meaningful positive cash flow in H2" and acquisition synergies to help in "mitigating some of the macroeconomic headwinds seen across the globe".
Let's remind ourselves of recent news here. On 3rd August, an anonymous short-seller made claims of foul play at Victoria. The share price was around 320p on that day, versus around 400p today, so over this timeframe at least, the shorts are doing poorly.
There was no direct response from Victoria to this event, but there was a quick response: on 5th August, it announced that it had started buying back its own shares, saying:
The Board believes that the current share price is materially below the intrinsic value of the business and indeed at the current levels few alternatives exist for capital deployment that will provide equivalently high, risk-weighted returns.
Additionally, Victoria said that it "continues to generate significant positive cash flow" and had more than £200m of liquidity.
As of last Friday, Victoria had by my count bought back around 1.5 million shares, or over 1% of its outstanding shares. They've been buying their shares back slowly, but consistently.
Viewed as a response to short-seller scepticism, this is a clever response. Nothing screams confidence in the cheapness of your own stock quite like a willingness to buy it.
However, the number of bears involved in this stock, and their level of conviction, has recently been rising. Here are the latest figures from shorttracker.co.uk.
Nearly 5% of Victoria's shares are now sold short, and that is only in the disclosed positions (i.e. positions over 0.5%). There could also be significant numbers of shares borrowed in smaller positions.
In other words, this stock has clearly become a target. It's now in the top-15 most shorted stocks on the LSE.
What makes this all the more fascinating is that buybacks are usually kryptonite for short-sellers, because:
They prove that the company has cash which it believes is surplus to operational requirements.
They prove that the company thinks its shares are undervalued.
They progressively reduce the supply of shares which are available to short-sellers to close their position, i.e. they increase the probability of a short squeeze.
So we have a very extreme level of polarisation at this stock, between the company and its short-sellers, with short-sellers willing to continue even in the face of this buyback.
My view
I did not view the short-seller report in August as a "smoking gun". I thought it raised interesting questions about some of Victoria's acquisitions, and I hoped that the company would answer them.
Instead, we have the company simply buying back its own shares and saying that it is highly cash-generative.
My personal view is that I am highly suspicious of Victoria Plc as an investment, although again I have no smoking gun to prove that anything untoward has happened at the company.
Executive Chairman Geoff Wilding has been a controversial and polarising figure for many years. In 2014, a few short years after a boardroom battle which saw him installed at the top of the company, the FT's Kate Burgess described his remuneration as setting a "new standard… in executive largesse". He ended up owning 49% of the company thanks to a package which included a CFD on the Victoria share price.
Here we are all these years later: many short-sellers have come and gone, the Victoria share price has been as high as £12 before plunging 75% this year to only £3, the long trail of acquisitions has continued, and Geoff Wilding is still in charge.
As of April 2022, the company's net debt was over £400m and that was before lease liabilities. The company claimed that adjusted net debt/EBITDA was 2.7x, but it's hard to believe that despite making adjusted EBITDA of £143.5m, the actual income statement result was a loss of £12m. As noted by Paul, the financial structure includes expensive preferred equity.
The previous year's result was barely above breakeven, despite adjusted EBITDA of £112m.
Victoria would argue, among other things, that integrating its acquisitions takes time and that looking forward it will have much better statutory results.
Maybe that's true, but this is still pretty much the opposite of the type of company that I like to invest in:
Manufactured flooring products (a highly commoditised sector).
A large debt load relative to historic profits.
A complex web of acquisitions, even if the short-seller acquisitions are false.
Financial results that require enormous adjustments to make them look ok.
On top of all that, we now have a cost-of-living crisis and housing sector conditions that likely spell bad news for consumer demand for flooring products.
So overall, I can't help but have a negative view on this stock. Anything could happen, but there are too many issues and concerns for me to have any comfort in how shareholders will ultimately fare.
Victoria passes a Stockopedia short screen: the Altman Z-Score, which is a measure of bankruptcy risk.
---
RM
(LON:RM.)
Share price: 18.95p (-30%)
Market cap: £16m
Oh dear. I last looked at this one when it released interim results in August. That day, the share price was 68p.
My conclusion was that while the company might be able to solve its problems, there was little reason to get involved with the stock. The company's debt pile had ballooned and its banking covenants needed to be relaxed, due to escalating costs.
Today we learn that one of RM's divisions, RM Resources, has experienced a "slower than expected recovery in the Consortium brand resulting from ongoing challenges following the IT implementation".
RM's IT project, based on what the company has told us about cost overruns and extended deadlines, sounds like it has been a total disaster.
The company then says:
Despite improvement through August and into September, continuation of that progress has slowed which has impacted warehouse throughout and system and process optimisation. Shipment volumes are increasing, but these are not yet at the expected level. This has also resulted in a continuation of elevated operating costs and warehouse inefficiencies with some related reduction in customer volumes.
Not sure what to make of this. Firstly "warehouse throughout" looks like a typo for "warehouse throughput".
Secondly, I'm not sure about the cause-and-effect that is being described here. Have lower volumes caused warehouse inefficiencies, or have warehouse inefficiencies caused lower volumes? Or maybe both?
And then:
Remediation plans are in place that include reducing the order backlog to normalised levels in the short term; however, as a result, operating profit in the current year will be significantly lower than forecast. The IT plans are focused on improving delivery in Consortium, and the wider programme has been substantially slimmed down as we review the most efficient plan to completion in 2024.
Does "substantially slimmed down" mean that the rest of the IT project has been largely abandoned? That sounds important.
Net debt was £41.5m at H1 and will be "slightly higher" at the end of the year.
My view
The share price is down by over 70% since I last looked at it less than two months ago, but my view on this one is unchanged: why get involved?
It looks like a mess, both operationally and financially. Operationally, we have an IT project that has cost many millions more than it should have, and appears to have disrupted the business in serious and fundamental ways.
Financially, we have a debt load that caused the company to renegotiate its banking covenants. For what it's worth, this debt load is now more than double the market cap.
The turnaround remains possible but I wouldn't gamble on it.
Source:
https://www.stockopedia.com/content/small-cap-value-report-mon-17-oct-2022-asc-eve-made-boom-vcp-rm-955716/
Before It's News®
is a community of individuals who report on what's going on around them, from all around the world.
Anyone can
join
.
Anyone can contribute.
Anyone can become informed about their world.
"United We Stand" Click Here To Create Your Personal Citizen Journalist Account Today, Be Sure To Invite Your Friends.
Please Help Support BeforeitsNews by trying our Natural Health Products below!
Order by Phone at 888-809-8385 or online at https://mitocopper.com M - F 9am to 5pm EST
Order by Phone at 866-388-7003 or online at https://www.herbanomic.com M - F 9am to 5pm EST
Order by Phone at 866-388-7003 or online at https://www.herbanomics.com M - F 9am to 5pm EST
Humic & Fulvic Trace Minerals Complex - Nature's most important supplement! Vivid Dreams again!
HNEX HydroNano EXtracellular Water - Improve immune system health and reduce inflammation.
Ultimate Clinical Potency Curcumin - Natural pain relief, reduce inflammation and so much more.
MitoCopper - Bioavailable Copper destroys pathogens and gives you more energy. (See Blood Video)
Oxy Powder - Natural Colon Cleanser! Cleans out toxic buildup with oxygen!
Nascent Iodine - Promotes detoxification, mental focus and thyroid health.
Smart Meter Cover - Reduces Smart Meter radiation by 96%! (See Video).